These are the most amazing waffles I've ever eaten! They are crispy on the outside, fluffy and soft on the inside and taste like heaven on a plate. The recipe is a simple bowl affair that will have breakfast on the table in 15 minutes! No excuses – breakfast is ON.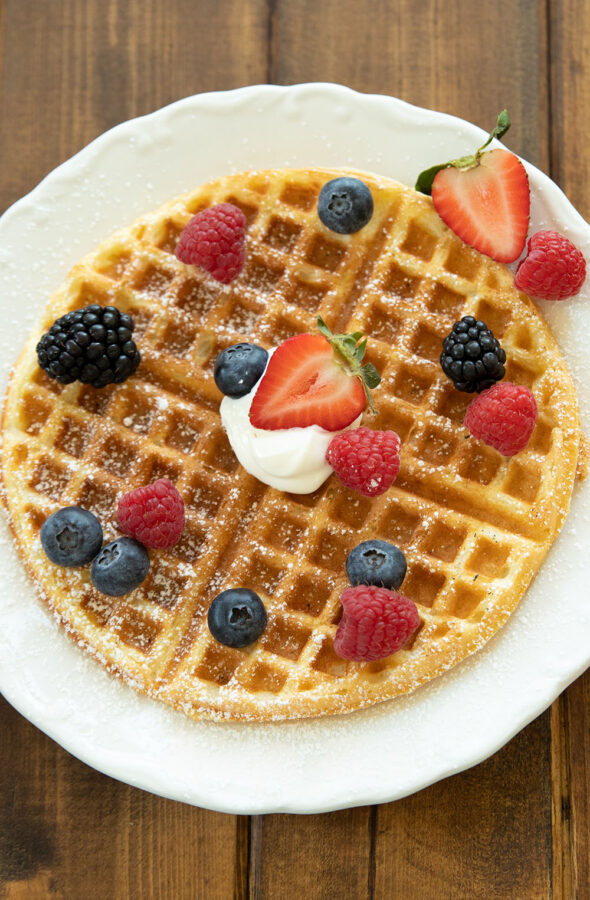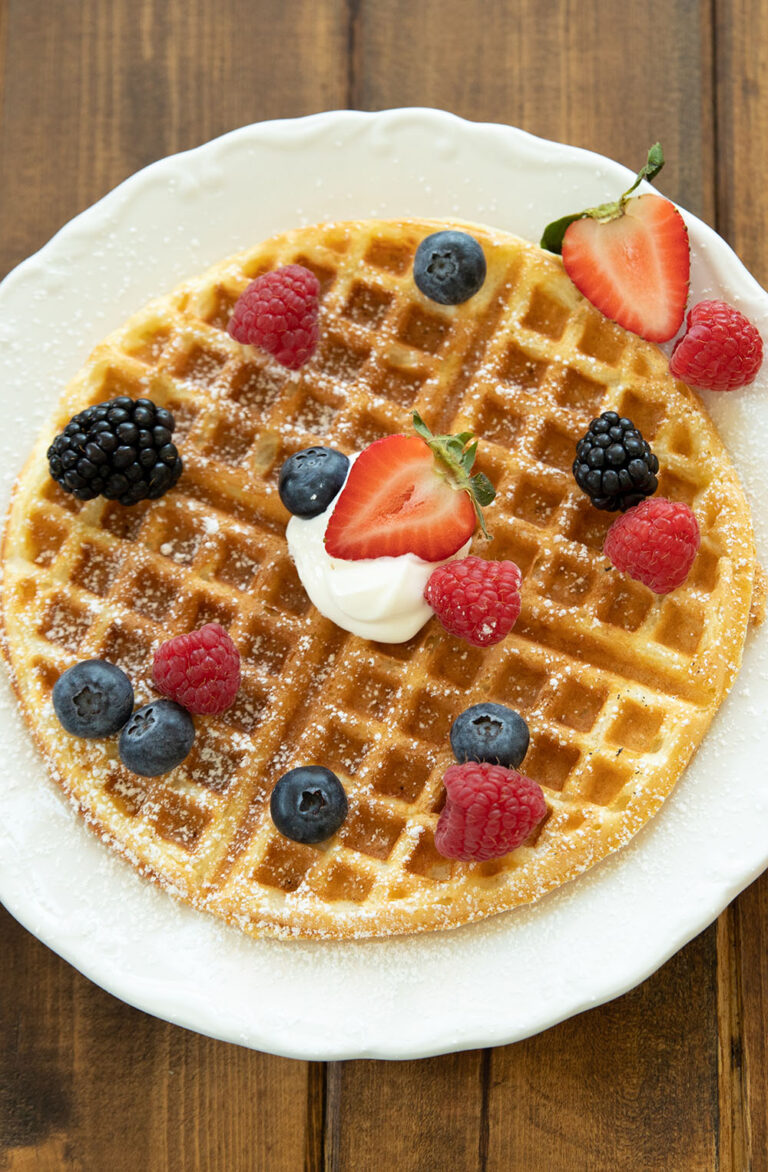 Secrets to easy buttermilk waffles
I am a true devotee of the humble waffle. I've loved them since girlhood so when I set out to create the perfect recipe I went all out! I made many, many batches of waffles and tried multiple variables. In the end when it comes to perfect, amazing, classic waffles there are a few things that are key:
You HAVE to have a good quality waffle maker. The Cuisinart classic waffle maker just doesn't cut it! I ended up with an All-Clad appliance for even cooking and a few extras (read more in the picking a waffle iron section below).
Buttermilk or bust! Buttermilk gives you that tender texture and delicious flavor. Nothing else quite has that magic.
Powdered sugar is better than granulated sugar. I find sugar to be a fascinating ingredient in cooking. It is actually considered a liquid ingredient! With waffles too much liquid makes things wet and soggy instead of light, airy and fluffy. Switching to powdered sugar elevates your waffle recipe to amazing.
Egg whites for the win! You don't have to beat them into stiff peaks but you do need to leave those yolks out. Again, this is a issue with too much liquid. Egg yolks give waffles a more cakey texture. If you want cake, bake one – don't torture your waffles by adding the egg yolks.
How to pick the best waffle maker
First you need to know what kind of waffles you want to make! There are two different kinds of waffle maker on the market. One type makes classic waffles and the other type makes Belgian waffles. If you are a true waffle buff you may want to buy one of each, but if not decide which type of waffle you love most and buy that kind.
My favorite kind of waffle is the classic. I grew up with the old green square waffle maker. My mom let me take it with me a few years ago and I'm still very fond of it! When I started doing research to determine the perfect waffle recipe I bought two different waffle makers and one had to be returned before I totally lost my temper and hurled it out the back door!
I have had and loved several different Cuisinart appliances so the first waffle maker I picked up was this $23 version. It was a good brand, price and size. Unfortunately the waffles cooked unevenly. One quarter of the grid always cooked hotter and nothing I could do kept that area from getting unevenly dark or even burning. I tried all the different heat settings and different amounts of batter. In the end it went back to Amazon and I decided more than $23 was justified when it came to my love of waffles!
The next waffle maker I picked up was this beautiful machine by All-Clad.
At $129 it was quite a bit more expensive but I wanted something that would work well. This appliance also has extra features I've come to love:
It beeps when the waffle is ready. I can be at the table eating and pop up just to pull out a hot waffle. No timer or watching the light. I didn't even realize it had this feature when I bought it but I've come to love it!
There is a steam vent that lets out steam as the waffle cooks. This helps the waffle cook up with a crispy outside and fluffy inside just as it is supposed to. You won't find this feature on a lower end machine.
The waffle maker locks closed so you can store it up on end instead of being stored flat. This saves you about 50% on space. In general appliances are one of the most frustrating storage situations in the kitchen. This thoughtful design helps combat that issue. It also makes it perfect for somebody who lives in a small kitchen.
The difference between a regular waffle and a Belgian waffle
Have you ever wondered what makes a waffle Belgian? It is not just a shape issue! In the US most restaurants consider a Belgian waffle to be any waffle the right shape that is made with a lighter more fluffy batter and deeper pockets than your average classic American waffle. I won't touch anything like that on the menu!
Yes, Belgian waffles are usually square with large, deep holes. They are also sometimes made to be quite crispy. But originally a true Belgian waffle is a Leige Waffle! It is made with a yeast dough and big Belgian pearl sugar. This sugar has grains almost the size of green peas! The sugar caramelizes as the waffle cooks making this amazing flavor into the yeast dough.
The good news is the Leige Waffles are having a renaissance now! There are entire restaurants and food trucks devoted to this decadent treat. I'm totally hear for that!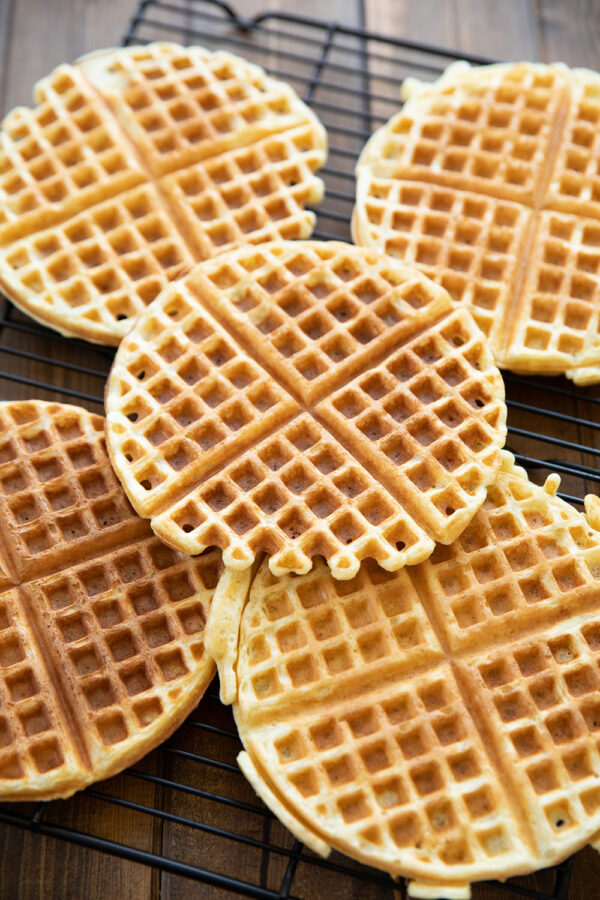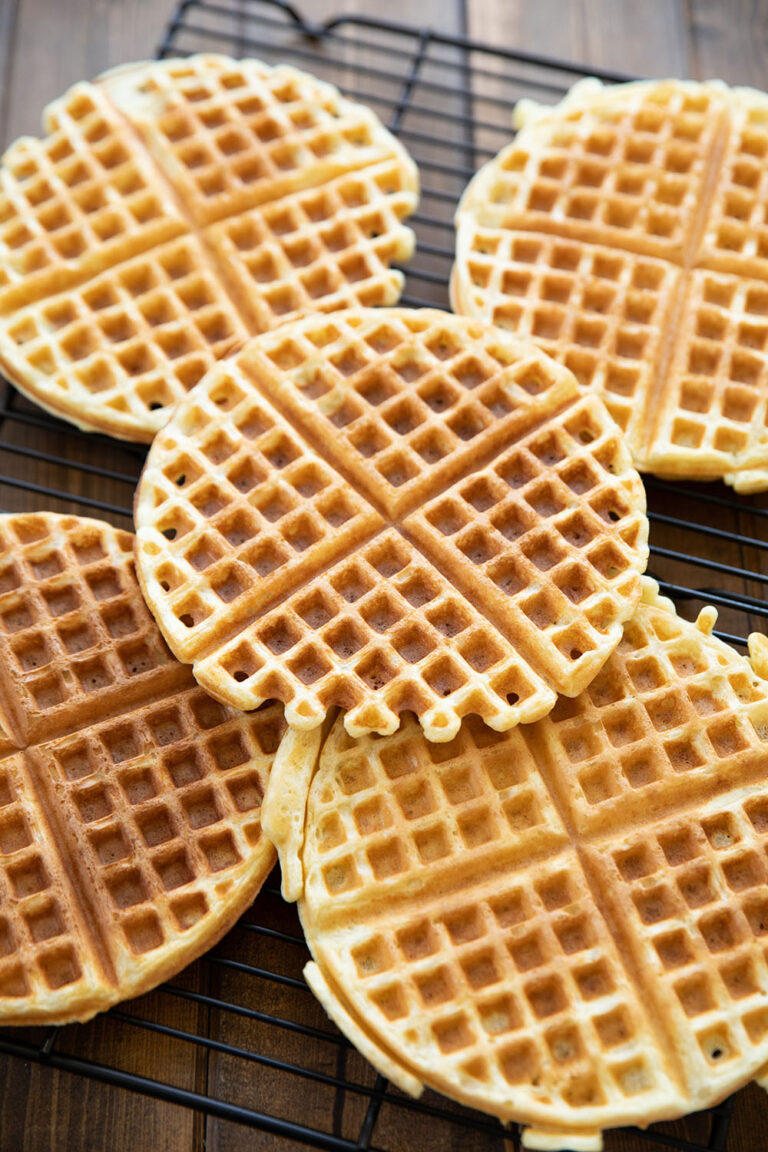 How to make waffles crispy
Make sure to preheat your waffle iron. This is a must for that nice crispy outside. Additionally don't stack hot waffles up on a plate. The steam will make them all soggy. Instead lay them out in a single rack on a baking sheet as you cook them or better yet eat them hot off the griddle. They should be so hot you almost can't pick them up with your fingers! Mmmmm.
How to make waffles fluffy
The secret to fluffy waffles has to do with the moisture content. People used to use whipped or beaten egg whites to get this fluffy texture but that is lots more work. Instead I use two egg whites without the yolks. Leaving the yolks out helps reduce the moisture and avoids a more cakey texture.
Using powdered sugar instead of granulated sugar also helps to keep the batter light and airy. A light batter makes a nice, fluffy waffle.
It also helps to buy a waffle maker that has a steam release. This lets the steam out instead of trapping it with the waffle and making your waffle soggy inside and out.
Pancake batter for waffles?
I do not understand why people try to use pancake batter to make waffles! It is not a thing! There are pancakes and there are waffles! These are two different items. Putting pancake batter into a waffle maker does not magically make it taste like a waffle. It just makes it waffle shaped.
Can I make waffles without a waffle maker?
Nope! There really is no hack for making waffles without a waffle maker. Sorry! If you are that determined try buying one used 🙂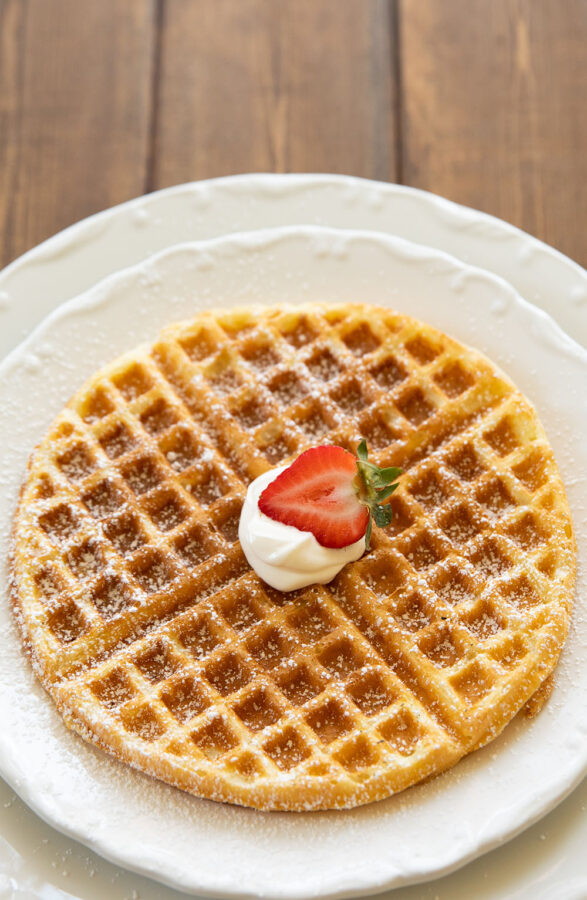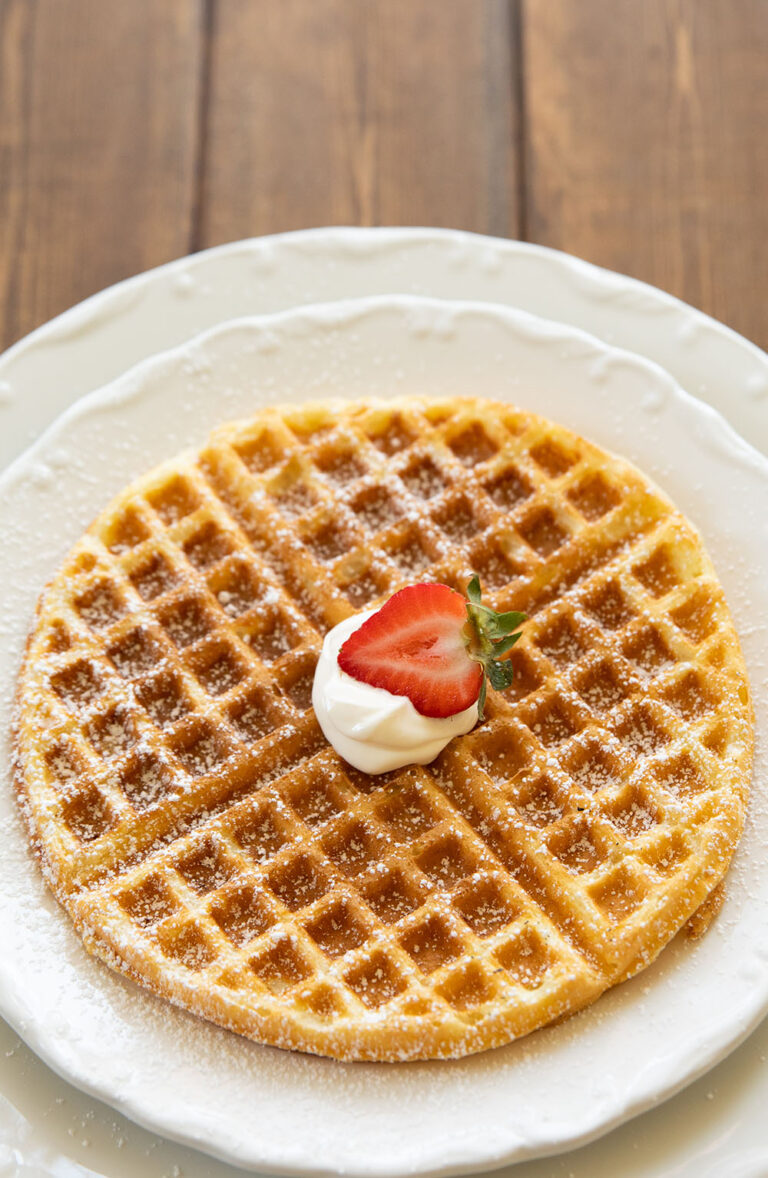 Waffle toppings
I love real maple syrup and soft butter on my waffles but there are lots of other things you can load up a waffle instead of syrup!
Sour cream and fruit
Sweetened whipped cream and fruit
Apple Butter
Lemon Curd
Sticky Bun Syrup (tastes like a cinnamon roll on your waffle!)
Fresh berries or frozen heated with a bit of sugar to make a sauce
Honey
Fruit compotes / jam
Dusting of powdered sugar
Apple sauce and yogurt – not just a latke topping!
Ice cream (I dare you!)
Nutella
Sprinkles and edible glitter (unicorn birthday anybody?)
And really this is just a list of sweet topping ideas. If we start talking about all the savory options life would get crazy! (Fried chicken, mashed avocado, bacon – I'm pretty sure the humble waffle has been topped with just about every food in creation.)
Other Popular Breakfasts
Easy Buttermilk Waffles
These are the most amazing waffles I've ever eaten! They are crispy on the outside and soft and fluffy on the inside. The recipe is a simple bowl affair that will have breakfast on the table in 15 minutes! No excuses – breakfast is ON.
Servings
5
waffles (6.5″)
Ingredients
1 1/3

cup

all-purpose flour

1/3

cup

powdered sugar

1/2

tsp.

salt

1/2

tsp.

baking soda

1/2

tsp.

baking powder

1 3/4

cups

cultured lowfat buttermilk

3

Tbsp.

salted butter

melted

2

large

egg whites
Instructions
Set the waffle iron to medium heat. Start the waffle iron preheating. (Most modern waffle irons have an indicator light that will tell you when it is preheated. Don't add the batter until the machine has fully preheated.)

In a large mixing bowl, combine flour, powdered sugar, salt, baking soda, and baking powder. Whisk together until combined.

Add the buttermilk, melted butter and egg whites. Whisk just until smooth.

Put ½ cup batter into the waffle maker or more for a larger waffle iron. Cook until the indicator light tells you the waffle is done.

Remove to a plate and eat immediately or place in a single layer on a baking rack as you cook. Waffles don't keep well warm in an oven and if you stack them they will get soggy.
Notes
How much batter goes into the waffle maker? Put enough batter on to cover ¾ of the griddle surface. Can I freeze waffles? Yep! I tear mine into quarters so they fit well into a toaster. If you have a toaster oven you can leave them whole. Freeze in a ziplock bag or air tight container for up to 3 months. Toast to rewarm. This is a great option for kids instead of traditional frozen waffles. How do I separate eggs? There are lots of methods. My favorite is to crack an egg into my hand letting the white run out into one bowl and holding the yolk in my fingers. I discard the yolk or freeze for another recipe. If you dislike this method, crack the egg in half and pour all the white from one side to the other. Dump the yolk and save the white for your recipe.
Nutrition
Calories:
258
kcal
|
Carbohydrates:
33
g
|
Protein:
4
g
|
Fat:
7
g
|
Saturated Fat:
4
g
|
Cholesterol:
19
mg
|
Sodium:
412
mg
|
Potassium:
106
mg
|
Sugar:
8
g
|
Vitamin A:
220
IU
|
Calcium:
28
mg
|
Iron:
1.6
mg
Nutrition Disclaimer
MirlandrasKitchen.com is written to share great recipes. While we do our best to provide nutritional information as a general guideline, we are not registered dietitians and the values provided here should be considered estimates – not exact scientific data.