Spiced peaches are the old fashioned Southern treat you didn't know you have been missing! Summers ripest peaches are prepared with whole spices.  Cinnamon, allspice and cloves creates a spicy treat worthy of dessert. This is a vintage classic for Thanksgiving dinner, a delicious dessert by itself or with ice cream and a wonderful homemade food gift at Christmas time!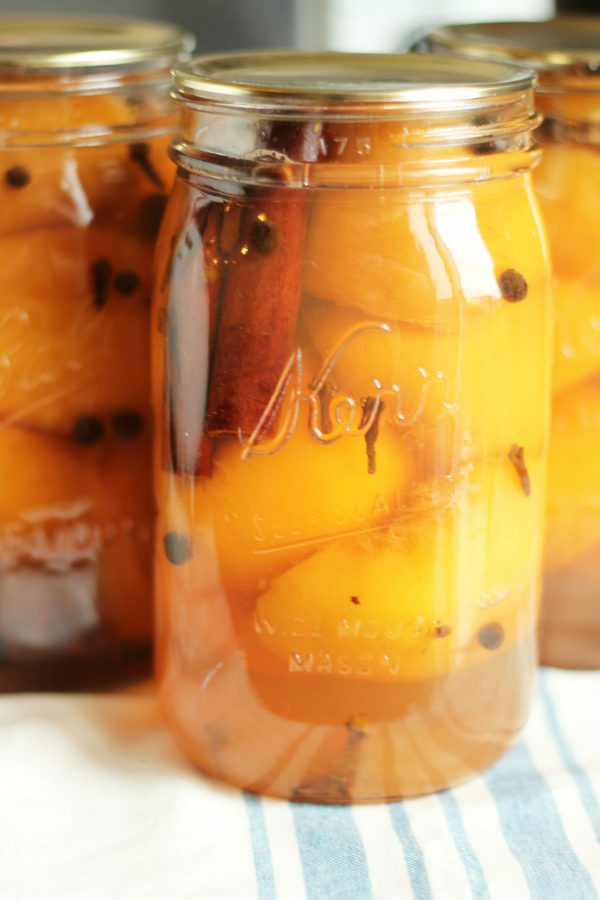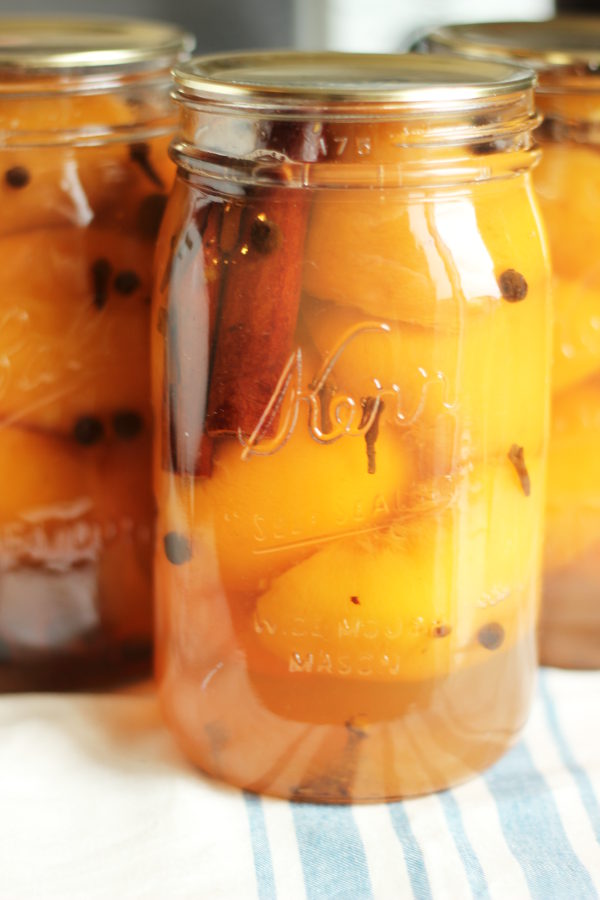 My Grandma Madge made amazing spiced peaches.  In our home her special jars of spiced peaches were legend and one of the best treats on our Thanksgiving table. Now I'm the main provider of this vintage treat for the family. It is so lovely to open a jar of ripe summer peaches in the cold, snowy winter! The bold flavors of whole spices make that experience even more special!
What are spiced peaches?
Spiced peaches are more common in the Southern US and they were more common in my grandma's heyday. Now many people have not heard of this special treat. Spiced peaches are just peaches canned with some whole spices which give them a wonderful cinnamon and spice flavor like you would get in mulled apple cider or pumpkin pie!
This is a true spiced peach recipe with heavy syrup, ripe peach halves and whole spices.  Similar recipes for pickled peaches also call for vinegar which is a bit of a different animal! I've even seen variations where the recipe calls for packing the peaches in honey and spices!
The magic of my grandmother's spiced peaches was partly time. We canned the peaches in the summer and then didn't open the first jar until Halloween or Thanksgiving! It was hard to wait but waiting gave us the BEST flavor! Letting these jars sit for some time makes them SO delicious!
Learning how to can peaches
Canning is easier than you think! Even my four year old helps with the process.  If you are ready to try canning for the first time or it has been awhile check out my easy beginning guide for canning peaches! 
My guide will teach you everything you need to know about equipment, altitude, jar preparation, and all the details about preparing the peaches for canning! It is all easy stuff but having a quick start guide will save you trouble and get all your questions answered in one place.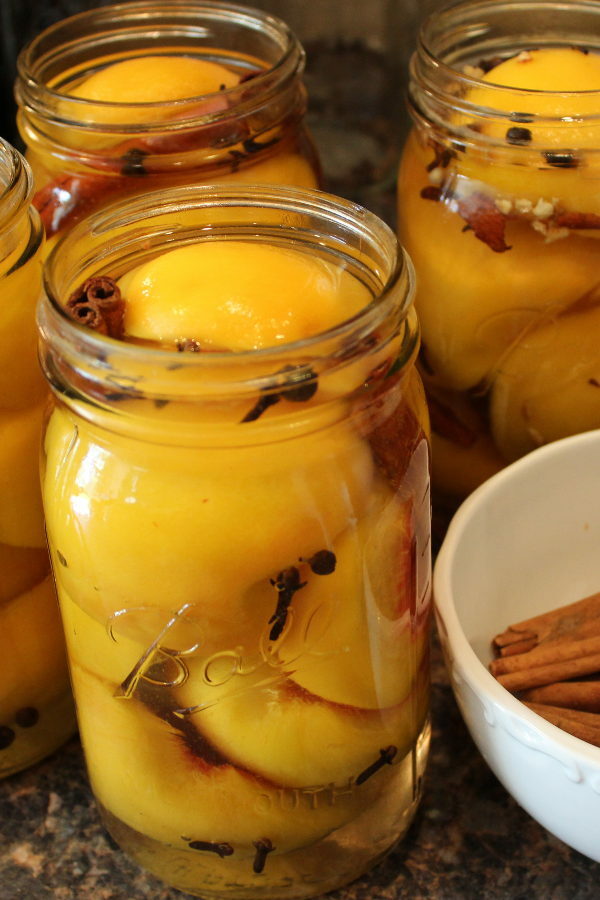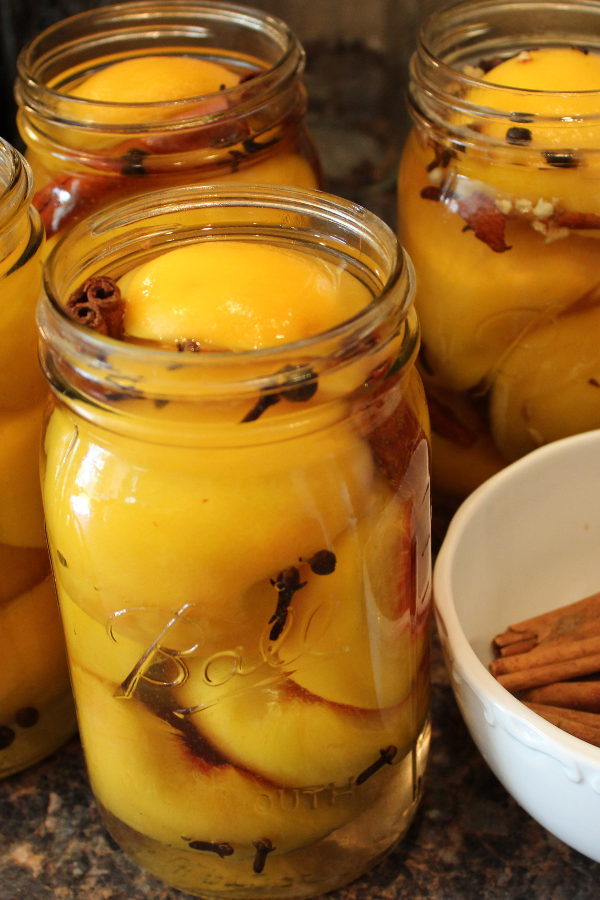 How to use spiced peaches
Serve with Thanksgiving dinner. This was my family tradition and they make a beautiful and colorful addition to the holiday table!
Spiced peaches make a very thoughtful food gift  – great for Christmas or as a hostess gift
Use for dessert with vanilla ice cream or whipped cream
Serve with baked ham, roasted chicken or turkey
Use as a topping for waffles or pancakes
A Note about whole spices
You can usually find whole spices in the grocery store spice section. If you have a store with a bulk section this is usually more cost efficient.
I keep some whole spices around through the year.  I them in the fall for crock pot mulled cider and in the winter to make my famous corned beef!
LOOKING FOR MORE PEACH RECIPES?
Home Canned Spiced Peaches (My Grandma's Recipe)
Spiced peaches are a wonderful alternative to regular canned peaches. The addition of whole spices creates a savory treat everybody will love all winter. Make some extra jars to give as gifts - everybody will love this unique Southern treat!
(This recipe makes 7 quarts which is the perfect amount for one batch in a water bath or steam canner. I suggest using wide mouth quarts for this recipe as it is much easier to pack the peaches.
Ingredients
For the Spiced Peaches
10

lbs

peaches

about 15 - 20 large

14

cinnamon sticks

3 1/2

teaspoons

whole cloves

3 1/2

teaspoons

whole allspice
To Make The Syrup ( I use heavy but you can use medium or lite, see the notes below)
12

cups

granulated sugar

I suggest heavy syrup for this

12

cups

water
Instructions
Prepare your water bath canner and clean jars. Start the canner coming to a boil. If it is ready before the fruit you can turn it off. It will come back to a boil very quickly when you are ready.

Put spices into the jars. 1/2 teaspoon of whole allspice, 1/2 teaspoon of cloves, 2 whole cinnamon sticks per jar.

Prepare desired sugar syrup by heating water and sugar in a sauce pan until sugar is dissolved. Set it aside. (See notes at bottom of post for different types of syrups.)

Blanch peaches by dipping in boiling water for 30-60 seconds. Use a large slotted spoon and do 5 peaches at a time. Immediately remove peaches to a sink or bowl with ice water to stop the cooking.

Slice each peach in half along the natural line of the peach. The skin will slip off easily after it is cut. Remove skin, pit, and any little fragments of pit left in the peach.

Fill one jar at a time. Each peach half is supposed to be packed pit side down. As you fill a jar, cover the peaches with hot syrup leaving 1/2" head space.

Load 7 quarts into a boiling water bath canner. Make sure the jars are covered by at least 2" of water.

Bring the water back to a boil. Process for 30 minutes. If you live above 1,000 feet you need to add more time to adjust for altitude. At 1,001 - 3,000 feet add 5 minutes. At 3,001 - 6,000 feet add 10 minutes. At 6,001 - 8,000 feet add 15 minutes. At 8,001 - 10,000 feet add 20 minutes

Remove jars of peaches and place on a towel to cool. Allow them to come to room temperature. The lids will seal at this time. Any lids that do not seal need to be processed again or refrigerated and eaten within a week. Sealed jars can be labeled and stored on a shelf out of direct light for up to two years.
Notes
If heavy syrup is too sweet for your taste try making a light or medium syrup instead. 
Light Syrup: 6 cups sugar to 12 cups water
Medium Syrup: 9 cups sugar to 12 cups of water
Remember to SAVE the syrup after you eat the peaches! It is wonderful drizzled over cakes, or made into drinks and cocktails! 
Please note wide mouth jars are easier for canning peach halves.  
Nutrition
Calories:
401
kcal
|
Carbohydrates:
103
g
|
Protein:
2
g
|
Fat:
1
g
|
Saturated Fat:
1
g
|
Sodium:
7
mg
|
Potassium:
325
mg
|
Fiber:
4
g
|
Sugar:
99
g
|
Vitamin A:
537
IU
|
Vitamin C:
11
mg
|
Calcium:
36
mg
|
Iron:
1
mg
Nutrition Disclaimer
MirlandrasKitchen.com is written to share great recipes. While we do our best to provide nutritional information as a general guideline, we are not registered dietitians and the values provided here should be considered estimates – not exact scientific data.
I read each and every comment and I try to respond to questions asap, so ask away! If you've made a recipe, I would love to hear about it! Please come back and share your experience and give the recipe a 5-star rating so other people will know how much you loved it!