These cut out sugar cookies taste amazing, are super easy to bake (no dough chilling!), and are perfect for decorating! I baked hundreds of cookies to arrive at this recipe!  We love making these with our little ones for Christmas, birthday parties and just because it is fun to put frosting on cookies you made yourself! I've included my delicious buttercream icing recipe that is perfect for piping or spreading on your cookies.  There are also lots of tips, tricks, and tools to help you bake the most wonderful sugar cookies of your LIFE!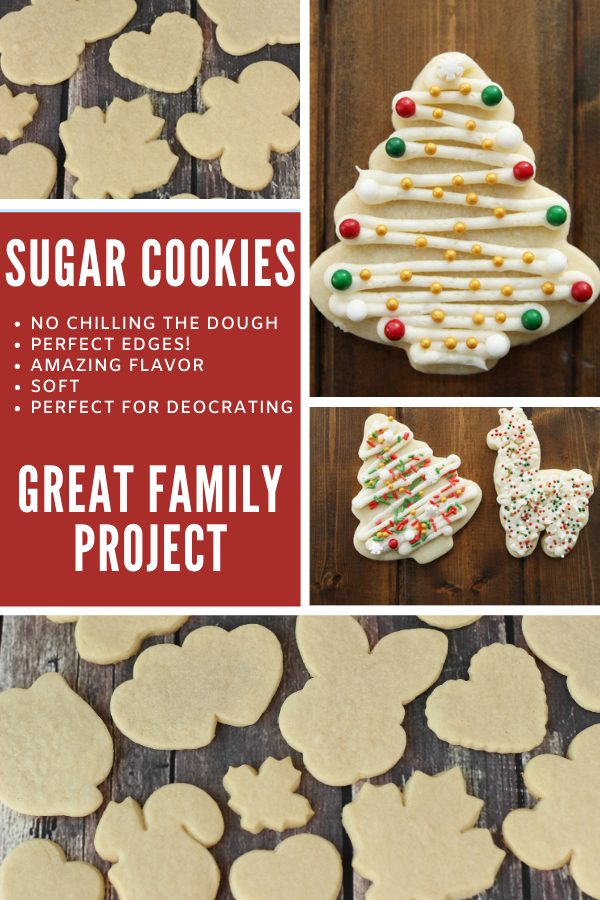 I didn't grow up making sugar cookies.  My mom thought it was a ton of work and that the cookies didn't taste very good.  Even as a kid I agreed that every sugar cookie I had ever eaten was blah!  When I thought of sugar cookies I thought of bland, dry, cookies that you had to plan ahead for because the dough took FOREVER to bake!  
Fast forward to my 20s and my brother married a woman who loved to make sugar cookies.  Rachel made the cookie making a special part of our family traditions and I wanted to create a recipe we would love baking together.  And it HAD to be easy so we could do it when our kids were little.  
I experimented with many, many recipes until I created something perfect that our family could make together over and over without all the hassles of chilling dough just for cookies that didn't taste good.  I expect you will enjoy these just as much as we do! 
World's Best Cut Out Sugar Cookie Recipe 
What if you had a recipe for roll out sugar cookies you actually loved? It should be yummy but not too sweet because you plan to frost those puppies.
It should be easy because you want to have fun and not spend the day trying to time the chilling of dough. Finally, it should look beautiful when you are done.  
THIS is that recipe!  The dough is ready in minutes and it is crazy easy to roll out.  The cookies hold their edges and they taste amazing warm out of the oven, cool out of the cookie jar, and decorated with creamy vanilla buttercream frosting! 
I have well over 300 recipes posted online and to date I've never called anything else the "world's best" anything!  But I think this sugar cookie recipe deserves it!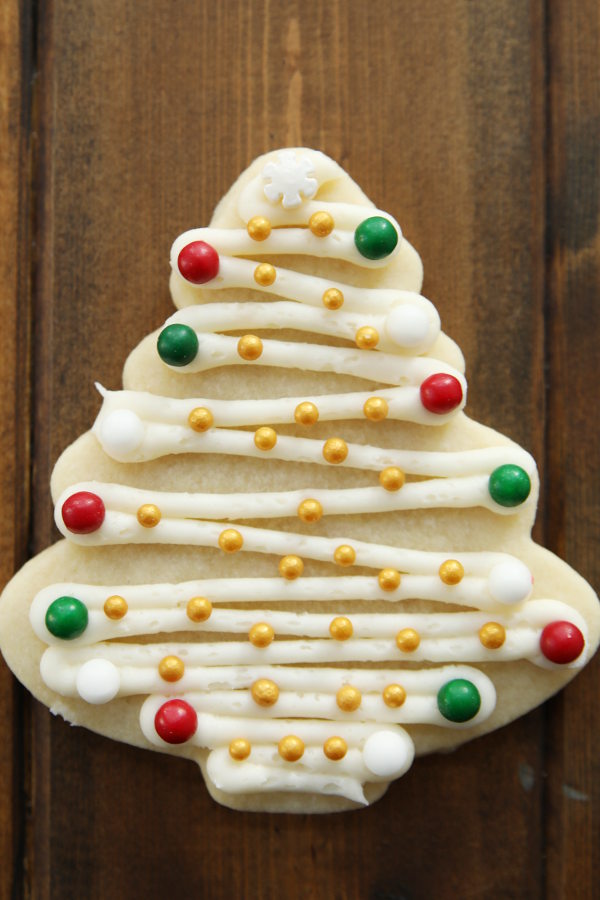 Easy Sugar Cookies for Christmas 
Cookie decorating has been going on since the 14th century!  In the US making sugar cookies for Christmas is a beloved tradition that reminds us of the simple things in life and the joy of flour, butter, and sugar beaten up with vanilla!  I have enjoyed baking since my childhood and the experience has tied me to my history even as my grandparent's generation passed away.
Now that I'm raising my own children I've come to understand the importance of traditions in the rhythm of life. My children mark seasons and time through the traditions we have built and they look forward with joy and expectation to simple little things that mean a great deal to them!
Making sugar cookies at Christmas has become a precious tradition in the rotation of our year.  We take that time to be creative, to enjoy each other's company, and to share sweet, delicious cookies!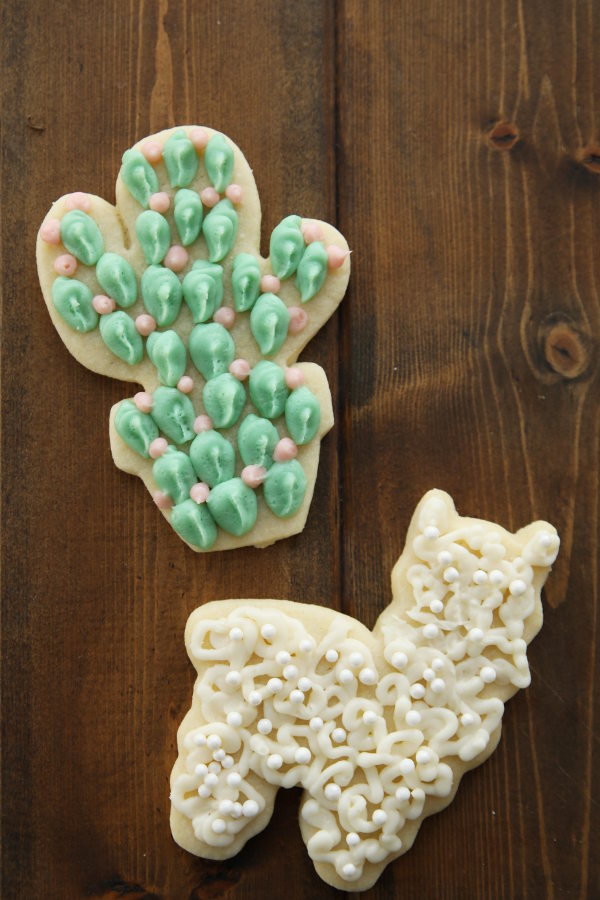 Kid Friendly Cookie Decorating Ideas 
This sugar cookie recipe is so easy that it is perfect for making with children. Even my two year old enjoys cutting out her own cookies (with a little help from mom) and will sit still decorating them for more than an hour! If you have a fancy table  or table with groves in the wood try putting down a disposable table cloth to protect it before getting started.  I keep a vinyl table cloth on hand for projects like this.  It is easy to shake off outside and then wipe off.
I also recommend giving each child a paper plate to decorate on so extra sprinkles are more contained.  
Sometimes we take a butter knife or frosting spatula and spread the frosting on the cookies and then the children decorate with sprinkles etc.  Sometimes we pipe the frosting on. 
When we are piping I put small amounts of frosting in the piping bags so the children can easily squeeze it out.  The youngest ones need a little help but still love to squeeze the frosting.  If they are having trouble you can use warm hands to warm a bag of frosting up a little bit before squeezing so that the buttercream is more pliable.  
These are my favorite ways to decorate with little ones:  If you live by a store that has a bulk section it is fun to buy 1/2 cup of different candies, nuts, etc for decorating.  
Buttercream frosting (recipe included).  It tastes great and is easy to spread or pipe depending on age. 
Sprinkles and edible glitter
Red hots
Chocolate Chips – miniature and regular size
Mini M&Ms make cute eyes and buttons 
Sweetened dried coconut flakes 
Edible pearls (a favorite on ginger bread girl dresses)
Jelly Belly size jelly beans 
My Favorite Tools to Bake Cut Out Sugar Cookies
Some tools are more important than others in baking.  This is a list of my favorites to make things easy but remember you don't have to have all the gadgets to have fun!  You could use a wine bottle or a water bottle to roll out the cookie dough!  Cookies can be cut out using a butter knife so you don't have to have a fancy cookie cutter!  Baking is about creating and being inventive and making something delicious.  
Rolling Pin: This rolling pin has measuring disks so every cookie gets rolled out to exactly the right thickness every time. It helps to make cookies perfect! 
Cookie Cutters: I LOVE Ann Clark Cookie Cutters.  They are high quality metal cookie cutters made in the USA. They are sturdy and come in tons of great designs. (I splurged recently on her lama and cactus set and the are adorable!)
Parchment Sheets: Parchment paper helps make cookies bake up correctly.  I use Reynolds Kitchens pre-cut parchment sheets which saves a lot of time prepping my parchment. I re-use the same sheet for every tray of cookies for the batch and throw it away when I finish baking.  This means that I usually use two sheets total every time I bake a batch of cookies. 
High Quality 1/2 Sheet Baking Pans: The quality of your cookie sheet is directly related to the quality of your cookies.  Using something from Dollar Tree is a no go here!  Buy the best quality, sturdiest pan you can afford – you get what you pay for.  My favorites are from Sur La Table.  I also like the higher end Calphalon Cookie Sheets and higher end Nordic Wear Sheets. 
Cooling Racks:  I have two of these for cooling cookies.  They have held up over a decade now. 
My Favorite Tools to Decorate Cut Out Cookies
Decorating cookies can be as simple or as fancy as you like. You can use a knife to spread some frosting on the cookies or you can pipe on frosting.  These are my favorite cookie decorating tools.
Disposable Piping Bags: Cost effective and easy to use.  I keep a bunch on hand so I can make half a dozen colors of frosting if I want. 
Gel Based Food Coloring:  Gel based food coloring gives bold colors without diluting the frosting recipe.  A little goes a long ways.  I dip a toothpick into the gel about 1/4″ and then stir the toothpick into the frosting to add the color.  As the frosting dries it is usually a few shades darker than it looks wet. 
Frosting Tips:  I have hundreds of frosting tips (prior run in with wedding cakes) but you only need a few to have fun.  Start with a set or just pick a few favorites off the shelf at the craft store.  Wilton makes good ones and they are available in most cake decorating sections.  
Decorating Couplers:  Having a few couplers is really nice.  It means you can make one bag of purple frosting and just screw different tips to the bag.  This is great for saving time and energy and they are inexpensive.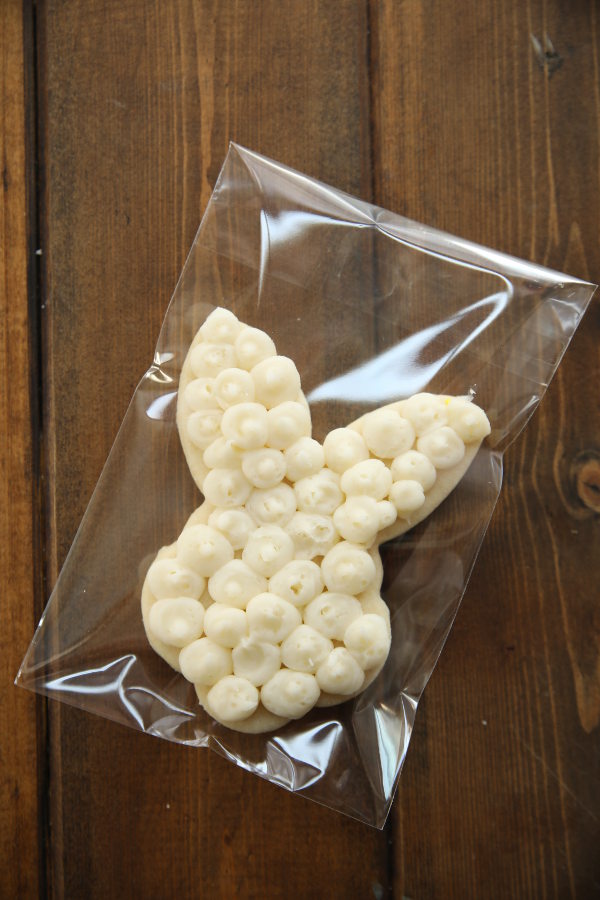 All of Your Sugar Cookie Questions Answered!
This recipe has been beloved for years here on Mirlandra's Kitchen and I've had questions and emails about lots of things.  These are the questions I hear most often.  If you have more please leave a comment at the bottom of this post!
Can I Make the Dough in Advance?
Yes!  It is so fast I like to make it fresh but you can make it several days ahead and then refrigerate it.  See instructions below on chilling the dough. 
Can I Chill the Dough?  
This dough does not HAVE to be chilled.  You can make it and use it without chilling!  
But, if you need to save it in the refrigerator for a few hours or a few days you can! Wrap the dough tightly in plastic wrap and refrigerate it.  Afterwards  let the dough come to room temperature before trying to roll it out.  Dough that has been refrigerated might need a little additional flour to keep it from sticking when you roll it out. 
My Dough Seems Sticky or Crumbly? 
This sugar cookie dough should feel like play dough when it is finished.  It will be smooth and pliable and soft but not sticky.  
Flour measurement is the most normal culprit.  Always use the dip and sweep method of measuring flour when baking.  Dip a spoon into the flour and use the spoon to fill your measuring cup.  Then level the cup with the flat side of a knife.  Never pack flour into a measuring cup or use it to scoop up flour.  These methods will get too much flour into the recipe. 
I Don't Have a Stand Mixer – Can I Make Sugar Cookies Another Way?
I don't believe you should own a stand mixer unless you bake frequently.  People have been baking by hand for hundreds of years with great results!  You absolutely can bake these cookies without a mixer at all!  You can also use a decent quality electric hand mixer for one batch of cookies.  If you are using a hand mixer don't double the batch – many mixers can only do one batch of dough at a time.
If you are considering buying a stand mixer I suggest avoiding the Kitchen Aid.  You can read more about my extensive testing of three stand mixers here.  
Can I Make These Cookies Gluten Free?
Absolutely!  Just switch out the regular flour for your favorite Gluten Free blend.  
Can I Leave Out the Almond Extract?
Yes you can!  Use the same amount of vanilla instead as a substitution.  I love the light, faintly cherry flavor of the almond extract in these cookies but if that subtle flavor is not for you use vanilla instead!
What Kind of Frosting Do You Use for Christmas Cookies?
Many people decorate Christmas cookies with Royal Icing.  I'm not a fan of this because it doesn't taste good!  I use vanilla buttercream frosting to decorate the cookies.  It is a crusting buttercream so the outside will develop a little bit of a crunch while the inside is still smooth and creamy.  It tastes amazing for a week and never dries out to become super crunchy and weird.  
You can't stack decorated cookies that have been frosted with buttercream but if you transport them in a single layer they stay beautiful and taste wonderful. 
The frosting recipe is included in this post – see below!
Can I Freeze the Baked Cookies?
Yes!  Baked cookies freeze well so you can make them in advance and freeze them for later. 
How Do I Transport Decorated Cookies?
Baking sheets or wooden trays are a great option.  Lay the cookies in and cover the top with plastic wrap.  
How Do I Package Decorated Cookies as Gifts or Favors? 
I've been using these self sealing treat bags to package up cookies. The frosting recipe crusts nicely so they can be bagged.  You can't stack them on top of each other but once sealed you can transport them in a single layer.  
Decorated cookies can be put on paper plates with plastic wrap over the top of the plate. 
My Best Cookie Recipes 
Easy No Chill Cut Out Sugar Cookies
These cut out sugar cookies taste amazing, are super easy to bake (no dough chilling!), and are perfect for decorating! I baked hundreds of cookies to arrive at this recipe!  We love making these with our little ones for Christmas, birthday parties and just because it is fun to put frosting on cookies you made yourself! I've included my delicious buttercream icing recipe that is perfect for piping or spreading on your cookies.  There are also lots of tips, tricks, and tools to help you bake the most wonderful sugar cookies of your LIFE! 
The number of cookies you end up with will depend on the size of cookie cutters you use. Check out the "notes" section at the bottom for great tips and tricks.
Ingredients
1

cup

salted butter, softened

(can sub unsalted + 1/2 teaspoon salt)

1

cup

granulated white sugar

1

large egg

1

teaspoon

real vanilla extract

1/2

teaspoon

almond extract

2

teaspoons

baking powder

3

cups

all-purpose flour
Instructions
Preheat the oven to 350 F.

In the bowl of a stand mixer use the paddle attachment to beat the butter and sugar together at medium-high speed for 1 minute. (Or beat by hand or use hand held electric mixer.)

On medium speed, beat in the egg, vanilla, almond extract, baking powder and salt. (Note - if you used salted butter you don't need to add any additional salt here.)

Measure the flour correctly (see note) and add to the mixer 1 cup at a time, beating until combined after each addition.

Don't chill the dough!!! Divide it into two balls and roll out to exactly 1/4" thick on a clean piece of parchment paper using just enough flour on your rolling pin to prevent sticking. Scraps of dough can be gathered up, kneaded together until they are a uniform ball and then rolled out again. Repeat as needed until used up.

When removing cut cookie dough from the parchment paper use a thin, flexible metal spatula. Quickly slide the spatula under each cookie and use the spatula to put the cookie on the baking sheet.

Line cookie sheets with clean parchment paper. Space out cookies on sheets with enough room to rise. Bake at 350F for 6-8 minutes. The cookies will not be brown at all. They will be dead white but look set. (For crisp cookies instead of soft bake an additional 2-3 minutes until edges start to brown.)

After removing from the oven let the cookies cool on the sheets for several minutes until firm enough to move without breaking. Use a spatula to put the cookies on a wire rack. Cool completely before frosting.

Decorate with vanilla buttercream (below) and store tightly covered for up to five days.
Notes
How to Measure Flour: Too much or too little flour makes bad cookies. The correct way to measure flour is to spoon it into the measuring cup and then use the flat edge of a knife to level the cup. This ensures exact measuring. Doubling The Recipe:  This recipe can easily be doubled or even tripled!  If you are using a hand held electric mixer only beat one batch at a time.  (Same suggestion if beating by hand.) Saving Dough For Later: Yes, you can refrigerate the dough and roll it out later. You will need to knead the dough a bit until it becomes softer or allow it to come to room temperature by leaving it on the counter for about 20 minutes. Rolling Out Dough: I have tried multiple ways of doing this. My favorite is to lay a piece of parchment paper on the counter and roll the cookies out on that.  Lightly flour the parchment paper and the rolling pin. You can use the same piece of paper for the entire batch of dough.  Freezing Cookies: These generally freeze well for short periods. If you want to freeze them seal them up as soon as they have cooled.
Nutrition
Nutrition Facts
Easy No Chill Cut Out Sugar Cookies
Amount Per Serving
Calories 107
Calories from Fat 9
% Daily Value*
Fat 1g2%
Sodium 1mg0%
Potassium 34mg1%
Carbohydrates 14g5%
Protein 1g2%
Calcium 11mg1%
Iron 1mg6%
* Percent Daily Values are based on a 2000 calorie diet.
Buttercream Frosting For Decorating
A big batch of this will make your cookies that much more amazing!
Ingredients
2

cups

salted butter

softened

2

pounds

of powdered sugar

1/2

cup

whipping cream

does not have to be heavy whipping cream

1

Tbsp.

real vanilla extract

¼

tsp.

salt
Instructions
In the bowl of a stand mixer with the whip attached beat butter until creamy. Add powdered sugar and beat on slow speed until incorporated. This is a good time to use a shield or throw a towel over the mixer.

Add the cream, vanilla and salt. Beat on low speed until combined and then beat on medium-high speed for two - three minutes. The frosting will be fluffy and light. Taste for salt and vanilla if desired.

Use at room temperature to frost cookies by spreading or piping.

Leftovers can be saved in the fridge for a month of frozen for long term storage. This stuff is always great to have around!
I read each and every comment and I try to respond to questions asap, so ask away! If you've made a recipe, I would love to hear about it! Please come back and share your experience and give the recipe a 5-star rating so other people will know how much you loved it!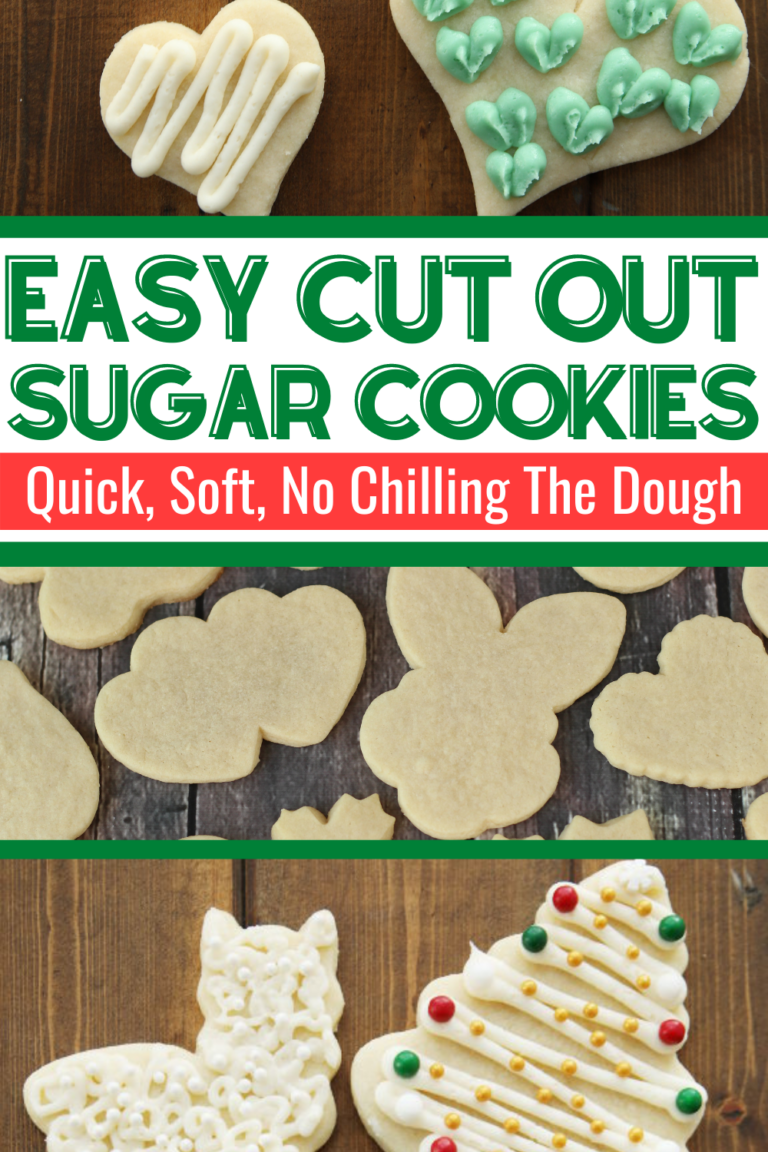 This post was originally published in October of 2015 and has been updated for content and photos in Oct 2020.  Recipe adapted from here.