Tender chicken breast is smothered in a queso like sauce full of fire roasted hatch chiles, sprinkled with bacon and then covered in more cheese. Want some?!? 15 minutes to get it in the oven and 20 minutes to cook makes it an easy weeknight dinner.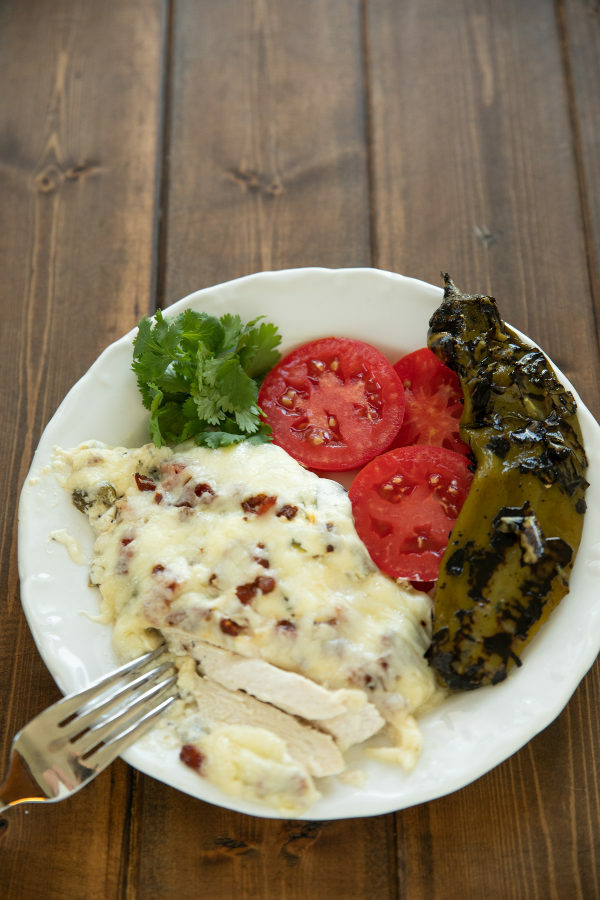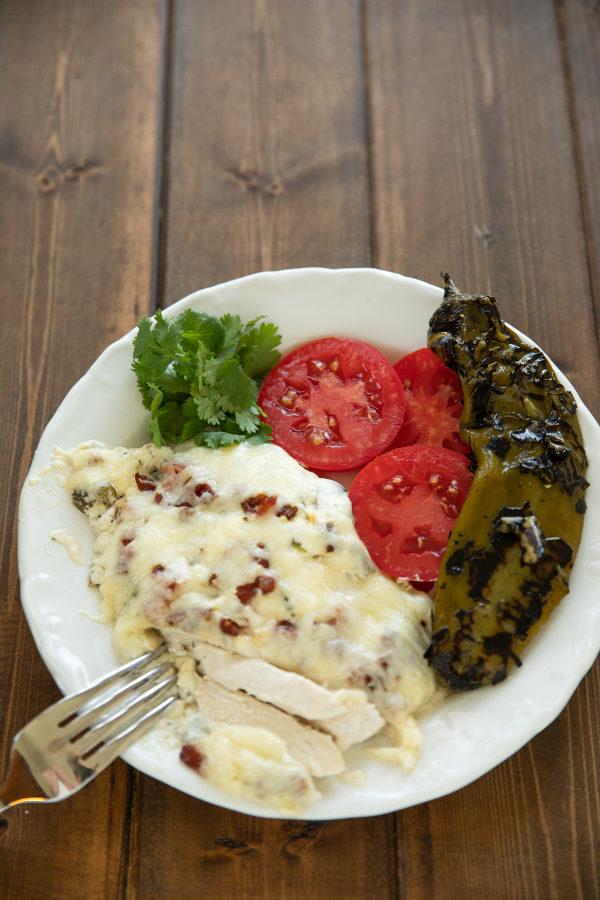 15 Minute Chicken Dinner For The Win
The life of a toddler mom is rich and full but sometimes there doesn't seem to be a lot of extra time for dinners that take an hour to get on the table.
"Sometimes." Who am I kidding? More like never! Yesterday I cleaned up two epic spills of liquid off the kitchen floor and my daughter got a sink bath. Dinner prep needs to be fast and to the point!
With the kids at full steam ahead toddler stage I've been developing more and more recipes that come together in a few minutes but still have lots of flavor! We focus our meals on meat and veggies most of the week so dishes like this that don't automatically include a starch are perfect.
Hatch Chile Season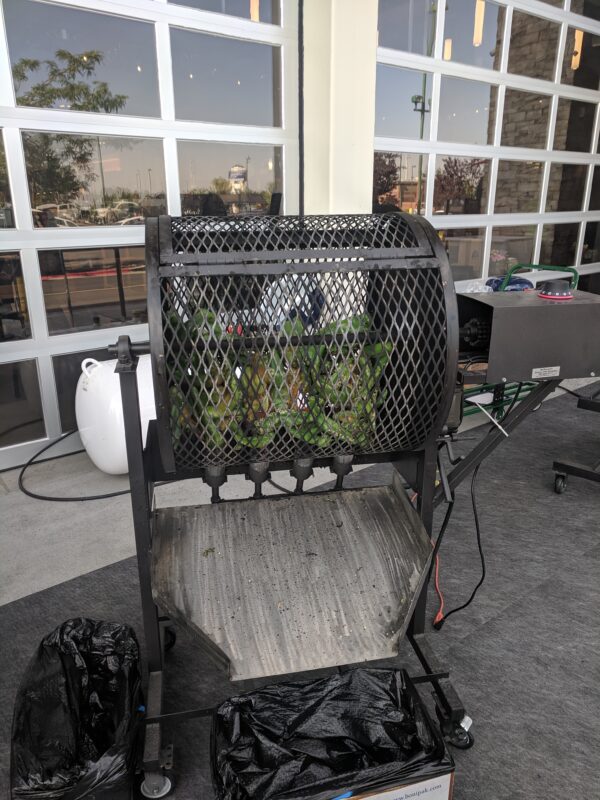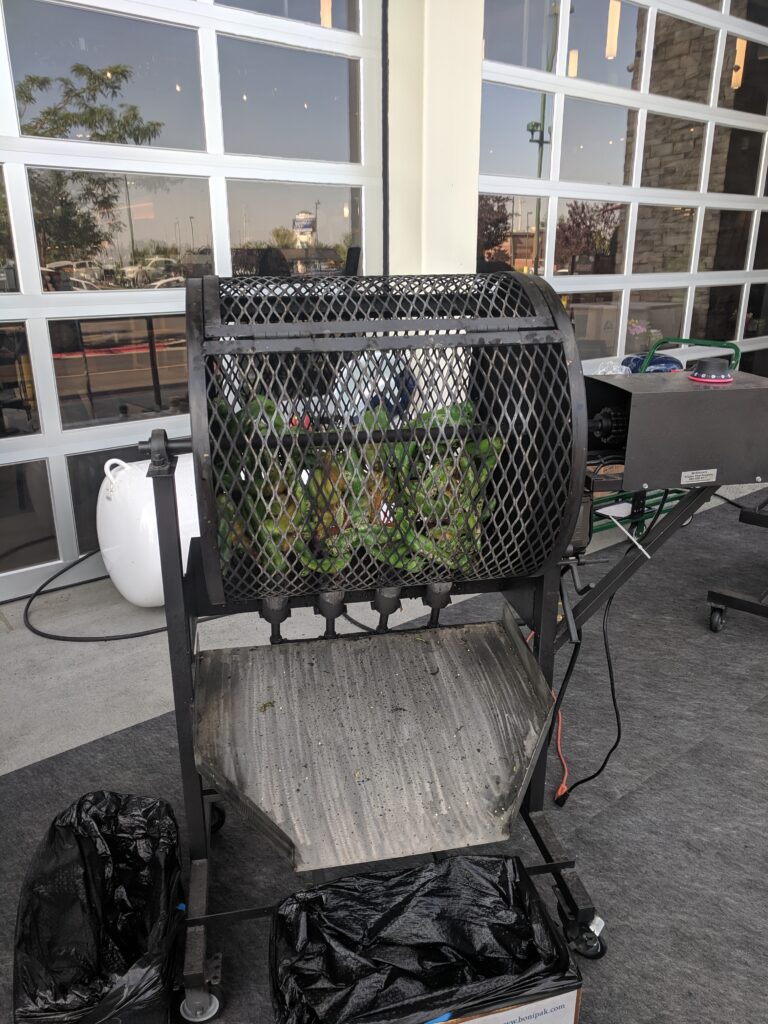 This chicken bake gets a wonderful, full flavor from fire roasted Hatch Chile peppers. These tasty peppers are grown in the Hatch Valley region of New Mexico. If you are lucky enough to live in the area every store brings out a roasting wheel and fire roasts the peppers for deep, smokey heat.
Here in Idaho we are very lucky to have a few local stores bring in roasting wheels for a week every summer! They roast the chiles out in front of the store (which is fun to watch) and then you can buy big bags of the cooled down peppers in the store.
What are Hatch Chiles Used For?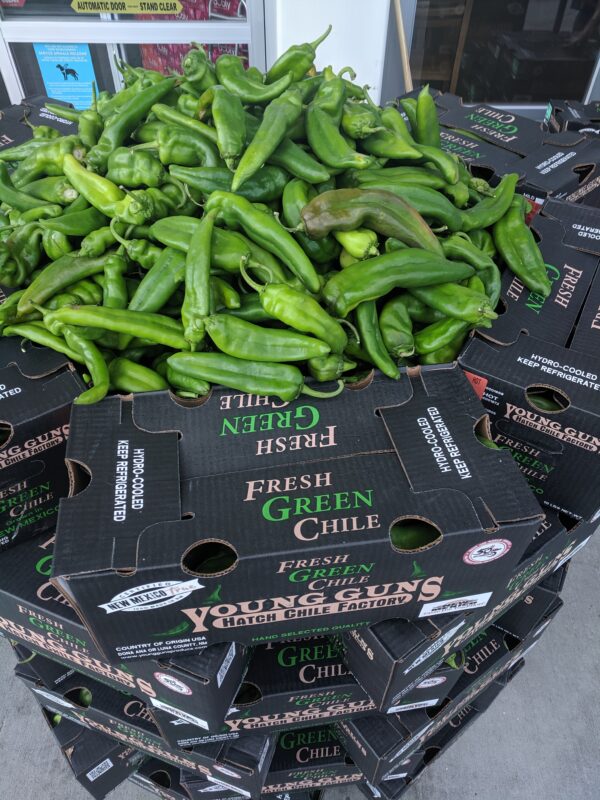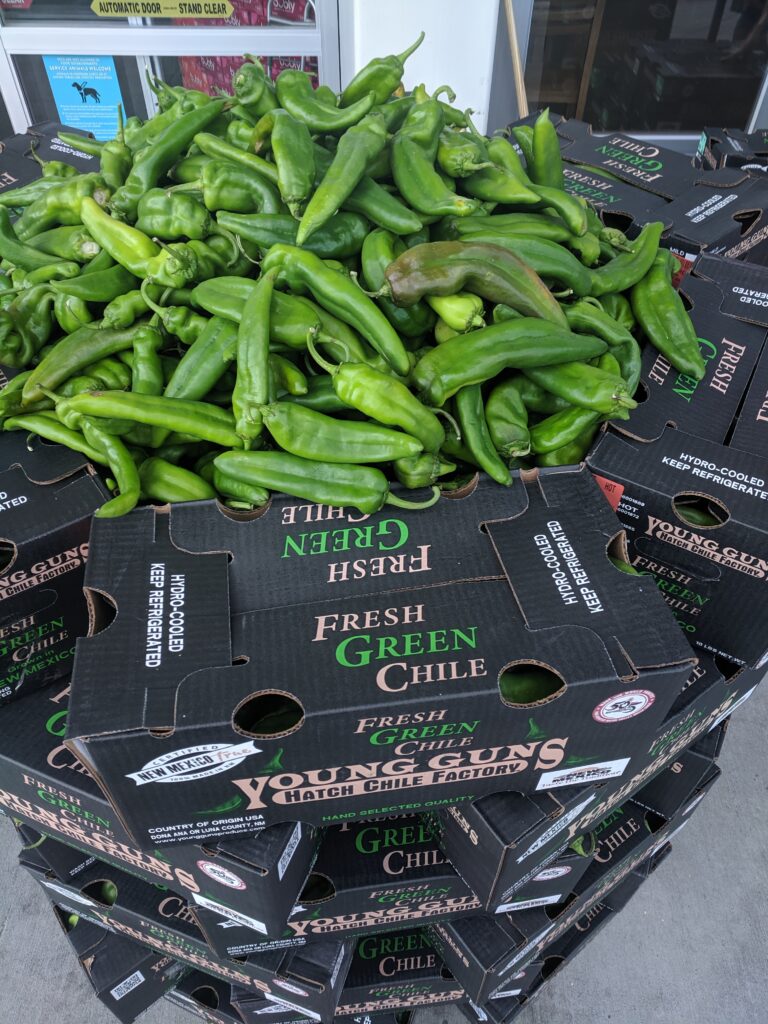 Hatch chiles (sometimes spelled chili) are just a chili pepper grown in the Hatch Valley – nothing more, nothing less! The go in pretty much anything and are a Southwest classic.
It is common to pair them with pork, chicken, eggs, and cheese. I still have a few pounds left and I'm planning to make some hatch chili pimento cheese before I freeze the rest!
Let's put it another way… If a bell pepper would be good in something, a Hatch Chile would be AMAZING! There – you have it.
Do You Have to Peel Hatch Peppers?
Nope! Lots of people say you do and you can, but back to that time thing. I'm not fussy and I just pull out the seeds and membranes and cook up my meal. I don't have time to dilly dally!
As I'm chopping if some of the blistered skin falls off I push it to the side but that is it.
Are Hatch Peppers Hot?
The heat of hatch chili peppers depends on what you buy. They come in mild, medium, and hot. For our family meals I get mild. They have a spice level along the lines of Taco Bell's mild sauce.
If you like a kick get medium. They are what most people would consider "spicy" but not overwhelming.
Then there is HOT and that will get your blood flowing! It is pretty zippy.
As with any hot pepper, the spice is mostly in the membrane and seeds. Any part of the pepper that has touched that part will be spicier than the pepper further away from the stem.
Can Hatch Peppers be Frozen?
Hatch season is short and the season where you can get them fire roasted for free is even shorter. I always grab a few big bags and bring them home to freeze.
Lay out the peppers in a single layer on a lined baking sheet, freeze and then toss into Ziploc bags. Or if you know how much you need you could chop them and freeze in one cup portions.
Cheesy Hatch Chile Chicken Bake
Tender chicken breast is smothered in a queso like sauce full of fire roasted hatch chiles, sprinkled with bacon and then covered in more cheese. Want some?!? 15 minutes to get it in the oven and 20 minutes to cook makes it an easy weeknight dinner. Keto, low carb friendly and gluten free.

Ingredients
3

strips thick cut bacon

2

boneless skinless breasts

1/2

cup

fire roasted hatch chili

seeded and chopped (see note)

8

oz

cream cheese

softened

½

teaspoon

garlic powder

¼

teaspoon

salt

½

teaspoon

coarsely ground black pepper

1 1/2

cups

Monterey jack cheese

shredded
Instructions
Preheat the oven to 375 F.

Dice the bacon and crisp it up in a frying pan over medium-high heat. Drain the pieces on a paper towel and set aside.

Slice the chicken in half. Use the flat of your hand to hold the breast steady on the cutting board and start at the thick end. Slice horizontally to create two slices that are about even thickness. Lay the four pieces of chicken in single layer in a 9"x12" casserole dish.

Remove the stems from the chilis and slit them up one side so each pepper lays flat. Use a knife to scrape out the seeds and membranes and discard them. Dice enough peppers to make ½ cup.

Thoroughly mix the cream cheese, garlic powder, salt and pepper. Stir in the chopped chilies. Spread the mixture evenly over the chicken. Scatter the bacon on top. Scatter the Monterey jack cheese on top of that.

Bake at 375 F until the chicken has reached 160F internally, and the cheese is browning on top. 20-25 minutes.

Serve hot over rice with refried beans and fresh tomato slices.
Notes
Mild, Medium or Hot?:   How spicy are hatch chilies? The mild ones are usually suitable for children. The medium is on the spicy side for people who really don't eat anything hotter than mild sauce at Taco Bell. The hot are HOT. You can make this recipe with any of the three varieties.
When hatch chilies are not in season you can buy them canned. Drain the chopped chilies and use ½ cup as per recipe directions.
Nutrition
Calories:
400
kcal
|
Carbohydrates:
3
g
|
Protein:
14
g
|
Fat:
32
g
|
Saturated Fat:
19
g
|
Cholesterol:
101
mg
|
Sodium:
529
mg
|
Potassium:
113
mg
|
Sugar:
2
g
|
Vitamin A:
1087
IU
|
Calcium:
372
mg
|
Iron:
1
mg
Nutrition Disclaimer
MirlandrasKitchen.com is written to share great recipes. While we do our best to provide nutritional information as a general guideline, we are not registered dietitians and the values provided here should be considered estimates – not exact scientific data.