Making a special Prime Rib Roast does not need to be intimidating.  This recipe has simple instructions and tips to make the perfect roast that will amaze all your dinner guests.  This is the holiday roast people will be telling stories about ten years from now!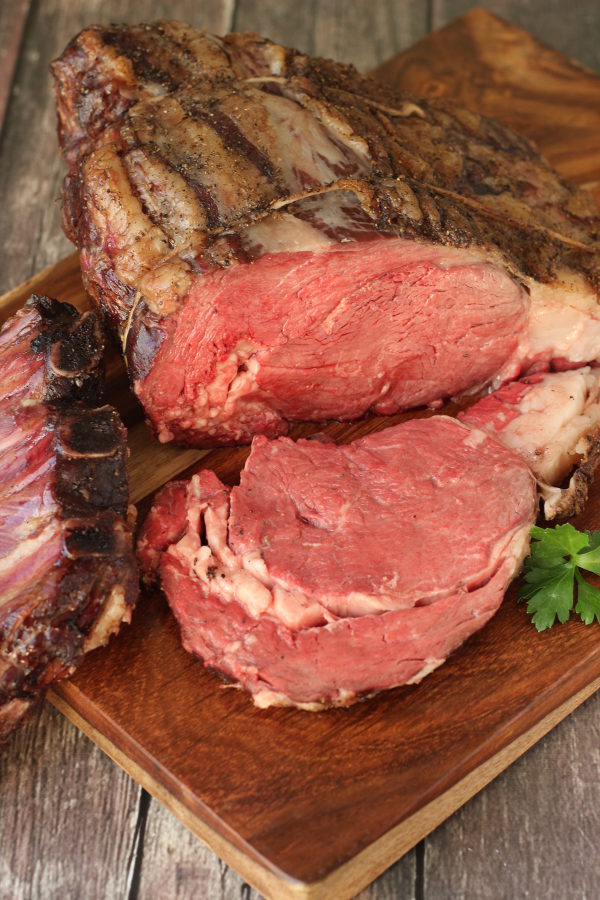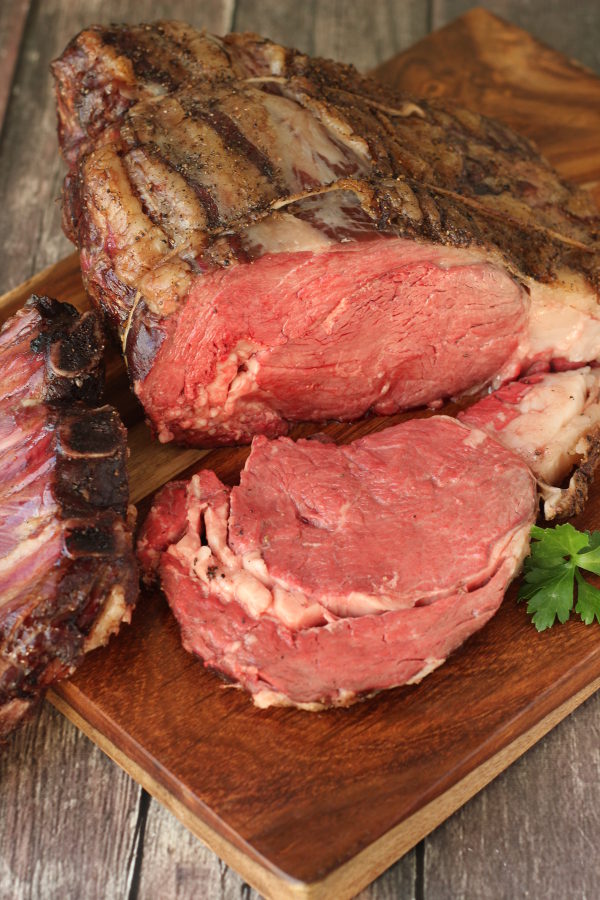 In my family of beef lovers there is no meal so treasured as a perfectly cooked Prime Rib Roast.  Anybody can make a great prime rib and it is easier than you think!  I have included everything you need to succeed in this tutorial followed by an amazing but simple recipe for prime rib roast with a reverse sear (sounds fancy but I promise it is easy.)
The Ultimate Tutorial to Make Perfect Prime Rib
Prime Rib is expensive to buy and it is easy to feel nervous about messing up such a pricey dinner.  Add in an unclear or fancy recipe and next thing you know, it can feel intimidating or impossible to actually cook the thing.  But here is the truth:  It is just a piece of beef.  You are going to cook it and eat it.  Dinner will be amazing.
All you really need is a great recipe with clear instructions , a roasting pan, a thermometer and some salt.  There is a lot of science behind roasting meat to perfection which went into this recipe but what you really need to know is rub, wait, roast, check temp, rest, and sear.  Honestly, a 10 year old who is good at following instructions could probably use this recipe to make a perfect dinner!
Each section of this tutorial addresses one a thing you need to know about buying, preparing, roasting, or serving prime rib!  Use the section titles as a guide to get the information you need.  As always you can drop questions in the comments!
Everything You HAVE to Know about Buying a Prime Rib Roast
Get a well marbled piece of meat!  The marbling is fat running through the muscle of the meat and it is what gives the flavor.  If you dislike fat in your beef please consider something other than prime rib!
Prime grade vs Choice grade:  Beef is graded based on quality.  Prime beef is from younger well-fed beef cattle.  Choice is still high quality but will have less marbling.  Select grade has less marbling still and  as such will be less juicy and flavorful.  Technically your butcher will tell you that you are not cooking "Prime Rib" if you don't buy the Prime grade of beef.  The butcher isn't wrong but you can make your own choice about what kind of meat you want to splurge on.
Grass Fed Beef vs Grain-Fed Beef:  Let me be very clear.  ALL beef is raised on grass.  Some beef is then "grain-finished" which means that at the end it is fattened up on grain. Exclusively grass fed beef will taste more like grass and have more of that "funky" taste some people like.  Grass-Fed Grain Finished will usually be more marbled and have a milder less earthy flavor.  Personally I prefer grain finished but the grass fed market has come a long ways and is no longer the crazy lean meat it used to be.  Just know what you like and what you want to get.  
Plan ahead!  Read the recipe and buy your meat with enough time in advance to season the meat with salt and let the salt penetrate into the roast.  (See recipe for details)
At the end of the day Prime is going to be the most expensive and the nicest meat.  But there are plenty of Choice roasts that are delicious and will make a great "Prime Rib" for your table.  Buy what you can afford and enjoy it!
How Much Prime Rib Should You Buy?
Bone In:  For bone in prime rib you usually serve each person a rib which means you should buy one rib per person and then add one or two more ribs.  This may result in leftovers because that is a huge serving of meat!  (Those leftovers make killer sandwiches, tacos, breakfast hash and late night snacks!  I say bring it on!!!)  Realistically one rib should feed two average adults but if they are in holiday feast mode (and your roast is gonna be AMAZING) then be prepared!
Bone In Ribs Removed:  If you are serving the ribs removed (see my photo for how this looks) You can calculate based on pounds.  Plan on about one pound per person.
Boneless:  For a boneless prime rib you can plan on 1/2 pound per person since you don't have the bones to deal with.  This is a fairly fatty cut of meat so planning on 8oz per person is pretty average.  I usually buy a few extra pounds "just in case" and because when you bring out this roast it always looks like locusts hit!
Getting the Right Roasting Pan and Rack for Prime Rib
Prime Rib (and other roasted meats) cook best on a rack over a roasting pan.  Cooking a roast directly on the bottom of the pan causes it to cook the bottom of the roast faster and thus less evenly – not good!
Buy a roasting pan big enough to deal with your larger meats (like turkey) so that you only need to buy one.  I suggest avoiding all the non stick pans in general and anything that is obviously thin!  A roast is going to drop down unto the pan and you want to be able to get the drippings up for gravy or scrub the pan if you need to.  Cuisinart makes a solid roasting pan that will suit most cooks just fine!
The Easy Way to Get Perfect Prime Rib Temperature
New to roasting meat?  No problem!  Anybody with a digital thermometer can make a great prime rib roast!  A instant read thermometer is absolutely essentially to cooking prime rib correctly.  I do suggest avoiding the leave in thermometer probes available.  They usually read about 5 degrees low because of how meat conducts in metal and you will end up getting the meat cooked beyond where you want it to be.
The ideal prime rib temperature is medium-rare.  But the following temperatures will help you gauge how well done you would like your roast to be:
Rare – 120F
Medium Rare – 130F
Medium – 140F
Medium Well – 150F
Well – 160F (otherwise known as destroying the best cut of meat you bought all year!)
The Reverse Sear Cooking Method
In this recipe I use the Reverse Sear method of cooking Prime Rib.  The roast is cooked for hours in a low 200F oven!  It is a slow process but means the meat looses almost NONE of the delicious juices as it roasts!
After the slow cooking the roast is rested for 30 minutes or longer if you want to put together a few side dishes.  Then it goes back in the oven at a whopping 500F for 10 minutes.  The roast has already cooked as much as it needs to and has rested so the meat fibers can relax.  Now all we are doing is getting the edge brown and crispy!  From there it goes right to the table to be carved and enjoyed!
My Opinion of The Prime Rib 500 Rule
There is a popular method of cooking prime rib called the 500 Rule or the Foolproof Method.  I'm not a fan!  This method is timing based.  You crank the oven up to 500F  into the oven put the prime rib in and cook it 5-6 minutes per pound.  Then you leave the meat in the oven for 2 hours without letting anybody open the oven door (they open the door the method fails).  After two hours you check the meat and if the roast isn't quite done then you cook it at 375F for awhile.
The ONLY way to nail your prime rib is by cooking it to temp with a thermometer.  Messing around with timing doesn't take into account when the oven cycles, the fat content of the meat, the shape and structure (bones in our out) or if somebody gets curious and opens the oven door!
I also don't love cooking the meat at such a high temp for so long.  It isn't a reliable way to get a delicious roast.
Making Prime Rib Au Jus
Au Jus is a French term that simple means "with juice."  It generally refers to serving roasted meat with a broth or thin gravy that is made from the meat drippings created by roasting.  The beautiful thing about a good reverse sear prime rib (the method we are using today) is that the juice STAYS in the meat!  Wonderful for your prime rib – no method better!  But you can be left without much of anything to make Au Jus with.  I suggest keeping a stock of high quality homemade beef stock on hand.  I make mine in the Instant Pot and freeze it in one cup portions.
Other standard ingredients for Au Jus include Worcestershire sauce, red wine, white wine, garlic, and all-purpose flour.  You can make Au Jus without pan drippings using a recipe like this one from Mama Loves Food.
If you find yourself having an Au Jus emergency (yes that is a thing) Johnny's makes a French Dip Au Jus concentrate that will serve you well in a pinch.  (No it doesn't taste like homemade but it is tasty.)
Our Family Roast Beast Tradition
When I originally took the photos for this recipe my son, Jack, was almost a year old.  Even then he already loved a good prime rib and I got some photos of him snagging a slice off of the cutting board.  He later enjoyed gnawing on a bone.  Jack did most of his teething on various meat bones (yes cooked ones).  I don't know if that is recommended in general but it was what was done 100 years ago and our pediatrician was fine with it.  Jack liked bones better than teething toys so you could usually find him with a chicken leg bone or some such.
In our family we call any big beef roast a "Roast Beast."  I don't know how the tradition started but both of my parents do enjoy a good joke and are known for a love of words.  Prime Rib is our favorite Christmas and Easter dish and I always put it on the menu as Roast Beast.  Now Jack is 5, and our daughter is closing on 3.  When we bring the prime rib to the table the sit and chant, "Roast Beast! Roast Beast! Roast Beast!!!!!!"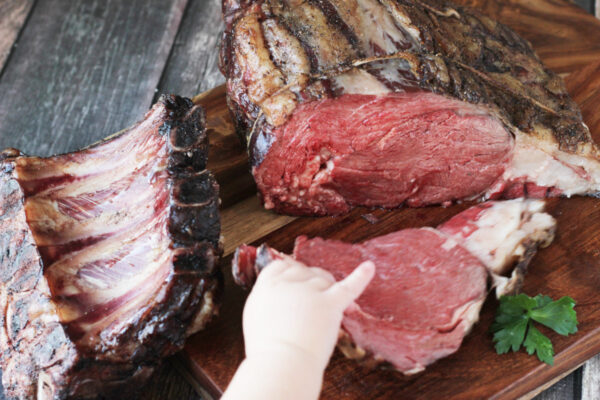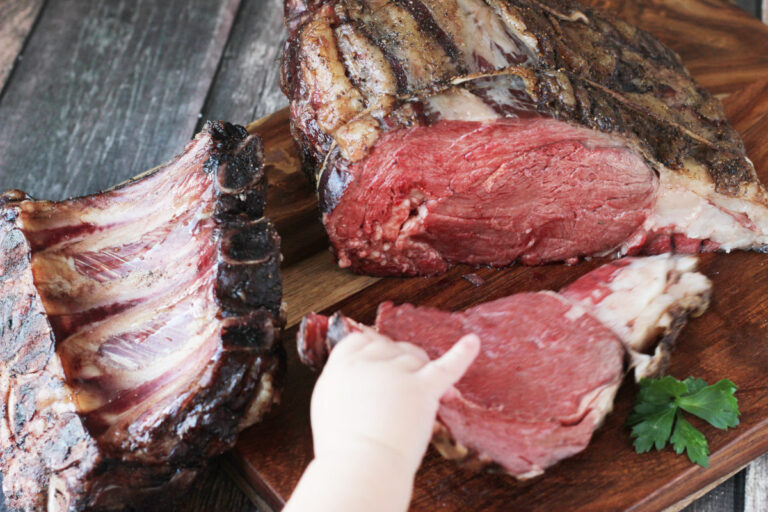 Side Dishes Worthy of your Prime Rib FEAST
How to Make a Perfect & Easy Prime Rib Roast
This is a fail proof and wonderfully simple way to make incredible prime rib roast! In this recipe I'm using the reverse sear with a simple salt and pepper rub. The roast gets cooked low and slow and then rested before a high heat sear at the end to crisp up the outside! Please DO read all the directions before you begin. I've included a roasting schedule at the beginning of the recipe to help you plan ahead and have your roast done at just the right time. The nutrition facts are based on using a 4 pound roast to serve four people and assume that you are eating all the fat instead of trimming some of it.
Ingredients
1

prime rib roast bone in or boneless (at least 4 pounds)

see note

1

Tablespoon

good quality sea salt

1

Tablespoon

black pepper

course grind
Instructions
The Roasting Schedule To Plan For
Here is what to expect for a time table when roasting - please remember that this is a ROUGH GUIDE to help you plan.

1-4 Days in advance do a rub and leave the roast in the refrigerator for the salt to absorb. Time: 15 minutes active + 1-4 days inactive

Day of roasting leave the roast at room temperature for about 2 hours so it can come up to room temperature.

Roast the meat low and slow for 4-5 hours.

Rest the meat at room temperature for at least 30 minutes. (Up to 90 if convenient.)

Sear the roast in a high heat oven for 10 minutes then carve and serve immediately.
Tips and Tricks
Start 1-4 days in Advance. Read all the directions before you begin so you can plan ahead for the time required. When buying a roast, plan on about 1 pound of bone-in prime rib per person. You must have a roasting pan with a rack. You must have a thermometer, digital or traditional to read the internal temperature. Prime Rib has the optimal flavor at 130F. If you need a few slices of more well done meat simmer them in a pan of Au Jus until the desired doneness is reached. (More information in the post above the recipe on all of these topics!)
To Prepare The Meat:
Begin with a salt rub 1-4 days before you want to cook the prime rib.

Rib Bones: If you have bones in the roast they can be left on for cooking or removed in advance and tied on for cooking. Cooking the roast with the ribs attached or cut off and tied back on will produce the same results. The reason to remove the ribs ahead of time is to make for easier carving when serving.

Many roasts come with the ribs already removed and tied back on. If the ribs are still attached to the roast you can choose to make a cut between the ribs and roast to separate them. Use cotton cooking twine to tie the ribs back in place before you prepare your meat.

Salt and Pepper Rub: Generously rub salt and pepper into the roast. Use at least a Tablespoon of each. The salt will work its way inside the meat while the roast is sitting in the fridge prior to cooking. A roast is a lot of meat – don't be afraid to use the salt!

Place the seasoned roast on a rack over a rimmed baking sheet to catch drips and refrigerate uncovered at least one day and up to four days.
To Roast the Prime Rib:
Several hours before you plan to start the meat cooking, set the roast out at room temperature to come to room temperature.

Preheat the oven to 200F and roast the meat until it is 130 F at the center. On average this will take 4-5 hours. (My 8 pound roast with bones on took 5 hours.)
The Reverse Sear!
Remove the roast from the oven and tent with foil. Let it rest for 30-90 minutes depending on when you want to serve the meat. 30 minutes is the most that is required for the roast to relax. The additional 60 minutes is simply to make the timing convenient if you wish.

Preheat your oven on to its highest temperature – about 500F. Remove the tin foil and place the roast back in the oven until it is well-browned and crisp, about 10 minutes. Carve and serve the meat immediately, no additional resting required.

Serve with au jus, horseradish and mashed potatoes (of course!)
Notes
Note: While I enjoy cooking and serving a big impressive roast with the bones (and my husband enjoys going caveman on the bones) it is more expensive and less practical. If you don't enjoy the bones then buy a prime rib that still has the fat cap but does not have the bones.
When it doubt, ask the butcher at the meat counter to point you in the right direction. Generally you will save a up to a few dollars / pound by buying one without bones plus you are not having to pay for the weight of the bones which helps keep the cost down a lot. I have used this cooking method for bone in and bone off, all with great success!
Nutrition
Calories:
1604
kcal
|
Carbohydrates:
1
g
|
Protein:
1
g
|
Fat:
1
g
|
Saturated Fat:
1
g
|
Sodium:
1
mg
|
Potassium:
20
mg
|
Fiber:
1
g
|
Sugar:
1
g
|
Vitamin A:
8
IU
|
Calcium:
7
mg
|
Iron:
1
mg
Nutrition Disclaimer
MirlandrasKitchen.com is written to share great recipes. While we do our best to provide nutritional information as a general guideline, we are not registered dietitians and the values provided here should be considered estimates – not exact scientific data.
I read each and every comment and I try to respond to questions asap, so ask away! If you've made a recipe, I would love to hear about it! Please come back and share your experience and give the recipe a 5-star rating so other people will know how much you loved it!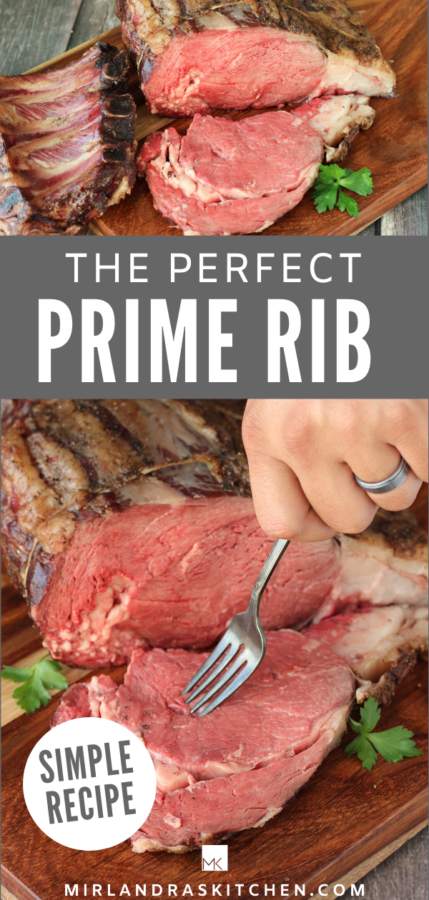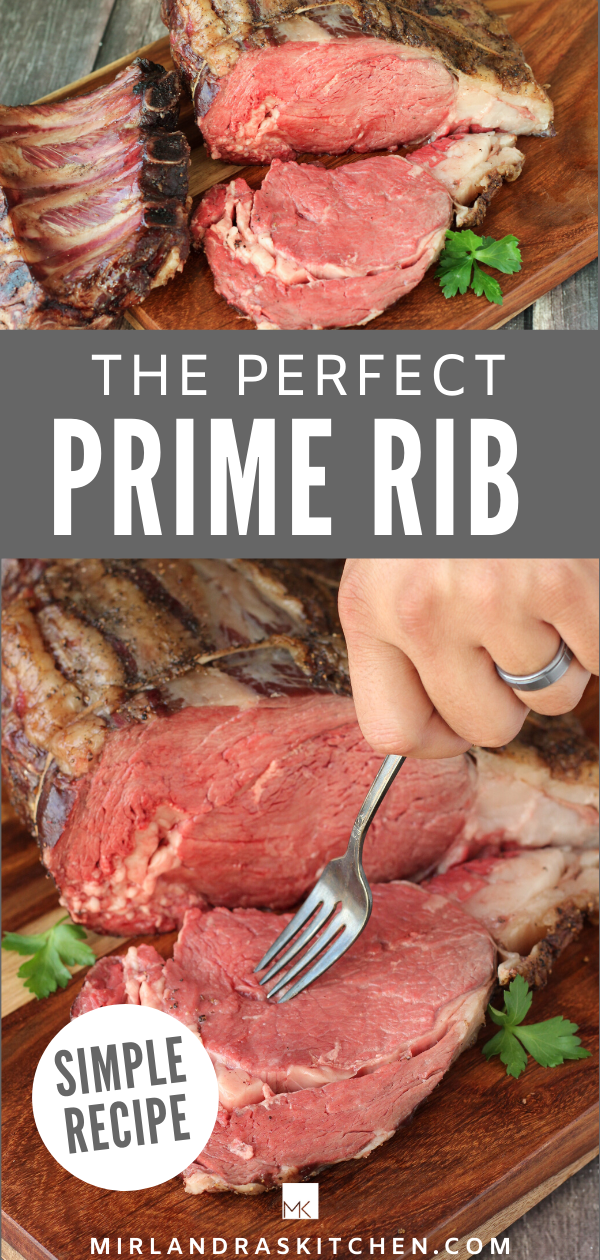 Recipe Credit:  I have been cooking Prime Rib for years but reading everything that Serious Eats has written on the reverse sear process of cooking Prime Rib has revolutionized my process.
This article was originally published December of 2016.  Updated April of 2021.