This delicious grilled cod is slathered in a savory butter sauce and then perfectly grilled for a light smoky flavor. It is super fast to toss together and my fish grilling tips will have you serving up perfect fish fillets in no time!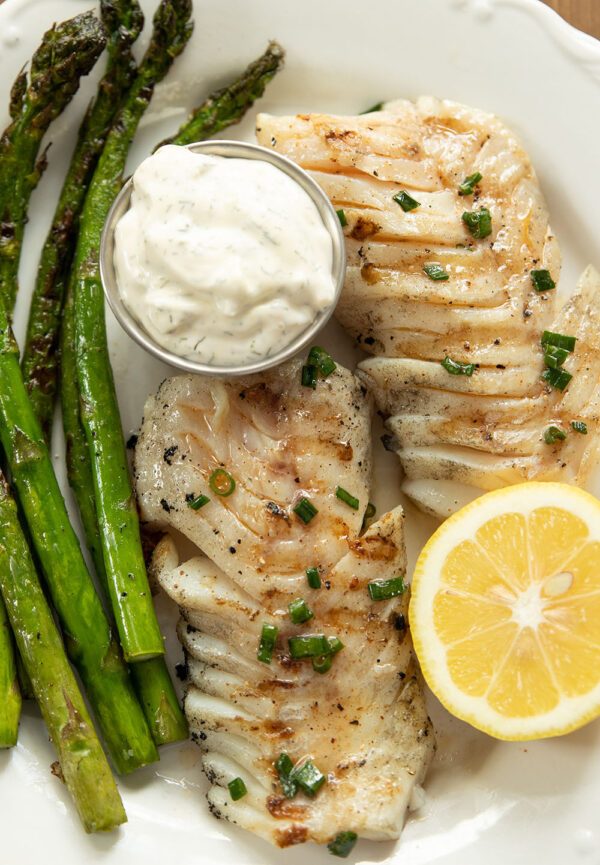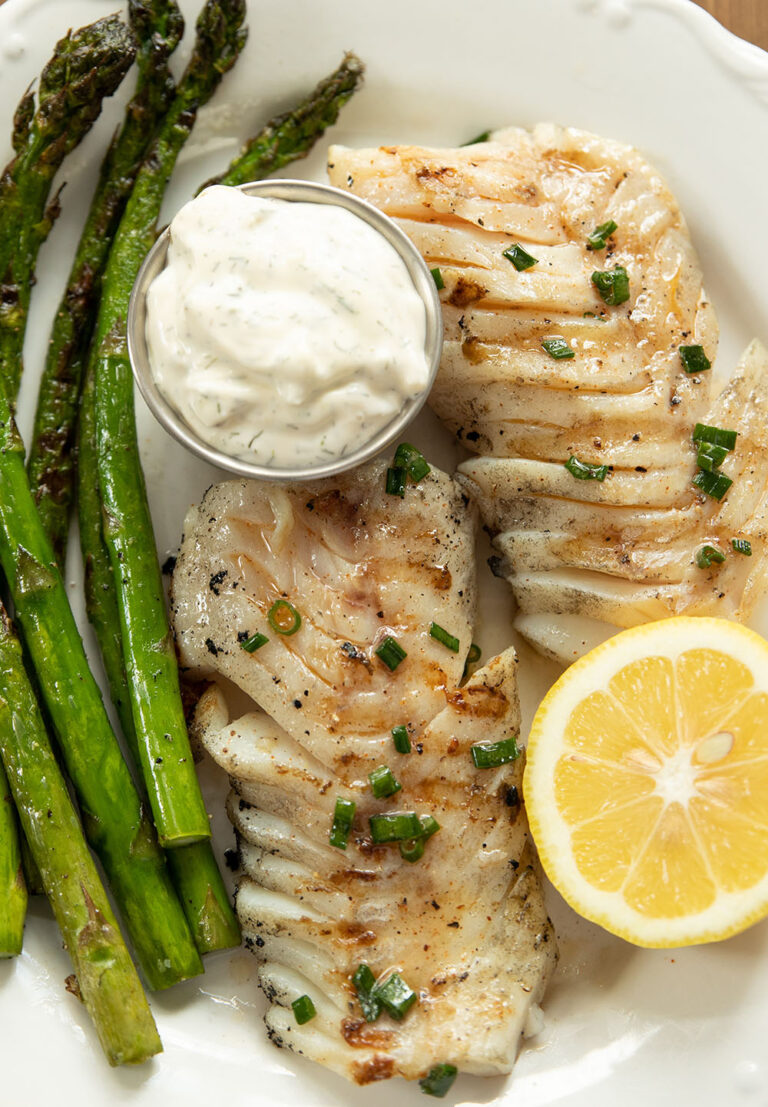 Tips & Tricks for Grilling Fish
Fish has a reputation for being tricky on the grill but it really is pretty easy to grill up some fresh fish fillets! This is also one of the fastest things you can cook on the grill! Even counting the time it takes to preheat the grill this is an easy 15 minute dinner so you don't want to miss having this in your week night rotation!
Choose The Right Fish. Lots of kinds of fish grill up easily.  I like to choose less expensive options such as cod, rockfish or tilapia.  Any firm white fish fillet or steak will be good.   More delicate fish such as flounder or sole won't be a good grilling option.  The Market St. Albertsons and the Albertsons on Broadway both have excellent fish counters with plenty of options.
Get the right tool for the job!  Buy an extra wide spatula meant for fish.  This really helps you flip the fillet without things breaking! 
Thicker is better!  A thicker fillet is easier to grill than a thinner one. 
PREP that grill!  Get the grill good and hot for five minutes and scrub it well with a grill brush.  Once it is clean, make sure you oil it up to prevent sticking.  An oiled grate + an oiled fish is the recipe for fish grilling success!  (If you are grilling for a party and need to do a 2nd round of fish on the grill make sure to clean between rounds.)
Don't skimp on the seasoning!  Mild white fish needs some flavor! I use a little Cajun seasoning to get some background flavor but by keeping the amount small it is not spicy.
Preheat to the right temperature. Use a medium hot fire to grill fish. 
Know when to flip!  The bottom of the fish will start to turn opaque when it is time to flip it.  If you have cleaned and oiled the grill correctly, the fish should release easily when it is time to turn.  If it is not, the fillet probably needs a minute or two more on that side before flipping. 
Flip like you mean it! Use a firm motion to scoot the spatula under the fish. Don't pussy foot around. Go in, scrape up that fillet and flip it.
No "reflipping."  Flip that fish once and call it good.  Flipping it over and over can cause the fillet to break apart and fall through. 
Don't overcook!  I'm a huge instant-read thermometer fan for cooking in general but most fish fillets are so thin it is less effective here.  Instead I watch for the fish to start to flake and become opaque.  Use a fork to pull at the center of the fillet just a bit.  If it flakes away, the fish is done.  Generally, it is recommended to take the fish off the grill just before it is actually done.  The fish will continue to cook for another moment after you pull it from the grill.  Fish is considered done at 140F.  If you pull it from the grill between 130 and 135 it will continue to cook up to 140 as it rests. 
Wild Caught or Farmed Fish?
I grew up in a town that was a one hour drive from the Pacific ocean. It was easy to get fresh fish! Now that I live in Boise I am selective about where I buy fish.
With some fish I will only eat wild caught. Salmon in particular really tastes much better if it is wild caught and the farmed stuff has a really fishy "off" flavor. I suggest buying fish from a store that has a good fish counter with educated staff.
Fish that has not been frozen usually tastes fresher (less "fishy") and has better texture! Using a store with a good fish counter will give you selection and an opportunity to ask questions.
What to Serve With Fish?
Grilled fish is a simple protein and does well with other simple foods. When I'm doing BBQ Cod I like to toss some asparagus spears on one side of the grill. Some oil, salt and pepper on the spears and turn them a few times while the fish is cooking and you have a perfect side dish!
Other good options are crusty french bread, grilled vegetables, rice pilaf, or tossed salad.
How to Use Leftover Fish
Fish is best cooked the day you bring it home or the next day. If you end up with some leftovers from your grilling consider tossing it into a soup or stew. It generally does not microwave up well.
Other Seafood Recipes
Easy Grilled Cod
This delicious grilled cod is slathered in a savory butter sauce and then perfectly grilled for a light smoky flavor. It makes for a quick and easy 15-minute dinner on a weeknight or a lovely holiday weekend grilling project.
Ingredients
3

Tbsp.

butter

melted

2

tsp.

minced fresh chives or green onion

1/4

tsp.

Cajun seasoning

I use Tony Chaachere – see note

Olive oil

Oil for grill

2

cod fillets

8oz each

2

lemons cut into wedges
Instructions
Preheat grill to medium-high heat. (If grates are dirty scrub them well after the grill is fully preheated.) Oil the grill grates well.

In a small bowl whisk together melted butter, chives or green onion and Cajun seasoning.

Drizzle both sides of each fish filet with olive oil.

Place fish onto oiled grated and use a brush to brush on several layers of the butter sauce. After about 3 minutes the fish will be starting to turn opaque and flaky. Use a firm, quick motion to slide the spatula under the fillet and flip it over. Baste the other side with butter sauce and continue grilling about 3 more minutes. The fish should be turning golden brown and the translucent look will be gone. As it cooks the fish will start to appear flaky which is a good indicator of doneness.

Allow Cod to rest off heat for about 5 minutes before serving.

Serve with lemon wedges, and tartar sauce.
Notes
This is not a spicy or Cajun flavored recipe. Using a small amount like this basically gives you a good quality seasoning salt effect. If you want to switch it out you can use a good quality sea salt or seasoning salt instead. Consider grinding a bit of black pepper on too if you make the switch.
Nutrition
Calories:
449
kcal
|
Protein:
80
g
|
Fat:
12
g
|
Saturated Fat:
6
g
|
Cholesterol:
217
mg
|
Sodium:
322
mg
|
Potassium:
1858
mg
|
Vitamin A:
610
IU
|
Vitamin C:
4.5
mg
|
Calcium:
75
mg
|
Iron:
1.8
mg
Nutrition Disclaimer
MirlandrasKitchen.com is written to share great recipes. While we do our best to provide nutritional information as a general guideline, we are not registered dietitians and the values provided here should be considered estimates – not exact scientific data.