These creamy mashed potatoes are fluffy and delicious.  They are perfect for holiday meals when mashed potatoes should be extra special!  It is easy to learn how to make the best mashed potatoes!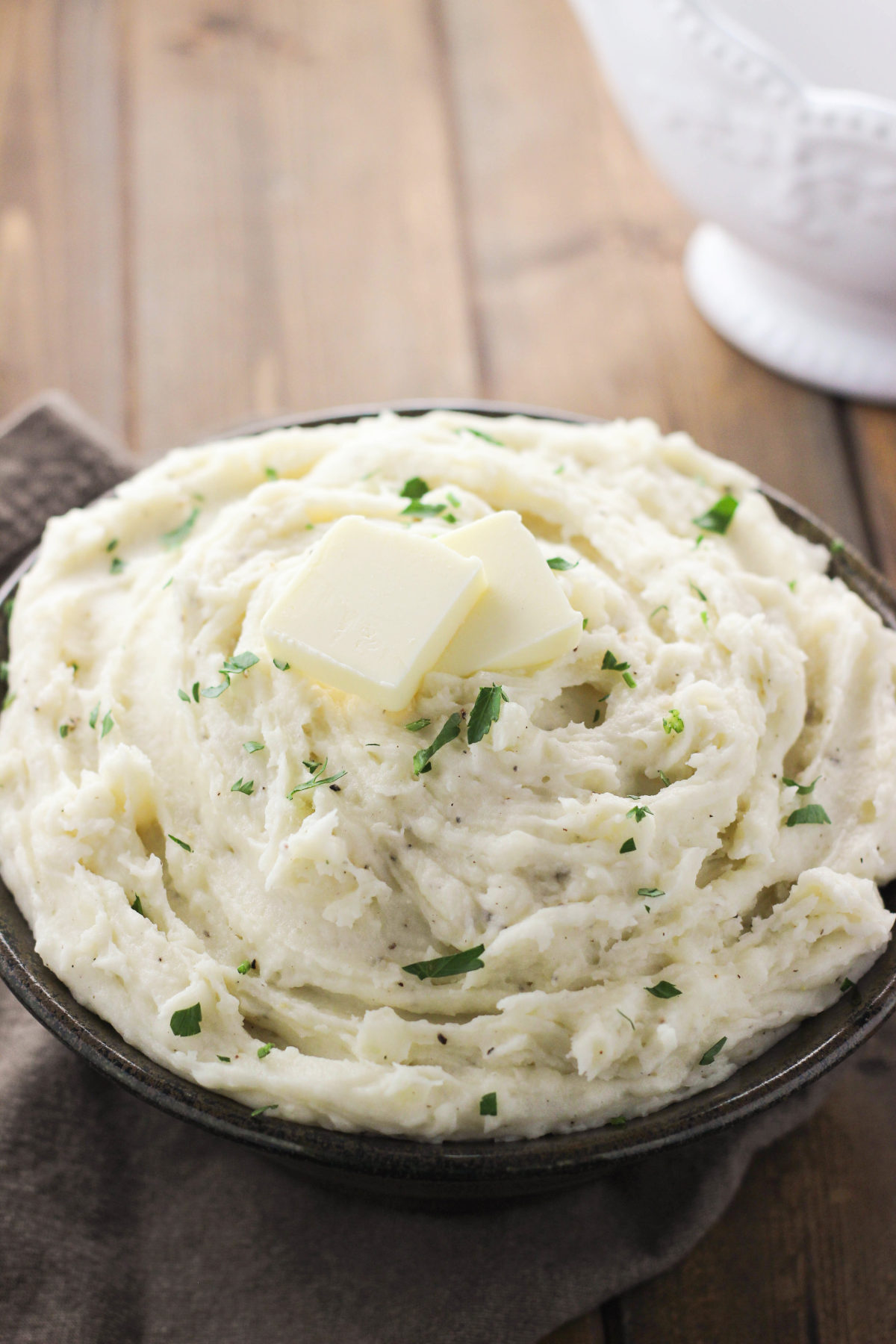 I know Thanksgiving is all about the Turkey and Christmas is all about the roast beef but in my world both occasions are all about the homemade mashed potatoes!
These are the only mashed potatoes that go on my holiday table because they are THAT good.  (And I also make them frequently as a side dish through the year.)
How To Make The Best Mashed Potatoes
My rule of mashed potatoes goes something like this: They need to be knock your socks off amazing.  The potatoes must be creamy and decadent.  And of course there must be butter – lots and lots of butter.
To get that magical – can't say no to seconds and thirds mashed potatoes I use a top secret ingredient!  I sneak a little chicken bouillon into the recipe. You will be amazed at the wonderful flavor it adds to the potatoes.
I've been doing it for years and nobody can ever guess what I've got in there.  They know it tastes SO good but they can't quite figure out what it is.
I don't add enough that the potatoes taste like bouillon – just enough for a hint of savory background flavor that kind of dances in with the spuds and cream and butter until you have some sort of cooking magic.
What Ingredients Do You Need for The BEST Mashed Potatoes
Potatoes:  If at all possible I get Yukon Gold potatoes!  They have a wonderful buttery flavor and whip up beautifully. Russet potatoes are also great for this recipe. I avoid red potatoes for this kind of mashed potatoes.
Salt:  I use a solid teaspoon of salt to cook the potatoes in.  This helps season the potatoes before they even get to the mashing.  Don't worry – plenty of the salt gets tossed when the potatoes are drained and we don't actually add more!
Cream Cheese: A little cream cheese gives a subtle tang and rich creamy mashed potato.  I don't use enough to make it too strong.
Heavy Cream:  A good heavy cream helps the potatoes whip up into a creamy heap and gives great mouth feel.
BUTTER!  What would mashed potatoes be without a wonderful serving of butter?  I don't hold back here but it is a big recipe so there ya go.  Butter also helps make a creamy mashed potato.
Chicken Bouillon:  You won't find this in many homemade mashed potato recipes but it is my secret ingredient to deep savory flavor this recipe.
Fresh Black Pepper:  Freshly grinding a little black pepper gives a lovely hint of zip to these spuds without overwhelming.
Some recipes call for sour cream and I don't use that here.  I feel like sour cream, garlic, bacon, cheese and other wonderful mashed potato ingredients give you a very specific flavor outcome.
Yes, these other ingredients taste amazing in potatoes and they have their place!  But I only use them for certain things – not in my time tested mashed potato recipe.
Tips For Make Ahead Mashed Potatoes
Anytime you make a big holiday dinner it really helps to prep as much as you can in advance.  Mashed potatoes are certainly something you can start ahead of time.
For Thanksgiving Dinner I always peel and cut my potatoes the day before!  It saves a lot of time in that last hour before the meal is ready and things are stating to get more hectic in the kitchen.
After the potatoes are peeled and chopped I put them in the cooking pot and cover with water several inches above the cut potatoes.  Don't add the salt yet!
Store the pot of potatoes in a cool place like a cold garage (as long as it isn't below freezing!) or in your fridge.
You will notice the water getting a little bit brown – don't worry.  This is very normal and will all pour off.
When it is time to cook the potatoes drain them and discard the water.  If the potatoes have a hint of brown tinge just give them a little rinse under cold water.
Then move forward with the recipe.  You won't be able to tell the potatoes were prepped the day before!
Common Questions About Homemade Mashed Potatoes
How Long Do You Boil Mashed Potatoes? 
Once the water has come to a boil potatoes are usually fork tender in about 20 minutes.  I always plan on 30 minutes for the water to come to a boil and then the potatoes to cook.  If they are not tender in 20 minutes check again in 3 minutes.
How Long Are Mashed Potatoes Good For? 
Plan on about a week.  Assuming you put your leftovers into the fridge promptly you should get seven days out of them.  After that proceed with caution.
Can You Freeze Mashed Potatoes?  
Absolutely!  They are great to freeze in single servings for use later.  If you want to learn more about that my amazing friend Victoria has easy instructions at her blog A Modern Homestead.  
This particular recipe does make a BIG batch because it is intended for holiday meals.  Freezing some leftover servings makes a easy week night side dish you can reach for through the winter.
Can Dogs Eat Mashed Potatoes? 
More than 5,000 people look this up every year!  If you have a furry friend you need to know.  Bottom line?  Potatoes are fine for dogs.  BUT potatoes with salt and all the fixings that are in these mashed potatoes are not a very healthy option for your pup.  
What Is The BEST Potato Masher?  
Sooooo…. Everybody want's to know.  What is the best way to whip up your smashies?
There are three main options.
 Hand Masher.  This is economical, fairly easy, and low mess.  I use this OXO one for durability.  This method usually leaves a few lumps but some people prefer that for a homemade mashed potato feel.
 Electric Hand Mixer.  All hail the easy electric hand mixer!  I use this Kitchen Aid one because it is a workhorse.  This is my favorite way to quickly make whipped potatoes.
Bosch Stand Mixer.  It takes seconds to whip your potatoes perfectly in a good quality stand mixer.  You can read more about my kitchen trials why I only use Bosch here.  My con here is that then you have the stand mixer bowl to wash which adds to the work during a busy holiday meal.
Ricer.  Some people DO use a Ricer to puree mashed potatoes.  I think this is crazy.  It is a ton of work and the results are not better.  In fact over-handling the mashed potatoes can make them gluey.  Some people do it but I don't recommend it.
Above all else the potatoes should not have much in the way of lumps and they should never, ever be overbeaten.
One final rule of my mashed potatoes? You must have a large scoop…  Please do pop into the comments and let me know how this recipe went for you! 
It is one of the recipes my family always requests when they come to visit and I hope it will become a family favorite for you too! 
Food To Serve With Homemade Mashed Potatoes
How To Make Mashed Potatoes For The Holidays
These creamy mashed potatoes are fluffy and delicious.  They are perfect for holiday meals when mashed potatoes should be extra special!  This recipe can be cut in half or in thirds if you want a smaller batch. (For make ahead instructions see the post above.)
Ingredients
5

pounds

Yukon gold or gold potatoes

can use russet potatoes

1

teaspoon

salt (for the water)

this gets drained away

4

oz

cream cheese

1/2

cup

heavy cream

1/2

cup

salted butter

2

teaspoon

chicken bullion

I use Better Than Bouillon Low Sodium Chicken or Knorr powder

1

teaspoon

fresh ground pepper, coarsely ground
Instructions
Fill a large pot about 1/3 full with water. Add 1 tsp. salt, cover with the lid, and bring to a boil on high.

Meanwhile, peel potatoes and cut into cubes, about 1" across.

Add potatoes to boiling water. Bring back up to a boil and then turn town to a simmer. Put the lid back on the pot cocked at an angle to allow some steam to escape.

Boil until fork tender, about 20 minutes. (This means a fork can easily pierce a soft potato chunk but the potatoes are not turning to mush.)

While the potatoes are cooking, add cream cheese, cream, butter, bullion, and pepper to a medium microwave safe bowl. Microwave this mixture for 2 minutes. Set aside.

When the potatoes are tender, drain them well right away. Put the potatoes back into the pot and add the warm seasoning mixture.

Mash with an electric hand mixer or in a stand mixer for 30-45 seconds on high. Alternately, use a hand held potato masher. Do not overbeat or potatoes will become gluey.

Serve hot. Garnish with additional ground pepper and chunks of butter if desired.
Nutrition
Calories:
227
kcal
|
Carbohydrates:
28
g
|
Protein:
4
g
|
Fat:
12
g
|
Saturated Fat:
7
g
|
Cholesterol:
35
mg
|
Sodium:
89
mg
|
Potassium:
647
mg
|
Fiber:
2
g
|
Sugar:
1
g
|
Vitamin A:
407
IU
|
Vitamin C:
9
mg
|
Calcium:
34
mg
|
Iron:
1
mg
Nutrition Disclaimer
MirlandrasKitchen.com is written to share great recipes. While we do our best to provide nutritional information as a general guideline, we are not registered dietitians and the values provided here should be considered estimates – not exact scientific data.
I read each and every comment and I try to respond to questions asap, so ask away! If you've made a recipe, I would love to hear about it! Please come back and share your experience and give the recipe a 5-star rating so other people will know how much you loved it!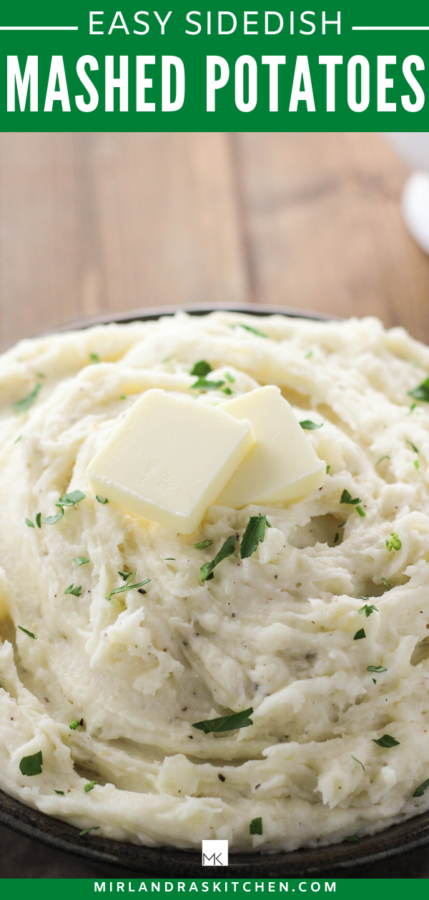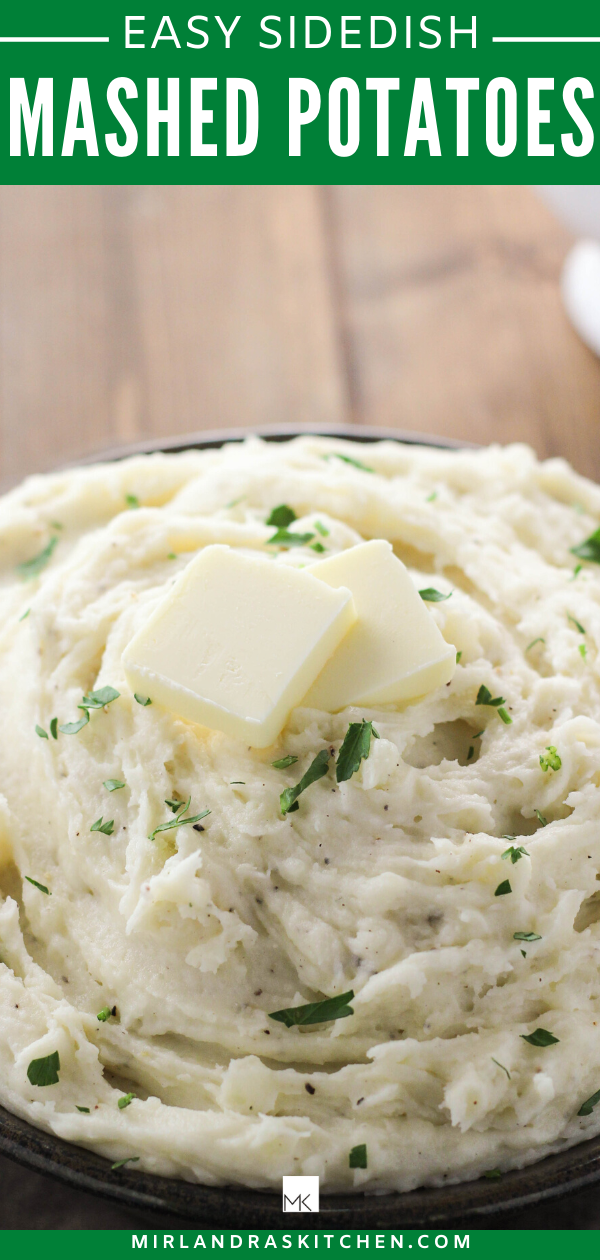 This post was originally published in 2014 and updated for photos and content in 2017 and 2023.