These simple, no fuss mashed potatoes are rich and fluffy.  They are perfect as an every day dinner side dish and for holiday meals when mashed potatoes should be extra special!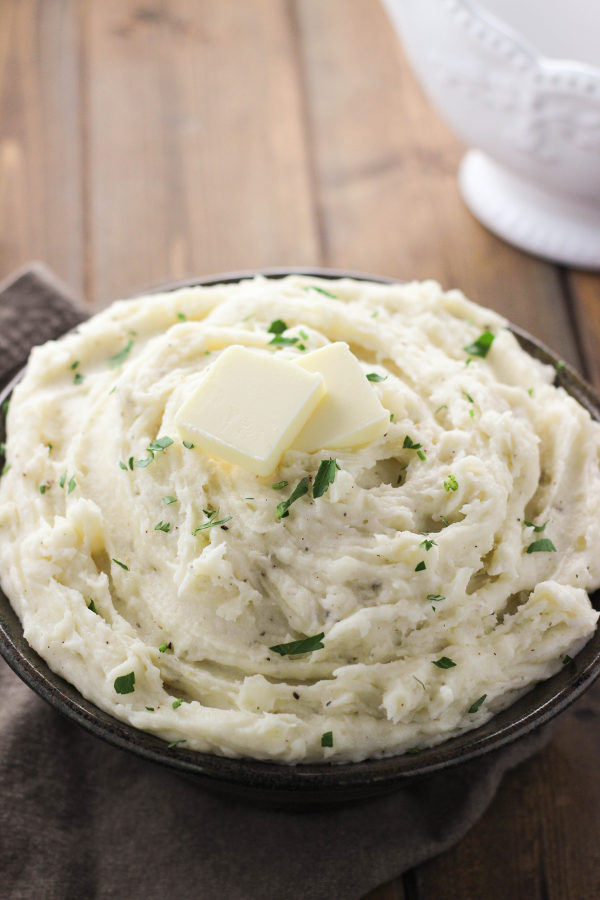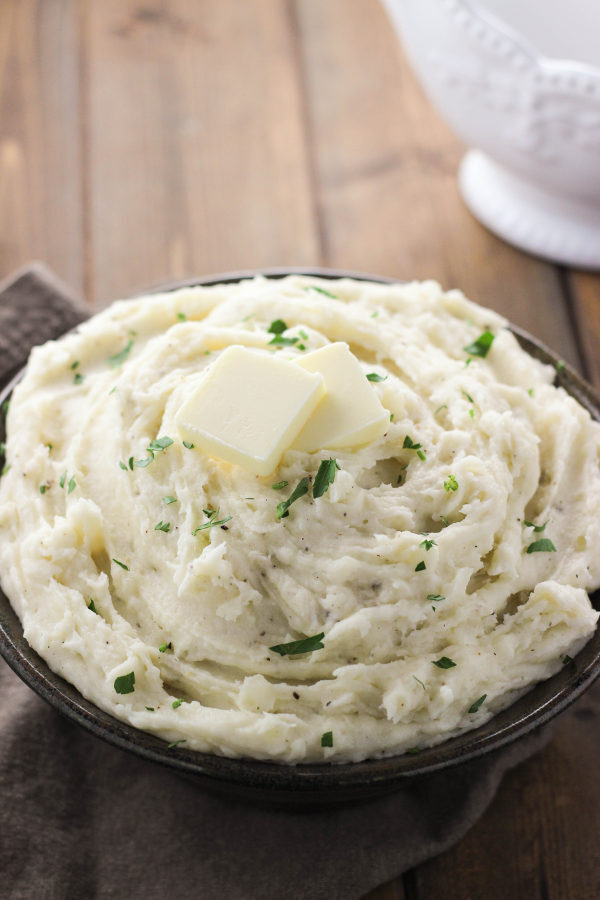 I know Thanksgiving is all about the Turkey and Christmas is all about the roast beef but in my world both occasions are all about the potatoes. I have a passionate love affair with mashed potatoes – always have, always will.  These Holiday Mashed Potatoes have won me over above all other mashed potatoes.
My rule of mashed potatoes goes something like this: There must be butter – lots and lots of butter. Some cream needs to be involved and maybe some cream cheese for the slightest tang in the flavor. Sour cream can be fun but not for the main holiday potatoes. That should be for random meals throughout the year where it fits. I know this is a personal opinion – I will understand if you feel you must add sour cream to yours.
The potatoes must have plenty of pepper and enough salt to be flavorful. Instead of salting with table salt I sneak a little chicken bouillon into the recipe. You will be amazed at the wonderful flavor it adds to the potatoes. Usually nobody can put their finger on just what it is I have in there!
Above all else the potatoes should not have much in the way of lumps and they should never, ever be overbeaten.
One final rule of Mirlandra's mashed potatoes. You must have a large scoop…
Have a great week guys.  Thanks for stopping by to cook with me!
Tools In This Post:  Don't launch into holiday cooking without a solid set of knives.  You don't need 10 knives and you don't need to spend $1,000.  A three knife set like this will set you up well for kitchen success.  We own a few more knives but mostly because Jonathan and I cook at the same time and the last thing you want to do on Thanksgiving is start arguing over who gets to use the knife next.

Need a good Prime Rib recipe for Christmas?  I've got you covered!  Check out my Easy Prime Rib Roast Recipe and Tips!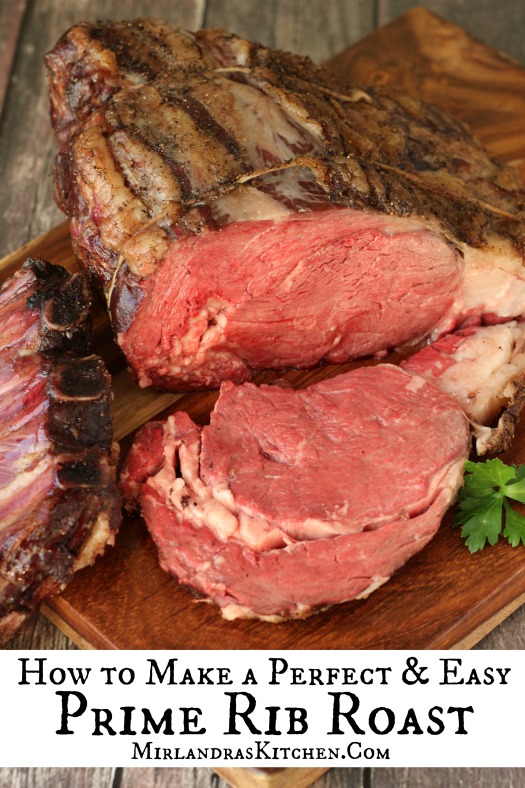 Holiday Mashed Potatoes
Simple, no fuss mashed potatoes that are rich and fluffy. These are perfect for holiday meals when mashed potatoes should be extra special! This recipe can be cut in half or in thirds if you want a smaller batch.
Ingredients
5

pounds

russet potatoes

1

teaspoon

salt (for the water)

4

oz

cream cheese

1/2

cup

heavy cream

1/2

cup

salted butter

2

teaspoon

chicken bullion

1

teaspoon

fresh ground pepper, coarsely ground
Instructions
Fill a large pot about 1/3 full with water. Add 1 tsp. salt, cover with the lid, and bring to a boil on high.

Meanwhile, peel potatoes and cut into cubes, about 1" across.

Add potatoes to boiling water. Bring back up to a boil and then turn town to a hearty simmer. Put the lid back on the pot cocked at an angle to allow some steam to escape.

Boil until tender, about 20 minutes.

While the potatoes are cooking, add cream cheese, cream, butter, bullion, and pepper to a medium microwave safe bowl. Microwave this mixture for 2 minutes. Set by the stand mixer.

When the potatoes are tender, drain them and add to a stand mixer fitted with the whisk attachment. Pour the seasoning mixture over the potatoes.

Beat on high for 30-45 seconds. Do not overbeat or potatoes will become gluey.

Serve hot. Garnish with additional ground pepper and chunks of butter if desired.
Nutrition
Nutrition Facts
Holiday Mashed Potatoes
Amount Per Serving
Calories 227
Calories from Fat 108
% Daily Value*
Fat 12g18%
Cholesterol 35mg12%
Sodium 89mg4%
Potassium 647mg18%
Carbohydrates 28g9%
Protein 4g8%
Vitamin A 407IU8%
Vitamin C 9mg11%
Calcium 34mg3%
Iron 1mg6%
* Percent Daily Values are based on a 2000 calorie diet.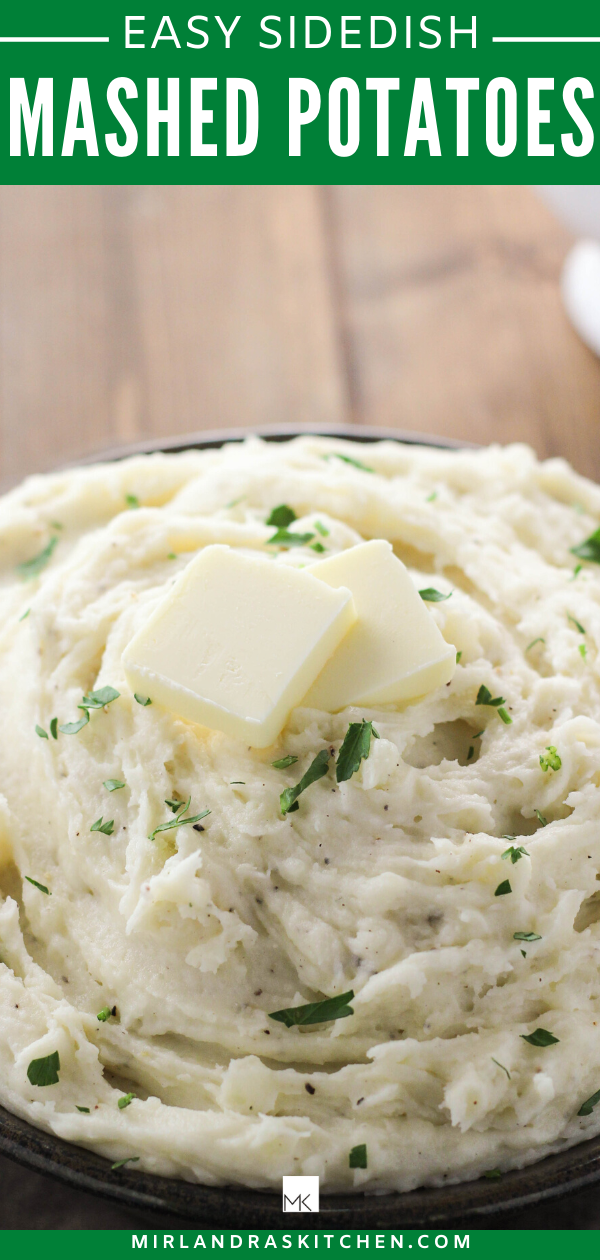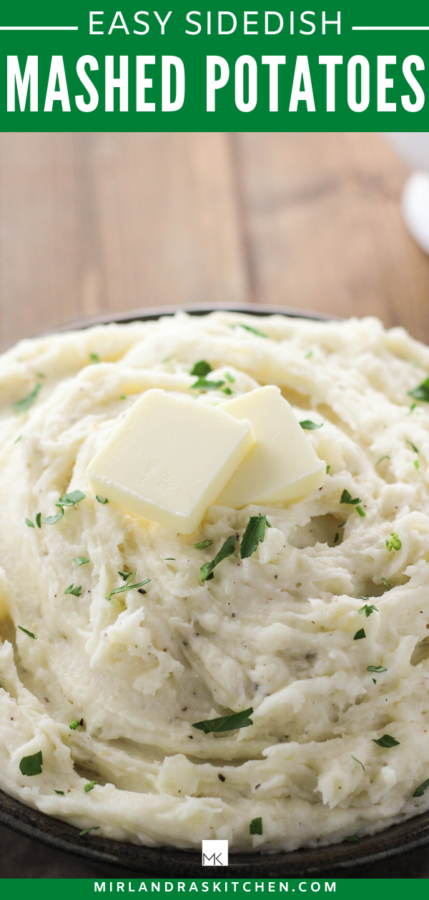 This post was originally published in 2014 and updated for photos and content in 2017.