Homemade whipped cream is superior to anything you can buy in the store. Take 5 minutes to make a batch and prepare to be amazed. This is my favorite one.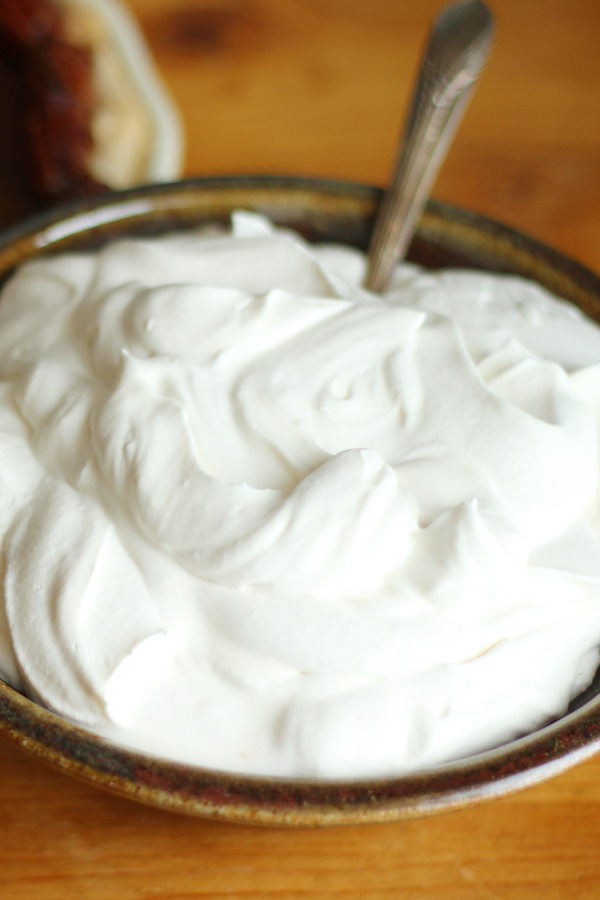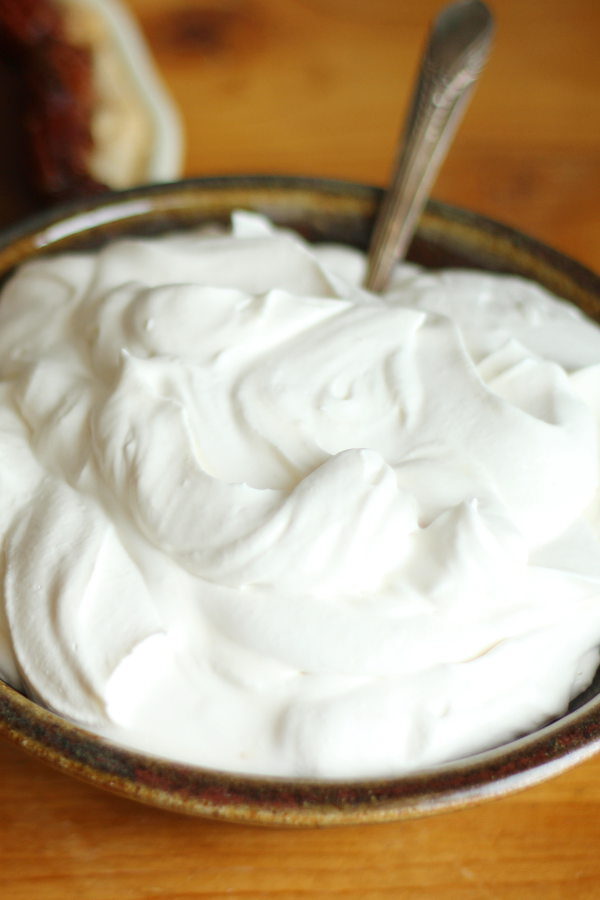 The time has come for true confessions. I have always been something of a rebel. My mother has 30 years of stories that attest to this. Unfortunately this state of non-compliance extends to my cooking.
If I'm following (a word we will use loosely here) somebody else's recipe I'm likely to scrap anything that I don't see the reason for. Frankly I just don't like fussy extra steps that appear meaningless.
For this reason I have never chilled a bowl before beating whipped cream. Never ever. I know, I know, it is the "right" thing to do but I just could not be bothered.
Somewhat inspired by my project of cooking pumpkin pie from actual pumpkins I decided to delve into whipped cream too. Unfortunately, I got a bit overenthusiastic and decided to shove the bowl for the kitchen aid outside in a handy snow drift. Then, taking it one giant step too far I shoved the beaters in a clean snow bank too …all the way in…
It's OK, you can start laughing now, it was pretty funny. The snow froze to the bowl and the beaters and I ended up with a bit of a mess. In good news, I will never lack for humor in my life. Nor, apparently, will my unsuspecting neighbors.
It turned out that chilling the bowl was very effective and helped me achieve fluffier whipped cream that held it's form much better when chilled. I do suggest you chill the bowl in your refrigerator or freezer though. At least not in the snow…
I also switched to powdered sugar this year. Granulated sugar makes the cream more soupy because it is a wet ingredient (I know it looks dry but it liquefies when it gets wet). Basically it dilutes the structure of the whipped cream and thus the soupy mess. Still yummy but nowhere near the fluffy texture that powdered sugar provides.
My final tip for whipped cream is salt. Have you ever had something that was too cloying and sweet? It probably lacked salt! Using a little salt (which I know sounds weird here) helps to balance the sweetness and develop the flavor of the cream perfectly. Make sure to use a high quality vanilla and perfection will be achieved. How often can you say that?
I fed it to a few whipped cream fans this week and they agreed – it is pretty much over the moon. The only problem is I just wanted to sit and eat it all out of the bowl. Who needs pie when you have this??? I do feel like I should apologize to RediWhip – after you try this you might never buy their stuff again. Oh well.
When you pick up supplies for Turkey day pick up some good heavy cream and enjoy your dessert with this wonderful finishing touch!
Perfect Homemade Whipped Cream
Ingredients
2

cups

heavy whipping cream

1/2

cup

powdered sugar

1/2

tsp.

real vanilla extract

I use Kirkland brand

2

pinches

salt

this is a scant 1/8 tsp
Instructions
Chill the bowl of a stand mixer and the beaters in the refrigerator or freezer until very cold. (Alternately chill a heavy ceramic bowl and the beaters of a hand mixer.) Tip: If you are using a stand mixer it can help to drape a towel over the mixer to prevent splattering.

Add all ingredients to the bowl and beat on high until the cream is whipped, 2-3 minutes. The cream should not be overbeaten as it will become chunky and start to turn into butter. When you draw your finger through the beaten cream it should leave a nice valley.

Scrape the whipped cream into a serving bowl and refrigerate until ready to serve. Refrigerate any leftovers and use within a few days.