These Copycat Cracker Barrel Pancakes are the best buttermilk pancakes! Just 5 ingredients and 5 minutes to have hot pancakes from scratch on the griddle.  I would also like to think they will be the best pancakes you have ever eaten!  (I think it is the buttery crust…)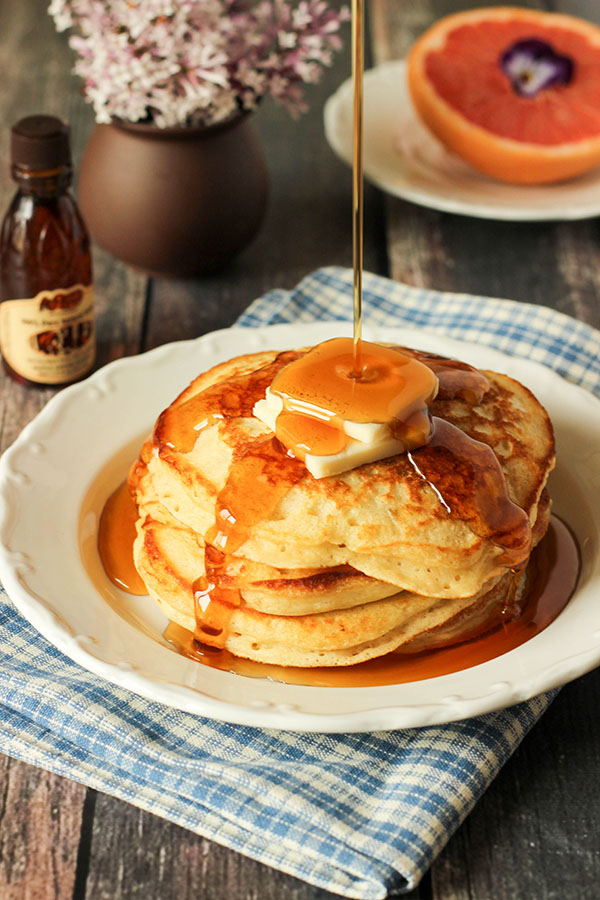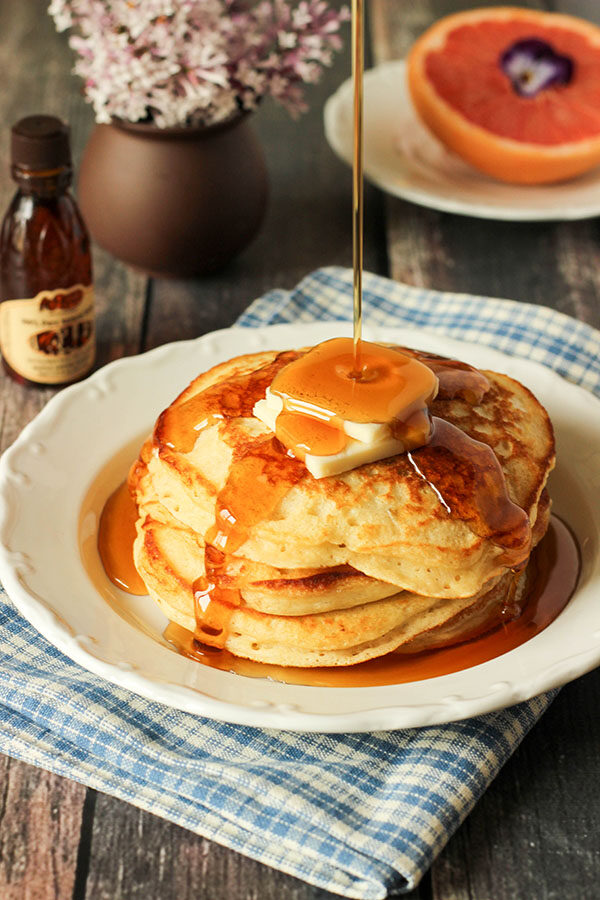 I am an absolute pancake fiend! From time to time we make trips to Cracker Barrel for my all time favorite pancakes. Unfortunately, it is hard for me to justify paying about $10 for a plate of white flour in a noisy room. The truth is you can make excellent pancakes at home for pennies on the dollar and never have to wait for a table.
Because I know you like simple, I put together a mix option for this recipe too! It is really easy and there is no reason to not make your own mix at home.
This Cracker Barrel Buttermilk Pancake Recipe is My Masterpiece
I spent six months experimenting with pancake recipes. I have pretty much tried every option out there. Milk, Belgian buttermilk, low fat buttermilk, cream, loads of butter, flour measurement techniques, sugar options, cooking styles, store bought mixes and on and on.
After literally hundreds of pancakes (all dutifully taste tested!) this is my masterpiece of pancake recipes.
When I started I did not even know there was such a thing as Belgian buttermilk. It turns out success is all about the simple combination of ingredients and buttering the griddle before every new pancake goes on it. Who would have guessed?
Getting The Cracker Barrel Pancake Recipe RIGHT
The recipe calls for 2 teaspoons of baking soda. I'm not crazy. It's not a typo. You really need to add 2 teaspoons.
It also calls for a full teaspoon of salt. If you are sensitive to salt you can try cutting this down to 1/2 teaspoon and see what you think. These pancakes are intended to have more salt and sugar than other recipes (it is part of the Cracker Barrel Secret) but by all means adjust for your needs.
Using an Ice Cream Scoop to make buttermilk pancakes
This is the type of ice cream scoop I use to make the pancakes.  Any 4oz scoop of this style will do.
The Best Electric Pancake Griddle on the Market
We have owned multiple electric griddles and dealt with broken handles and uneven heating. Several years ago I took the plunge and bought the amazing Zojirushi Gourmet Electric Sizzler.
This is a serious workhorse of a griddle! It comes with a LID which is great for hash browns and bacon. The thing is a beast – it heats evenly, has a big cooking surface, and you can even use a metal spatula on it because it is SO durable! (Seriously they even ship you a metal spatula – that is how durable it is!)
In general getting good quality cooking equipment is worth it for great breakfasts – a solid electric griddle is definitely worth it!
Using Buttermilk Substitutes for Buttermilk Pancakes
Good news / bad news with buttermilk substitutes.  Yes you can use one for these pancakes but it is never quite as good! I've tried the 1 Tablespoon of vinegar in milk. I've tried powdered buttermilk. I know people use kefir and sour cream and even yogurt substitutions. But nothing is quite the same in this recipe!
I've done it in a pinch but always end up missing that extra special consistency and flavor from true, cultured buttermilk.
Great Homemade Syrups for Pancakes
Sticky Bun Breakfast Syrup!  It is like pouring the gooey cinnamon part of a stick bun all over your pancakes and that, my friends, is perfect!
Wild  blueberry syrup – one of my absolute favorites and really easy to make!
Copycat Cracker Barrel Pancakes
These Copycat Cracker Barrel Pancakes are easier to make than most pancake recipes you can get your hands on! Just 5 ingredients and 5 minutes to have hot buttermilk pancakes from scratch on the griddle. I would also like to think they will be the best pancakes you have ever eaten! (I've included notes below the recipe on how to make this into a Pancake Mix.)

Ingredients
For Pancakes
2

cups

flour

measured with spoon, not sifted (See note)

2

tsp.

baking soda

1

tsp.

salt

3

Tbsp.

granualted sugar

2

eggs

2 1/3

cups

low fat buttermilk

don't use anything above 1%

butter for cooking
For Pancake Mix
10

cups

10 cups all - purpose flour

measured with spoon, not sifted (see note)

1

cup

granulated sugar

3 Tbsp. + 1 tsp.

baking soda

5

tsp.

salt
Instructions
To Make Pancakes
Preheat a pancake griddle to 350. Peel the paper off of one end of a stick of butter and set on a plate next to the griddle for greasing.

Whisk eggs and buttermilk together in a medium bowl. Add flour*, baking soda, salt, and sugar. Whisk just until combined.

Rub butter in a circle on the griddle and drop 1/2 cup of batter into the butter spot. I like to use a large ice cream scoop for this. As soon as the batter hits the griddle, level it out and smooth it quickly into a circle with the back of the ice cream scoop.

The pancakes should be flipped when the 2nd bubble pops. This will take about two minutes on most griddles. Flip the pancake and cook on the second side until no longer doughy.

Every time you put new batter on the griddle you need to butter it again.

Pancakes should be served piping hot off the griddle. Stacking them up or holding them in an oven can cause them to lose the crunchy outside and / or become tough.
To Make Pancake Mix: As easy as this recipe is you can also make it up as a mix and then have homemade pancake mix at the ready whenever you like! Fair warning, before you know it, you might find these tasty pancakes sneaking into the weekday breakfast routine. You can mix up six or 12 pancakes at a time. I find that six feeds two pretty hungry adults. If you make more than 12 at a time the batter gets a bit harder to stir together. Also, make sure to cook the batter quickly - it does not do well if you let it sit a long time before cooking. Leftover batter should be discarded.
Whisk together all ingredients and store in an airtight container with cooking directions.

To make 6 pancakes whisk together 1 cup + 1 Tbsp. low fat buttermilk with 1 egg. Gently whisk in 1 cup of mix and cook as directed above.

To make 12 pancakes whisk together 2 1/3 cups of low fat buttermilk and 2 eggs. Gently whisk in 2 cups of mix and cook as directed above
Notes
The best way to measure the flour is to spoon it into the measuring cup and then level it off. This will help ensure you don't pack too much flour into these tender pancakes.
Makes 12 pancakes. A child will probably eat one, most adults will eat 2-3.
Nutrition
Nutrition Facts
Copycat Cracker Barrel Pancakes
Amount Per Serving
Calories 255
Calories from Fat 18
% Daily Value*
Fat 2g3%
Cholesterol 58mg19%
Sodium 887mg37%
Potassium 205mg6%
Carbohydrates 43g14%
Protein 9g18%
Vitamin A 125IU3%
Vitamin C 0.9mg1%
Calcium 123mg12%
Iron 2.2mg12%
* Percent Daily Values are based on a 2000 calorie diet.
I read each and every comment and I try to respond to questions asap, so ask away! If you've made a recipe, I would love to hear about it! Please come back and share your experience and give the recipe a 5-star rating so other people will know how much you loved it!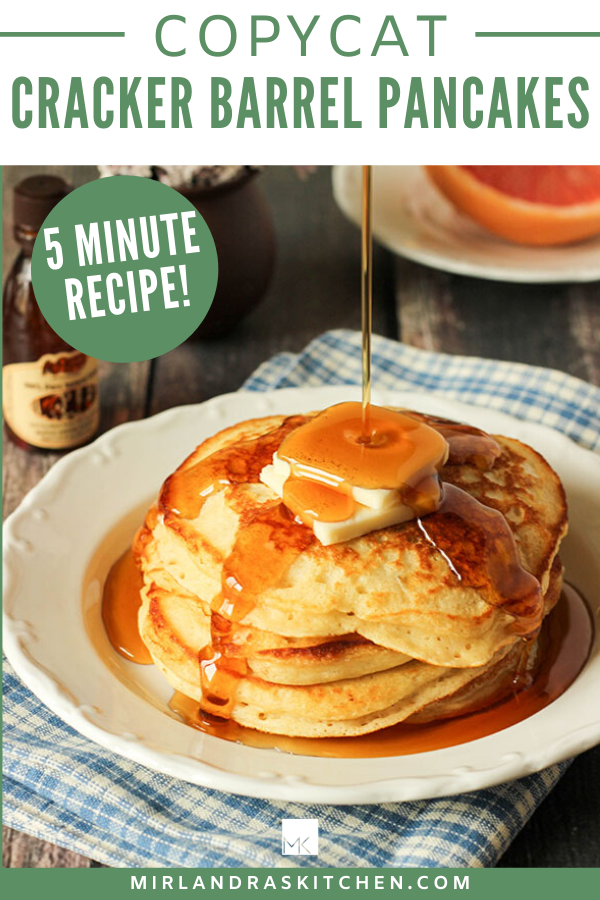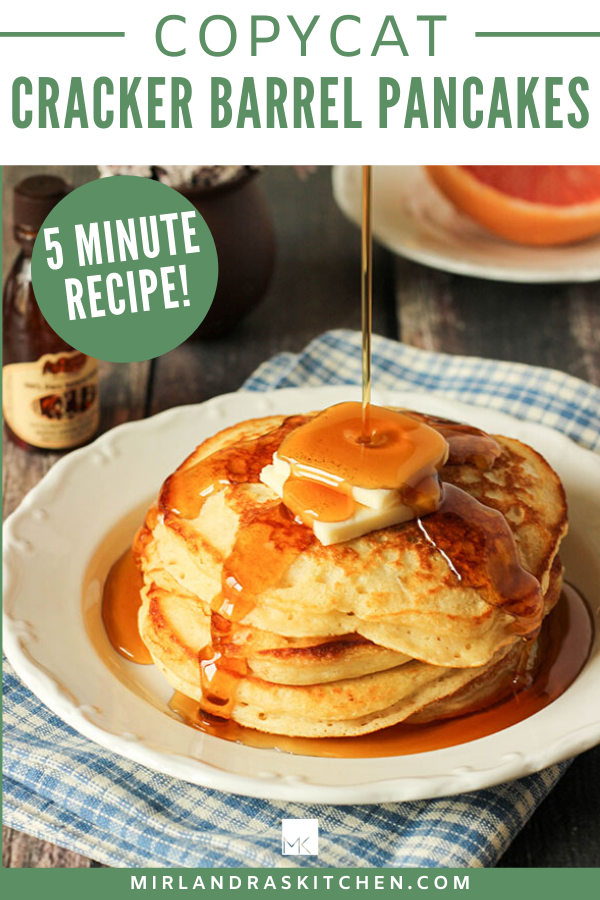 Recipe adapted from one posted on Food.com that says it is from the Cracker Barrel Cookbook.