The oven is the easiest way to make perfect, crispy, golden hash browns! They taste amazing, never burn and you don't have to slave in the kitchen!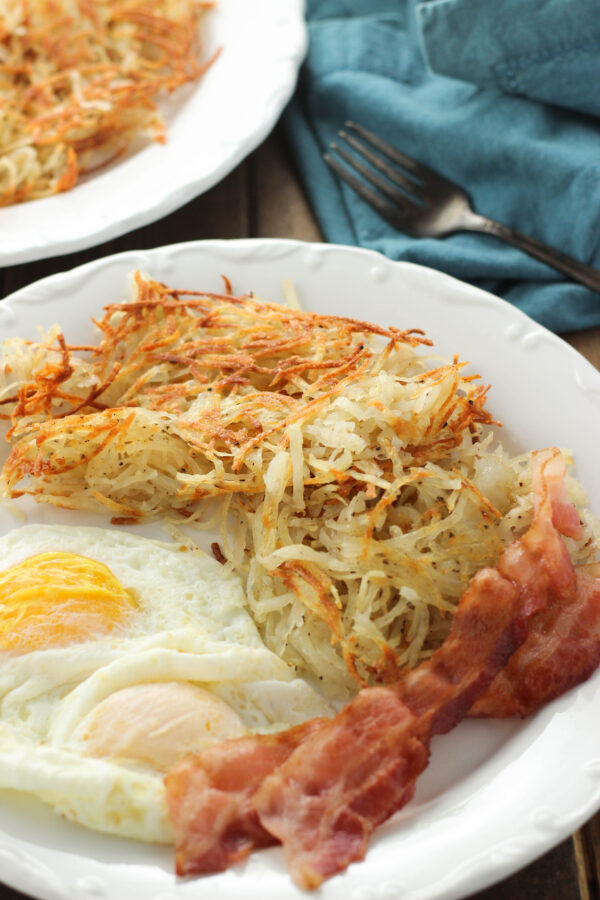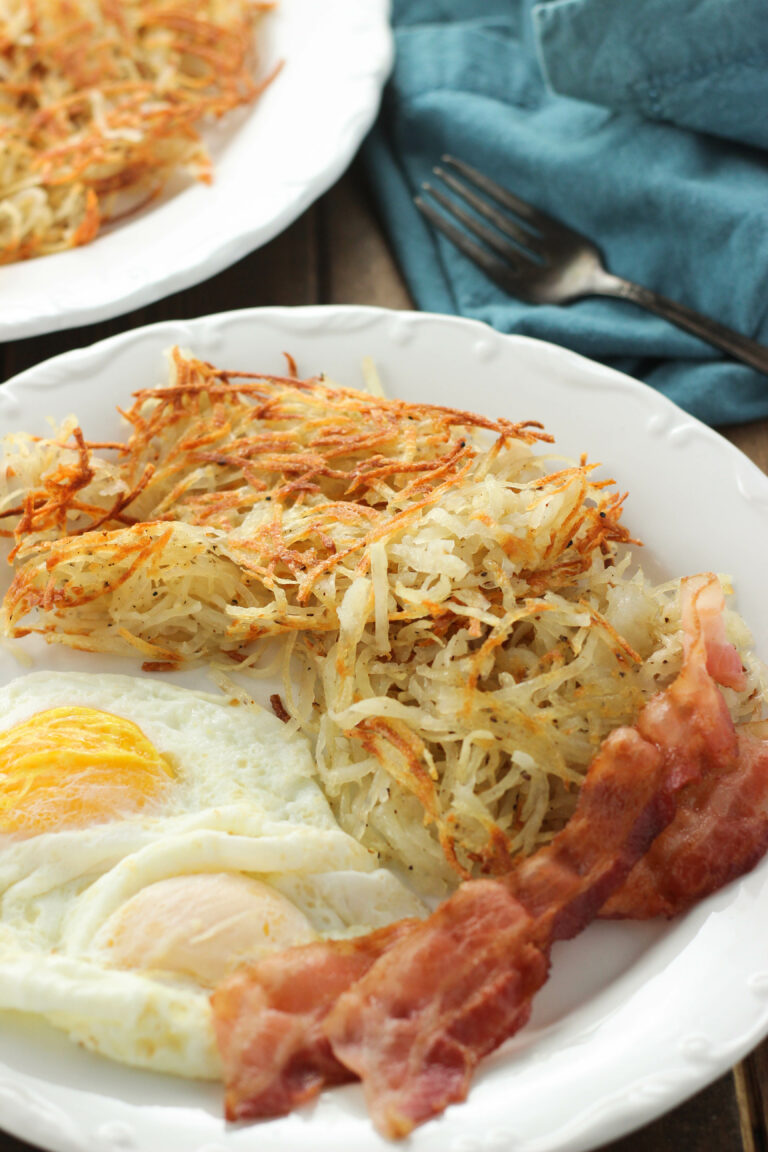 Raise your hand if you LOVE breakfast!  Bacon, eggs, hash browns, pancakes, sausage, coffee, orange juice – am I speaking your language yet?
Since Jonathan and I got married, Saturday mornings have been for breakfast.  And not just some oatmeal – I'm talking big scale productions that cover the table in piles of food.  Ok, to tell the truth sometimes that man gets a bit carried away but I really love that part of him.  I also love breakfast so getting carried away about breakfast is pretty easy for me to stomach 😉
The Oven Makes the Best Crispy Hash Browns
In his quest for amazing breakfast Jonathan has tried a lot of different ways of making hash browns.  The problem is he gets easily distracted with his epic cooking projects and we have had more than a few burned  batches.
I think at this point we have tried cooking hash browns with every method possible!  After years of trial and error I'm convinced that oven hash browns are the BEST!
They come out crispy. 
You don't have to stir.
The potatoes get tossed in, you set a timer and then breakfast is ready!
So how do you like them apples?  Yeah…I thought so.
Unless you have a house elf hidden somewhere I don't know about (geeky Harry Potter reference) you need this breakfast recipe!
Have a great week guys.  Thanks for stopping by to cook with me!
Use a Food Processor to Make Hash browns Fast
Hash browns that are shredded in a food processor actually have a better texture for cooking!
And it saves a ton of time / getting your fingers on a box grater.  This is a good tool to invest in for quite a few cooking projects.
More Easy Breakfasts to Love
Crispy Oven Hash Browns
The oven is the easiest way to make perfect, crispy, golden hash browns! They taste amazing, never burn and you don't have to slave in the kitchen!
Ingredients
5 1/2

cups

peeled and grated potatoes

3

Tbsp.

salted butter

melted

2

Tbsp.

canola oil

½

tsp.

powdered chicken bouillon

such as Knorr

¼

tsp.

seasoning salt

¼ - ½

tsp.

fresh ground black pepper

course grind
Instructions
Preheat oven to 400 F. Line a sheet pan with parchment paper.

Peel potatoes and shred in a food processor with the shredding attachment (preferred) or with a box grater.

Put the shredded potatoes in a large bowl and fill with cold water. Swish and then dump the potatoes into a colander.

Put the potatoes back into the bowl and repeat twice more. The water will be fairly clear when you are done.

One handful at a time, squeeze shredded potatoes as hard as you can to get as much water out as possible before returning them to the bowl.

Add the rest of the ingredients and toss by hand until well mixed.

Scatter the potatoes over the lined pan as evenly as possible.

Bake in preheated oven on the bottom rack for about 15 minutes. When the edges are starting to brown, move the pan to the top rack. Bake for another 15 minutes until crisp. (No need to stir at any point!)

Serve immediately.
Nutrition Disclaimer
MirlandrasKitchen.com is written to share great recipes. While we do our best to provide nutritional information as a general guideline, we are not registered dietitians and the values provided here should be considered estimates – not exact scientific data.
Adapted from here.