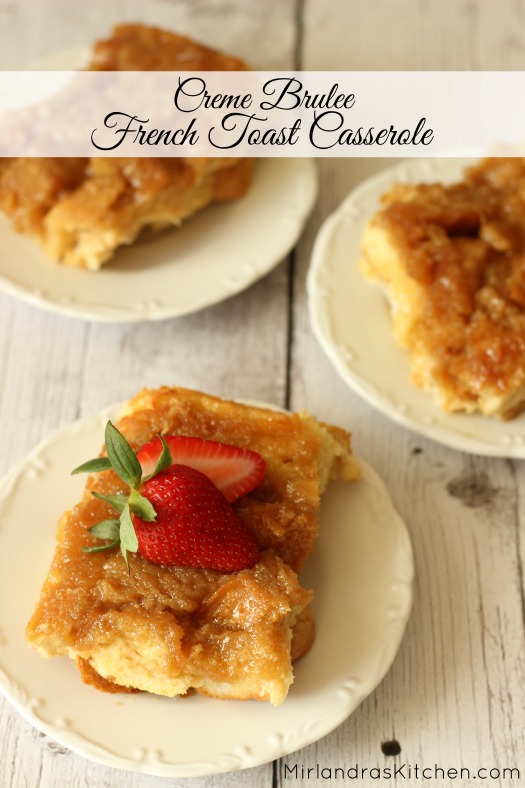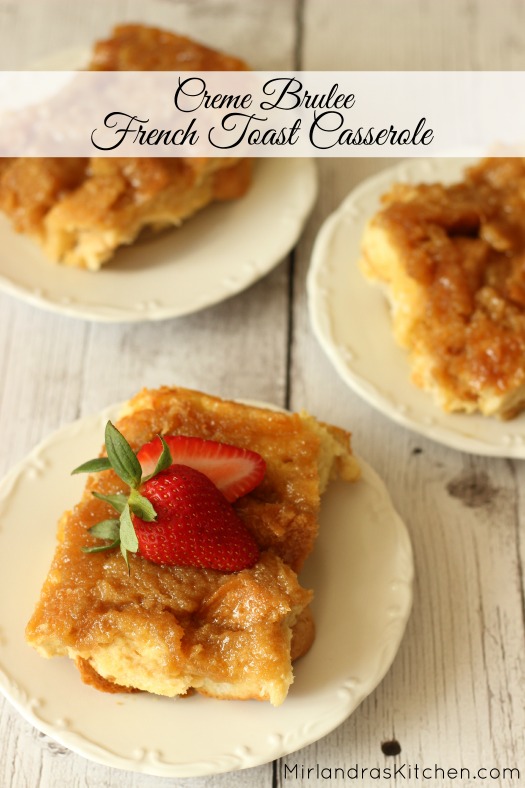 We live 555 miles from our nearest blood relatives and thousands of miles from much of our family. If life were perfect they would all live just down the street but life has quite a few twists and turns we don't plan on.
Because of the distance, our guest room is kept hopping. We love it when people come to spend quality time with us and one of my first goals is to serve amazing, food our company will love while minimizing my prep time. My mother always says she wants to see me, not my back in the kitchen and she is a wise woman!
This Creme Brulee French Toast Casserole is one of my go to company recipes. It is decadent and a special treat for overnight guests but I can do the prep in 15 minutes the night before and then just throw it in the oven when it's time for breakfast.
The creme brulee egg mixture bakes up into a silky custard that is tucked into hunks of good bread or croissants and comes together into an excellent breakfast. When it comes out of the oven, I cut each piece and flip it upside down unto the breakfast plates to expose the caramelized sugar crust on the bottom.
This is the perfect treat for little ones and adults. Keep it in mind for birthday breakfasts and holidays. Happy breakfasting!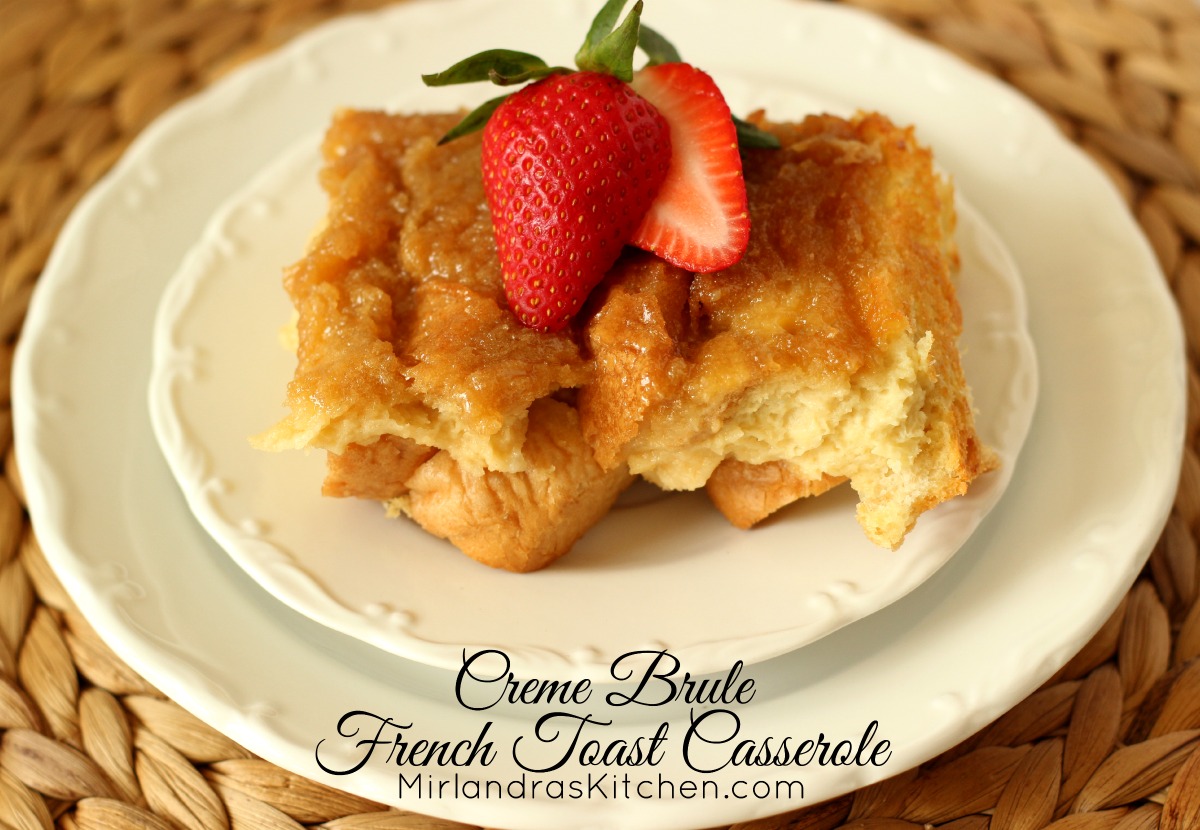 Creme Brulee French Toast Casserole
Ingredients
½

cup

butter

1

cup

brown sugar

2

Tbsp.

corn syrup

1

pound

bread

French, challah, or croissants

8

large eggs

1 1/4

cups

milk

1 1/4

cups

cream

1

Tbsp.

vanilla

¼

tsp.

salt
Instructions
In a small saucepan cook the butter, brown sugar and corn syrup over moderate heat, stirring frequently, until smooth and tawny. Pour the mixture in an even layer into a 12"x 8" baking dish. (You can use a slightly larger baking dish but adjust the cooking time.)

Tear up bread into ragged chunks or cut into cubes about 1" in size (I cut). Add all the bread on top of sugar mixture and press lightly so the bread compresses a bit. Don't squish more than about 1/4 of the air out.

In a medium bowl or giant measuring cup with a spout whisk together the eggs, milk, cream, vanilla, and salt until combined well and pour evenly over the bread. Cover the casserole with cling wrap and refrigerate a few hours or overnight.

Preheat oven to 350 F and bring bread to room temperature.

Bake casserole, uncovered, in middle of oven until puffed and edges are pale golden, 35 to 40 minutes. The simplest method to check for doneness is with a digital thermometer. The casserole is ready when the internal temperature is 160.

Serve hot French toast immediately with fresh strawberries, butter, favorite syrup or whipped cream. It looks prettiest when pieces are served upside down.
This recipe is adapted from a recipe for basic Creme Brulee French Toast.
I find that mixing the batter portion of this recipe up in a 8 cup measuring cup is useful.  Jonathan picked one out when we got married and I thought it was crazy but it turns out I love this beast of a measuring tool. We have the one pictured on the left but it is an older version and now harder to find The option on the right is just as good and about what we paid for ours originally.
[one_half][/one_half]
[one_half_last]
[/one_half_last]
Looking for another amazing breakfast home run?  Try my one of a kind recipe for Sticky Bun Breakfast Syrup.  It is something special.  Click here for the recipe.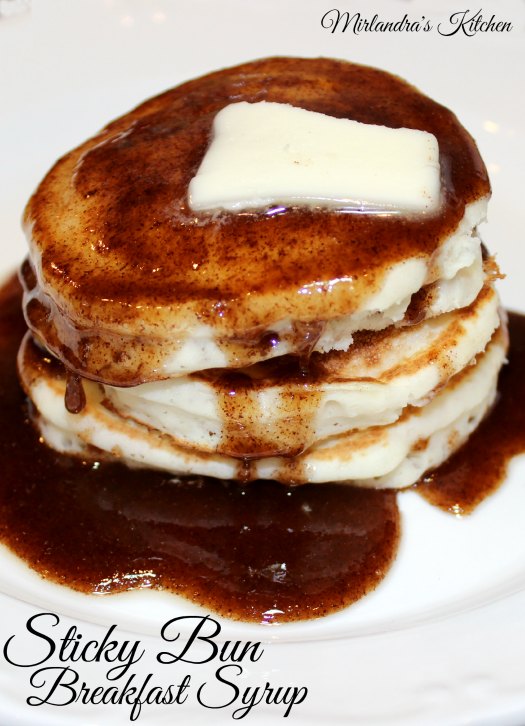 Free Simple Weeknight Meal Plan!
Sign up here for your free plan and start rocking dinner!