This Easy French Toast Casserole bakes up with it's own crème brulee layer complete with caramelized sugar!  The luscious breakfast casserole can be put together the night before and baked in the morning for a no fuss breakfast!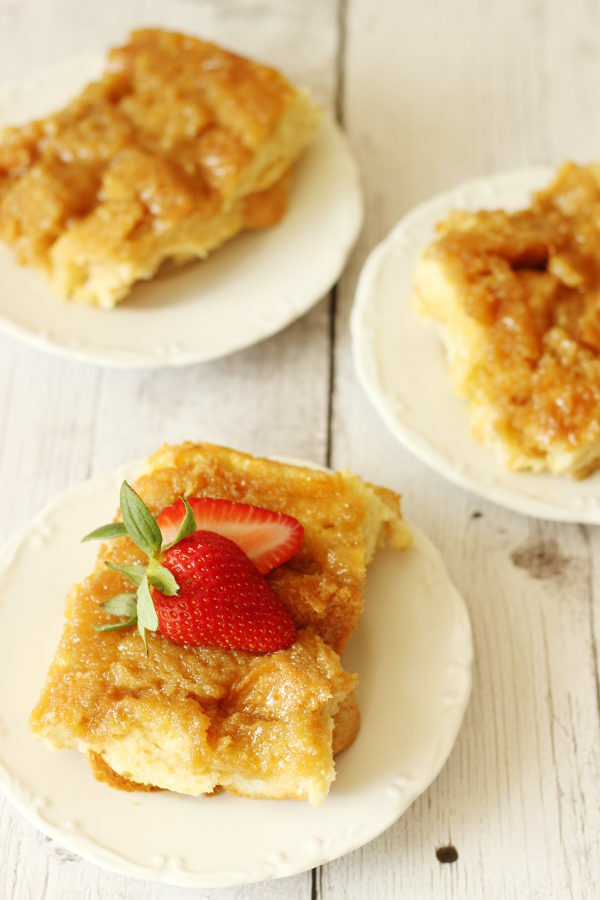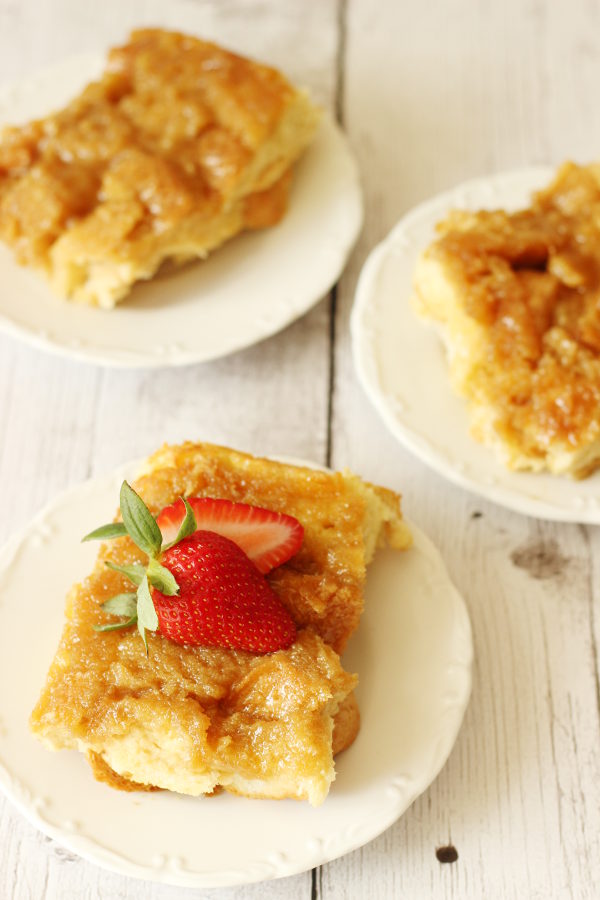 I love a good fancy breakfast or brunch but also love to ease into my morning instead of hitting the kitchen at a dead run.  This easy French toast casserole is a heavenly overnight French toast recipe that always impresses my family, out of town guests, and whoever else shows up at my breakfast table. The casserole has a wonderful crème brulee layer over a caramelized sugar bottom that is decadent and amazing for that special Saturday breakfast or Christmas morning.
Easy French Toast Casserole – A Make Ahead Breakfast for a Hassle- Free Morning
French toast isn't exactly hard to make but if you need to feed a crowd it can be time consuming. Enter the French toast casserole!  Whisk together the batter, dump over favorite bread and plop in the fridge for next day baking!  Got 15 house guests?  Make two pans!
Crème Brulee style is my favorite of all French toast bakes.  As I serve each piece I flip it upside down so the caramelized sugar layer is on top – just like crème brulee!  The presentation is beautiful. It turns out you really can knock people's socks off with just a bit of bread and some eggs and cream!
What is the Best Bread for Overnight French Toast Casserole?
The truth is you can use any kind of bread in a French toast casserole.  I'm partial to thicker breads than the usual sandwich bread.  Day old French bread is always wonderful.  My favorites are brioche and challah bread. They are both richer breads that are sturdy enough to hold their texture well in a breakfast casserole.
Often I bake my own bread for French toast.  I happen to make good bread and I want the bread a day or two old – not a week old so I find it easier to whip out a loaf of my own instead of running to the store.
And for the cherry on top you can always chunk up a pile of croissants for the most epic French toast ever!
Tips for the Best French Toast Casserole
Bread:  Pick a good quality bread that tastes good by itself.  In other words don't buy the cheapest white sandwich bread.  Try to avoid standard slices of thinner sandwich breads in general.
Soaking:  Make sure the bread has time to fully soak up the custard.  Sure, usually we make it the night before but you don't strictly have to!  You just need to let it sit a good three hours.  If you rush it there will probably be dry spots.  But you can make it same day and serve it for a late morning brunch or breakfast for dinner.
Consistency:  Cooking the casserole less gives you a wetter texture.  Cooking the casserole more gives you a more crunchy top and firmer texture.  This is all up to personal preference!
Mix Ins:  All French toast casseroles are wonderful with mix ins.  This crème brulee style bake is no different.  Toss in chopped nuts, your favorite berries, slices of apples or pears, or even chocolate chips for fun new flavors!
Toppings for Overnight French Toast
You can absolutely serve this French toast bake just the way it is – because crème brulee style is SO lovely.  You can also jazz it up a bit with any of the following if you like!
powdered sugar
Fresh Berries
Maple Syrup
More Top Shelf Breakfast Recipes
Easy French Toast Casserole Crème Brulee Style
This Easy French Toast Casserole bakes up with it's own crème brulee layer complete with caramelized sugar!  The luscious breakfast casserole can be put together the night before and baked in the morning for a no fuss breakfast!
Ingredients
½

cup

butter

1

cup

brown sugar

2

Tablespoons

corn syrup

1

pound

bread

French, challah, or croissants

8

large eggs

1 1/4

cups

milk

1 1/4

cups

cream

1

Tablespoon

vanilla extract

¼

teaspoon

salt
Instructions
In a small saucepan cook the butter, brown sugar and corn syrup over moderate heat, stirring frequently, until smooth and tawny. Pour the mixture in an even layer into a 12"x 8" baking dish. (You can use a slightly larger baking dish but adjust the cooking time.)

Tear up bread into ragged chunks or cut into cubes about 1" in size (I cut). Add all the bread on top of sugar mixture and press lightly so the bread compresses a bit. Don't squish more than about 1/4 of the air out.

In a medium bowl or giant measuring cup with a spout whisk together the eggs, milk, cream, vanilla, and salt until combined well and pour evenly over the bread. Cover the casserole with cling wrap and refrigerate a few hours or overnight.

Preheat oven to 350 F and bring bread to room temperature.

Bake casserole, uncovered, in middle of oven until puffed and edges are pale golden, 35 to 40 minutes. The simplest method to check for doneness is with a digital thermometer. The casserole is ready when the internal temperature is 160.

Serve hot French toast immediately with fresh strawberries, butter, favorite syrup or whipped cream. It looks prettiest when pieces are served upside down.
Nutrition
Calories:
590
kcal
|
Carbohydrates:
61
g
|
Protein:
14
g
|
Fat:
33
g
|
Saturated Fat:
18
g
|
Cholesterol:
249
mg
|
Sodium:
558
mg
|
Potassium:
279
mg
|
Fiber:
2
g
|
Sugar:
35
g
|
Vitamin A:
1201
IU
|
Vitamin C:
1
mg
|
Calcium:
196
mg
|
Iron:
3
mg
Nutrition Disclaimer
MirlandrasKitchen.com is written to share great recipes. While we do our best to provide nutritional information as a general guideline, we are not registered dietitians and the values provided here should be considered estimates – not exact scientific data.
I read each and every comment and I try to respond to questions asap, so ask away! If you've made a recipe, I would love to hear about it! Please come back and share your experience and give the recipe a 5-star rating so other people will know how much you loved it!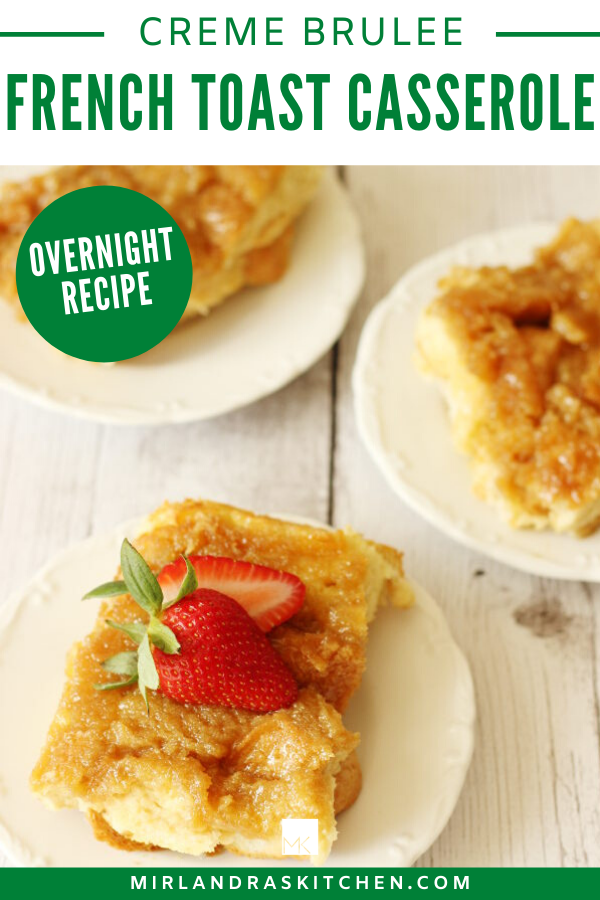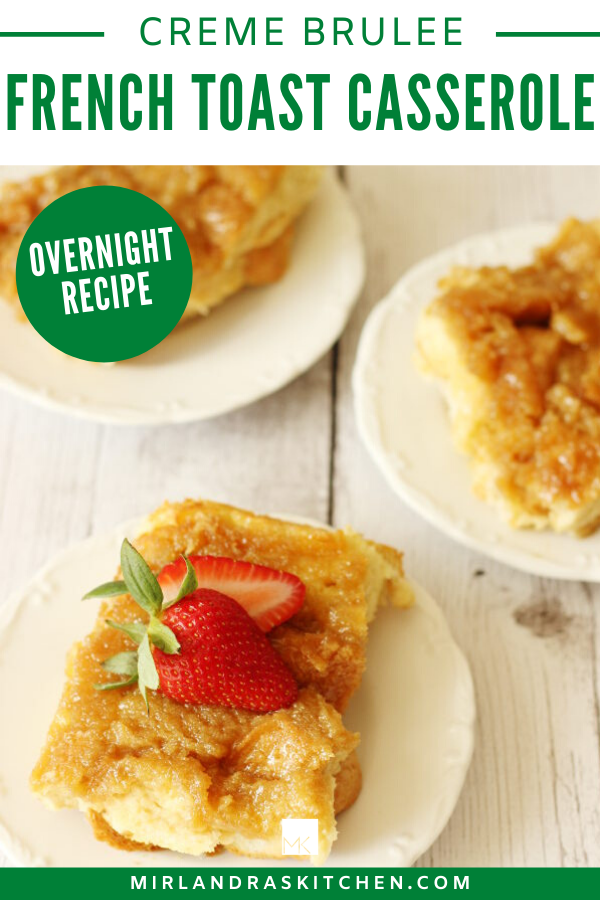 This recipe was originally shared in April of 2015.  It was updated in January of 2021.