Apple Crisp French Toast Casserole is a yummy French toast smothered in buttery apples and crumbly crisp topping. Make it the night before or same day.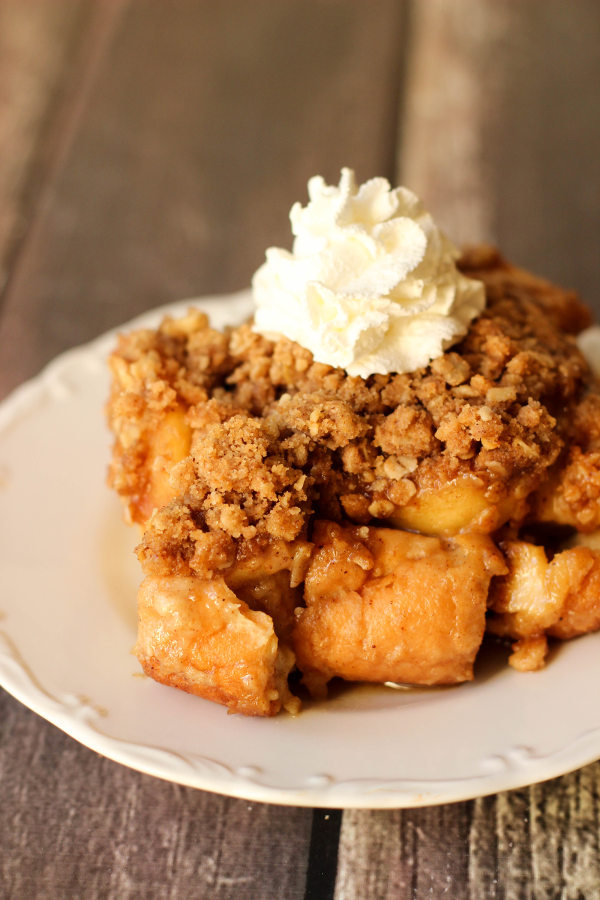 Apple Crisp French Toast Casserole
Sometimes I sit around and daydream about food.  This fall I was dreaming about apples and French toast.  At some point the idea of Apple Crisp mashed up with French Toast Casserole drifted into my head and I knew I HAD to give it a try.
Well I did, and it was sensational…  This time of year French Toast Casserole is the perfect answer to company breakfasts for the holidays or just something fun with your family.  I love to serve something that tastes amazing but was not much work to make.  This is my answer to that!
You can simply assemble it and bake it or if you like you can assemble it the night before and then cook it the next morning.  Instructions for both methods are included in the recipe.  Enjoy!
More Wonderful Brunch Recipes
Apple Crisp French Toast Casserole
See notes for an overnight option.
Ingredients
For The French Toast
½

cup

butter

1

cup

brown sugar

2

Tbsp.

corn syrup

1

pound

bread

French, challah, or croissants

8

large eggs

1 1/4

cups

milk

1 1/4

cups

cream

1

Tbsp.

vanilla

¼

tsp.

salt
For The Apples
3

apples

3

Tbsp.

butter

1/2

tsp.

cinnamon

3

Tbsp.

brown sugar
For The Crisp Topping
1

cup

packed brown sugar

1

cup

all-purpose flour

1

cup

old-fashioned oats

2/3

cup

butter melted

1

Tbsp.

cinnamon

1/2

tsp.

pumpkin pie spice

optional
Instructions
In a small saucepan cook the butter, brown sugar and corn syrup over medium heat, stirring frequently, until smooth and tawny. Pour the mixture in an even layer into a 12"x 8" baking dish. (If you use a different size casserole pan make sure to adjust the cooking time.)

Tear or cut the bread into cubes about 1" in size . Put the bread into your casserole pan in an even layer.

In a medium-large measuring cup with a spout whisk together the eggs, milk, cream, vanilla, and salt until combined well. Pour evenly over the bread.

Preheat the oven to 350 F.

Peel the apples, quarter them and remove the cores. Cut each quarter into five slices. Put apples in a large nonstick skillet on medium-heat with the 3 Tbsp. butter and the 1/2 tsp. cinnamon. When the apples start to sizzle stir and then cover with a lid. Cook for three minutes stirring once. Remove the lid and add the 3 Tbsp. brown sugar. Stir to coat, then spoon the apples /sauce over the casserole. (You can start making the topping while this cooks.)

In a medium bowl, combine the ingredients for the crisp topping. Use your hands to scatter the topping over the casserole.

Bake casserole, uncovered, in middle of oven until puffed and the top has browned 40 - 50 minutes. At 40 minutes the casserole will be 160F when checked with an internal thermometer and the French toast will have a softer texture. At 50 minutes the casserole is a bit firmer. Doneness is personal preference.

Serve hot casserole with, butter, favorite syrup or whipped cream as desired.
Notes
Overnight French Toast: You can assemble everything the night before if you like and refrigerate the casserole. After spooning on the apples cover the casserole with plastic wrap and refrigerate it until the next morning. In the morning add the topping and bake as directed. Remember it will take longer to bake it cold. One option is to allow it to come up closer to room temp on the counter but either way plan on more baking time to reach the desired level of doneness.
I read each and every comment and I try to respond to questions asap, so ask away! If you've made a recipe, I would love to hear about it! Please come back and share your experience and give the recipe a 5-star rating so other people will know how much you loved it!