Learn how to can peaches the easy way! This simple guide will have beginners canning pounds summer's best peaches safely and easily!  All your questions about canning peaches are answered in this handy tutorial for beginning canners or those who just need a refresher!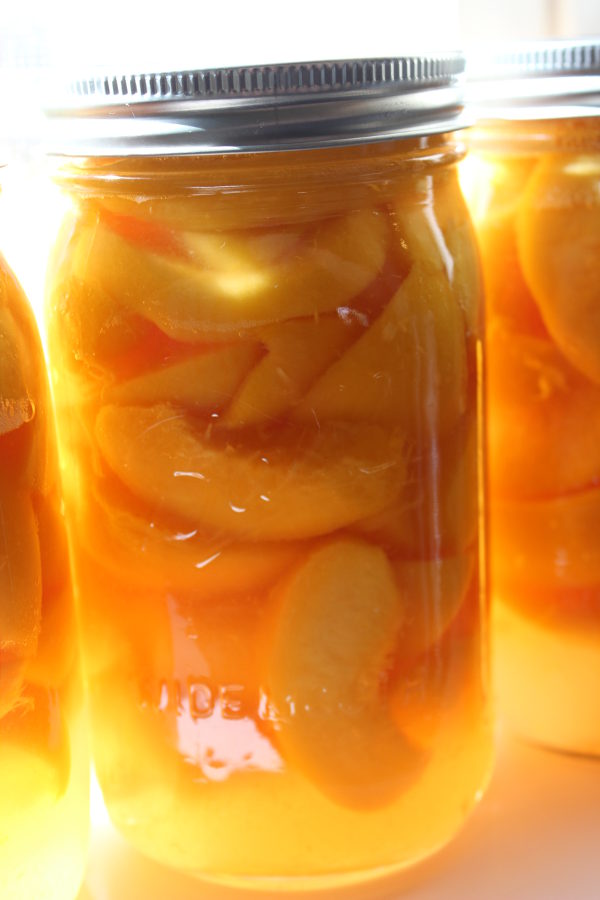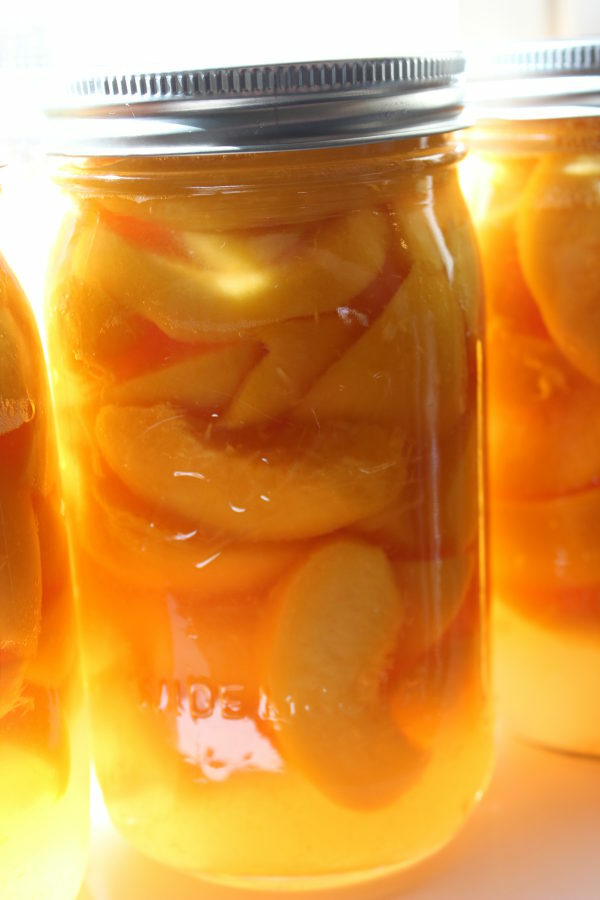 Peaches are one of my favorite things to can.I know in this day and age I can walk into the store any day of the year and buy a peach but a peach from across the world in December is not the same as a heavy, perfectly ripe summer peach.  Do you know that if a peach is completely ripe even picking it up gently in your hand will bruise it slightly?
You just can't buy that kind of ripeness in the store!  Summer is the only time when you can get really amazing peaches and canning preserves their flavor perfectly. I've never had a store canned peach or a frozen peach from the store that came close to the peaches I put up myself. My family would be happy to open two quarts of my canned peaches every week all winter long! I don't make them that many but I do put up a lot and I make some extra jars to give at Christmas.
How to Can Peaches Using a Water Bath Canner
The water bath canning method is really simple for peaches. If you have a few hours and a big box of peaches you've got this! I suggest you start with my Water Bath Canning For Beginners Guide to brush up on all the current basics of canning.
Order peaches: Some farms will take your order in advance and help you plan a day on your calendar for canning.
Clean your jars: (peaches can be canned in quart jars or pint jars but I prefer quarts)
Boil Water: Fill your Water Bath Canner 2/3 full and start it coming to a boil. Takes awhile…
Make Simple Syrup: Combine sugar and water to make light, medium, or heavy simple syrup for the peaches.
Prep Peaches: Scald, peel and slice the peaches filling jars as you go. Pour syrup of peaches as each jar fills to keep them from browning.
Close Jars with Lids and Rings: Make sure the rim of the jar is clean and put a lid and ring on top.
Put Jars in Boiling Water: Put the jars in the water bath canner. Make sure the water is boiling and that there is a rack in the bottom. Make sure the tops of the jars are covered with water. Bring the water back to a boil and then continue to boil for  25 minutes. (If you live higher than sea level you need to boil or "process" your jars longer. Check the recipe below for exact times.
Remove the jars: Use a jar lifter to get the jars out and put them on a towel or cutting board to cool.
Test: After a few hours it is time to check the jars. Use your finger to press into the center of the lid. If the lid stays down it is sealed! If you hear it "pop" back up then the jar is not sealed.  Any jars that don't seal should be refrigerated and eaten within a week.
Clean and Store: Wash the jars to make sure they are no longer sticky. Store away from light for up to two years.
Tips For Ordering Canning Peaches From A Farm:
When I order my peaches I schedule them to pick up when the next five days are all days I could can on.  This gives me flexibility to can on the day the peaches are perfect.  Nothing is more frustrating than showing up for your peach order with plans to can tomorrow only to discover the peaches are fairly green and won't be ready for days.
When you order your peaches ask how long they will take to ripen after you pick them up.  A reputable farm will be able to give you a good estimate.
There are many different varieties of canning peaches.  The season will be weather dependent ever year but here in Idaho you can probably get peaches as early as late July and as late as early September.  When you order peaches make sure you are ordering a "freestone" variety which means the pit is easy to remove for canning.  I've been given wrong information by farms before.  I suggest looking up the variety you plan to order online to find out what type it is.
How to Peel Peaches Easily For Canning
Perfectly ripe peaches are peaches so ripe that they bruise at being touched! A truly ripe peach is very easy to peel and the skins come right off.  You don't have to blanch peaches but it does make peeling peaches much easier for canning!  When you blanch fruit correctly it does not cook at all.
Fill a large soup pot with water and bring it to a boil.
Blanch or scald the peaches by dipping them into the hot water for 30 seconds to 1 minute.  This loosens the skins so they will slip right off! Use a slotted spoon to lift the peaches out and put them in a sink of ice water.
Can You Leave the Skins on For Canning?
There is no reason you can't do it from a canning perspective.  It won't be a safety issue.  Bottom line if you don't mind eating them with the skins on or removing the skins when you are serving them then go for it!
I will say if you dislike the skins but are concerned the blanching step will be long or difficult at least try it – I think it is simple and fast.
Should You Use Light, Medium or Heavy Syrup for Peaches?
Sugar is a preservative in canning.  Peaches are generally canned in a sugar syrup to aid in the preserving process but the choice of how sweet a syrup you use is up to you.  Heavy syrup will be the sweetest and is more traditional. Light syrup will have the least sugar.
I've included the directions for all three kinds of syrup in the recipe below.  Keep in mind that peaches that are truly ripe and high quality will give you a much sweater result and can probably use a lighter syrup.
Common Questions When Learning How to Can Peaches
Got questions, I've got answers! If you are new to Water Bath Canning check out my Beginning Guide to Water Bath Canning.  
You can find some of the most commonly asked questions about canning peaches below!
Slices, Quarters of Halves for Canning Peaches?
This is purely a personal preference.  I like slices because I can get the most peach in the jar!  My kids will eat a jar at a sitting if I let them so quantity is my game these days.
However, if I wanted something really beautiful for a dessert or gift jars I would do halves.  Imagine bringing some beautiful glasses out at Thanksgiving with half a ripe summer peach and a dollop of whipped cream or scoop of ice cream in the center!  It would be stunning!
How many jars of peaches will 50 pounds give me?
The general rule of thumb is that 50 pounds (a bushel) of peaches will give you 20-25 quarts when canned.  This assumes you are going to slice them in half.  While it is pretty to can peach halves I prefer to slice my peaches because I can cram many more into the jars which saves money on jars and lids and saves storage space.
When I order 50 pounds of peaches I make 14 quarts of sliced peaches, and 14 quarts of my grandmother's amazing spiced peaches which I do can in halves for presentation, and 10 pints of peach jam.  I love peach jam and it is a great use for the more bruised peaches I don't want to can in slices or as spiced peaches.
Can I use pint jars to can peaches?
Yep!  You certainly can!  For raw pack peaches the processing time for pints is 25 minutes.
How long does it take to can peaches?
It only takes 30 minuted to process the cans of peaches in a water bath canner. But how long will it take you to set up, peel the fruit, process the jars, and clean up???
I can a few times most summers.  Generally I find that without little kids in the house I can put up 50 pounds of peaches in about 8 hours by myself.  50 pounds is a LOT of peaches. Fewer peaches, shorter day!
Should I Raw Pack or Hot Pack Peaches?
Raw packing is where you fill the jar with fruit and then pour boiling syrup over it before canning the jar. This is faster and easier – my preferred method.
Hot packing is where the fruit is sliced into a pot of syrup and then brought to a boil before loading fruit and syrup into the jars.  Peaches that are hot packed don't float in the jars.
What If My Canning Peaches Are Still Green?
Sometimes when you order canning peaches from a farm they are sold green and cold from a refrigerator. Peaches should be canned when they are as ripe as possible while still being firm enough to hold up.
If yours are green, bring them home and set them out on newspaper or towels on a table in the sun for 2-3 days until they become more yellow/orange/red and start giving off a pleasing peach fragrance that fills the room gently. If you do find yourself canning peaches with a green tinge, try blanching for 45 seconds instead of 30 to make sure the skins still slips off well.
Be careful not to squeeze the peaches. Even gentle handling can bruise them.
What if some liquid leaks out of the jars while they are processing?
It is not unusual for some of the syrup to bubble out of the jars during processing in your water bath canner.  If it is just a bit or just enough to leave the top of the fruit uncovered you are fine.  However, if half or more than half of the liquid is gone the jars should be refrigerated and eaten right away.
Converting measurements for canning
It can be hard to remember how many cups are in a quart or how many quarts in a gallon and so on and so forth.  If you feel muddled Ball has a great conversion chart that can help you out.
Looking For More Peach Recipes?
How to Can Peaches, A Water Bath Canning Method
You can learn how to can peaches! This easy recipe for canning peaches will have even newbies canning pounds and pounds of yummy peaches in no time. Nothing tastes better on a cold winter day than a sunny jar of tree ripe peaches!  Nothing you buy at the store can compare to what you can at home!  This recipe makes 7 quarts of peaches in a water bath canner.
Ingredients
11 - 12

lbs

of peaches

ice water for the blanching process

2

batches of syrup

either light, medium, or heavy
Syrup Options:
Light Syrup: 2 cups sugar to 1 quart water

Medium Syrup: 3 cups sugar to 1 quart water

Heavy Syrup: 4 cups sugar to 1 quart water
Instructions
How to Can Peaches
Prepare your water bath canner and clean jars. Start the canner coming to a boil. If it is ready before the fruit you can turn it off. It will come back to a boil faster when you are ready.

Prepare desired sugar syrup by heating water and sugar in a sauce pan until the sugar is dissolved. Set it aside.

Blanch peaches by dipping in boiling water for 30 seconds to 1 minute. I use a fat skimmer and do 5 peaches at a time. Immediately remove the peaches to a sink or bowl with ice water to stop the cooking.

Fill one jar at a time to keep the peaches from browning. Slit the skin off of the peach. Slice sections of fruit off of the pit and add to the jar. When the jar is full, cover the fruit with hot syrup leaving a 1/2" head space. Remove all air bubbles by shaking, tapping or using a plastic spatula. Air can get trapped where you can't see it in the food and needs to be removed.

Wipe the rim of the jar clean with a damp rag and put the lid and ring on.

Load 7 quarts into a boiling water bath canner. Make sure the jars are covered by at least 2" of water.

Bring the canner back to a boil with the quarts inside. Then process for at least 30 minutes. If you live above 1,000 feet you need to add more time to adjust for altitude. At 1,001 - 3,000 feet add 5 minutes. At 3,001 - 6,000 feet add 10 minutes, 6,001 - 8,000 feet add 15 minutes, at 8,001 - 10,000 feet add 20 minutes

Use a jar lifter to remove the jars of peaches to a towel or wooden cutting board. Allow them to come to room temperature. The lids will seal at this time. Any lids that do not seal in the first 12 hours need to be refrigerated and eaten within a week. Sealed jars can be labeled and stored on a shelf out of direct light for years.
Notes
Pint Jars: If you are doing this raw pack method for pint jars the processing time is 25 minutes, then add additional time if you need to for where you live. (There are two pints in a quart!)
Nutrition
Nutrition Facts
How to Can Peaches, A Water Bath Canning Method
Amount Per Serving
Calories 205
* Percent Daily Values are based on a 2000 calorie diet.