Tasty bay scallops and shrimp are tossed into a simple pasta dish and drizzled with alfredo sauce. Anybody can make this recipe at home for a special meal or just because seafood is wonderful!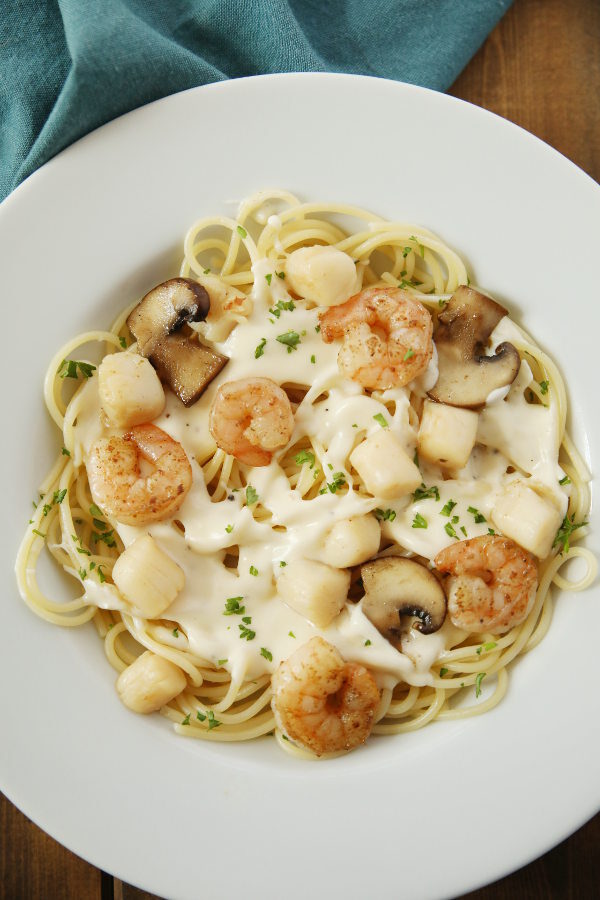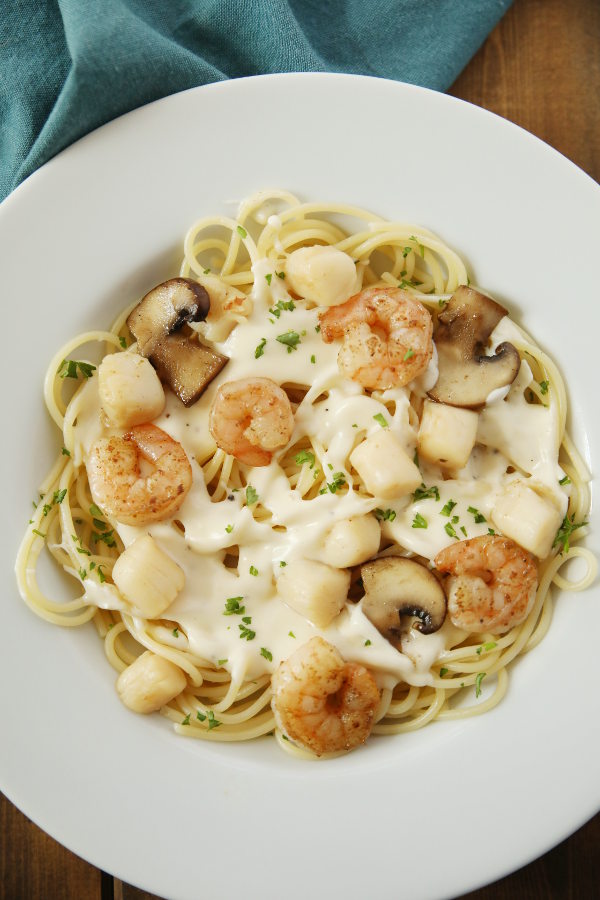 I enjoy scallops but my husband LOVES them with deep passion.  To keep him in scallop heaven I occasionally grab a bag of bay scallops and toss them into simple pasta dishes.  This decadent pasta dinner is made with my homemade 15 minute alfredo sauce (yes it will blow your socks off) and some quickly seasoned bay scallops, and shrimp. It may look fancy but in truth it is a quick meal you can toss together for a fancy feeling date night at home or a special company dinner.
Making Easy Shrimp and Scallop Pasta Alfredo at Home
Don't let scallops or seafood in general intimidate you!  It is very simple to make a quick shrimp and scallop pasta at home and it costs WAY less than eating out!  It only takes 20 minutes and four simple steps to get this meal to the table:
Boil salted water and start pasta cooking.
Whisk together a quick alfredo sauce (my warm milk and cream shortcut saves a TON of time here!)
Sear and season scallops and shrimp.
Plate it all up for a tasty meal!
Saving Money With Bay Scallops
In general, the larger the scallop the higher the price!  Bay scallops are quite small (think the size of a dime or nickel) but still pack plenty of delicious scallop flavor.  Sometimes on sale I see these as low as $4 for a pound!  If you were serving chicken or beef one pound wouldn't go that far but because you are using the seafood as an accent to pasta and sauce one pound goes quite far.  You will generally find that the cost of this dish comes in around $10-$15 and serves four people!  Even a family on a careful budget can afford to do a fun seafood splurge like this on occasion.
What Kind of Pasta Should I Use?
There is a BIG difference between a dirt cheap store brand pasta and a higher quality pasta.  Now I tend to grab whatever Costco has.  It is usually solid quality.  Right now they have Garofalo brand organic pasta which we have been loving!
Angel hair or Capellini is a nice size and shape to hold  alfredo sauce but any pasta shape will work fine.  I like something I can twirl on a fork but spirals are also great for holding sauce.
Tips for Searing Shrimp and Scallops 
HOT PAN – Make sure your pan is sizzling hot before you toss that seafood on.  This helps the outside crust nicely.
DRY SEAFOOD – Shrimp and Scallops sear best when they are not soggy.  If you need to thaw your seafood make sure it is well drained and then pat it dry before searing.
CAST IRON PAN – If you have a cast iron pan use it. Nothing is better for putting a nice sear on food.  These are less expensive than you think.
More Seafood Recipes
Shrimp and Scallop Pasta Alfredo
Tasty bay scallops and shrimp are tossed into a simple pasta dish and drizzled with alfredo sauce. Anybody can make this recipe at home for a special meal or just because seafood is wonderful!
Ingredients
2

Tablespoons

butter

2

Tablespoons

olive oil

8

oz

shrimp

peels and tails removed (I used size medium which is 41-50 count/pound)

1

pound

bay scallops

½

teaspoon

Old Bay Seasoning

(or Cajun Seasoning)

1

pound

angle hair pasta

(or favorite pasta)

2

cups

milk

1

cup

cream

40% fat (see note before making substitutions)

6

Tablespoons

salted butter

½

teaspoon

minced garlic

6

Tablespoons

all-purpose flour

½

teaspoon

sea salt

½

teaspoon

black pepper

coarsely ground

1

cup

Parmesan cheese

grated (see note)

Mushrooms optional

see note
Instructions
To Make the Pasta:
Put a large pot of water on to boil with two teaspoons of salt in it. When the water comes to a boil add the pasta and cook according to package directions.
To Make the Sauce:
Combine the milk and cream in a microwave safe container. Heat in the microwave for two minutes and 30 seconds

Meanwhile put 6 Tablespoons of butter and the ½ teaspoon of garlic into the large sauce pan over medium-high heat. Whisk occasionally until melted.

Turn the heat down to medium. Whisk in the flour, salt and pepper. Cook, whisking constantly for 30 seconds.

Pour in a few Tablespoons of the warm milk mixture and whisk until smooth. Continue to add a few Tablespoons of the warm milk at a time, whisking until smooth after each addition. After the sauce is thin add the rest of the milk mixture and whisk again to combine.

Add the cheese and whisk frequently until the cheese is melted and the sauce is slightly thickened. The sauce can be served at whatever thickness you like. The longer you cook it, the thicker it will be. Generally, I serve it when it is the consistency of slightly thin gravy.

Taste the sauce and add additional salt and pepper if desired.

Keep the sauce on low heat, whisking occasionally while you cook the seafood.
To Make the Seafood:
In a large skillet, heat 1 Tablespoon of olive oil and 1 Tablespoon of butter in a large skillet over medium- high heat. When it melts add the scallops and cook for 1-2 minutes until starting to color and then flip and do the same on the other side. If the scallops start to release a lot of water pour it off. Remove the scallops to a plate.

In the same skillet heat 1 Tablespoon of butter and 1 Tablespoon of the olive oil over medium-high heat. When it melts and sizzles add the shrimp. Cook shrimp for about 2 minutes on the first side.

Add the Old Bay or Cajun seasoning and flip the shrimp with a spatula to cook it about a minute on the 2nd side until cooked through. Remove shrimp to the plate with the scallops.
To Assemble:
Drain the cooked pasta.

Plate the pasta in a large family style flat bowl or in individual pasta plates.

Pour the sauce over the pasta and scatter the cooked seafood on top.
Notes
Choosing Cream: High quality cream should be 40% fat. You can choose to use a lower fat cream here or even switch to half and half but understand that the recipe won't be as rich and creamy. Parmesan Cheese: This is not the powdery, crumbly stuff sold on a store shelf. I mean buying a block of parmesan cheese and grating it or buying high quality grated cheese in the refrigerated section. If you are buying the cheese already grated make sure it doesn't have a lot of fillers that will prevent it from melting. I use the pre-grated parmesan sold by Costco in all of my recipes. It melts very well. The bag is large but I put whatever I don't use in the freezer in two cup portions so I always have parmesan on hand. Mushrooms: When I make this, I sauté up some sliced mushrooms and add them to the dish. We are primary mushroom fans in this house. If you want to add mushrooms plan on any amount up to 8oz, sliced. I used brown cremini mushrooms and sautéed them in some butter and salt before I did the scallops.
Nutrition
Calories:
967
kcal
|
Carbohydrates:
21
g
|
Protein:
41
g
|
Fat:
64
g
|
Saturated Fat:
36
g
|
Trans Fat:
1
g
|
Cholesterol:
341
mg
|
Sodium:
1852
mg
|
Potassium:
530
mg
|
Fiber:
1
g
|
Sugar:
6
g
|
Vitamin A:
1979
IU
|
Vitamin C:
3
mg
|
Calcium:
574
mg
|
Iron:
3
mg
Nutrition Disclaimer
MirlandrasKitchen.com is written to share great recipes. While we do our best to provide nutritional information as a general guideline, we are not registered dietitians and the values provided here should be considered estimates – not exact scientific data.
I read each and every comment and I try to respond to questions asap, so ask away! If you've made a recipe, I would love to hear about it! Please come back and share your experience and give the recipe a 5-star rating so other people will know how much you loved it!