These lit'l smokies and caramelized onions are an epic dish. It is the perfect breakfast for dinner item or for that matter, breakfast for breakfast!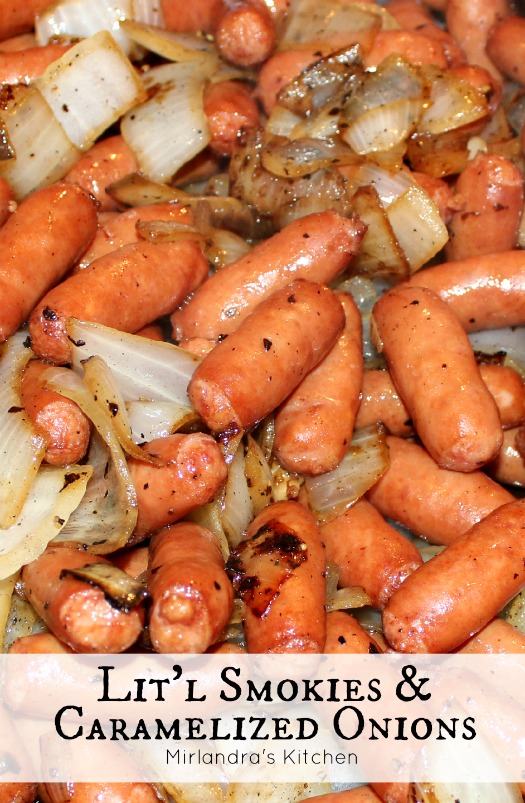 We love Lit'l Smokies.  My favorite is the beef.  Jon's favorite is anything he can get his hands on.  Last year we came across the 2lbs bags at a rock bottom price – $2 each.  Jonathan asked me how many we could get and I told him whatever he thought was reasonable.  I, the wife, consider "reasonable" to take into account things such as our budget, healthy eating and, the all-important, Freezer Space.  Jonathan, the beloved husband, bought upwards of 10 bags.  Men and women do not use the same logic.  I know this should not be news to me, but since I ended up playing a game of freezer Tetris with the packages of sausage it must have been.
The bounty did bring on some very yummy breakfasts.  In fact, it is still bringing on said breakfasts.  These puppies last for a very long time in the freezer.  A. Very. Long. Time.
My favorite way to fix them (so far) is as Lit'l Smokies and Caramelized Onions which is a  delicious fry of onion chunks and sausages.  It's simple, makes the entire house smell decadent, and the sweet caramelized onions are the perfect foil for the sausages.  I think this might actually be the quintessential way to serve these guys up.  I made it for several groups of house guests and all gave it rave reviews!  The best review of all of course is when the last morsels in the pan get scraped onto somebody's plate.  I always know I have a winner when there are no leftovers to speak of.
The thing that makes this recipe magic is the way you cook the onions.  I like mine just starting to brown (caramelize) on the edges with a hint of crunch still.  It's a mix of bold onion flavor with the mellow, sweet, rich flavor of caramelized onions.  If you want to amp up the sweet richness just keep cooking the onions until they are as dark as you like.  The darker the brown color, the sweater the final product.  If you plan to really take them all the way try turning your pan to just above low and plan on ONE HOUR to get the job done.  Thus why I don't go there.  You can also cheat by keep the pan on medium and sprinkling in a few pinches of sugar.  This allows you to artificially create the caramelization process much faster.  It's a quick and dirty cheat method of cooking but I'm guessing some of you don't have an hour to make breakfast!
I hope you enjoy serving up the good stuff!!!  Happy eating…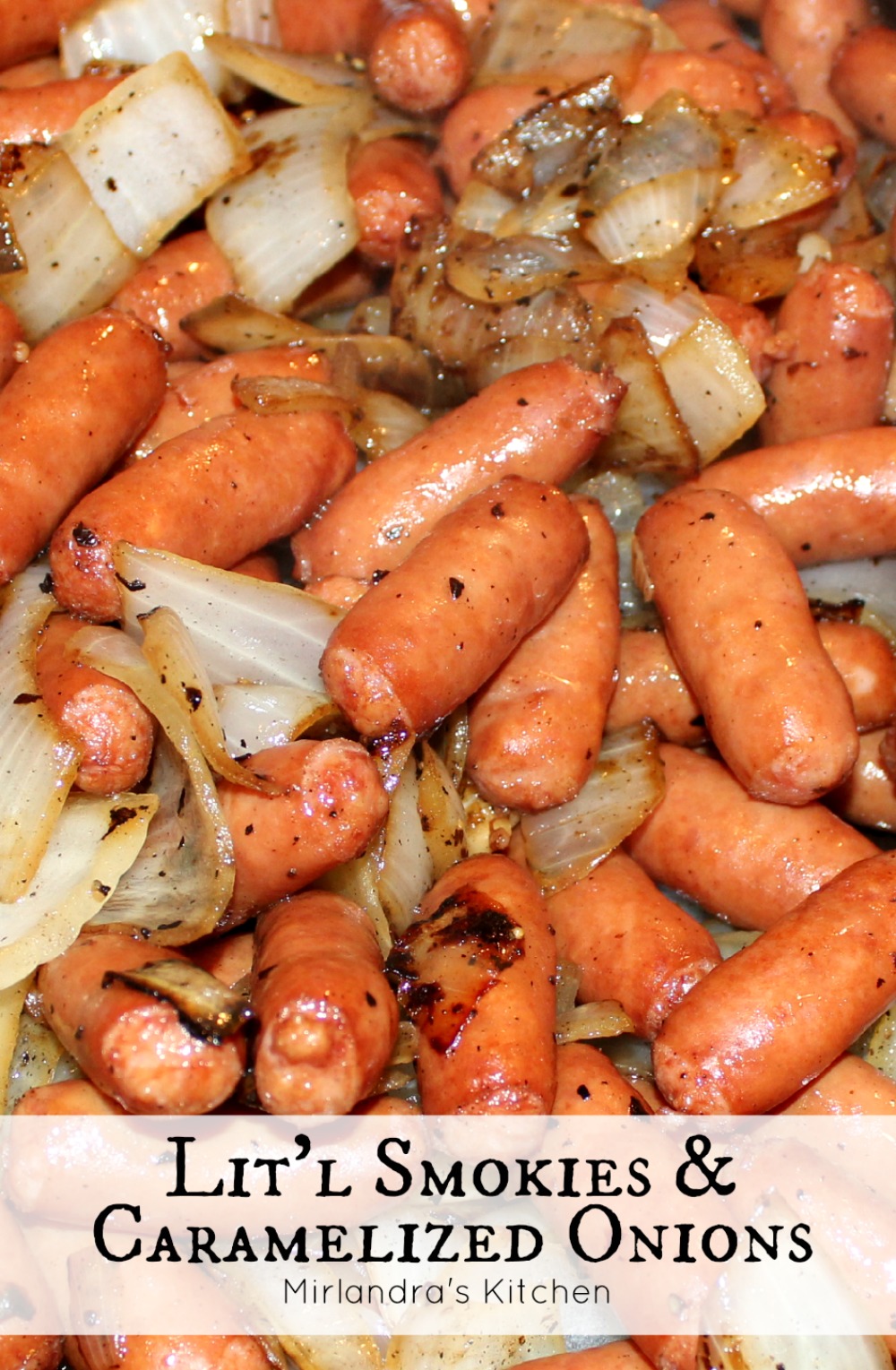 Lit'l Smokies and Caramelized Onions
These lit'l smokies and caramelized onions are an epic dish. It is the perfect breakfast for dinner item or for that matter, breakfast for breakfast!
Ingredients
1

package

Hillshire Farms Beef Lit'l Smokies

14 oz

1

sweet onion

Tbsp.

oil

salt and fresh ground pepper to taste
Instructions
Cut onion into large chunks (about 1"). Add oil, onion, salt and pepper to the pan. Cook over high heat until onion is almost the color you like. If onion gets too hot and is in danger of burning, turn down your stove.

Add sausages and cook until sausage is hot through. Taste for salt and pepper and serve.
Nutrition
Nutrition Facts
Lit'l Smokies and Caramelized Onions
Amount Per Serving
Calories 173
% Daily Value*
Sodium 3mg0%
Potassium 49mg1%
Carbohydrates 3g1%
Vitamin C 2mg2%
Calcium 8mg1%
Iron 0.1mg1%
* Percent Daily Values are based on a 2000 calorie diet.
Free Simple Weeknight Meal Plan!
Sign up here for your free plan and start rocking dinner!