Easy Blueberry Pancakes are ready in minutes and crazy good. The buttermilk pancakes are perfect in texture and flavor while wild blueberries add sweet bursts of tangy flavor. Top with my simple Wild Blueberry Syrup or your favorite topping.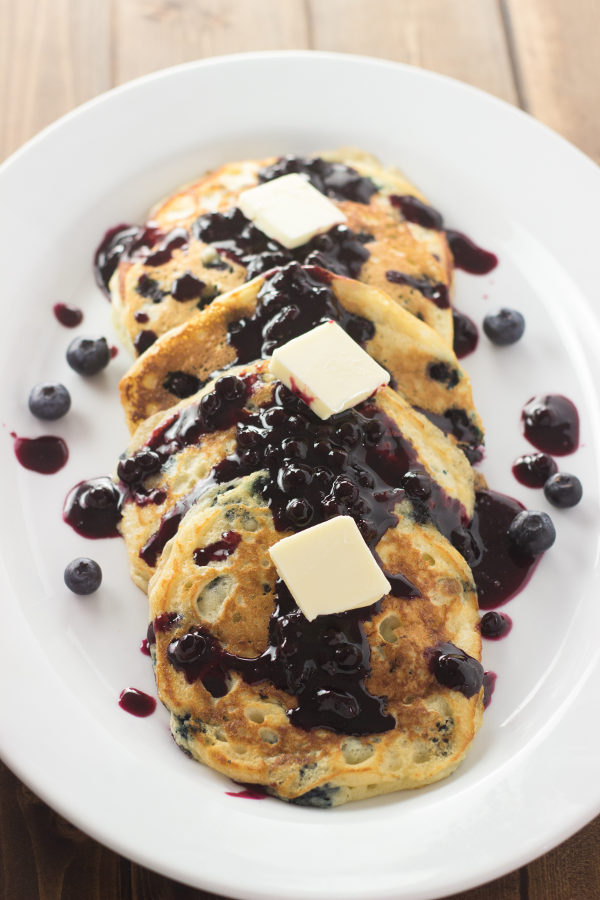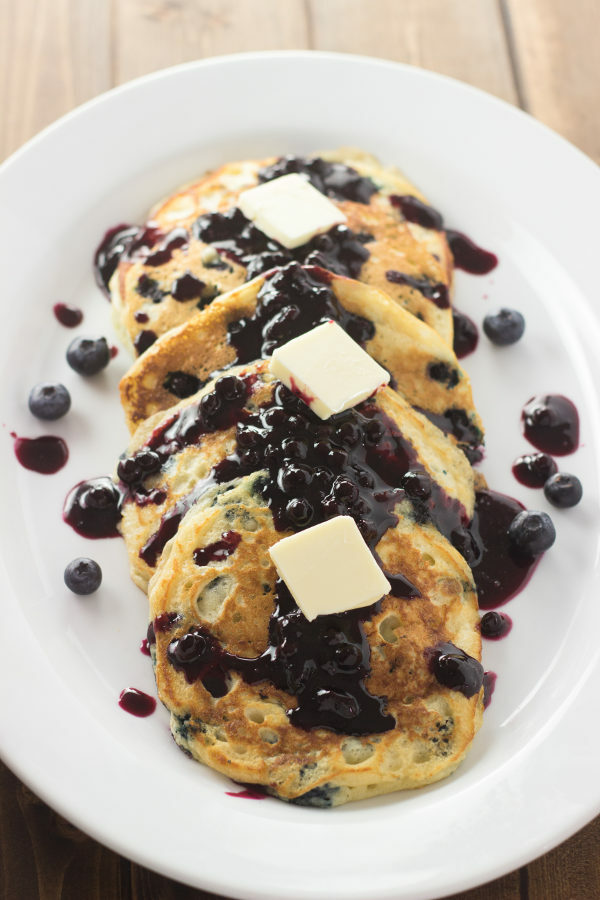 What is it about pancakes???  They captivate our breakfast longings SO much that we have entire chains of restaurants devoted to them!  One of the best parts of my Saturday morning is coming downstairs to find my husband in the kitchen with flour, buttermilk and the pancake griddle.  It just makes me happy nose to toes.
I first started making Copycat Cracker Barrel Pancakes three years ago to feed my inner pancake beast and since then it has become one my favorite recipes and one of the most beloved by all of you here at MK.  This spring it just seemed like it was time to do a blueberry version and of course a blueberry syrup recipe too!  Like the original, this blueberry version is amazingly good and wonderful simple.
How to Make Blueberry Pancakes
I've tried a lot of pancake recipes to get here and I still love buttermilk pancakes more than anything else I've had. They are simple and have excellent flavor! The secret to this version of blueberry pancakes is two part:
 When the butter is added
How I incorporate the blueberries.
Instead of mixing melted butter into my pancake batter I use the butter to grease my hot griddle.  This gives the pancakes a buttery, crispy outside and a fluffy inside.
Most people mix the blueberries right into the pancake batter.  This gives you a sort of purple pancake.  I prefer to put my pancake batter right on the griddle and then sprinkle the blueberries on top.  This also lets me pick if I want a TON of blueberries or more of a sprinkling.
Why I Use Wild Blueberries for Blueberry Pancakes
I use wild blueberries instead of the cultivated varieties available.  Wild blueberries are small, with bold flavor.  The size makes them perfect for cooking into pancakes.  Most grocery stores carry some version of frozen wild blueberries.
It is harder to specifically find wild Main blueberries and I don't think there is a clear difference between wild main blueberries and other wild blueberries.  So use what you can get!
The Best Tools for Blueberry Pancakes
Pancakes are darn simple!  You don't need a lot of fancy equipment.  However, I do have two solid recommendations for your pancake making adventures.
 Buy a ice cream scoop!  I use scoops to portion cookies, muffins and now pancakes! It is an easy way to get the perfect amount of batter on the griddle.  Also the bail perfectly removes the batter quickly so I get a nice round pancake.  Then I  flip the scoop over and quickly spread the batter a little bit.  Trust me – this is genius!
Buy a good griddle.  For YEARS we have used various Presto electric griddles for breakfast.  Over and over we have dealt with broken handles and heating elements that were uneven at best.  Several years ago we finally bought a really high quality electric griddle and it has been amazing.  I ended up wit ha Zojirushi because somebody had actually taken an image of the heating element's heat distribution and you could see how well it worked.  If you use an electric griddle to cook often I would suggest getting a good quality one that will last a long time!  This one also has a lid (great for hashbrowns) and comes apart for washing!
Copycat Cracker Barrel Blueberry Pancakes
These easy blueberry pancakes are real treat! The buttermilk pancakes are perfect in texture and flavor while wild blueberries add sweet bursts of tangy flavor. Top with my simple Wild Blueberry Syrup or your favorite topping.
Ingredients
2

cups

all-purpose flour

see note on measuring

2

tsp.

baking soda

1

tsp.

salt

3

Tbsp.

granulated sugar

2

eggs

2 1/3

cups

buttermilk

1% is what you are looking for here

2

cups

frozen wild blueberries

see note

Butter for the pan
Instructions
Preheat a pancake griddle to 350. Peel the paper off of one end of a stick of butter and set on a plate next to the griddle for greasing. Measure blueberries and set next to the griddle.

Whisk eggs and buttermilk together in a medium bowl. Add flour, baking soda, salt, and sugar. Whisk just until combined.

Rub butter in a circle on the griddle and drop 1/2 cup of batter into the butter spot. I like to use a large ice cream scoop for this. As soon as the batter hits the griddle, level it out and smooth it quickly into a circle with the back of the ice cream scoop. Sprinkle as many blueberries as you like into the pancake.

The pancakes should be flipped when the 4th bubble pops. This will take about 2 - 3 minutes on most griddles. Flip the pancake and cook on the second side until no longer doughy.

Between pancakes it helps to take a paper towel or cotton cloth and wipe away any blueberry residue.

Every time you put new batter on the griddle you need to butter it again.

Pancakes should be served piping hot off the griddle. Stacking them up or holding them in an oven can cause them to lose the crunchy outside and / or become tough.
Notes
How to Measure Flour: The best way to measure flour is to spoon it into the measuring cup and then level it off. This will help ensure you don't pack too much flour into these tender pancakes. Choosing Blueberries: You can use any kind of blueberries here but the standard ones are big and make giant craters in pancakes. I love using the wild variety because they are a small berry with great flavor. They are perfectly suited to pancakes. Many stores will carry some variety of wild or Main wild blueberry in the freezer section. Usually they will be more expensive than standard cultivated berries. I paid $4 / pound in my area. Serving Size: This recipe will make 12 pancakes. Adults will generally eat 2-3 and young children will eat about 1.
Nutrition
Nutrition Facts
Copycat Cracker Barrel Blueberry Pancakes
Amount Per Serving
Calories 312
Calories from Fat 36
% Daily Value*
Fat 4g6%
Cholesterol 64mg21%
Sodium 887mg37%
Potassium 190mg5%
Carbohydrates 43g14%
Protein 9g18%
Vitamin A 235IU5%
Calcium 122mg12%
Iron 2.2mg12%
* Percent Daily Values are based on a 2000 calorie diet.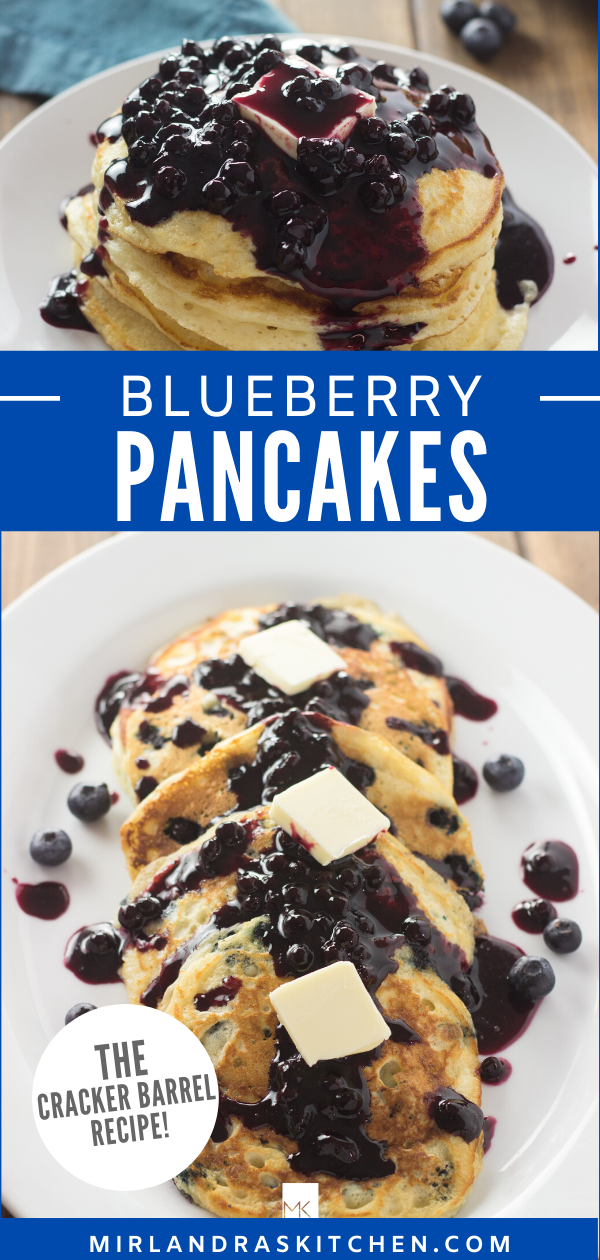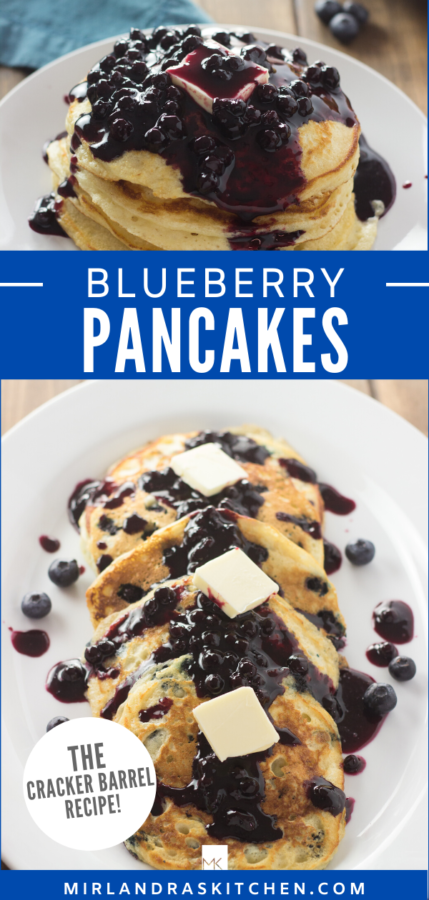 This post was originally published in March of 2018.  It was updated with additional information in May of 2020.