These healthy oatmeal muffins taste like brown sugar and oats and butter with just a hint of honey. Eat them hot for breakfast with a smear of butter or savor them later in the day for a snack. This is a simple, old fashioned baking recipe anybody can make and the entire family will love.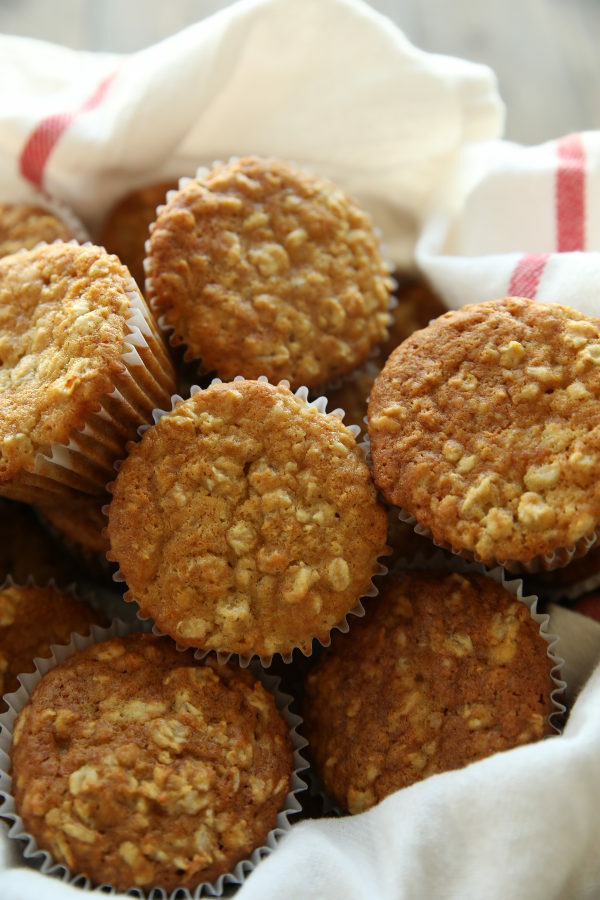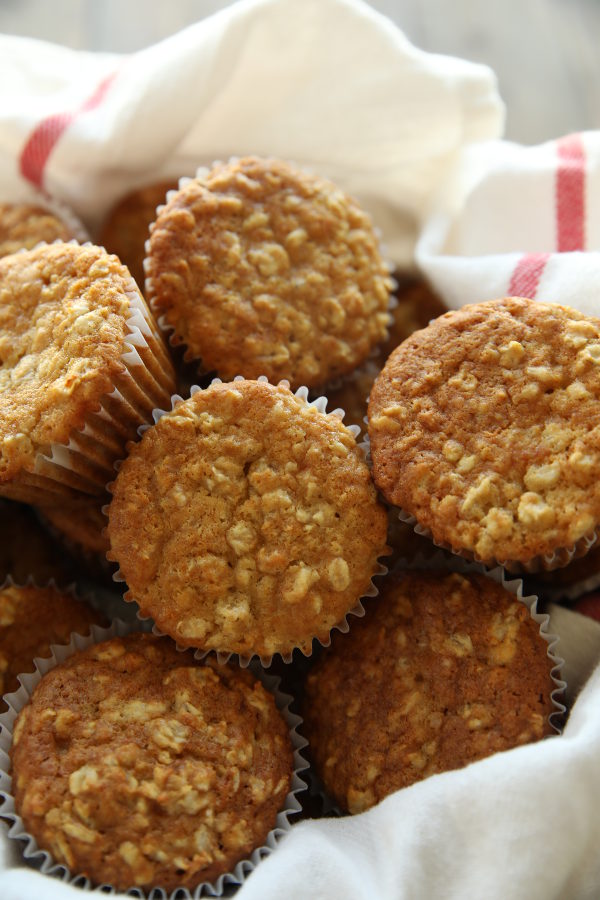 I grew up on this heart warming healthy oatmeal muffin recipe. My mom baked these muffins out of Jane Brody's Good Food Book from 1985! I've made some changes to the recipe but this is still truly one of the wonderful flavors of my childhood.
My Favorite Oatmeal Muffin Recipe
I love the simplicity of this recipe. Yes it does have butter and sugar but all the ingredients are real and whole. We most often make it with white flour but you can use half white flour and half whole wheat flour if you like.
This is a great way to use up extra dry oats in your pantry or just make a wonderful breakfast for your family.
If 12 muffins is not going to do it you can make a double, triple, or even a quadrupedal batch! After that you run out of oven room but I've absolutely been known to bake 48 of these at once!
For the record it does limit heat flow in your oven and I think you get the best muffins when you don't overfill your oven! If you feel like your oven is tricky at times limit yourself to 24 muffins, or a double batch.
How to Make Buttermik
This oatmeal muffin recipe does call for buttermilk. If you don't have buttermilk on hand you can easily make it at home from milk and vinegar.
For every cup of buttermilk you want to make put 1 Tablespoon of white vinegar into the measuring cup. Fill it up to the 1 cup mark with milk. Pesto – one cup of buttermilk!
I don't like homemade buttermilk for every baking recipe that calls for buttermilk. Some people pick up on a hint of vinegar flavor in things like pancakes. However, in this recipe it works very well!
How to Make Oatmeal Raisin Muffins
Love oatmeal muffins with raisins? You can absolutely adapt this recipe to include them. The original recipe had raisins in it but my family always liked the muffins sans raisins.
To make this recipe with raisins just add a half a cup of them to the oatmeal and vinegar during the soaking. The raisins plump up wonderfully and do taste delicious in oatmeal muffins
Other Breakfast Favorites
If you enjoy these muffins check out a few of my other favorite breakfasts!
Oatmeal Muffins
These were my favorite muffins from childhood. I still remember my mother helping me put the vinegar into the milk and waiting for the oatmeal to soak it all up. This recipe makes 12 muffins but I think it is the right size for a family of 4-6. Expect your family to gobble up these warm, tender muffins in a hurry!
Ingredients
1

cup

Buttermilk

1

cup

old fashioned oatmeal

uncooked (can sub quick cooking oatmeal)

1

cup

flour

1

teaspoon

baking powder

1

teaspoon

baking soda

1/4

teaspoon

salt

1/3

cup

salted butter

softened

1/3

cup

packed brown sugar

¼

cup

honey

1

egg
Instructions
Preheat the oven to 400 F.

Combine the buttermilk and rolled oats in a small bowl and soak for about 20 minutes until most of the liquid is absorbed.

In a medium bowl combine flour, baking powder, baking soda, and salt. Stir until combined.

In a large bowl combine butter and brown sugar. Beat with a hand mixer (or in a stand mixer) on medium speed until well creamed (light and fluffy). Then beat in the honey and egg until combined.

Stir the oatmeal mixture into the butter mixture. Then stir in the flour mixture just until the batter is mixed together, making sure to scrape sides and bottom of bowl with a spatula. Do not overmix.

Use muffin liners or grease a 12 hole muffin tin with butter. Use a 4 Tbsp. scoop to divide the batter and make 12 muffins.

Bake in preheated oven for 23-26 minutes until a toothpick comes out with moist crumbs but no batter and muffins are golden brown on top.
Notes
If you want to add raisins add them to the buttermilk and oatmeal for soaking. ½ cup is perfect.
Nutrition
Calories:
163
kcal
|
Carbohydrates:
15
g
|
Protein:
2
g
|
Fat:
6
g
|
Saturated Fat:
4
g
|
Cholesterol:
29
mg
|
Sodium:
212
mg
|
Potassium:
81
mg
|
Fiber:
1
g
|
Sugar:
7
g
|
Vitamin A:
210
IU
|
Calcium:
43
mg
|
Iron:
1
mg
Nutrition Disclaimer
MirlandrasKitchen.com is written to share great recipes. While we do our best to provide nutritional information as a general guideline, we are not registered dietitians and the values provided here should be considered estimates – not exact scientific data.
I read each and every comment and I try to respond to questions asap, so ask away! If you've made a recipe, I would love to hear about it! Please come back and share your experience and give the recipe a 5-star rating so other people will know how much you loved it!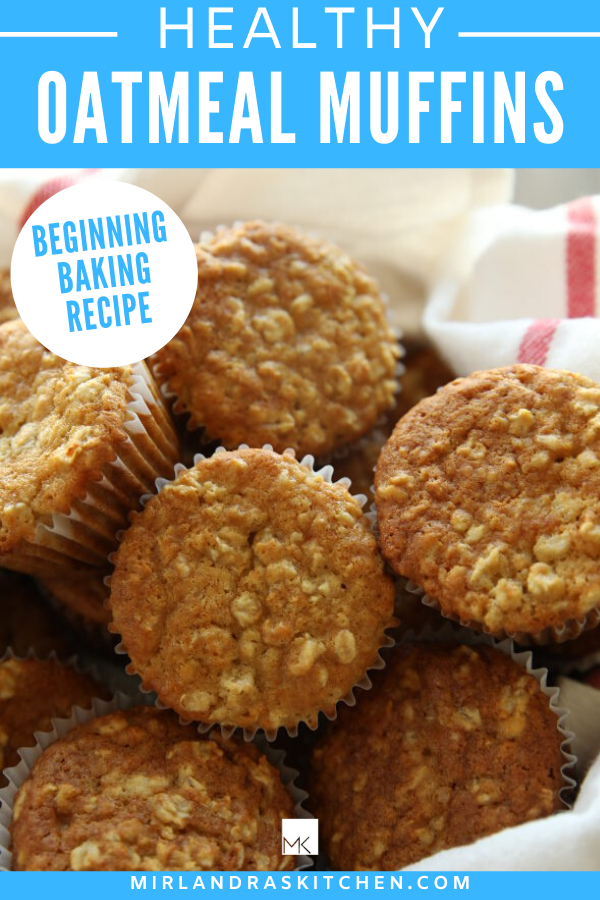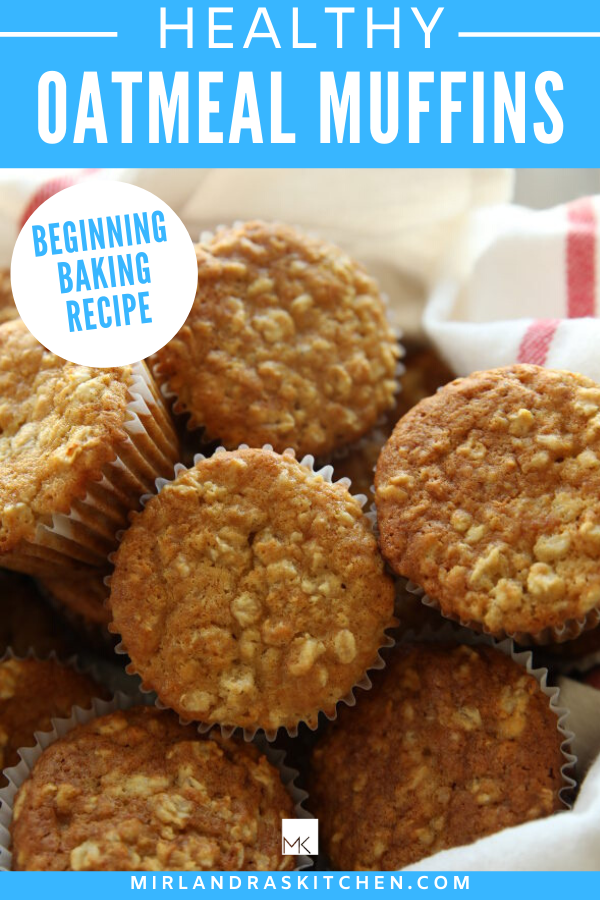 Author's Note – Thanks, Mom, for baking muffins with us. I know it took extra patience and care to let us cook with you but I have lovely memories of making these muffins and banana bread and chocolate chip cookies together!