This silky, spicy pumpkin butter tastes like pumpkin pie and is ready in 15 minutes. It is a wonderful fall treat on muffins, toast, and pancakes! The recipe makes 8 cups total so you will have plenty to share as hostess and Christmas gifts (if you can part with it).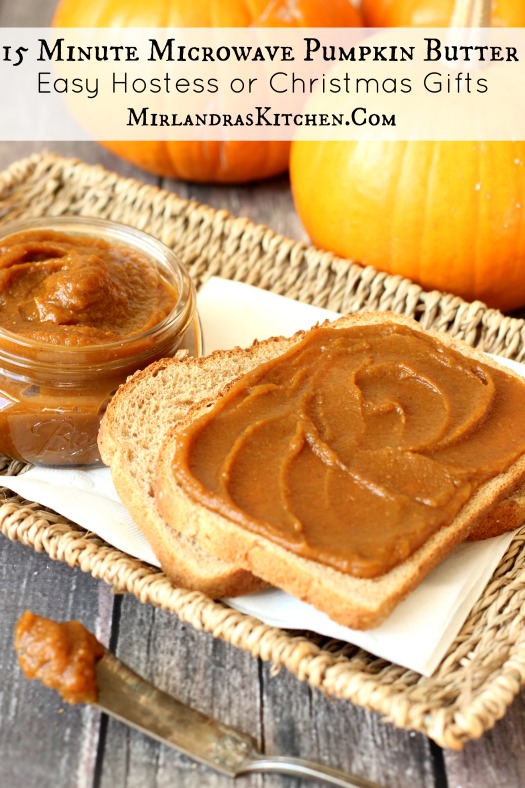 If you could smear pie on your toast and get away with it why wouldn't you?  That is the basic premise of Pumpkin Butter.  It has the lovely sweet spiciness and soft silky mouth feel of pumpkin pie but is dairy and egg free and you can smear it on anything that comes into your pretty little head!
I wanted to make a quick batch and every recipe I saw involved a crock pot or a long stove cooking time or some other craziness.  I have a toddler people.  You don't even want to think about how many days that dirty crock pot will be on the counter before I wash it or what the house will smell like if I burn pumpkin mush to a pot on the stove while saving my child from certain disaster every five minutes.  Jack is a great kid but let's just say he is very, very, very curious.  About everything.
In the end I tossed out all the long, complicated ideas and just tried it my own way.  It takes five minutes to open the cans of pumpkin and stir it together with the spices.  It takes 10 minutes to cook in the microwave!  I only had one Pyrex bowl to toss in the dishwasher after and I had treats for us plus gifts.
How many batches will you be making? Stay tuned this weekend for my Spiked Pumpkin Pie Milkshake using pumpkin butter….
Tools In This Post:  Don't laugh – I go through a LOT of Pumpkin Pie spice during the year.  That was true even before I started blogging.  It is just great in everything!  A little one ounce container can cost $4-$5 depending on the store.  I buy a big container and it lasts me awhile.  Even if you use half of this before it goes bad you will save a ton of money!
Planning on loading your yummy butter into jars?  This funnel is my favorite for all jar filling projects.  It is easy to see how much head space you want to leave and it keeps things clean!  No more wiping the jar rim before adding the lids.
One other thing you might want.  I have fallen in love with these white plastic storage caps for mason jars!  It really helps with all the open jars in my fridge.  They come in narrow and wide mouth.  A friend moved and gave me her used ones a year ago and none have broken yet.
Need something to slather your pumpkin butter on?  Try these wonderful sweet dinner rolls.  You can't loose!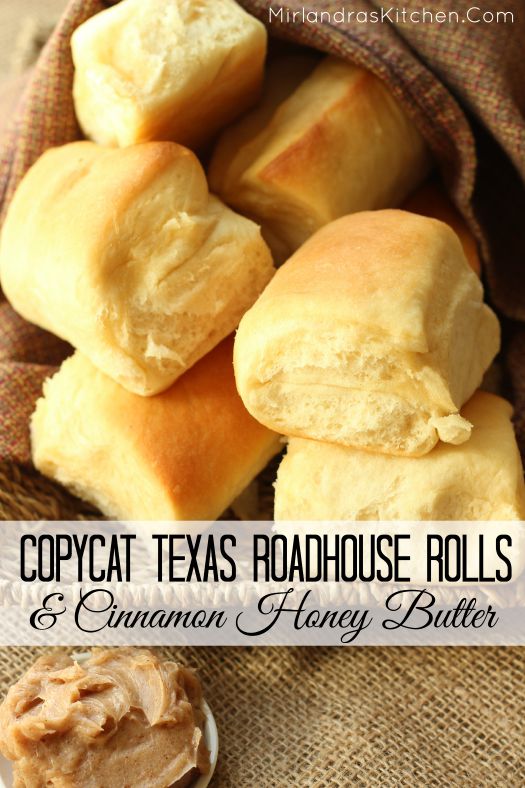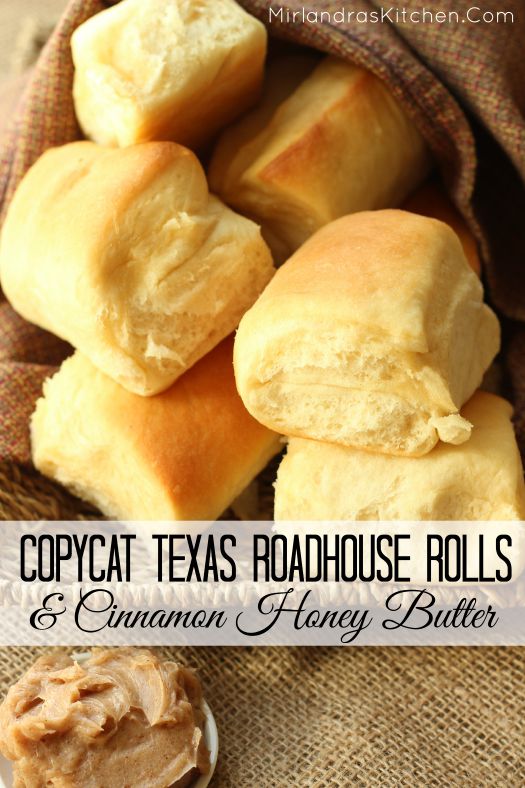 15 Minute Microwave Pumpkin Butter
Makes 8 cups
Ingredients
2

cans of pumpkin

29oz each, or 6 cups pumpkin puree - NOT canned pumpkin pie filling mix

2

cups

packed brown sugar

light or dark

1

cup

pure maple syrup

not imitation

1

Tbsp.

pumpkin pie spice

1

Tbsp.

cinnamon

¼

tsp.

salt
Instructions
In a large microwave safe bowl combine all ingredients. Stir.

Microwave on high for 10 minutes, stirring once after 5 minutes.

Decant into containers and freeze to use or gift. A jar can be stored in the refrigerator for a few weeks. Please note that while pumpkin butter can be canned this recipe does not contain enough sugar to meet food safety guidelines for best practices for safe canning.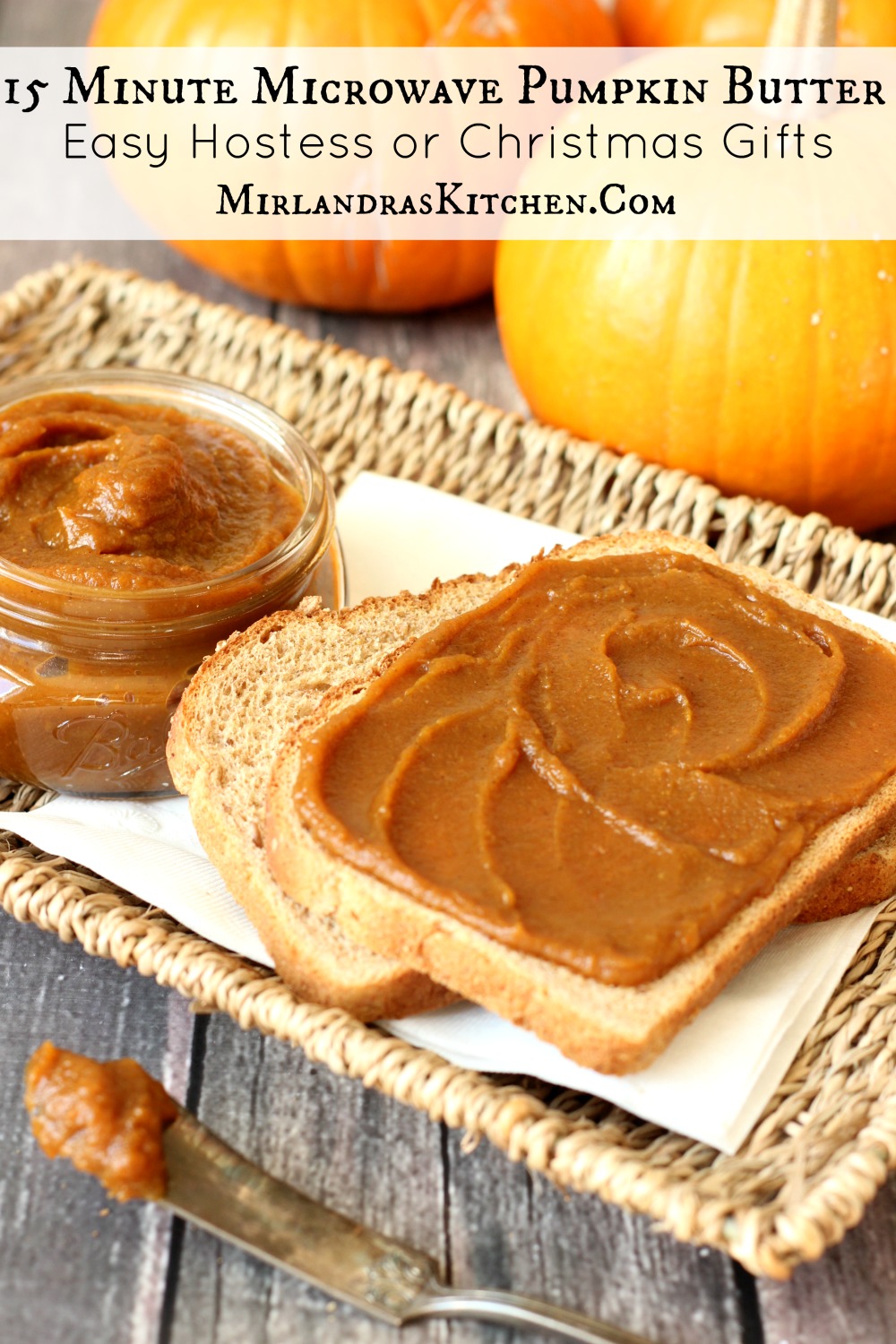 Reader Interactions