Sweet autumn spices and brown sugar flavor this delicious pumpkin cake topped with fluffy cream cheese frosting.  You will love this easy, crowd pleasing cake that is ready in four simple steps!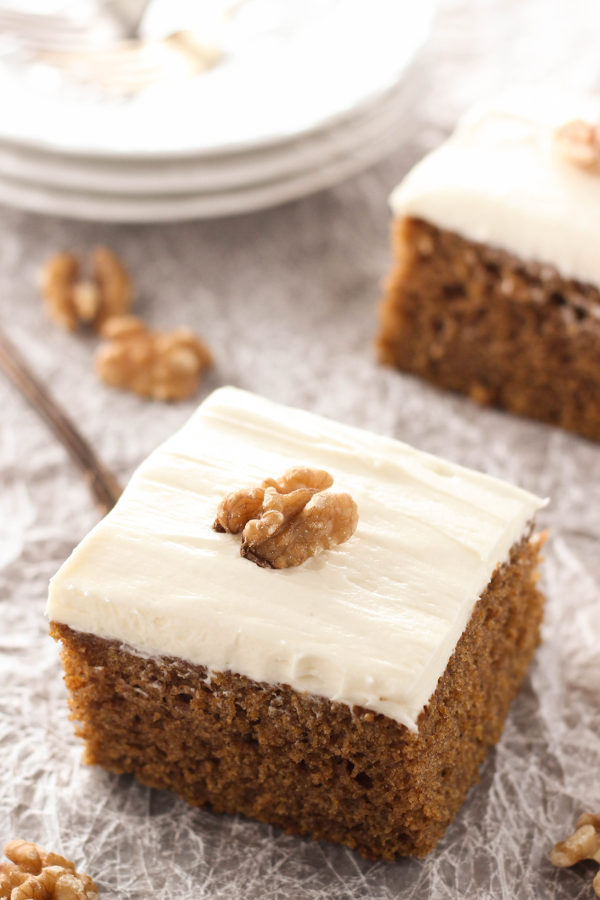 With fall comes our passion for all things pumpkin. I may not be the first to line up at Starbucks but I am quick to head to the kitchen and start baking up simple fall treats that my family loves!  I love putting this simple sheet cake in the oven and smelling it cook while I put out a few fall decorations to give our home that cozy fall feel!  This cake has great flavor, a moist crumb, and decadent cream cheese frosting that will steal your heart again every time! Serve it in front of the fire, take it to a potluck, bring it tailgating or make it for Thanksgiving Dinner!
Why This is the BEST Pumpkin Cake Recipe
SO easy – four steps gets you a delicious frosted cake!
Full of all the warm, cozy fall spices!
Perfect cake moisture – so soft and tender!
Flavorful, creamy, fluffy cream cheese frosting to delight and enchant!
Easy sheet cake for beautiful presentation ready to go anywhere with you!
Tips for Making A Great Pumpkin Cake
Buy the right kind of pumpkin!  Libby's is the most common name brand of pumpkin puree but you need to watch the label.  Pumpkin puree and pumpkin pie filling look VERY similar in the cans on the shelf.  Pumpkin pie filling is already sweetened and spiced so don't use it for this recipe.  Pumpkin puree only please!  You can make your own pumpkin puree using this recipe. 
Any oil that is not strongly flavored can be used in this recipe.  Canola or vegetable oil are both great.  If you want to use coconut oil you need to melt it first and make sure that all the other ingredients are at room temperature so it doesn't solidify into chunks in the batter.
Let the cake cool completely before you frost it.  Yes, I know it smells AMAZING but warm cake melts frosting.  Cool that cake down and then load it up with the sweet, tangy cream cheese frosting.
Powdered sugar brands matter!  There are many places where I'm not picky about the brand but with powdered sugar I am!  Some store brands have a gritty texture that is NOT good in frosting.  I've specifically had issue with the Kroger brand but I've been fine with the Signature Select and Winco brands.  If you haven't used the store brand before stick with a name brand like C & H or Domino.
Use block cream cheese – NOT spreadable cream cheese in the tub.  Cream cheese that has been made "spreadable" has added ingredients that won't make great cream cheese frosting.
Get that cream cheese to room temperature!  If you are in a hurry unwrap it and give it about 20-30 seconds in the microwave to soften it right up.
Storing Pumpkin Sheet Cake
Pumpkin cake can be left on the counter but cream cheese frosting should not be.  Cream cheese needs to be refrigerated, even once it is in frosting.
Store the cake tightly covered in the refrigerator for up to four days.  If you have a 9″x 13″ pan with a plastic cover that is perfect!  Plastic wrap works too but I love these covered pans for easy sheet cake transport.
Making Your Own Pumpkin Spice Blend
Don't have Pumpkin Pie Spice on hand?  No problem – you can make your own mixing spices you probably have:
4 teaspoons cinnamon
2 teaspoons ground ginger
1 teaspoon ground cloves
1/2 teaspoon ground nutmeg
whisk together until well mixed
Are Your Spices Still Good?
If you have had the spices in your cupboard for awhile smell them!  All of the spices in this recipe should have a nice strong, pungent smell.  If yours don't, time to throw them out and replace them!
I know it is hard to toss old ingredients but don't invest your time and tummy in bad ingredients that won't make a delicious cake!  That would just be sad 🙂
Can I Make Pumpkin Cake and Cream Cheese Frosting Without an Electric Mixer?
Our culture is crazy about pretty stand mixers right now but people have been baking without stand mixers for generations!  And they have been making great food…
The batter for this cake is very easy to stir together by hand.  To make the cream cheese frosting you need to have the butter and cream cheese fully at room temperature.  Don't be afraid to warm them gently in the microwave for a few seconds (up to 30) to make sure they are good and soft – but NOT melted.  Beat these together well with a wooden spoon.  Then use a wooden soon to cream in the powered sugar and then everything else.  Once the frosting is fully mixed you need to put some elbow grease into it to make sure you really whip it some to get it soft and fluffy.
Of course it is quicker with an electric mixer.  If you want to go that route I suggest this dependable 7 speed model.  You can read more about who actually needs to buy a stand mixer here. Heads up have tested stand mixers extensively and I don't recommend KitchenAid!
More Pumpkin Recipes To Love
Can't get enough pumpkin?  I've got the good stuff for you!
Easy Pumpkin Cake With Cream Cheese Frosting
Sweet autumn spices and brown sugar flavor this delicious pumpkin cake topped with fluffy cream cheese frosting.  You will love this easy, crowd pleasing sheet cake that is ready in four simple steps! 
Ingredients
For The Cake
2

cups

all-purpose flour

1½

cups

granulated sugar

2

teaspoons

baking powder

1

teaspoons

baking soda

1

teaspoon

salt

2

Tablespoons

cinnamon

2

teaspoon

pumpkin pie spice

1

can

pumpkin puree

15 oz

3

large eggs

1

cup

canola oil

can sub vegetable

2

teaspoons

real vanilla extract
For The Cream Cheese Frosting:
1

package

cream cheese

8oz, room temp

1

cup

salted butter

room temp

1 1/2

cups

powdered sugar

2

teaspoons

real vanilla extract

walnuts or pecans or candy pumpkins to garnish

optional
Instructions
To Make The Cake:
Preheat oven to 350˚F. Spray a 9x13 baking pan with non-stick cooking spray.

In a medium bowl, whisk together flour, sugar, baking powder, baking soda, salt, cinnamon and pumpkin pie spice.

In a large bowl, whisk together pumpkin, eggs, oil, and vanilla.

Add the dry ingredients to the wet and whisk just until smooth.

Pour the batter into the prepared baking dish and bake at 350˚F for 30-35 minutes or a cake tester / toothpick comes out with damp crumbs.

When the cake is cool to the touch prepare frosting.
To Make The Cream Cheese Frosting:
In the bowl of a stand mixer combine the cream cheese and butter. Use the whisk to beat on medium speed until combined.

Scrape the bowl and add the powdered sugar and vanilla. Beat on slow until just combined and then beat on high until light and fluffy (about 3-4 minutes).

Spread frosting on the cake and garnish with walnuts, pecans, or candy pumpkins as desired.
Nutrition
Nutrition Facts
Easy Pumpkin Cake With Cream Cheese Frosting
Amount Per Serving
Calories 489
Calories from Fat 225
% Daily Value*
Fat 25g38%
Cholesterol 102mg34%
Sodium 487mg20%
Potassium 239mg7%
Carbohydrates 62g21%
Protein 5g10%
Vitamin A 6305IU126%
Vitamin C 1.7mg2%
Calcium 107mg11%
Iron 2.2mg12%
* Percent Daily Values are based on a 2000 calorie diet.
I read each and every comment and I try to respond to questions asap, so ask away! If you've made a recipe, I would love to hear about it! Please come back and share your experience and give the recipe a 5-star rating so other people will know how much you loved it!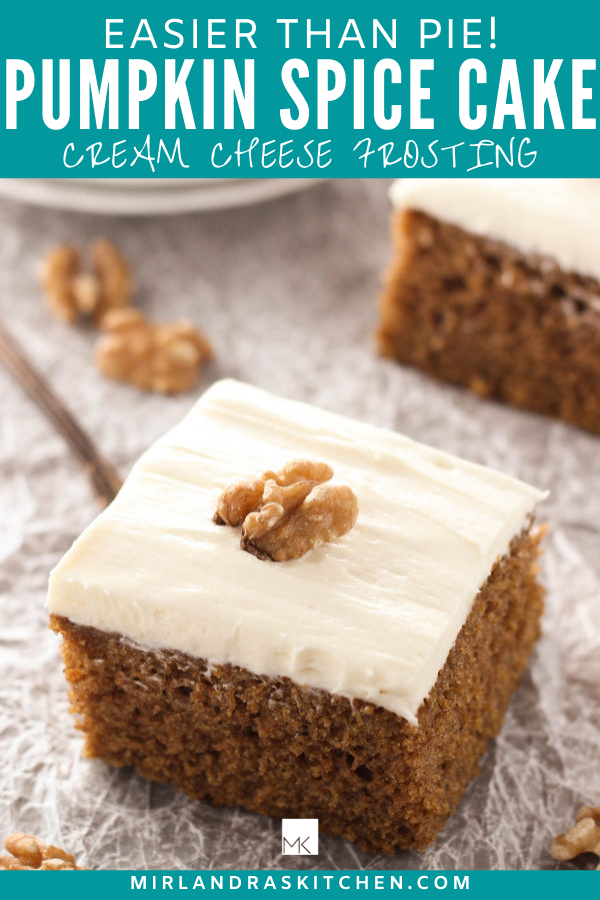 This recipe was originally posted in 2017 and was updated for content in October, 2020.