It's easy and yummy to bake pie pumpkins up for your truly from scratch pumpkin pie. These spicy pies are wonderful and popular with everybody.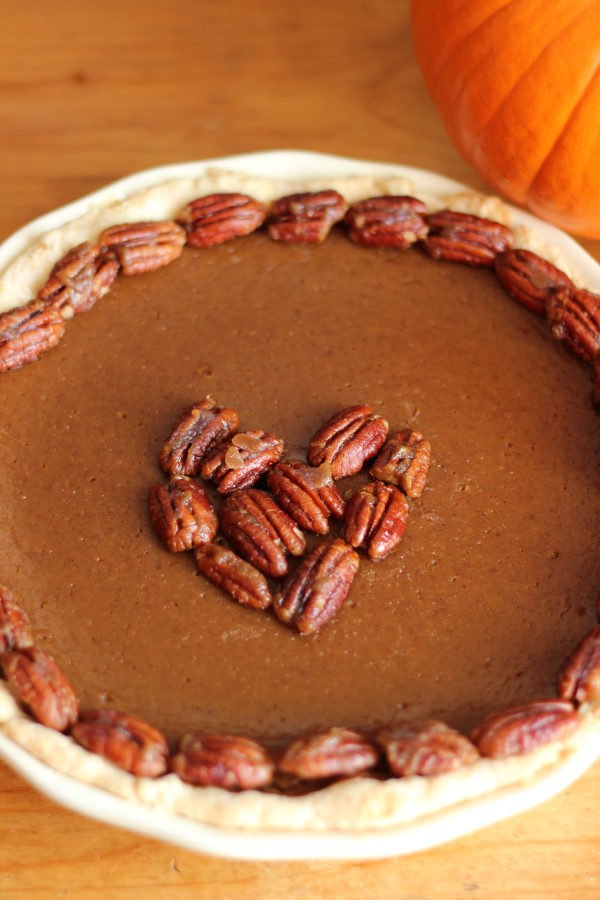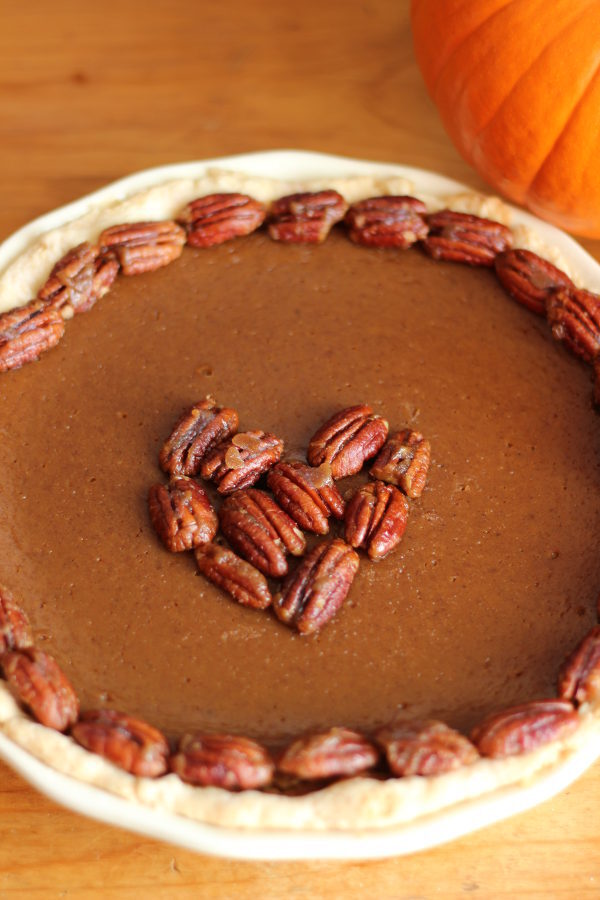 This fall somebody asked me about making pumpkin pies from actual pumpkins. I responded that it was a disaster and there was no point. A friend jumped in and said she makes hers from pumpkins and it is the best thing ever.
Right away I realized she knew something about food that I did not. This pumpkin thing had to be researched and experimented on – stat! In other words, I had a really good excuse for yet another
in-depth cooking project that would decimate my kitchen.
Three years into my marriage, I'm discovering how important it is to marry a man who helps wash dishes. Mercy, but I love my husband when he is standing at the kitchen sink (really when he is standing anywhere.) But I digress…
I have a childhood memory of cooking down pumpkin with my mother. It's just a wisp of memory but it's strong. There was a pie pumpkin purchased at the neighborhood fruit stand and there was a Crockpot. I remember my mom carefully cutting the pumpkin into chunks and then I remember total disaster. Acrid, burning, pumpkin filling the house and overwhelming me with the desire to use cans of pumpkin for life.
My mom does not remember this at all so she remains un-traumatized. I, however, was scarred for life by the incident and have preached cans of pumpkin ever since.
I started asking around and several friends have said they bake pumpkin pies from pie pumpkins. Other cooks of note such as Alton Brown do it too. Six pumpkins, four pies and about 20 test subjects later it turns out my friend Katie is right. Making a pie from pumpkins is actually really yummy, it's easy, and it is a lot of fun.
Plan ahead and buy your pumpkins early. The closer we get to Thanksgiving, the harder it is to find them at the store. My husband is my hero for going to three grocery stores to find some for me when I ran out.  (Winco has had a steady supply since late October.  Love them!)  Make sure you don't buy decorating pumpkins – you need the verities labeled for pie.
If you have a favorite pie recipe you can sub in homemade puree easily. If not, my recipe below is sweet and spicy. You will love it.
Tools In This Post:  I love this simple rolling pin by Joseph Joseph.  It is a good quality at a low price and helps get the pie crust just right.
What goes with Pumpkin Pie?  Epic homemade whipped cream and candied pecans for the perfect touch of holiday fanfare. Happy baking!!!
Pumpkin Pie from Fresh Pumpkin
Ingredients
Pumpkin Puree (Yield 2 cups)
1

sugar pie pumpkin (about 3 pounds)

canola oil spray
Pie Crust (Yield two crusts for 9" or 9 1/2" pie plates)
2 1/4

cups

flour

dip and sweep method of measuring

3/4

tsp.

salt

1/2

tsp.

baking powder

3/4

cup

cold lard

6

Tbsp.

cold butter

8-9

Tbsp.

ice water
Pumpkin Filling (For 1 pie)
3

eggs

beaten

1

cup

dark brown sugar

don't use light brown

1/2

tsp.

salt

1

Tbsp.

cinnamon

2

tsp.

pumpkin pie spice

1/4

tsp.

ginger

1

cup

heavy whipping cream

2

cups

pumpkin puree
Instructions
Make the Pumpkin Puree
Preheat oven to 375 F.

Remove the stem from pumpkin. Sometimes they just snap off with fingers, otherwise whack it off with a rolling pin or other hard object. Slice the pumpkin in half any way you prefer and scoop out all the seeds and stringy pulp. Cut free with a scissors if you need to. Reserve the seeds for another use.

Line a rimmed baking sheet with foil. Set the pumpkin halves cut side down on the foil. Spray the outside of pumpkin rind with canola oil spray.

Bake in preheated oven until you can pierce the rind and flesh easily with a fork, about 45-60 minutes.

Set the pumpkins aside to cool until they can be handled. I like to come back in an hour. Meanwhile you can start the pie dough.

When the pumpkin is cool, slip the rind from the flesh. Usually it will come off in one piece with a gentle tug. Dispose of the rind.

Puree the pumpkin in a food processor until perfectly smooth, about 3-4 minutes. If you cooked extra pumpkin don't puree more than one pumpkin at a time in the processor. Measure two cups for the pie. Freeze or refrigerate any extra for another use.
Make the Pie Crust
Measure the flour by dipping the measuring cup into the flour. Use the back of a knife to level the cup off. Precise measurement will improve the quality of the crust.

Measure the flour, salt, and baking powder into a medium mixing bowl.

Prepare your ice water to be ready at hand. I like to put ice cubes and a cup of water into a cocktail shaker and then measure the water out through the strainer as I need it!

Use a pastry cutter or two knives to cut the lard into the pastry until the mixture has a fine crumb to it with no chunks of fat bigger than the size of a pea.

Cut in the butter into the mixture until the has a course crumb with some chunks about the size of two peas.

Sprinkle the water 1 Tbsp. at a time evenly over the crumb mixture. Use a fork to gently lift, toss, and stir the mixture. It will start to come together into large chunks. Do not overmix.

Gather dough into a ball and wrap in plastic wrap. Refrigerate for 30 minutes. Meanwhile make filling for the pie.
Make the pie filling
Combine all ingredients for the filling in a medium mixing bowl and whisk until fully combined. Set aside next to the oven.

Preheat the oven to 425F.
Assemble the Pie
Use a 2-3" length of parchment paper to cover your clean counter. Flip a 9" or 9 1/2" pie pan upside down on paper and use a non-toxic pen to trace a circle around the outside edge of the pan. Set pan aside. Dust parchment paper lightly with flour.

Divide the dough into two equal balls. Place one ball on the center of the parchment circle. Re-wrap the other ball and place back in the refrigerator. Use for a 2nd pie or for pie crust cookies.

Roll the dough out until it is about an inch past the line you drew on every side. Sprinkle dough and rolling pin with flour as needed.

Slide your hand under one half of the parchment paper and fold the paper/crust in half. Slowly peel the paper off of the half of the crust that is now on top.

Now take the bottom of the crust and fold it to the top, again using the parchment paper. The crust is now folded into quarters. Remove the folded crust from the paper and set it pie pan. Carefully unfold the crust back into a round and crimp the edges.

Set the pie crust by the filling and pour the filling into the crust. Transfer the pie to the preheated oven. Bake at 425F for 10 minutes and then reduce the heat to 350. Bake for another 40-45 minutes just until a small knife inserted in the center comes out almost clean. Over baking will cause pie to crack.

Turn off the oven with the pie inside. Crack the door open a few inches and allow the pie to rest for two hours in the oven. This will help prevent cracking.

Garnish the pie with candied pecans and homemade whipped cream. The pecans are great at helping to cover any problems in cracking that do occur.