Roasting corned beef brisket in the oven brings out the savory flavor of the meat perfectly. This might be the easiest way to cook a corned beef brisket.  All you need is the brisket, some pepper, and the roasting pan! The meat comes out tender with a lightly crispy edge that gives the meat wonderful texture.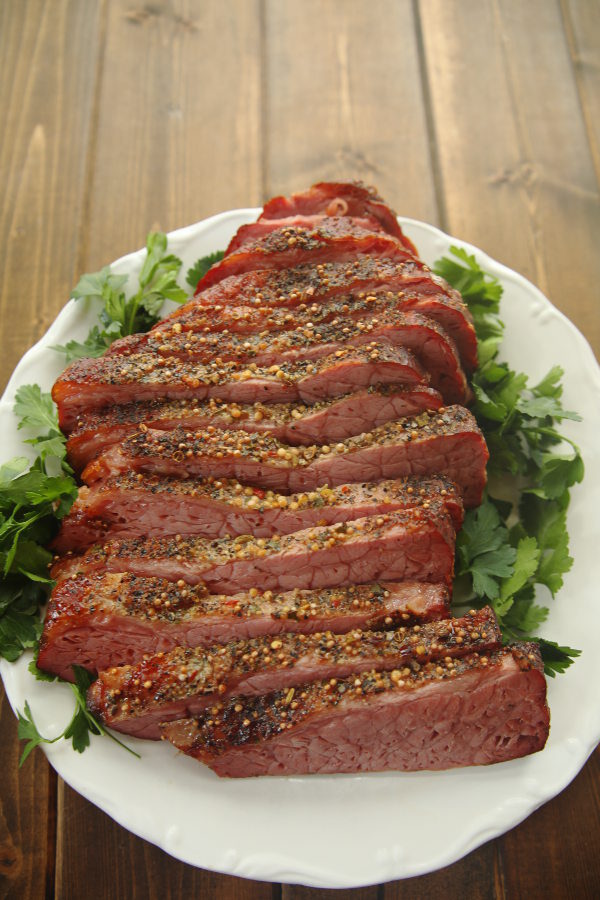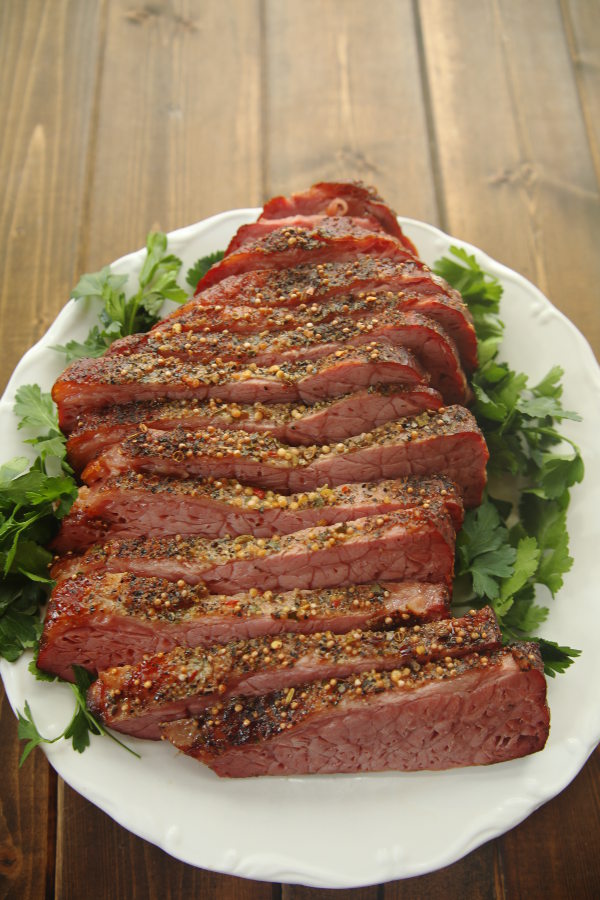 We always make corned beef brisket it for St. Patrick's Day with cabbage, carrots and potatoes.  But my husband loves it so much we also make it as part of our regular dinner rotation.  It is one of his favorite meals and we are always interested in all the different ways you can cook it! My dear friend, Lacy turned me on to this wonderful method of oven roasting the brisket.  The most common ways of cooking corned beef involve a long simmering in water but this oven roasting method is even simpler. Spices, pan, oven – DONE!
Roasting Corned Beef Brisket in The Oven
Roasting corned beef brisket in the oven is one of the least common ways to cook corned beef.  But it should be at the top of your list for great corned beef recipes!  Roasting this salty cut creates a savory brisket with lots of flavor and a light crispy crust outside.  It is also a very pretty piece of meat to put on the table.  (Meat that has simmered in water for hours is always going to be less beautiful than an oven roasted version with a golden brown crust!)
Oven roasted corned beef is also insanely simple.  Season and bake! Dinner doesn't get much easier than that.  I usually sauté up some cabbage to serve with mashed potatoes or just make a batch of colcannon that has the cabbage and mashed potatoes together!
Corned beef brisket is traditionally simmered on the stove top or crock pot for multiple hours.  The long, slow cooking helps break down the meat fibers and creates a tender main dish.  As the Instant Pot has become popular many home cooks have started pressure cooking corned beef with great results.
WHAT IS THE BEST WAY TO COOK CORNED BEEF?
There are five basic ways to cook a corned beef dinner.  Each has pros and cons but my oven roasting is the most unique method of the group!
Instant Pot Corned Beef and Cabbage – This is one of my favorite methods.  The results are wonderfully tender and the method is hard to mess up.  The biggest con is that not everybody has an Instant Pot.  The second con is that you do have to pull the meat out and then put in the veggies which makes this a two step recipe.  Just make sure to leave enough time and this is easy to do! Grab my recipe here.
Sous Vide Corned Beef:  Recently Jonathan started with a beef brisket and brined it himself before putting it in a Sous Vide for DAYS.  The results were wonderfully tender and the flavor was great.  But the process of brining and then cooking took about a week.  While we love the sous vide cooking method it is not a common household cooking tool yet and it does take longer than the Instant Pot.
Stove Top Corned Beef Dinner:  You can make a top notch corned beef on the stove top!  It was the only way I cooked corned beef for years and it turns out reliably well.  The big pro here is everybody has a stove and you don't need special equipment. Grab my recipe here!  
Crock Pot Corned Beef Brisket:  If you have all day, a crock pot of corned beef  is an easy win.  The brisket does well with low and slow.
Oven Roasted Corned Beef Brisket:  You don't need any special equipment and the corned beef gets these really crispy edges which I LOVE.  The seasoning makes little crunchy bits on the top too that give it a lot of pizzazz.
What is the difference between Flat Cut and Point Cut Corned Beef?
To get the best corned beef recipe start with the best meat.  Corned beef is sold in two different cuts.  The most common cut is the point cut and it is usually somewhat cheaper.  This is also a very fatty cut that can be oddly shaped.  It can have more than an inch of pure fat on the meat which makes it less value for the money.  The different shapes can make it harder to cook.  If you do have a point cut and it is very thick in one part and thin in another I suggest cooking it in the Instant Pot, Stovetop or Crockpot.  The oven is a poor choice for a piece of meat that has very different thicknesses.
The flat cut corned beef is usually more even and flat.  While it is usually a higher price it generally has less of a thick fat cap so you are paying for more edible meat and less fat.  The marbling is more even in general and the meat cooks up tender.  My favorite cut is the flat cut and it is my first choice when I'm shopping for a corned beef brisket.
Corned Beef Cooking Time
How long you cook corned beef is going to depend on the method of cooking.
What Is In The Spice Packet For Corned Beef?
Most packages of corned beef come with a spice packet.  Different packages will have different specific ingredients but all of them are some blend of pickling spices.  Usually you find mustard seed, coriander seed, bay leaf, and red pepper flakes.  Higher end mixes often include some pieces of cinnamon stick and anise seeds.
If your spice packet is small or is clearly missing most of the above you can always add some "pickling spice" and a cinnamon stick to your blend.  Most stores carry McCormick Pickling Spice by the jar or in bulk.
What Part of the Cow is Corned Beef?
Corned Beef is generally made from the brisket cut of the cow which comes from the breast section.  The brisket is brined in a salt water solution with savory herbs and pickling spices and sold ready to cook.  Alternately you can buy a un-brined brisket and brine it yourself at home for five days.
Occasionally you will see corned beef round in the store.  This is made from the rear legs of the cow .  This is DIFFERENT than brisket. For one thing it is less marbled.  I don't think it makes as nice of a corned beef dinner as the traditional corned beef brisket.  Just watch the package labeling and make sure you know what you are getting.
More St. Patrick's Day Recipes
How to Cook Corned Beef Brisket in the Oven
Roasting corned beef brisket in the oven brings out the savory, flavor of the meat perfectly. This might be the easiest way to cook a corned beef brisket. All you need is the brisket, some pepper, and the roasting pan! The meat comes out tender with a lightly crispy edge that gives the meat wonderful texture. A 3-4 pound corned beef brisket will make 6-8 servings. (Corned Beef is a fatty cut that is brined in water so expect shrinkage in the oven!)
NOTE: Cooking time will very on size of meat, see recipe!
Ingredients
1

flat cut corned beef brisket

3-4 pounds

Spice packet from corned beef package

¾

teaspoon

black pepper

coarsely ground
Instructions
Preheat the oven to 325 F.

Spray the rack of your roasting pan with non-stick spray. Place in roasting pan.

Remove corned beef from package. If you are sensitive to salt you can rinse the brisket now. This will reduce some of the saltiness of the brined meat. Just rinse under cool running water briefly and then place on the roasting rack. (No need to dry it.)

Place your meat (rinsed or not) on the roasting rack.

Sprinkle the brisket with the seasonings from the spice packet and the black pepper.

Cover the dish with heavy aluminum foil and roast in preheated oven for 2 ½ hours.

Uncover and continue baking for another 45 minutes.

Poke the brisket with a fork. If the fork goes in VERY easily the brisket is ready. If there is any resistance bake for another 30 minutes. Continue to bake and test in 30-minute intervals until the brisket is tender.

Slice the brisket against the grain in ¼" slices and serve immediately.

Tip: This is a dish that dries out quickly so it is nice to serve it in a covered dish.

Serve the corned beef with Colcannon or mashed potatoes!
Nutrition
Calories:
551
kcal
|
Carbohydrates:
1
g
|
Protein:
1
g
|
Fat:
1
g
|
Saturated Fat:
1
g
|
Sodium:
1
mg
|
Fiber:
1
g
|
Sugar:
1
g
Nutrition Disclaimer
MirlandrasKitchen.com is written to share great recipes. While we do our best to provide nutritional information as a general guideline, we are not registered dietitians and the values provided here should be considered estimates – not exact scientific data.
I read each and every comment and I try to respond to questions asap, so ask away! If you've made a recipe, I would love to hear about it! Please come back and share your experience and give the recipe a 5-star rating so other people will know how much you loved it!