Home canned spiced peaches have all the flavor and beauty of plain peaches with a little extra. The addition of cinnamon and allspice and cloves creates a spicy treat worthy of dessert. It is always easy to whip out a jar of these and serve with some vanilla ice cream for any dinner or special occasion.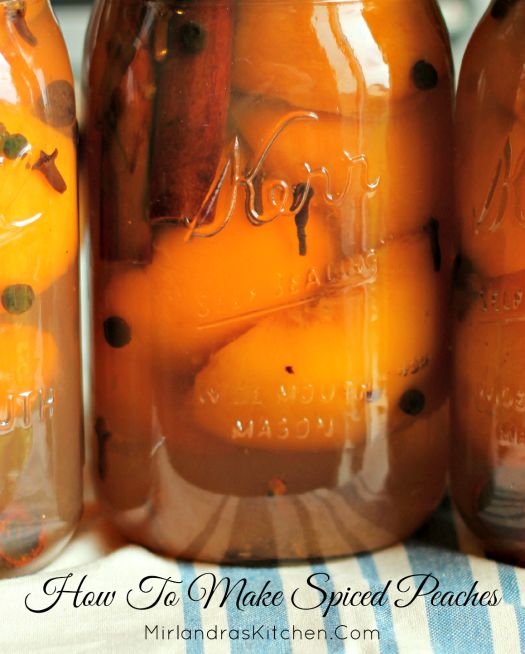 My Grandma Madge made amazing spiced peaches. You may have heard of these referred to as pickled peaches. Most people can peaches in sugar syrup and call it good. Some people throw in a cinnamon stick. A few do a serious pickle with some spices and vinegar. I even came across a recipe for honey canned peaches with some spices. However, I think my grandmother's recipe is unique.
Her peaches are canned with spices in a sugar syrup and then they sit for a bit. We usually open the first jar sometime in the middle of fall and see how they are coming. Every month the peaches get more spicy!
I eat the plain for breakfast or serve them for dessert over ice cream. If you are a fan of brandy you could always open a jar and spike it. There are quite a few options!
Note on Green Peaches: Sometimes when you order a bushel of canning peaches from a farm they are sold green and cold from a refrigerator. Peaches should be canned when they are as ripe as possible while still being firm enough to hold up. If yours are green bring them home and set them out on newspaper or towels on a table in the sun for 2-3 days until they become more yellow/orange/red and start giving off a pleasing peach fragrance that fills the room gently. If you do find yourself canning peaches that maintain a bit more green to the skin try blanching for 45 seconds instead of 30 to make sure the skins still slip off well.
If you are new to canning try my Water Bath Canning: Tips and Equipment post. If you missed my other peach canning project, check it out!
Grandma Madge's Spiced Peaches
Spiced peaches are a wonderful alternative to regular canned peaches. The addition of whole spices creates a savory treat everybody will love all winter.
Ingredients
10

lbs

of peaches

about 15 large

14

cinnamon sticks

3 1/2

teaspoons

whole cloves

3 1/2

teaspoons

whole allspice

3

batches of syrup

your choice light, medium or heavy
Light Syrup: 2 cups sugar to 1 quart water
Medium Syrup: 3 cups sugar to 1 quart of water

Heavy Syrup: 4 cups sugar to 1 quart of water
Instructions
Prepare your water bath canner and clean jars. Start the canner coming to a boil. If it is ready before the fruit you can turn it off. It will come back to a boil very quickly when you are ready.

Put spices into the jars. 1/2 teaspoon of whole allspice, 1/2 teaspoon of cloves, 2 whole cinnamon sticks per jar.

Prepare desired sugar syrup by heating water and sugar in a sauce pan until sugar is dissolved. Set it aside.

Blanch peaches by dipping in boiling water for 30-60 seconds. Use a large slotted spoon and do 5 peaches at a time. Immediately remove peaches to a sink or bowl with ice water to stop the cooking.

Slice each peach in half along the natural line of the peach. The skin will slip off easily after it is cut. Remove skin, pit, and any little fragments of pit left in the peach.

Fill one jar at a time. Each peach half is supposed to be packed pit side down. As you fill a jar, cover the peaches with hot syrup leaving 1/2" head space.

Load 7 quarts into a boiling water bath canner. Make sure the jars are covered by at least 2" of water.

Bring the water back to a boil. Process for at least 30 minutes. If you live above 1,000 feet you need to add more time to adjust for altitude. At 1,001 - 3,000 feet add 5 minutes. At 3,001 - 6,000 feet add 10 minutes. At 6,001 - 8,000 feet add 15 minutes. At 8,001 - 10,000 feet add 20 minutes

Remove jars of peaches and place on a towel to cool. Allow them to come to room temperature. The lids will seal at this time. Any lids that do not seal need to be processed again or refrigerated and eaten within a week. Sealed jars can be labeled and stored on a shelf out of direct light.
Nutrition
Nutrition Facts
Grandma Madge's Spiced Peaches
Amount Per Serving
Calories 239
% Daily Value*
Sodium 3mg0%
Potassium 60mg2%
Carbohydrates 7g2%
Vitamin A 35IU1%
Vitamin C 1.2mg1%
Calcium 90mg9%
Iron 0.8mg4%
* Percent Daily Values are based on a 2000 calorie diet.
Reader Interactions