This peach bread is a decadent bread machine recipe swirled with cinnamon, brown sugar and ripe peaches. Cream cheese glaze tops the warm bread perfectly.  It is the perfect way to say goodbye to summer!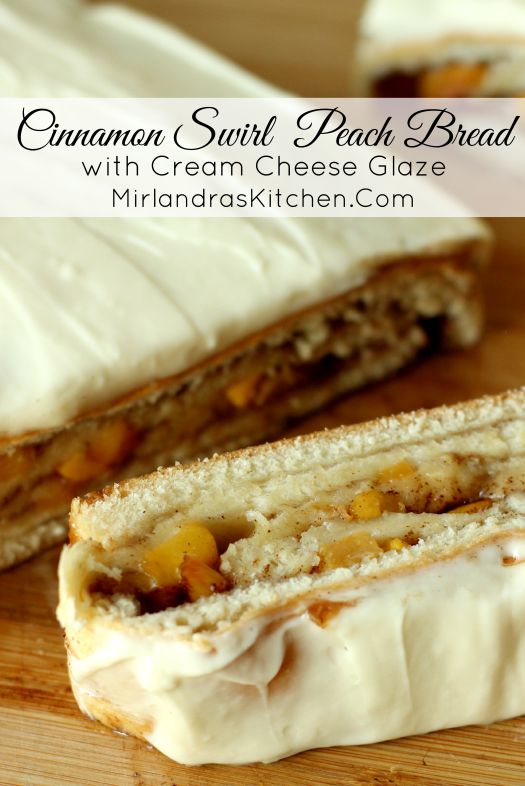 This has been the summer of peaches. I guess it started as a 1st trimester general fruit craving but at some point I got desperate to recreate the perfect peach experience of my childhood and then the true insanity started.
I grew up next door to a peach orchard / fruit stand. Every year we were allowed all the wind fall peaches we wanted and it was glorious!
When a peach falls from the tree it has hit a perfection of ripeness that can only be enjoyed in the moment. You can't take it home and save it for later – it will only rot. This peach must be enjoyed out in the sunshine with the juice running down your chin and dripping on to your clothing.
As an adult I never could get used to buying peaches at the store. It can be hard to get the really great ones even at farm stands so often I just do without.
This summer I simply had to have them and so we haunted fruit stands in three states.  We finally found the perfect peaches back in Oregon at the same farm next to my childhood home. I guess some things haven't changed…
With summer coming to a close and my treasured peach supply dwindling I have been trying to satisfy a few last cravings with some great peach baked goods.
This peach bread is the "peach version" of a cinnamon roll in loaf form. It is rich with cinnamon, butter and brown sugar. A bread machine keeps the prep simple. Best of all? It is chock full of yummy, ripe peaches and slathered with cream cheese glaze.  Keep this recipe handy for other fruits like apple too!
Don't have a bread machine?  I bought one of these used and it held up for more than 10 years of heavy use.  I even took it on vacations (yes, I'm weird)!  When it finally gave up the good fight I replaced it with another used one.  I never use it to actually bake bread.  I just use it to make the dough and then bake it up however I like.  To me, this is a kitchen appliance truly worth making room for.
Bread baking season is upon us with Fall nipping at the door.  I suggest baking many, many, many loaves of this simple Skillet Bread to keep tummies happy all through the cold months!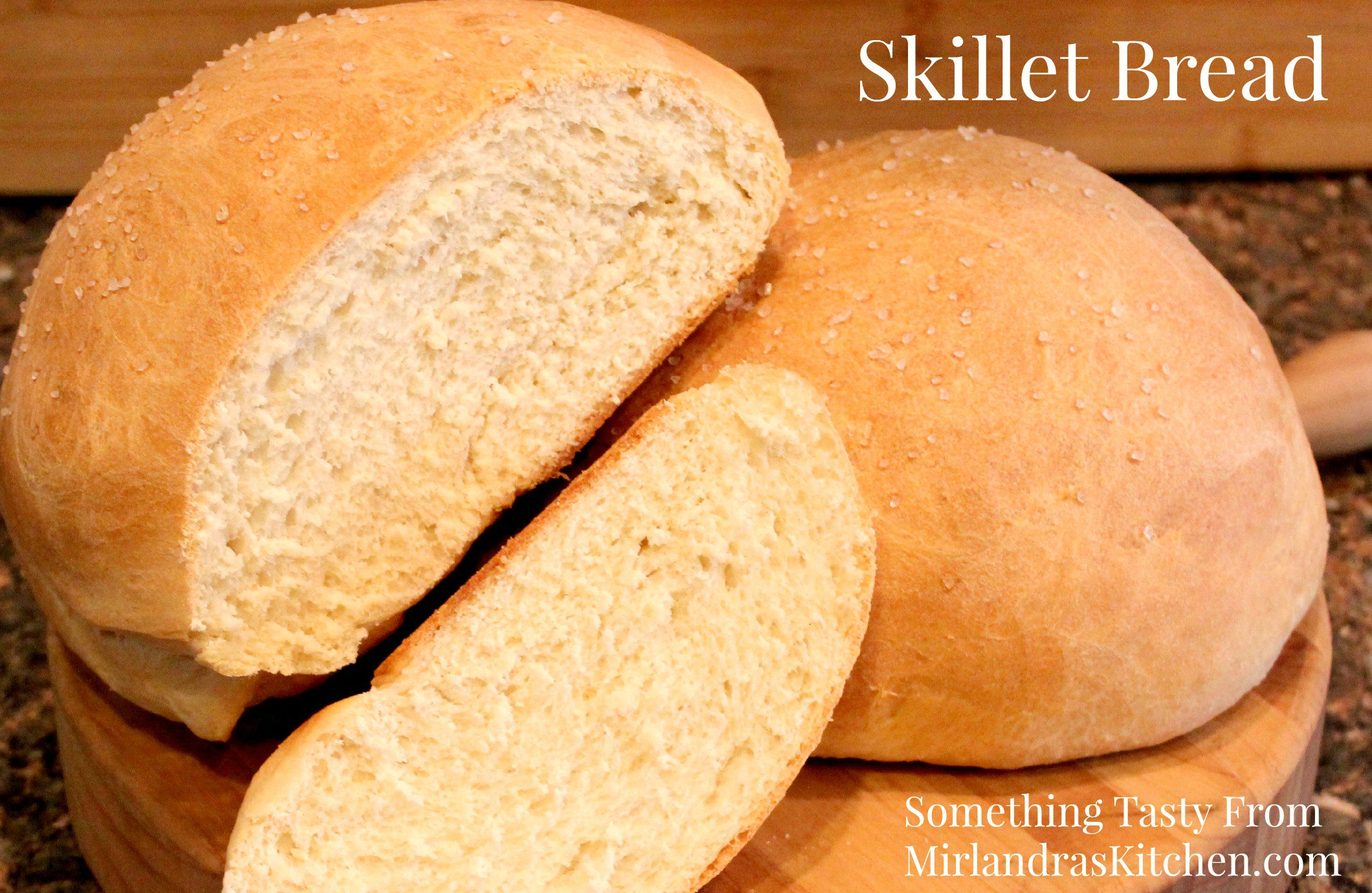 Cinnamon Swirl Peach Bread
This peach bread is a decadent bread machine recipe swirled with cinnamon, brown sugar and ripe peaches. Cream cheese glaze tops the warm bread perfectly.
Ingredients
Bread Dough
10

oz

water

1

egg

1

tsp.

salt

1/3

cup

salted butter

4

cups

all purpose flour

1/3

cup

brown sugar

1

Tbsp.

instant yeast
Filling
1

cup

brown sugar

1

Tbsp.

ground cinnamon

1/3

cup

salted butter

2

medium peaches

chopped small to about 2 cups of fruit (or other stone fruit / apples)
Cream Cheese Glaze
8

oz

cream cheese

1

cup

powdered sugar

1

tsp.

vanilla extract

1

pinch

of salt

under 1/8 tsp
Instructions
To Make The Dough
Combine all the dough ingredients in bread machine. Set the machine for the dough setting and let it run.

When the bread dough is about 10 minutes from being done, line a jelly roll pan with parchment paper (baked on sugar is a bummer to clean!) - set aside.
To Make The Filling
Mix the brown sugar and cinnamon. Set aside. Melt the butter and set aside.

Peel the peaches (or other fruit). Slice the fruit off the pit and mince the slices into small bits the size of large raisins. You should have about two cups of fruit once it is chopped small.

Flour a surface and roll the dough out into a rectangle that is about 17" by 20". Pour butter in the middle and use a spoon to spread all over. Leave about 1" all the way around the edge clear.

Using your hands, scatter the cinnamon sugar mixture over the butter. Then scatter the chopped fruit over the sugar.
To Assemble The Bread
Starting at the wider end of the rectangle, roll the dough up into a log. Transfer it gently to the lined jelly roll pan, placing it diagonally on the pan. Tuck the ends under by about an inch to prevent leaking and to even the roll out some. Gently press the roll down so it is flat and wide down the entire length. It should be about 2.5" tall when you are done.

Turn the oven on to 350 F for one minute and then turn it off. Put the bread loaf in the oven to rise for 25 minutes. Remove and preheat the oven to 350 F.

Bake in preheated oven for 25 - 30 minutes until bread is a nice golden brown on top. You will see lots of cinnamon "juice" oozing out while the bread is baking. Don't worry, this is normal. (Once it cools, eat it like peach candy!)
To Make The Glaze
While the bread cools enough to handle, make the glaze. Unwrap the cream cheese and soften it in the microwave for 30 seconds.

Put the cream cheese in the bowl of a stand mixer and mix on high until it is soft. Add powdered sugar and mix again until combined, scraping down the sides of the bowl as needed.

Add the vanilla and salt, whipping to combine.

Spread the glaze mixture over the top and serve warm. Leftovers taste best within 24 hours.
Notes
Note: I recommend very ripe fresh peaches that are sweet and juicy but firm enough to slice without turning into mush. You can play with other fruits that pair well with cinnamon!
Baking Timeline:
Bread Dough: 90 minutes
Assembly: 15 minutes
Rising Time: 30 minutes
Baking Time: 30 minutes
Resting Time: 15 minutes
Total Time: 3 hours
Reader Interactions