This decadent peach bread is like a peach cobbler in a loaf pan! The quick bread is rich, and moist and studded with chunks of fresh peach. Sweet fresh peach glaze on top is completely divine – it tastes like sweetened fresh peaches with cream are dripping down the buttery, crumbly bread. I'm pretty sure this quick bread recipe beats my banana bread, spicy zucchini bread and even pumpkin bread hands down!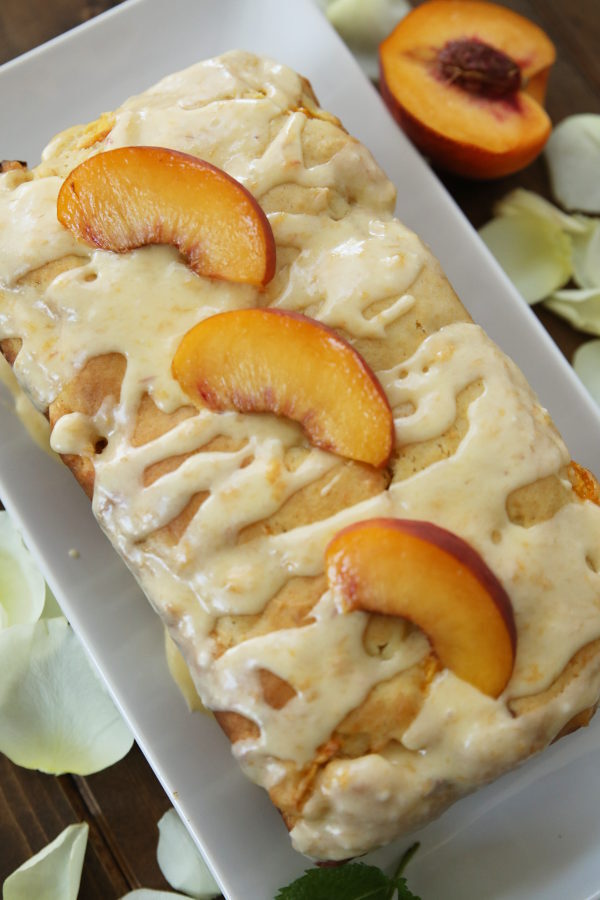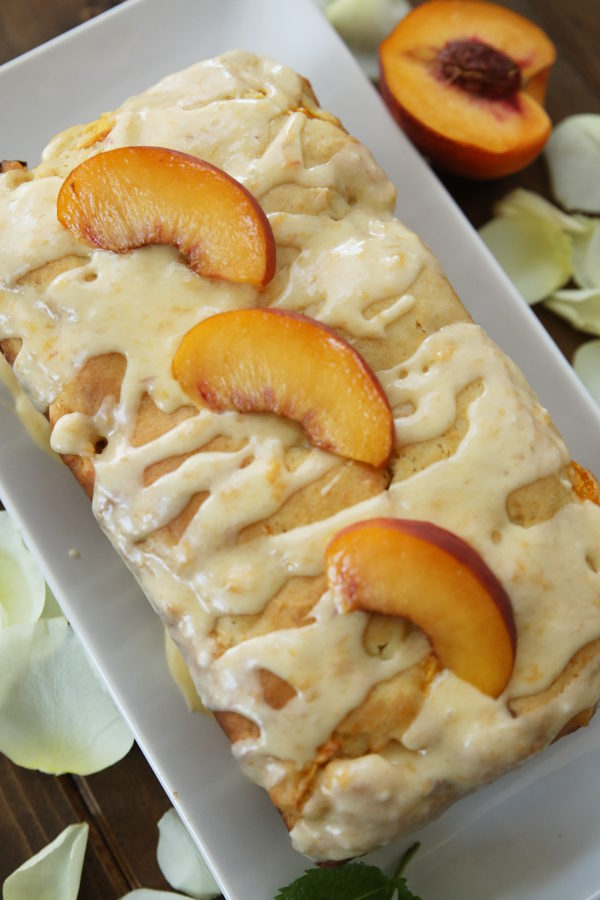 I make a lot of new recipes but this peach bread stole my heart before I even got it into the oven. The batter tasted amazing and it looked stunning before I even started to bake it.  When you cook a lot it is easy to tell when something looks "right" before it goes into the oven. And this batter was fluffy, and rich and beautiful.
SO MUCH TO LOVE WITH FRESH PEACH BREAD
I grew up next door to a peach farm and absolutely adore fresh, ripe summer peaches.  It is one of my favorite summer foods.  This peach bread takes the treasure that is summertime peaches and makes it into a wonderful quick bread.  The texture is almost like somebody took a good peach cobbler and tossed it together into a tender, moist bread.
Jack likes food in general but I can always tell his favorites by what he asks for again and again.  He says that peach bread makes him wiggle!  (This is pre-school speak for I LOVE this food.)  I've been giving him big old slices on repeat all week and I'm going to have to bake some more quick before we all go into withdrawals!
I've made a lot of different quick breads over the years and before this one I would have said my favorites were pumpkin, banana, and carrot-zucchini.  Now I'm pretty sure it is this fresh peach bread. I've just never had another quick bread with this perfect texture and fresh fruit flavor before!
MAKING A PEACH GLAZE
The true magic of this recipe lies in the peach glaze.  In baking a glaze is usually made from powdered sugar, milk, and maybe vanilla.  Here I'm using butter with the powered sugar and vanilla to give the glaze a more creamy and less chalky feel.  Then I blend in fresh diced peaches until the creamy glaze is thoroughly peachy.
Blending in the chunks of peach mashes them until you get this lovely glaze tinted orange that bursts with peach flavor. I ate the glaze off a spoon.  I spread it on slices of the bread.  I considered putting it in a bowl and eating it for dessert.  I immediately wondered if this could go on scones or cake or just about anything you can bake.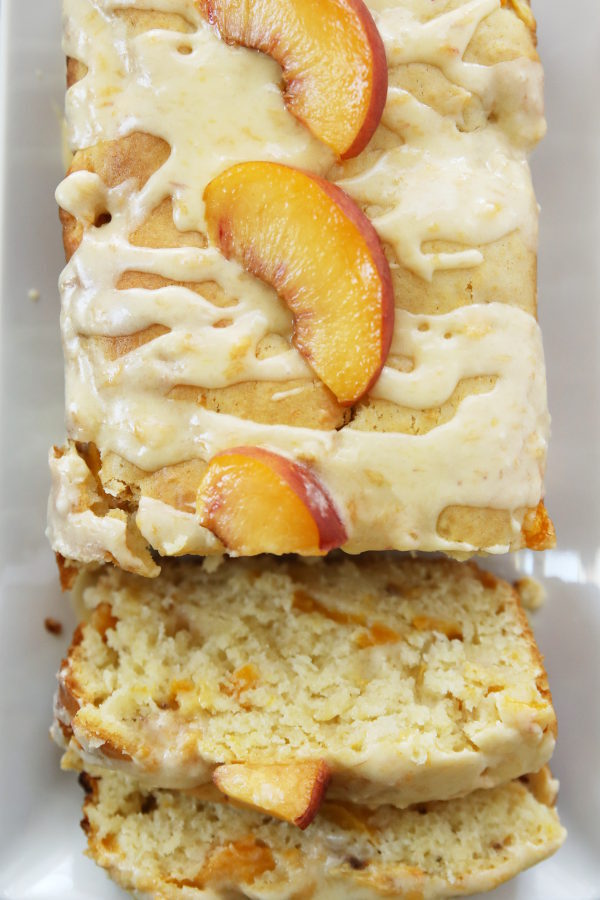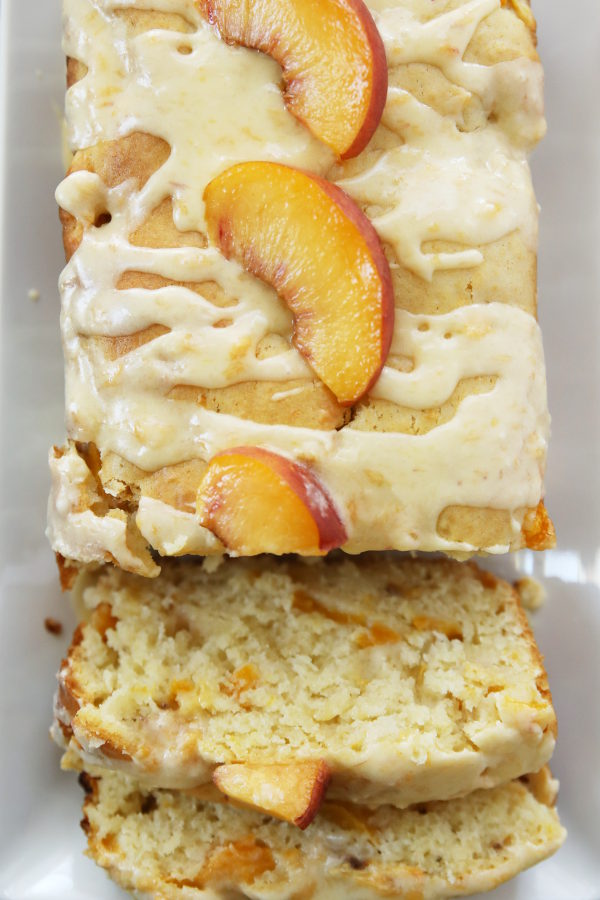 How to Tell When a Peach is Ripe
To make great peach bread get great peaches.  If you can find some at a good farm stand lucky you!  (When you do by all means learn to can them for winter!)  But in summer you can often find decent peaches at the store and get them to ripen up some at home. These peach buying tips will help you tell if your peaches are ripe or not.
 Never buy peaches that have any green on them.  They don't ripen well.
Look for peaches with some fragrance.  The more fragrance the riper the peach.
Look for peaches that are heavy for their size.  If it feels more weighty in your hand than you expect you are holding a juicy peach.
Avoid peaches that are wrinkled and shriveled.  These are harder to peel and are getting really old.  IF they smell amazing and are not bruised then get them.
NEVER squeeze a peach at a farm stand and then don't buy it.  That is rude.  A farm fresh peach bruises at a touch.
Leaving peaches on the counter in the sun for a few days can help them ripen up some after you get home.
HOW TO PEEL PEACHES
Peeling peaches is easier than you think.  There are several ways to peel peaches  – pick the one that works best for you.
Vegetable Peeler for Less Ripe Peaches:  Surprised?  Peaches peel very well with a traditional peeler just like you would use to peel an apple.  Use this method if your peaches are less ripe.
Paring Knife Pull for Extra Ripe Peaches: Hold the peach in one hand and use a sharp paring knife to make a cut across the stem.  Slide the edge of the knife just under the cut skin and then hold the skin to the knife with your thumb.  Pull away from the peach to strip off big sections of skin just by pulling.  This works best with really ripe peaches.
Parking Knife Pull and Cut for Medium Ripe Peaches: My favorite method is to use pulling as described above and then any skin that resists being pulled off gets sliced off with the knife.  It is the easiest method if you just need a few peaches.
Blanching for Lots of Peaches:  If I need to peel pounds and pounds of peaches (like for freezing) I usually blanch the peaches.  This is the process of putting a peach into boiling water for 30-40 seconds and then dunking it in ice water until cool.  The skins will slip right off in your hands! But that is more work than you need to do for peach bread where you just need to peel a few peaches.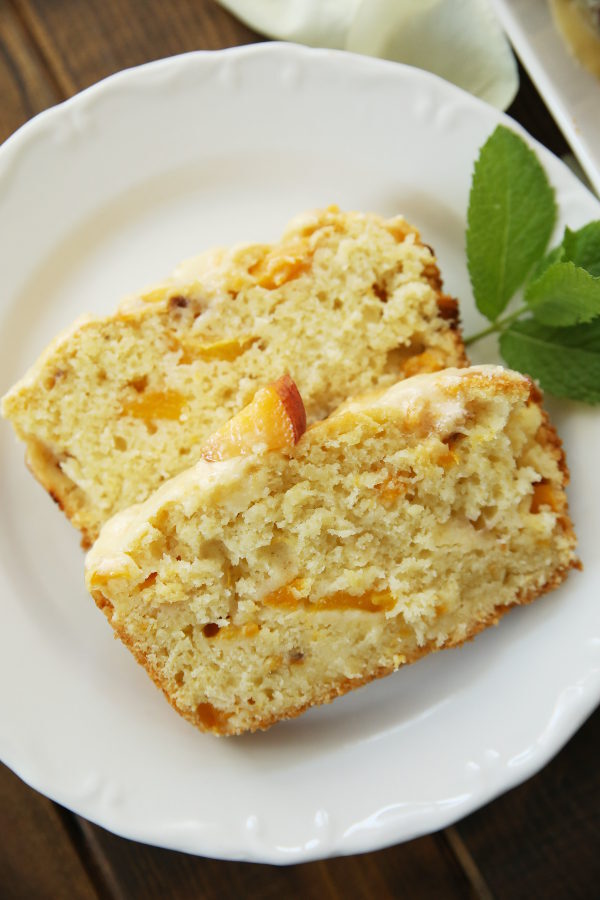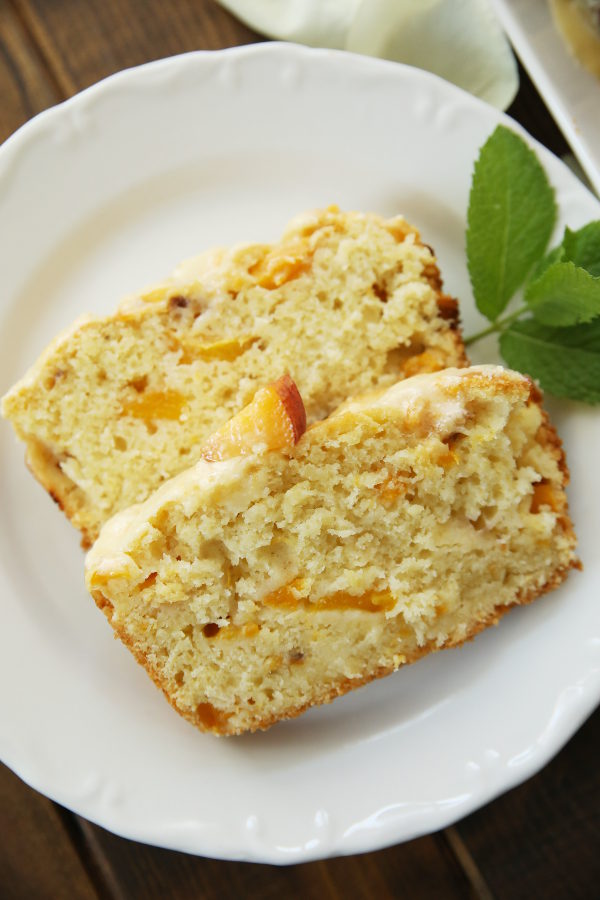 TIPS FOR BAKING QUICK BREAD
 Measure the flour using the dip and sweep method to get the RIGHT amount of flour into the recipe.  This just means use a large spoon to put flour into the measuring cup and then use the flat edge of a knife to level it off.  (So no scooping or shacking or packing.)
Use a liquid measure to measure the liquid ingredients! Get down on eye level and make sure that the liquid is right at the line.  This helps get proper measuring.
Check the bread correctly to make sure it is fully cooked. Quick bread that doesn't get fully cooked will fall in the center.  Cooking quick bread that has chunks of fruit in it can be more tricky because the batter around the fruit chunks is wetter.

Remember that oven times can differ.  Always check on a quick bread 5-10 minutes before the recipe suggests.  You can turn on the light and peak through the oven window for your first check.
Hold off opening the oven until when you first think it could be done.
Use a toothpick or a cake tester inserted in the middle of the bread to check.  If any batter comes out on the tester bake longer.  If you get a few moist crumbs check several more places to make sure that this is a consistent test.  Only when you are sure the bread is fully cooked should you remove it from the oven.
More Quick Breads We Love
More Easy Peach Recipes To Enjoy
Fresh Peach Bread
This decadent peach bread is like a peach cobbler in a loaf pan! The bread is rich, and moist and slathered in a sweet fresh peach glaze. I'm pretty sure this quick bread recipe beats my banana bread, spicy zucchini bread and even pumpkin bread hands down! It is pretty special.
Ingredients
For the Bread
3/4

cup

granulated sugar

½

cup

milk

½

cup

canola oil

can sub vegetable oil

1

large egg

2

teaspoons

pure vanilla extract

2

cups

peaches

diced & lightly packed into measuring cup

2

cups

all-purpose flour

2

teaspoons

baking powder

½

teaspoon

salt
Fresh Peach Glaze
2

cups

powdered sugar

¼

cup

salted butter

melted

1

Tablespoon

milk

1

teaspoon

vanilla extract

1/8

teaspoon

salt

1/3

cup

peaches

diced
Instructions
To Make the Peach Bread
Preheat the oven to 350 F.

Grease a 9"x5" loaf pan and set aside.

In a large bowl combine the sugar, milk, oil, egg and vanilla.

Add 2 cups of diced peaches and stir to combine.

In a medium mixing bowl whisk together flour, baking powder and salt.

Add the dry ingredients to the wet ingredients and stir just until combined, scraping the sides as needed.

Pour the batter into the prepared pan and bake at 350F for 50-55 minutes until a toothpick inserted in the center comes out with only moist crumbs.

Let the bread cool for 10 minutes and then remove it from the pan and place on a rack to cool.
To Make the Glaze
When the bread is room temperature prepare the glaze.

In a large bowl combine the powdered sugar, melted butter, milk, vanilla, and salt. Beat with a mixer or with a whisk until smooth and creamy.

Add the peaches and beat well. Using a hand mixer here will mash the peaches perfectly until there are small chunks of crushed peach through the glaze.

Drizzle the amount of glaze you like on top of the bread. (You can reserve some of the glaze and serve with the sliced bread as a spread).

Let glaze set up. Slice in 8-10 slices and serve.

This bread is best the first day and still wonderful the 2nd day. Save leftover bread tightly covered in the refrigerator up to three days.
Nutrition
Calories:
397
kcal
|
Carbohydrates:
58
g
|
Protein:
3
g
|
Fat:
17
g
|
Saturated Fat:
4
g
|
Cholesterol:
14
mg
|
Sodium:
194
mg
|
Potassium:
192
mg
|
Fiber:
1
g
|
Sugar:
37
g
|
Vitamin A:
279
IU
|
Vitamin C:
2
mg
|
Calcium:
57
mg
|
Iron:
1
mg
Nutrition Disclaimer
MirlandrasKitchen.com is written to share great recipes. While we do our best to provide nutritional information as a general guideline, we are not registered dietitians and the values provided here should be considered estimates – not exact scientific data.
I read each and every comment and I try to respond to questions asap, so ask away! If you've made a recipe, I would love to hear about it! Please come back and share your experience and give the recipe a 5-star rating so other people will know how much you loved it!