Making my own peach jam is one of the best things I do all summer! The jam tastes just like summer's sweetest ripe peaches. I love opening up a jar in the winter and spreading one of my favorite summer fruits on biscuits and toast.  It is like opening a jar of summer when it is cold and snowy out! I always make some extra jars to give as gifts at Christmas because everybody loves it so much.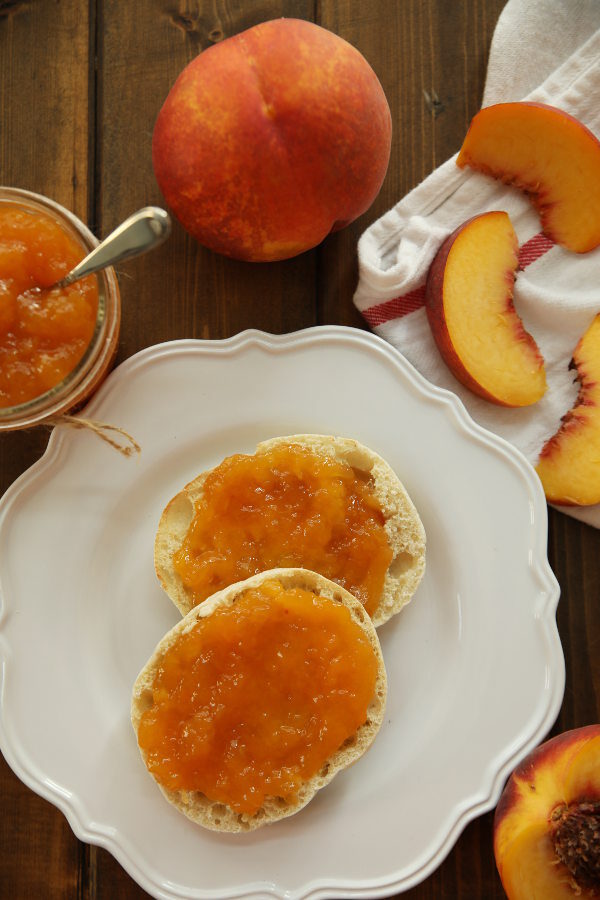 This year I ran out of peach jam months before the peaches are set to ripen. Considering how weird 2020 has been I'm not going to call running out of jam a tragedy but I was pretty bummed. This year I'm planning on several batches so I have plenty for myself and plenty to give out at Christmas time.
Making Peach Jam To Get The Most Out of Summer All Year
I love all homemade jam but peach jam is one of my favorites! I grew up next door to a peach orchard.  Many of my childhood memories are of peaches so ripe the bruised at a touch and the juice ran down your arm when you bit into the fruit.
Peaches are one of those fruits that are best bought from a farm and only in season. Nothing else is quite the same. I like to freeze bags for peach cobbler, can peaches and can plenty of peach jam! It is one of the great ways to enjoy amazing peach flavor all winter.
My version of peach jam has some chunks instead of being a true jam just made from fruit puree. I know this makes it a little bit closer to a true peach preserves recipe but this is how I think of peach jam so we are gonna go with that.
You can also include your kids in the process if they are old enough to be careful of a hot stove.  It is a great way to teach them more about the world and how food is made.      Anybody can open a can of jam from the store. It is a different experience to combine ingredients and create jam from fresh food .
Homemade peach jam is made with real sugar so it is also healthier than many of the corn syrup options you find at the store!
How to Make Peach Jam
Making homemade jam sounds like a lot of work but the process is simple.
Prepare the fruit.
Cook the fruit with sugar and pectin while stirring.
Puree or mash the fruit as much as you want.
Fill your jars with cooked jam and process them in the canner.
Next thing you know you have peach jam on your shelves to enjoy all winter! This is one of those cooking projects that is absolutely worth it!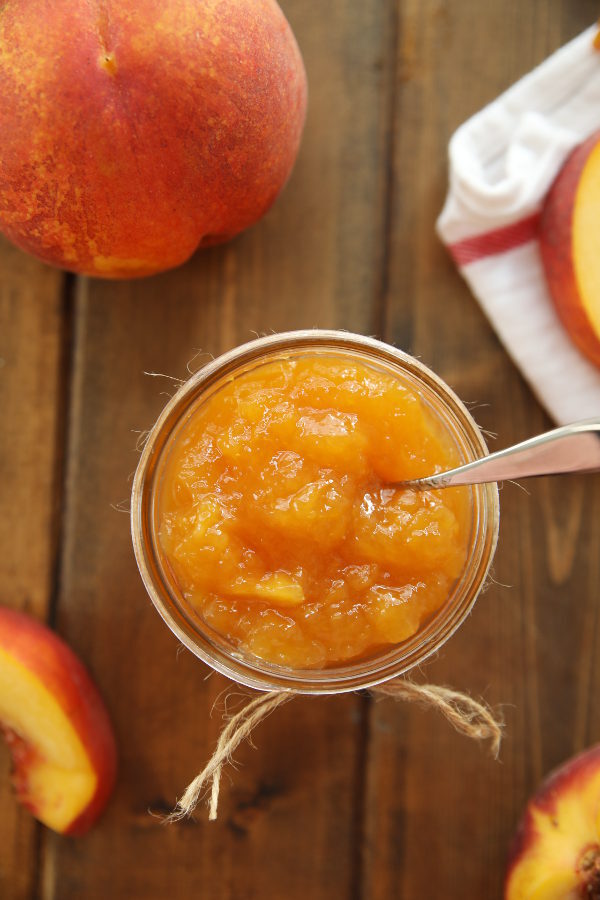 Information for Beginning Canners
You don't have to be a master canner to enjoy putting up a few batches of food for your family this summer. Even my four year old son helps me can jam! I say this to make sure you don't get intimidated about canning.
There are simple rules to follow for safe canning and all the questions you have can be answered in a few minutes.  I suggest new canners start with my Water Bath Canning for Beginners Tutorial. It covered questions about equipment, safety, altitude, and gives loads of great tips!
Before you know it you will feel confident about canning and enjoy the process.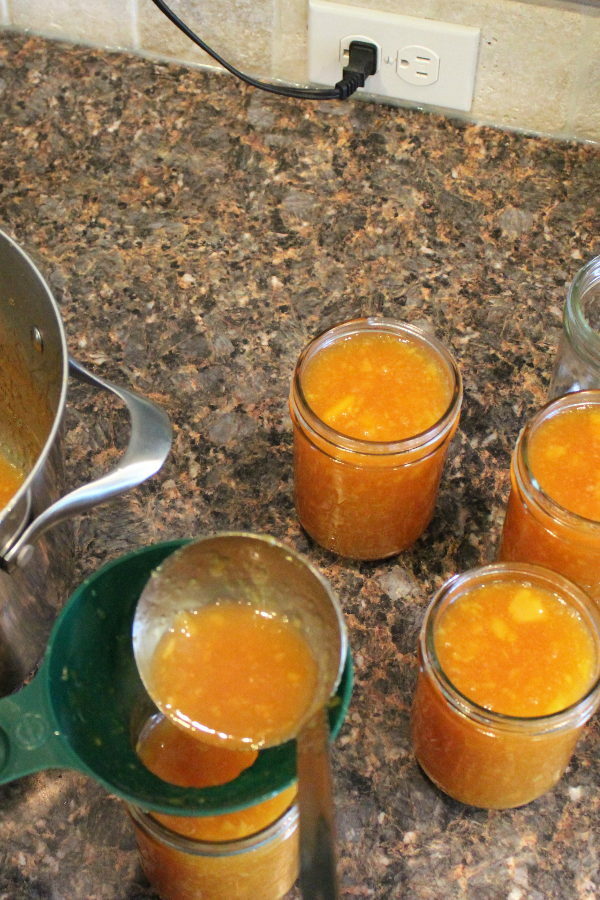 More Peach Recipes To Love
I'm a bit of a peach nut! Make sure you check out these other wonderful peach recipes to get the most out of peach season!
How to Make Peach Jam With Beginning Canning Tutorial
The jam tastes just like summer's sweetest ripe peaches. I love opening up a jar in the winter and spreading one of my favorite summer fruits on biscuits and toast.  It is like opening a jar of summer when it is cold and snowy out! I always make some extra jars to give as gifts at Christmas because everybody loves it so much. This recipe includes basic beginning canning information. If you want to learn more about canning or have questions check out my
Water Bath Canning for Beginners tutorial.
This recipe makes 11 half pints or 5 1/2 pints of jam. One pint of jam is 32 Tablespoons which is considered 32 servings.
Ingredients
7

cups

peaches, chopped

about 4lbs

5

Tablespoons

lemon juice

1

Tablespoon

butter

7 1/2

Tablespoons

powdered pectin

called RealFruit classic pectin in Ball brand

5

cups

granulated sugar
Instructions
Prepare the Jars and Peaches
Wash the jars you are going to use.

Fill your water bath canner about half way with water and set aside. Put a metal kitchen spoon in the freezer to check consistency of jam later.

Blanch peaches in boiling water for 30-45 seconds per batch. Plunge them into an ice water bath as each batch finishes. Slip skins from the fruit.

Peel peaches and chop into medium-small chunks. As you chop stir in 1 cup of the sugar to keep peaches from browning. Tip: I used the Vidalia Chop Wizard tool for uniform, small dice. I put halve a peeled peach through at a time.
Make the Peach Jam
Measure pectin into one small bowl and the remaining 4 cups of sugar into another. Place peaches, lemon juice and butter in a large pot on medium-high heat.

Use an immersion blender or potato masher to puree jam until it reaches the consistency you desire. When using the chop wizard I don't blend the jam any more so that I get some nice chunks of peach in the jam. It can be done either way.

Turn water bath canner on high and to bring to a boil.

Slowly add pectin to fruit stirring constantly.

Bring fruit mixture to a full boil, then add the sugar. Stir until it returns to a boil, then boil 1 minute continuing to stir constantly. The jam will look thin even though it is ready.

To check the consistency of the jam, dip the frozen spoon into the pot. Run your finger down the back of the spoon - the consistency on the cold spoon is the consistency of the jam as it sets.
Can the Jam
Fill pint or half pint jars with a wide canning funnel. Leave 1/4" - 1/2" headspace. Wipe the rim of each jar down with a clean, damp towel to make sure it is perfectly clean

Place a lid and ring on the jar.

Place your jars in the water bath canner. Make sure there is enough hot water to cover the jars by 2". Bring the water back up to a full boil and process for the recommended processing time.

Pints and half-pints should be processed a minimum of 10 minutes in a water bath canner. If you live above 1,000 feet add more time to adjust for altitude: 1,001 - 3,000 feet add 5 minutes. 3,001 - 6,000 feet add 10 minutes. 6,001 - 8,000 feet add 15 minutes. 8,001 - 10,000 feet add 20 minutes.

Remove jars to towels after processing and allow the lids to pop down - no poking!

When the lids have sealed the jam is ready to store. Any jars that don't seal should be refrigerated or processed again.

Once the jam is canned it can be stored out of direct sunlight up to two years.
Notes
This recipe can be cut in half.
Nutrition
Calories:
15
kcal
|
Carbohydrates:
3
g
|
Protein:
1
g
|
Fat:
1
g
|
Saturated Fat:
1
g
|
Cholesterol:
1
mg
|
Sodium:
1
mg
|
Potassium:
1
mg
|
Fiber:
1
g
|
Sugar:
3
g
|
Vitamin A:
1
IU
|
Vitamin C:
1
mg
|
Iron:
1
mg
Nutrition Disclaimer
MirlandrasKitchen.com is written to share great recipes. While we do our best to provide nutritional information as a general guideline, we are not registered dietitians and the values provided here should be considered estimates – not exact scientific data.
I read each and every comment and I try to respond to questions asap, so ask away! If you've made a recipe, I would love to hear about it! Please come back and share your experience and give the recipe a 5-star rating so other people will know how much you loved it!