Don't let canning intimidate you. It can be fun and easy. Here I give my favorite simple tips and lessons in water bath canning including what equipment you need and why.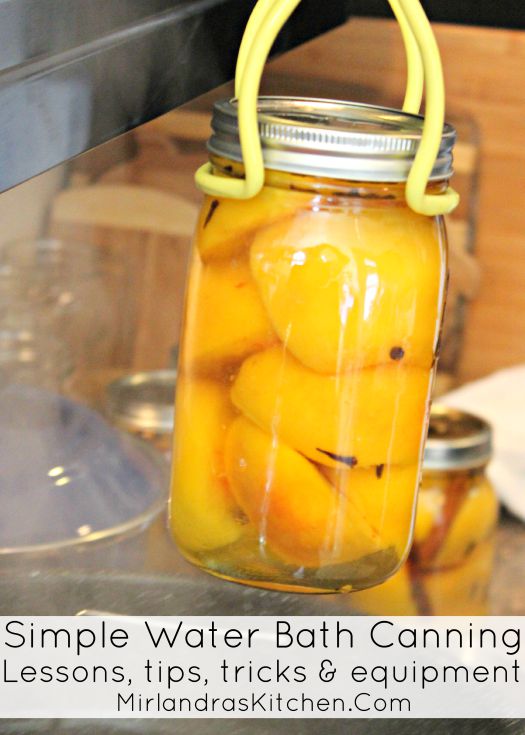 Water Bath Canning is a wonderful skill that allows you to preserve high quality food from your garden or local farms in the way that YOU like to eat it.  I love that I know as much about where the food came from as I want to and I know exactly what is in the jars because I put it there.  Throughout the winter I find it very satisfying to dish up food I made myself and I absolutely love the high quality available in home canning that is not always available at the store.  I know lots of people who feel that the process of doing even one canning project is super daunting.  It doesn't have to be that way.  Today I'm going to cover the basic equipment you need, share my canning tips and highlight basics that you should know before you get started.  Going forward, when I do a post on canning I will refer you back to this post if you need more process help.  If you still have questions make sure to leave a comment or shoot me an e-mail!  I would be glad to help you get started!!!
How much will it cost to can your food?  Canning can get expensive fast.  If you just go to the store and buy new equipment you can lay out $50-$100 simply for some basics.  Brand new jars can be about $1 each and every time you use them again you need new lids which are about .30 each.  It takes electricity or gas to run your stove hour after hour.  Food, sugar, vinegar, and spices for your recipes can add up too.  But the good news is that once you make the initial investment in a canning kettle the ongoing costs are not bad.  I also keep an eye out at garage sales and pick up as many jars there as I can.  If you do this be careful not to buy any old glass mayo jars, which aren't designed to handle the temperature changes of the canning process.  If they break in the canner, you lose the food and gain a nasty mess.  That being said I do can in older jars all the time as long as they are Mason, Ball or Kerr jars without any chips in the lips.
Important FYI:  There are now NEW RULES FOR CANNING!!!!!!  The makers of Ball Jars (Jarden Home Brands) just released (end of summer 2014) some big changes in the instructions we have been using for for years and years!  The old rules required all jars to be boiled to make them sterile and that lids had to be boiled to soften the adhesive ring before canning.  Both of these are out the window now!  Clean everything well and you are ready to go!
Equipment:  This is the basic equipment most people need to get going.  I found that some of it was cheaper on Amazon than locally.  Obviously that will vary from place to place.
Ball Blue Book is the Bible of canning.  They usually run under $10 and will cover all the usual issues that come up.  The internet is a great resource but make sure that you are getting correct information!  This summer I tried looking up some canning questions and found that the Ball Blue Book was way easier to use and more accurate than many internet sites.
Some big soup pots or stock pots.  I like stock pots for blanching and boiling up sugar syrups.  Heavy bottom soup pots are best for jam making.  How many you need depends on what you are doing.
Canner with Jar Rack. They come in several sizes.  I have a 21 1/2 Quart pot.  It is pretty standard, fits on my stove and can hold 7 quart jars or 19 pints.  Mine is a Granite-Ware brand.  It's about $25 and it works well enough.  To upgrade to a higher end one I would need to be willing to spend about $75-$100.  Right now this does the job and I don't feel the need to upgrade.
Canning Funnel, Jar Lifter  and Skimmer or large slotted spoon.
If you are doing a lot of jam, an immersion blender is perfect.  I love my Cuisinart.  I have had it for several years and it has held up great.  I think buying one with the extra attachments is worth it!  Costco sometimes carries this too.
Figuring Out Altitude:  Every canning recipe will tell you to process jars a minimum number of minutes + additional minutes  if you live above 1,000 feet.  It is simple to make this adjustment.  I found my town's altitude on the internet, found out I live at 2,605 feet and added time to my recipes according to the instructions.
Tips and Tricks:  There are a few things that I always do to make canning easier.
Crank up the AC and put a giant fan in the kitchen.  I make sure the temperatures stay reasonable.
Drink lots of water.  Staying well hydrated helps me keep my energy up.  It's so simple but so important!
Clean the kitchen and prepare everything the day before.  I try to have everything set out, jars washed and a clean work space to use the night before.  I use the dish washer to wash all of my jars.
Store jars upside down in boxes to keep most dust out.  I always wash everything I plan to use plus some extras just in case.
Plan dinner ahead of time.  I put something in a crockpot, have leftovers ready to go or just plan to order a pizza.
Add in something interesting or social.  Sometimes I do my canning with a friend and have a girl's day or just get an audio book to enjoy.
If this is your first year canning good luck!  The work is totally worth it!
Not sure where to start?  Peaches are easy and popular.  You won't regret having quite a few jars of this summer treasure in your pantry come winter!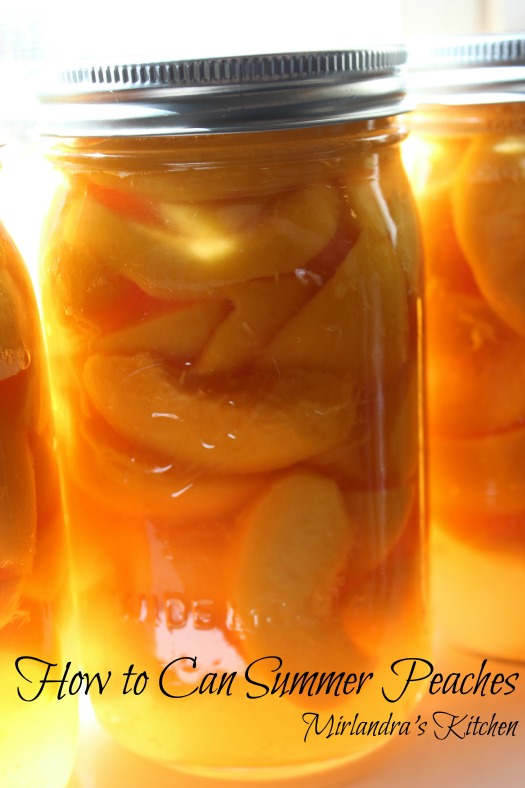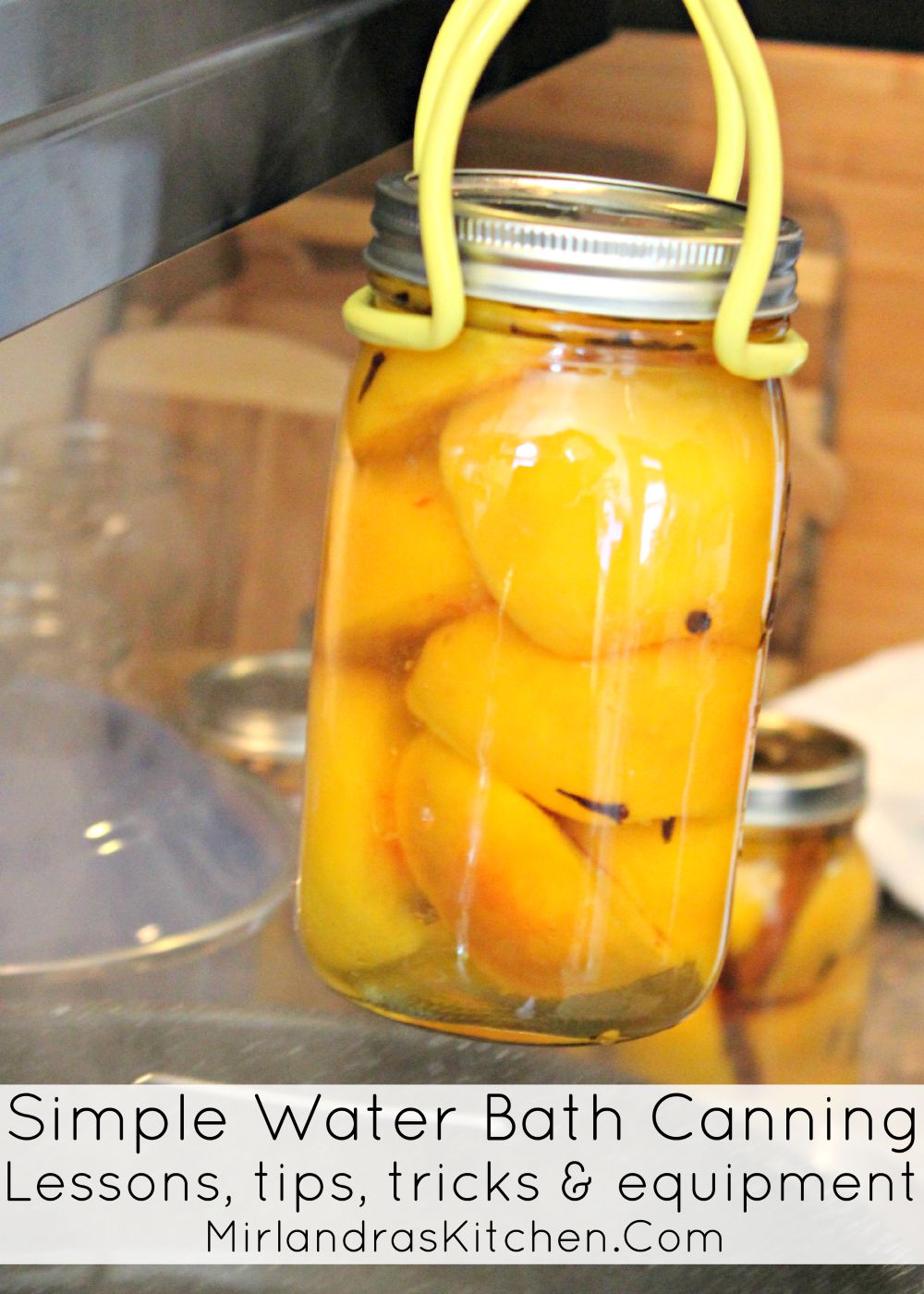 Reader Interactions