This corned beef dinner recipe is easy and delicious. I walk you through step by step to make this St. Patty's Day meal. Wait till you see what I put in it!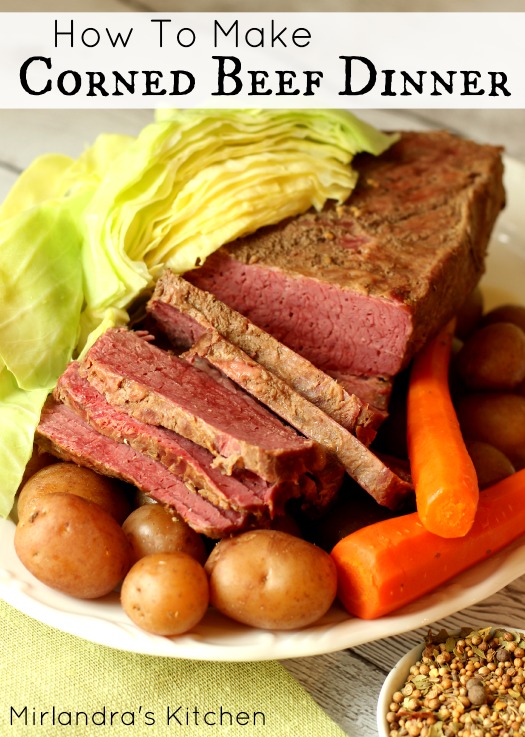 After almost four years of marriage, I consider myself a living breathing expert on corned beef dinner. Jonathan would be more than happy if I would serve this meal to him two to three times a month.
I can't say that I like corned beef dinner quite that much but I like Jonathan enough to make it four or five times a year. He loves the dinner, the leftover corned beef hash and even the leftover broth for soup. There appears to be no end to his corned beef infatuation.
Thankfully corned beef is easy to cook. Season it right, cook it slowly, and dinner will be perfect every time. My secret to amazing corned beef is the spices.
When corned beef is made, it is brined in some form of pickling spice and then some additional spice is often provided with the meat. The type and amount of spice varies quite a bit by brand and quality. Because of this, I just use my own. I love to buy it in bulk at Winco but most stores do carry some in the spice section.
The second part of this equation is to toss in a cinnamon stick. I know this sounds totally crazy but the beef won't taste like cinnamon at all. It does add something magic to the background flavor of the meat. Somewhere, under the flavor of corned beef is you can't quite put your finger on.
Traditionally cinnamon was used in pickling spice but sometimes now it is left out as a cost saving measure. All I am doing is adding it back in to get the full flavor out of the meal.
The recipe below has several options how and when to add the veggies. I suggest reading it through before you start and deciding what method you plan to use.
Corned beef comes in two cuts: flat and point. Flat cut is flatter and makes a prettier presentation. It usually has less of a fat cap and fewer big sections of fat throughout. It is also more expensive.
At Costco this year I paid $5.49 / pound for flat cut. Last year I was paying about $3.75. Point cut will be fattier, more uneven but cheaper. Keep in mind that if you are having to buy more fat the price might come out about the same.
If you have any questions about cooking corned beef leave me a comment! I would love to help. Happy St. Patrick's Day!
If you don't have a jumbo tea strainer, try this one.
How to Make Corned Beef Dinner
This corned beef dinner recipe is easy and delicious. I walk you through step by step to make this St. Patty's Day meal. Wait till you see what I put in it!
Ingredients
1

corned beef with the juices

flat cut or point cut (cooking time depends on size)

1/2

cup

pickling spice

1

cinnamon stick

water to cover

1

Tbsp.

butter

to prevent foaming

1 1/2

pounds

baby potatoes

red or white

4

carrots

1

green cabbage

medium sized
Instructions
Place the corned beef in a large soup pot with all of the juices from the package. Include any loose spices with the meat. If the spices are in a packet you can add them in the next step or discard them.

Place 1/2 cup of pickling spices into a tea strainer or cheesecloth bag large enough to hold 1/2 cup. Add a cinnamon stick to this and spices from the packet in the corned beef if you want.

Put your tea strainer in with the meat and add enough water to cover the meat by at least 4". Add the butter and bring the pot to a boil over high being careful that it does not over boil.

Turn the stove down until the pot of meat is just simmering. The rule of thumb is 90minutes / pound of meat but if your stove is hotter the meat cooks faster. Cooking the meat slowly protects the tenderness. Make sure to check your meat every so often and add water as needed to maintain at least 1" of water over the meat at all times.

The corned beef is done when it is tender through and some from the outside shreds off easily. The internal temperature should reach 180F for safety.

Wash the potatoes but leave them whole. Peel the carrots and chunk into desired lengths or leave whole. You can add these to the pot 30 minutes before the beef is done cooking or you can remove the beef when it is finished, wrap well in tin foil and set aside. Then add the veggies to the existing broth, bring to a boil and then simmer for 25-50 minutes until tender and cooked through.

Cut the cabbage in half and remove the core. Slice each half into three wedges and steam for 5-8 minutes over the boiling pot of potatoes and carrots or over a boiling pot of water. The cabbage is nice when it's a still green and tender with just a hint of crunch. Some people prefer to have it cooked until it is soft through and more yellow.

Note: Every brand of corned beef is seasoned a bit differently. Some have loose spices in with the meat and juices. Some brands just include a packet. Cheaper brands often don't include enough spice or they provide poor quality spice packets. I include my own seasonings in this recipe. It sounds like a lot but the result is not overpowering and it is quite savory. The meat will not taste at all like cinnamon, in fact if you don't say anything nobody will ever know you used the stick but it will taste amazing!
Nutrition
Calories:
622
kcal
|
Carbohydrates:
47
g
|
Protein:
6
g
|
Fat:
3
g
|
Saturated Fat:
1
g
|
Cholesterol:
6
mg
|
Sodium:
104
mg
|
Potassium:
1152
mg
|
Fiber:
11
g
|
Sugar:
9
g
|
Vitamin A:
8465
IU
|
Vitamin C:
100.5
mg
|
Calcium:
185
mg
|
Iron:
2.9
mg
Nutrition Disclaimer
MirlandrasKitchen.com is written to share great recipes. While we do our best to provide nutritional information as a general guideline, we are not registered dietitians and the values provided here should be considered estimates – not exact scientific data.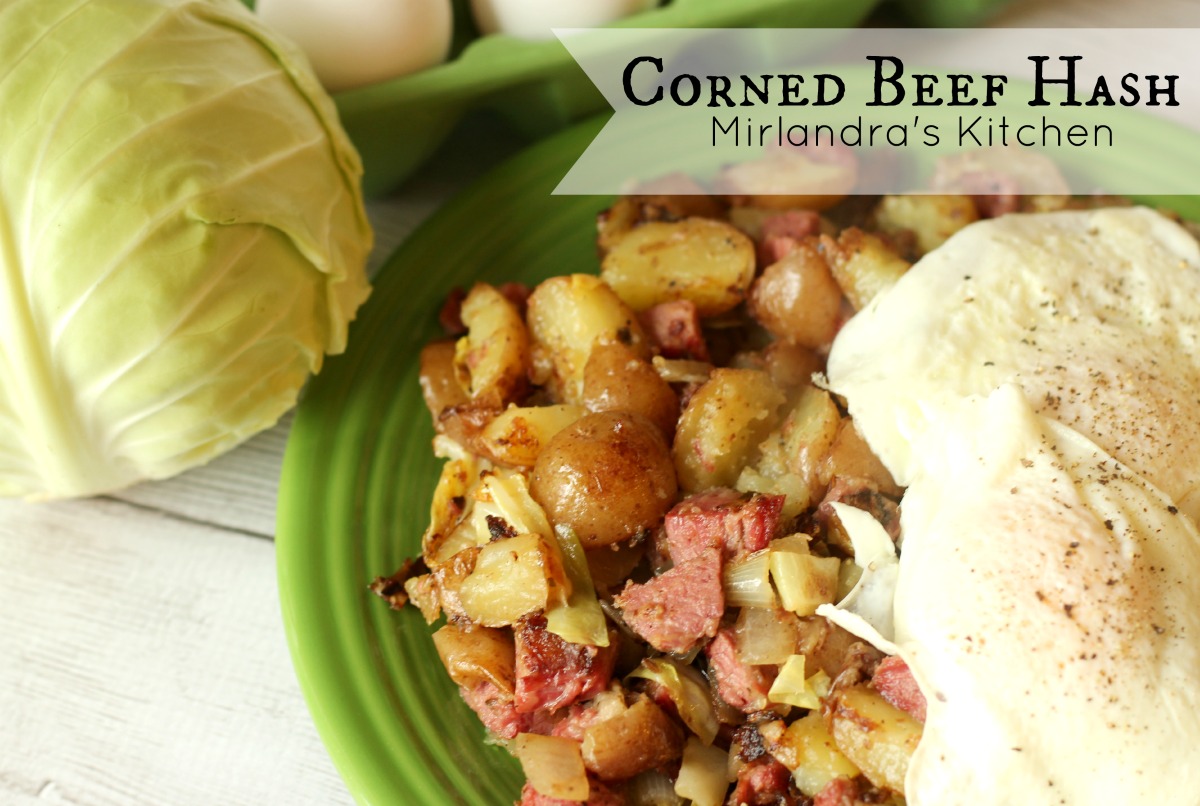 Need an idea for what to do with the leftovers?  Have a look at my delicious Corned Beef Hash here.