This easy peanut butter bread takes just 7 minutes to get in the oven and doesn't need yeast! It has a nice peanut butter flavor and is lovely for toast or even PB&J sandwiches. This one bowl recipe quick bread is perfect for beginning bakers.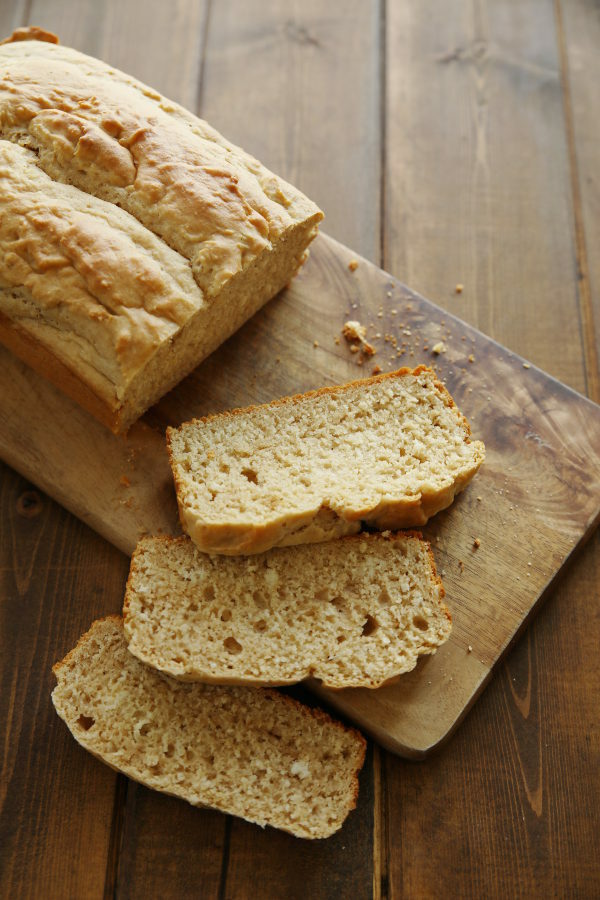 Recently the entire world went crazy for this simple peanut butter quick bread. I had to know what the fuss was about so I whipped up a batch to satisfy my curiosity.
It only took SEVEN minutes to get the batter ready for the oven which was impressive. My entire kitchen smelled like peanut butter heaven and then my kids snacked on slices of warm, peanut butter bread fresh from the oven. I was so excited I immediately made some tweaks to the recipe and put out another loaf!
How to Make Peanut Butter Bread
Your kindergartner or pet monkey could make this recipe. You literally get out a bowl, add the dry ingredients and stir. Then you dump in all the web stuff and stir again.
Literally minutes later you have batter. Pop it in a greased pan and bake for about 45 minutes.
You don't have to wait for the bread to rise or fuss with any odd ingredients. The mix of peanut butter and milk puts a lot of nutrition into the loaf so you have a nice, well balanced healthy bread.
Guys – this is so easy it is going to convert a TON of people to baking!
What is the Best Kind of Peanut Butter for Peanut Butter Bread?
This bread does not have much other fat or sugar so I like using a standard peanut butter with plenty of oil and sugar in it. Think Jiff of Skippy. This recipe will work fine with a natural peanut butter like Adams if you don't mind a slightly less sweet flavor.
The most important thing to NOT do is use a low fat or reduced fat peanut butter. Remember fat is flavor and you don't want to kill all the flavor! (Seriously, Julia Child's ghost might haunt you!)
What is "Yeastless" Bread?
There are three main kinds of bread you can bake. The big difference is in the what is used to make the bread rise.
Quick Bread is a yeastless bread. Peanut Butter Bread is a quick bread. Quick breads use baking powder as leavening (the ingredient that makes the bread rise) which means that you don't have to knead the dough or let it rise.
Yeast Bread is often what we think of as "normal" bread. You use yeast to make the bread rise. It takes some time but the results are delicious! Contrary to popular opinion this really isn't too hard!
Sourdough Bread is made with a starter which is naturally occurring yeast that is fermented. This kind of bread requires you to have a starter, care for the starter (keep it alive) and then knead the dough and let it rise. Sourdough might be a bit of work but you can sure get AMAZING flavor out of it! (Want to know more about Sourdough bread making? My friend Victoria teaches an awesome class on it!
More Recipes for Peanut Butter Lovers
Can't get enough peanut butter treats? I gotcha! (My family is the same way) Here are a few of my best!
Peanut Butter Bread
Peanut Butter Bread is an easy, yeastless, flavorful, nutritious bread! It takes one bowl and seven minutes to make this tasty loaf of bread!
Ingredients
2

cups

all-purpose flour

1/3

cup

packed dark brown sugar

can sub light brown or white sugar

2

teaspoons

baking powder

1

teaspoon

salt

1

large egg

1

cup

whole milk

can use 2%

3/4

cup

peanut butter

I used Jiff – don't use low fat!
Instructions
Preheat oven to 325 F.

Grease a 8"x4" loaf pan with pan spray or butter.

In a large mixing bowl combine the flour, brown sugar, baking powder and salt.

Add the egg, milk and peanut butter. Stir just until combined, scraping sides and edges with a spatula. (Batter will be thick.)

Spread batter into the loaf pan and bake in preheated oven for 45-50 minutes until the top is a light golden and a toothpick inserted in the center comes out with moist crumbs but no matter.

Remove bread from pan and cool on wire rack (or eat hot with butter).

Serve with more peanut butter or jelly, or butter or just by itself. Toast this bread for breakfast or use it for a PB&J.
Nutrition
Calories:
177
kcal
|
Carbohydrates:
5
g
|
Protein:
6
g
|
Fat:
12
g
|
Saturated Fat:
3
g
|
Sodium:
111
mg
|
Potassium:
157
mg
|
Fiber:
1
g
|
Sugar:
2
g
|
Calcium:
10
mg
|
Iron:
1
mg
Nutrition Disclaimer
MirlandrasKitchen.com is written to share great recipes. While we do our best to provide nutritional information as a general guideline, we are not registered dietitians and the values provided here should be considered estimates – not exact scientific data.