This homemade tomato soup is a creamy classic with plenty of savory flavor.  You can use fresh tomatoes from your garden, canned tomatoes or even your own frozen tomatoes!  My simple tips prevent the soup form curdling when you add the milk.  Gluten free and ready in 30 minutes.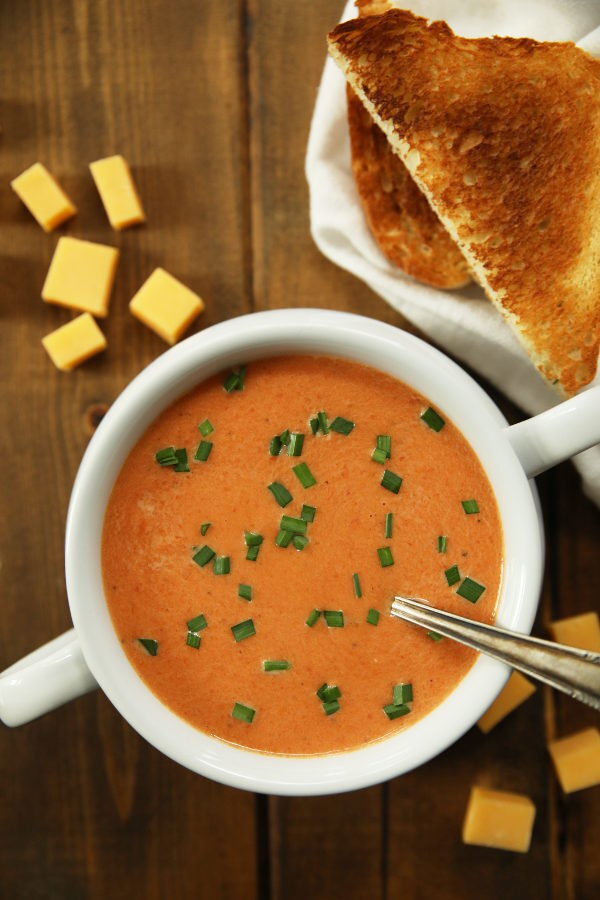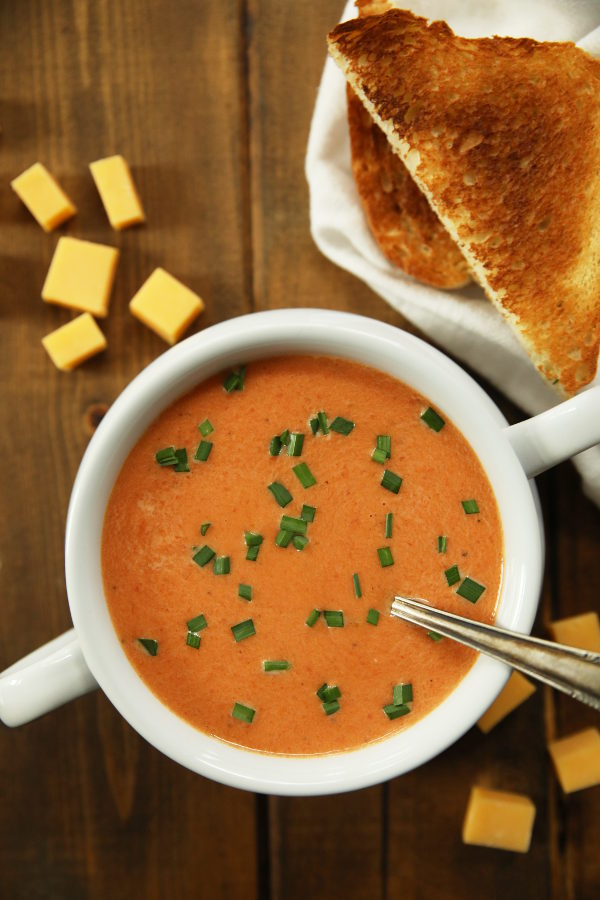 I grew up with cream of tomato soup from a can.  We didn't eat it often but I was never excited to see it on the table.  For years I avoided tomato soup until I realized making my own was easy and very flavorful!  My tomato soup recipe only takes a few minutes of active time.  This leaves you free to whip up some grilled cheese sandwiches or another cheesy treat to round out an easy weeknight dinner!
How to Make a Good Tomato Soup
The best tomato soup recipes are simple.  At the core you should be cooking tomatoes with onion, garlic and some spices.
Once the ingredients simmer for awhile you use an immersion blender or food processor to blend the soup into a velvety, creamy puree!  I add some milk and cream to mine for a decadent finish.  In order to prevent curdling when the dairy goes in use just a little bit of baking soda to combat the acid in the tomatoes.
If you want to make this into a delicious tomato basil soup just add a handful of fresh basil leaves right before blending! The flavor is amazing!
One of the reasons that this soup is SO easy is because it gets finished by blending.  You don't have to peel the tomatoes or even cut them into uniform chunks before cooking!  You can't beat the simplicity of this easy tomato soup.
Should You Use Canned Tomatoes OR Fresh Tomatoes?
Tomato soup is very versatile.  Any tomato can be a great soup tomato!
The biggest difference in these four kinds of tomatoes is going to be the sweetness of the tomato itself.  If you have a kind of tomato that seems to have a less robust or sweet tomato flavor just add a teaspoon of sugar to the soup after pureeing it!  Sugar is both a sweetener AND a flavor enhancer!
Taste the soup and add another teaspoon of sugar if you think it needs it.  This is the perfect way to get the tomato soup just the way you like it!
Freezing Tomatoes for Creamy Tomato Soup
When my garden is going full steam at the end of the season I always have tons of tomatoes!  Every year I spend a few minutes storing some of that extra bounty in my freezer to make soups later.  Some of it will become tomato soup and some of it will go into chili and other soups.
Freezing tomatoes is easy and just takes a few minutes:
Wash the tomatoes to make sure they are totally clean.
Cut out the stem, cut off any bad spots and cut the tomatoes into quarters or eights. (Don't bother to peel them.
Fill quart size Ziploc freezer bags with the tomatoes until the bag just closes.
Freeze bags flat, stacked on top of each other.
I like to freeze at least 12 quart bags of tomatoes so that I have about two a month for the cooler months when I'm making a lot more soups.  Of course you can also can garden tomatoes if you like!
How to Freeze Tomato Soup
Having some containers of soup ready to go in the freezer is one of the ways I keep life simple.  It is wonderful to always have soup at hand particularly in winter!
If you want to freeze this soup, do so before you add any milk and cream.  (It actually tastes wonderful before the milk and cream so they can be left out if you need to!)
Thaw the soup and bring it to a simmer on the stove.  Add milk and cream if desired and serve!  It is that easy.
More Recipes Perfect for Garden Tomatoes
Homemade Tomato Soup
This homemade tomato soup is a creamy classic with plenty of savory flavor.  You can use fresh tomatoes from your garden, canned tomatoes or even your own frozen tomatoes!  My simple tips prevent the soup form curdling when you add the milk. 
To turn this into tomato basil soup toss in a handful of fresh basil leaves right before you puree the soup! This soup is naturally gluten free and can be made dairy free by leaving out the milk and cream at the end and substituting olive oil for the butter. The soup flavor will be a little bit stronger but it will still be delicious and velvety smooth.
Recipe makes 5 cups of soup.
Ingredients
3

Tablespoon

butter

can sub olive oil

1/2

sweet onion

chopped

teaspoon

minced garlic

5 1/2

cups

chopped tomatoes

3 pounds fresh tomatoes or about 3 1/2 cans of store bought tomatoes

1

teaspoon

baking soda

1

Tablespoon

chicken bouillon

1

teaspoon

beef bouillon

1/8

teaspoon

white pepper

1/2

teaspoon

black pepper

1/2

cup

milk

1/2

cup

heavy whipping cream

can sub milk to reduce calories

sugar to taste

optional
Instructions
Melt the butter in a soup pot over medium-high heat. Add onion and stir occasionally until the onion is soft, about 3 minutes.

Stir garlic into the onion and cook for 30-45 seconds until it just starts to color.

Add the chopped tomatoes, baking soda, chicken bouillon, beef bouillon, white pepper, and black pepper. Stir to combine.

Bring to a boil over medium-high heat, then reduce heat to maintain a strong simmer. Continue to simmer for 10 minutes.

Remove soup from stove. Puree with an immersion blender until smooth. (Alternately soup can be cooled slightly and pureed in a traditional blender.)

For extra creamy soup you can strain blended soup through a sieve into a saucepan. Use a spoon to press it through leaving any seeds, skins and chunks behind. This will take less than a minute but it is OPTIONAL.

If you want to freeze the soup base for later, do it now. Otherwise, add the milk and cream to the base and stir. Taste for salt and sugar. Depending on the sweetness of your original tomatoes you may need to add 1-3 teaspoons of sugar now. Adjust salt as desired. Heat the soup gently over low and serve when it reaches the desired temperature

Make sure to reheat any leftovers gently to prevent overcooking the milk and cream.
Notes
This soup is also good with extra garlic.  You can add 3 teaspoons of minced garlic instead of 1 teaspoon to make it very garlicky which is perfect for fighting off whatever bug ails you. 
Nutrition
Calories:
254
kcal
|
Carbohydrates:
16
g
|
Protein:
4
g
|
Fat:
21
g
|
Saturated Fat:
13
g
|
Cholesterol:
66
mg
|
Sodium:
864
mg
|
Potassium:
683
mg
|
Fiber:
3
g
|
Sugar:
9
g
|
Vitamin A:
1135
IU
|
Vitamin C:
31
mg
|
Calcium:
159
mg
|
Iron:
3
mg
Nutrition Disclaimer
MirlandrasKitchen.com is written to share great recipes. While we do our best to provide nutritional information as a general guideline, we are not registered dietitians and the values provided here should be considered estimates – not exact scientific data.
I read each and every comment and I try to respond to questions asap, so ask away! If you've made a recipe, I would love to hear about it! Please come back and share your experience and give the recipe a 5-star rating so other people will know how much you loved it!