Classic, cream of tomato soup. This simple recipe makes a delicious drinking soup just like mom used to. Gluten free and ready in less than 30 minutes.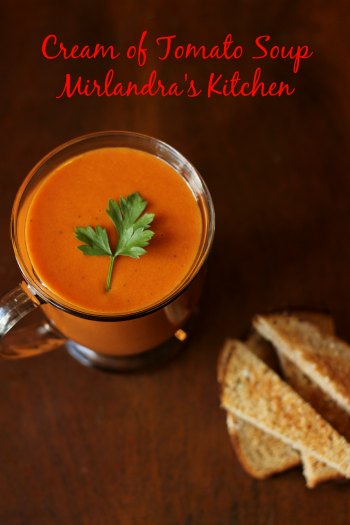 Today we got our first true fall storm and I decided to harvest the last garden tomatoes before I it was too late.  Any night now, it will freeze and the season will be over. End of season tomatoes are perfect for this dish! They are ripe and sweet and make a wonderful silky soup.
I had not made cream of tomato soup before, but I never let things like lack of experience stand between me and a cooking project. I knew the soup needed to be boiled, pureed and strained so I was expecting a long project. Imagine my surprise when I had soup in less than 30 minutes! It turns out it is a very quick and easy process that gives you a soup much tastier than something from a can.
I sent my notes to my mom whose garden is likewise exploding with tomatoes and she made the soup for her dinner. This is not her usual response to my cooking projects – it turns out she adores tomato soup. I had no idea.  She has deemed this recipe the best tomato soup she has ever had. There you have it folks, from the mouth of my very own mother.
I looked at a few recipes for tomato soup before I started and ended up borrowing a little trick from the classic Fanny Farmer recipe. She calls for baking soda which I know sounds crazy in soup, but it is genius. The baking soda helps to neutralize the acid in the tomatoes which in turn prevents the soup from curdling when the milk is added. It is a really great  trick! You will notice the tomatoes foaming as they come to a boil the first time. This is normal, just ignore it and eventually it will go away.
You can use any tomatoes you have but I prefer a mix of heirloom garden verities. If they are very ripe, and you use a sweet onion as instructed, the soup will have a sweet finish that will require no additional sugar. I used some lovely yellow and orange tomatoes in addition to my red verities which left me with a less traditional tomato soup color.
I wanted a gluten free recipe that was not diluted by flour. The soup ended up the perfect thickness for spoons or drinking and you won't miss the flour in the least. If you want to make extra while you still have garden tomatoes you can freeze the base before adding the dairy products. I noted in the recipe where to do that. When you thaw it, add the dairy in and serve. I think you will love having tomato soup base at hand in the freezer.
Serve a mug or bowl to your favorite people with some grilled cheese, whole grain toast sticks, or croutons.
If you like classic soup recipes, you might also enjoy my Slow Cooker Navy Bean and Ham Soup.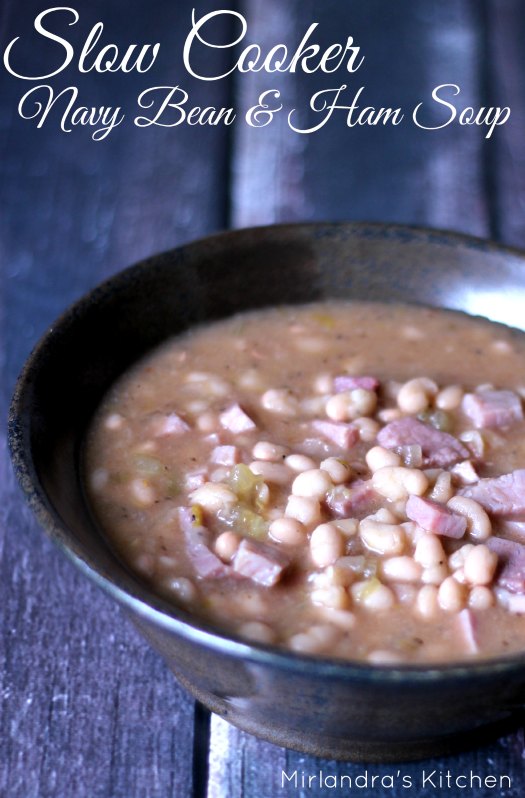 Cream of Tomato Soup
Ingredients
3

Tbsp.

butter

1/2

sweet onion

chopped small

1

Tbsp.

minced garlic

3

lbs

garden tomatoes

1

tsp

baking soda

1

Tbsp.

chicken bouillon

1

tsp

beef bouillon

1/8

tsp

white pepper

1

tsp

black pepper

1/2

cup

milk

1/2

cup

heavy cream

sugar to taste
Instructions
Melt the butter in a soup pot over medium heat. Add onion and stir occasionally until the onion is soft, about 5 minutes.

While the onion is cooking, cut up tomatoes into 1"-2" chunks and place in a mixing bowl. Add baking soda and stir to combine. Set aside.

Stir garlic into the onion and cook for 30-45 seconds until it just starts to color. Add the tomato mixture and bring to a boil over medium-high heat, then reduce heat to maintain a strong simmer.

Add chicken bouillon, beef bouillon, white pepper, and black pepper. Stir to combine. Continue to simmer for 10 minutes.

Remove soup from stove. Puree in a blender until smooth. Depending on the size of your blender it may be best to do this in two batches.

Strain blended soup through a sieve into a saucepan. Use a spoon to press it through leaving any seeds, skins and chunks behind. This will take less than a minute.

If you want to freeze the soup base for later, do it now. Otherwise, add the milk and cream to the base and stir. Taste for salt and sugar. Depending on the sweetness of your original tomatoes you may need to add 1-3 teaspoons of sugar now. Adjust salt as desired. Heat the soup gently over low and serve when it reaches the desired temperature

Make sure to reheat any leftovers gently to prevent overcooking the milk and cream.
Nutrition
Nutrition Facts
Cream of Tomato Soup
Amount Per Serving (8 g)
Calories 0
* Percent Daily Values are based on a 2000 calorie diet.
Reader Interactions