Rice and beans are pantry staples that can feed your family well for a long time! Just because you are making simple meals from your pantry doesn't mean you have to eat bland food! This list of 19 recipes will guide you to a great plan for flavorful and simple dinners with the food supplies you already have.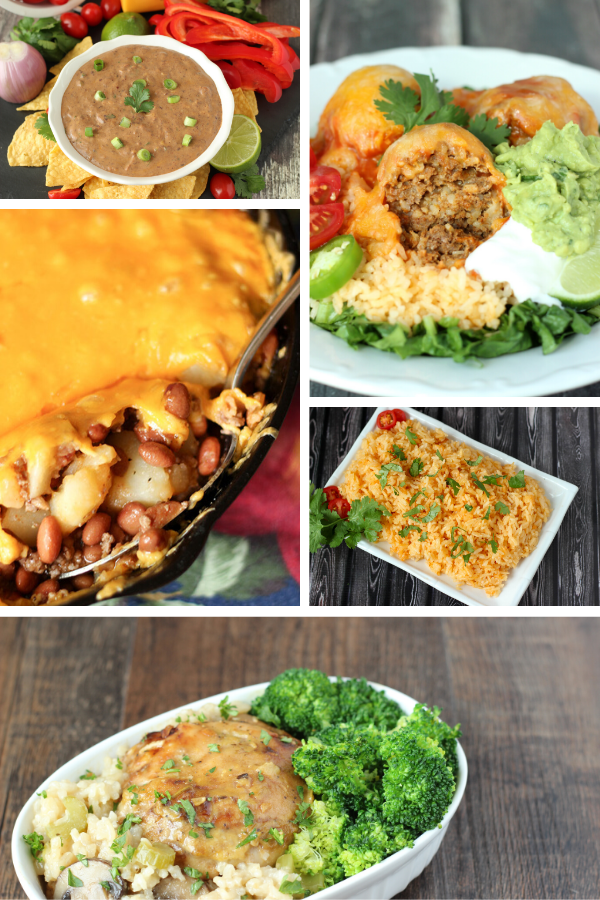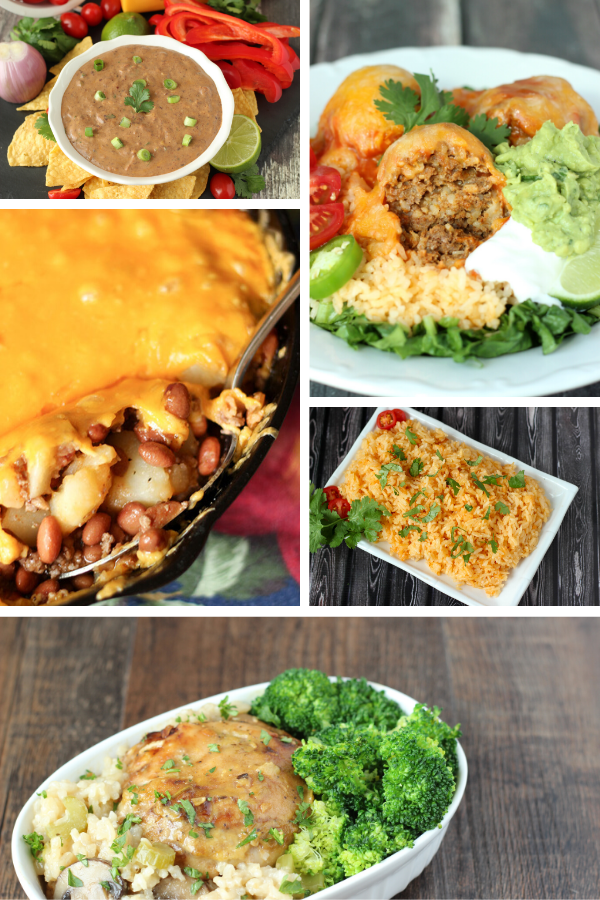 Easy Recipes with Rice and Beans
It is OK if you are new to cooking rice and beans from scratch! Take a few minutes to make read the recipe through, make sure you understand the directions and then follow them! Just following a good recipe can get you an amazingly delicious dinner!
Are you new to cooking beans or rice? Don't panic! Everybody has to start somewhere and you absolutely CAN do this!
I use canned beans, dry beans, lentils and multiple kinds of rice in a lot of my regular cooking. Beans and lentils are a cheap source of protein and easy to season and prepare. Rice is very cost effective and of course DELICIOUS! Both of these pantry staples are basic flavors that can be jazzed up a lot with simple additions!
This list of recipes is organized by main ingredient. Click on any image or link to get the full recipe.
Easy Bean Recipes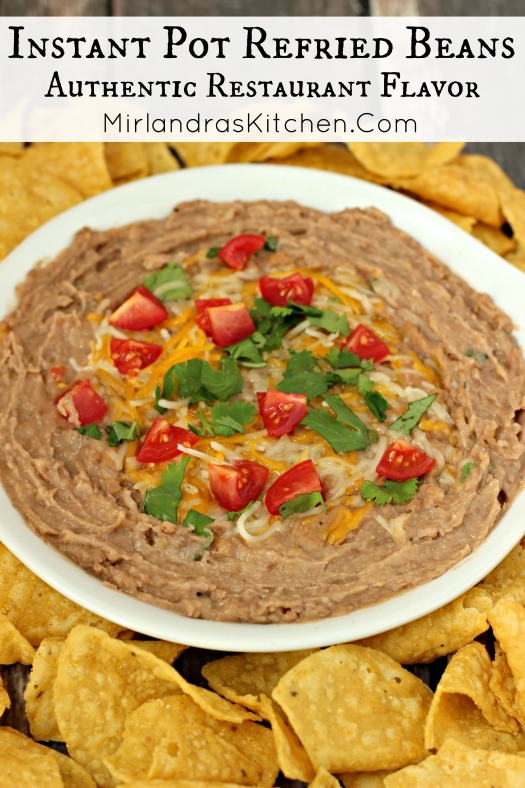 These Refried Beans get their amazing flavor from a smoked ham hock, several aromatic veggies and a bit of bacon drippings. I lick the spoon every time! (Because this recipe uses an Instant Pot it takes less than an hour to get from dry beans to cooked refried beans!)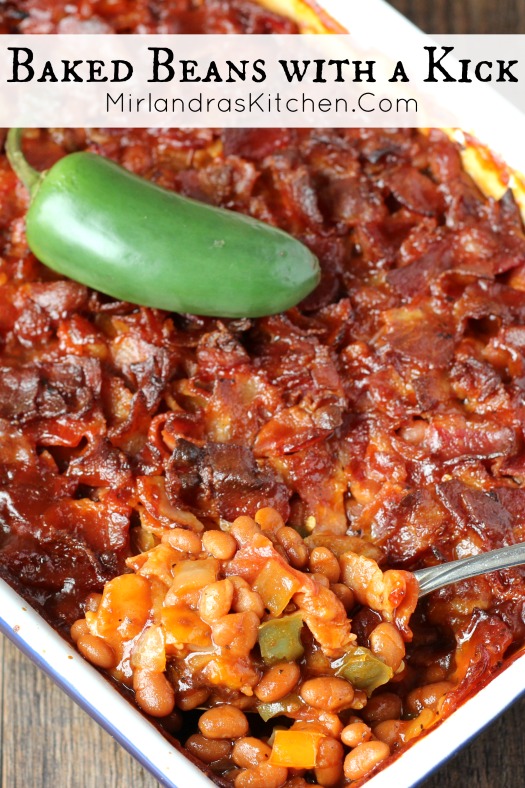 Sweet and Spicy, these Baked Beans are full of flavor and covered with bacon.  Friends have called these the best baked beans they have ever had! The base of this recipe is cans of Pork and Beans! This is a great way to use up those cans sitting on your shelf.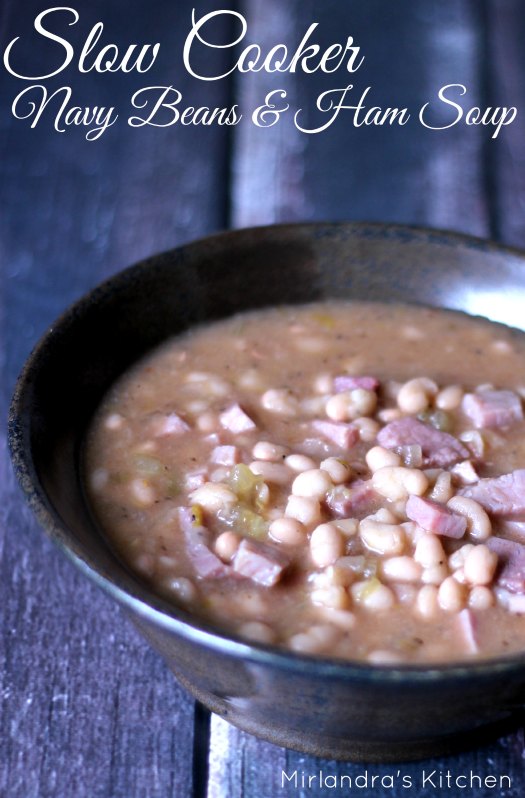 This hearty navy bean and ham soup is just like what Grandma made. Easy and high protein, this is a great dinner for any busy night. If you don't have a ham you can use smoked pork hocks for flavor or add some sausage instead.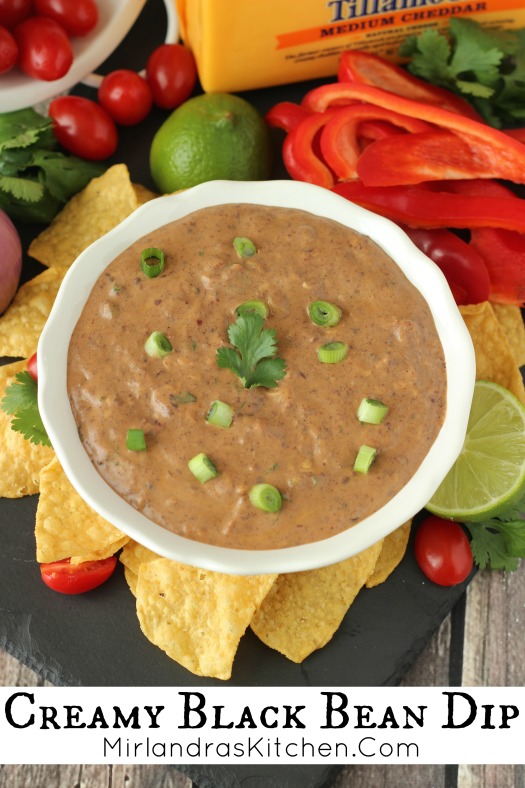 This Creamy Black Bean Dip is simple, nutritious and high on protein.  We use it as a dip for fresh veggies and corn chips at lunch time or as an appetizer at parties! This is a simple way to use up cans of black beans sitting around in the pantry!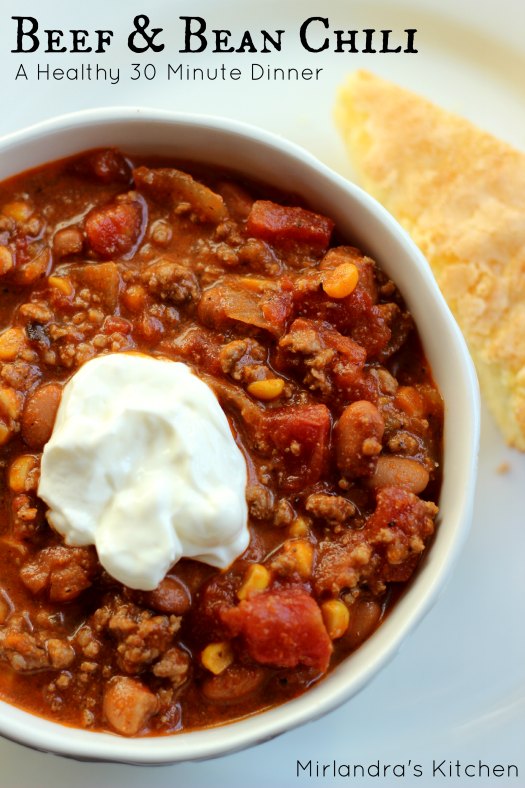 This Beef and Bean Chili is hearty and satisfying even for the most dedicated carnivore. Fresh corn adds a special flavor. Ready in 30 minutes.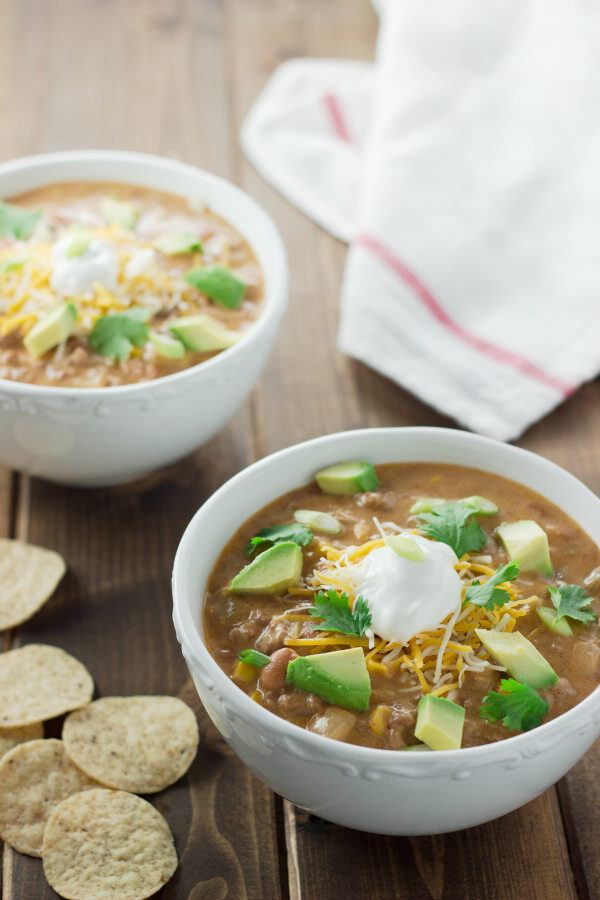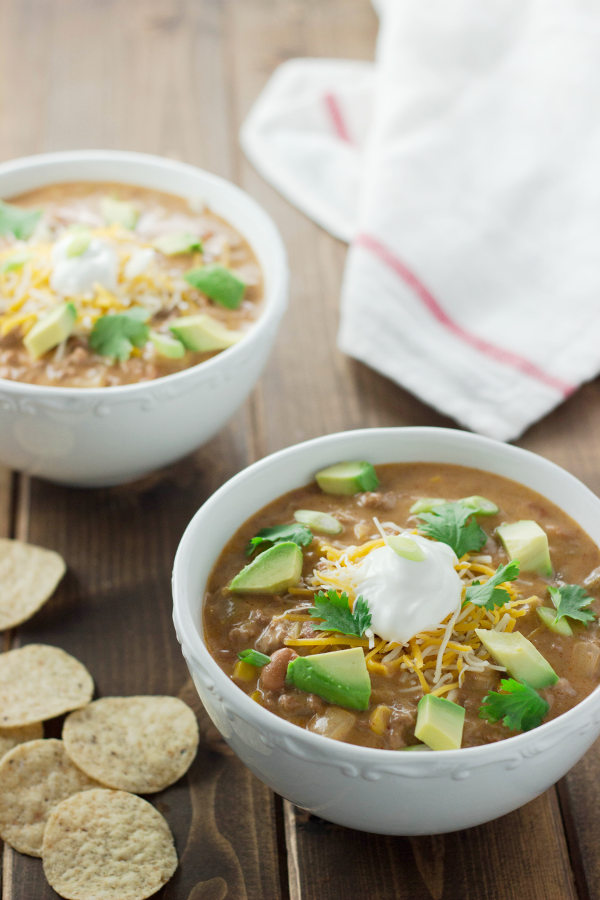 Cheese taco soup is all the best stuff about tacos in a satisfying soup! This easy 20 minute soup has ground beef, beans, and CHEESE. Make it mild or spicy.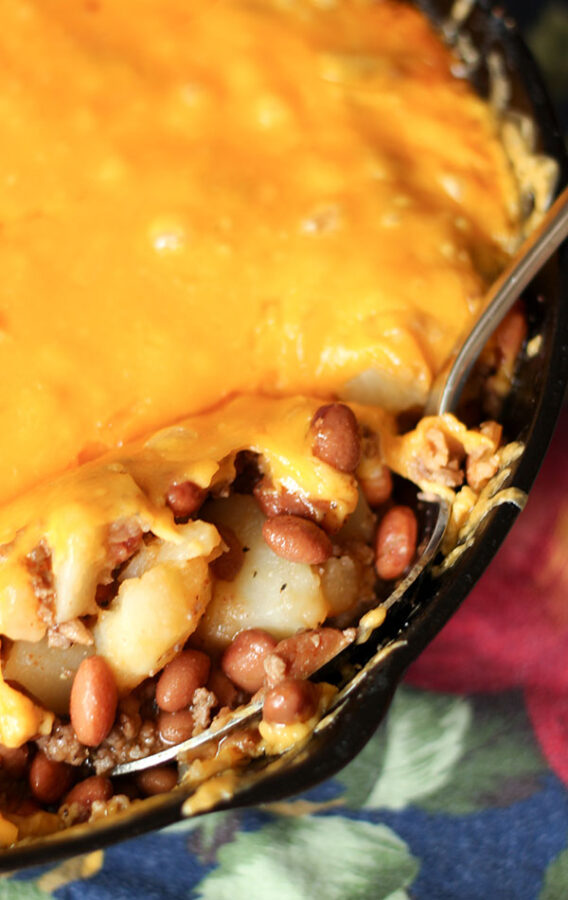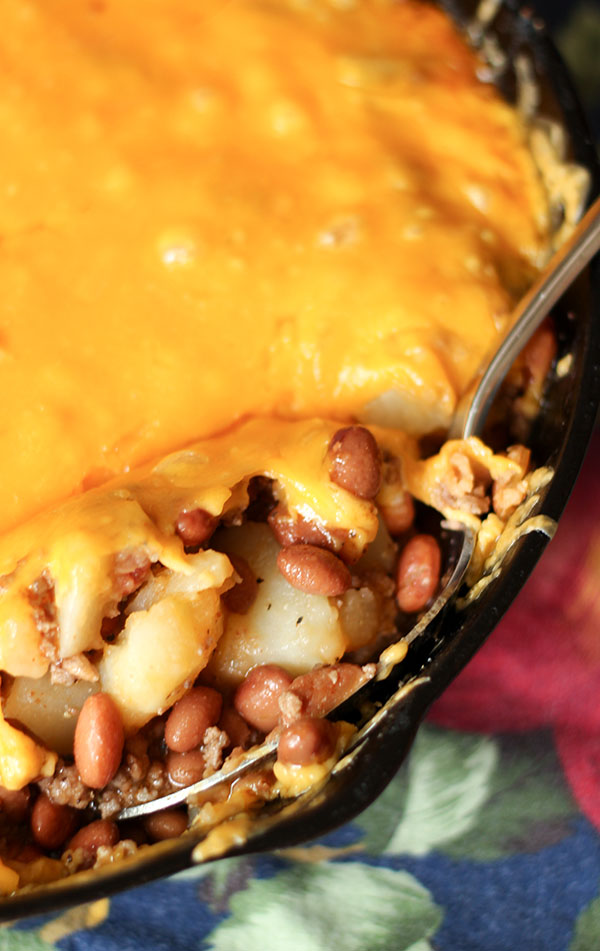 I grew up on this easy poor potato hamburger casserole. You can use canned beans and whatever leftover potatoes or rice you have on hand. Or you can toss it all together fresh from the pantry! No matter how you make it the results are delicious. Sometimes I make it just to eat it leftover.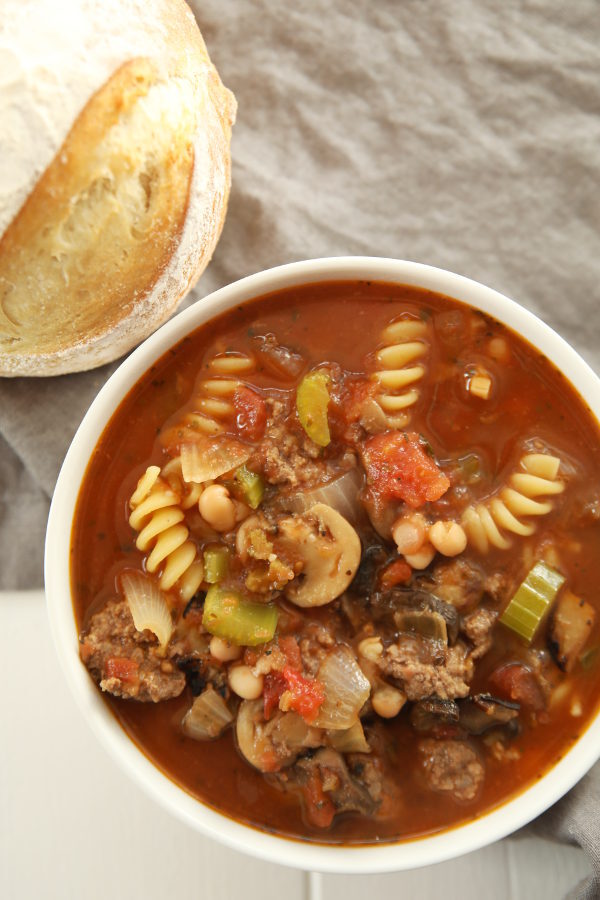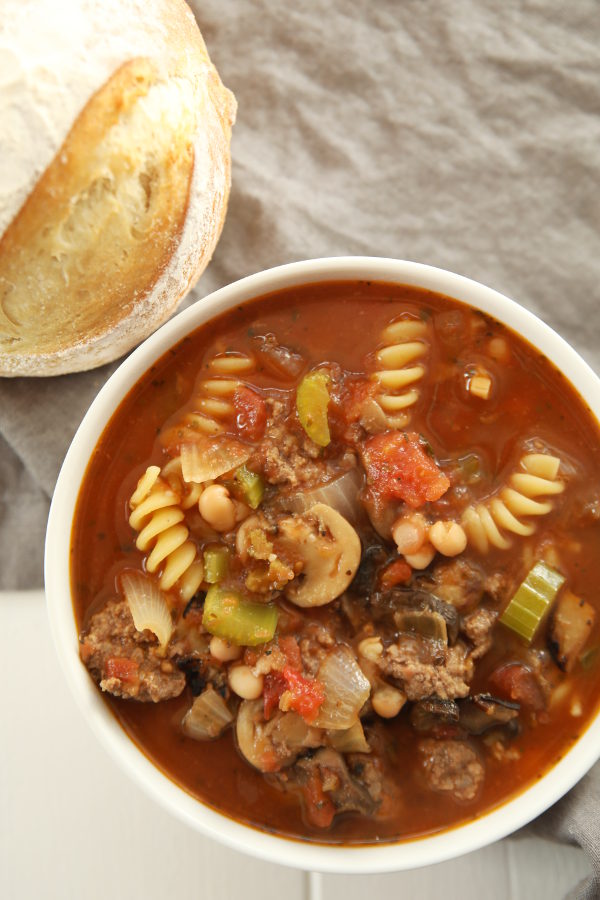 This hearty Beef Minestrone Soup is healthy and satisfying. It is made from scratch and ready in 30 minutes. The perfect weeknight pantry dinner! Sometimes I leave out the pasta for a low carb version. (If you do that try doubling the meat!)
Pantry Recipes To Make With Bean Recipes
There are a few recipes that go REALLY well with bean recipes. You probably have everything you need in the pantry to make these too!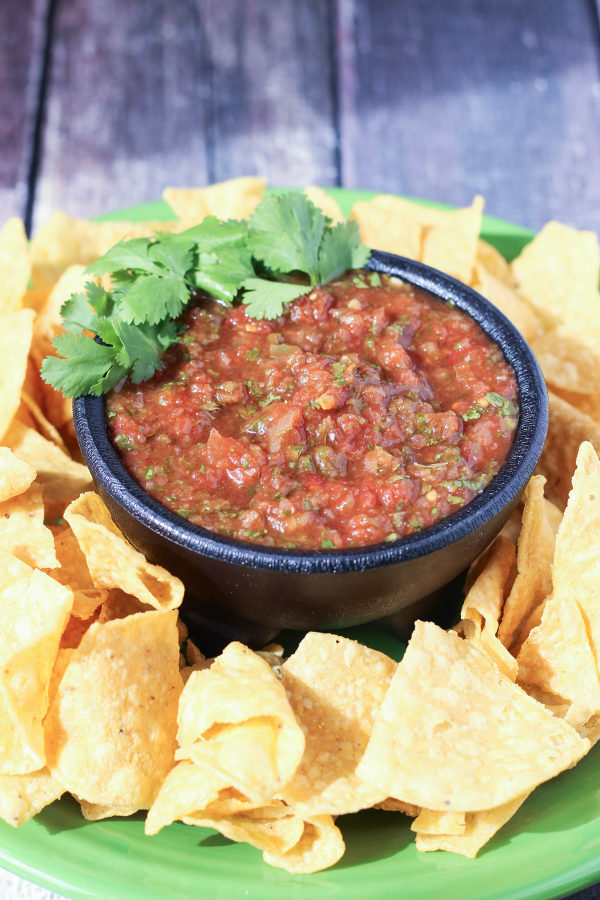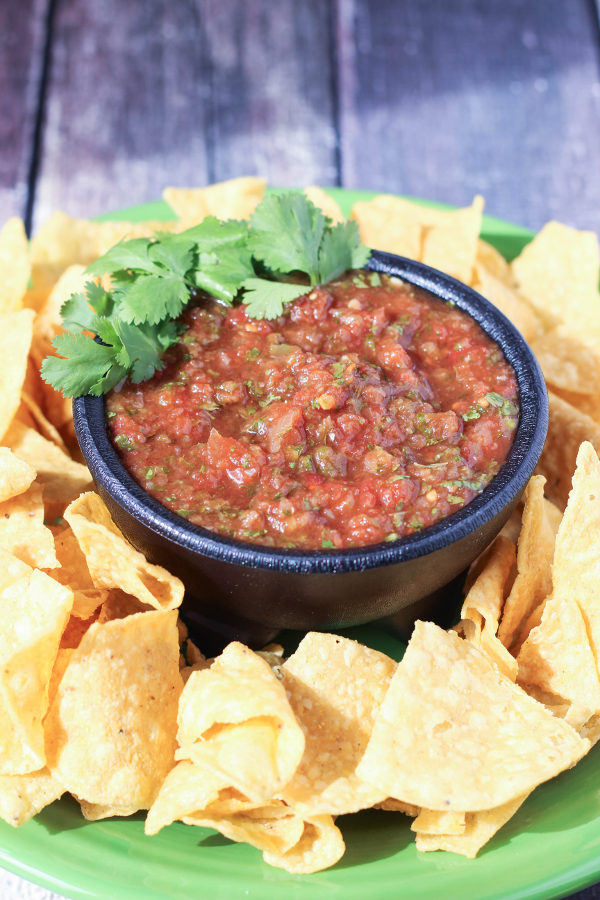 5 minutes. 5 ingredients. 1 perfect salsa!  This recipe is fast and easy but makes some of the best salsa I have ever had! We eat it on everything from beans to breakfast burritos to chips.  It is a healthy way to add some veggies to our life and great flavor to our food.  It is great mild or spicy.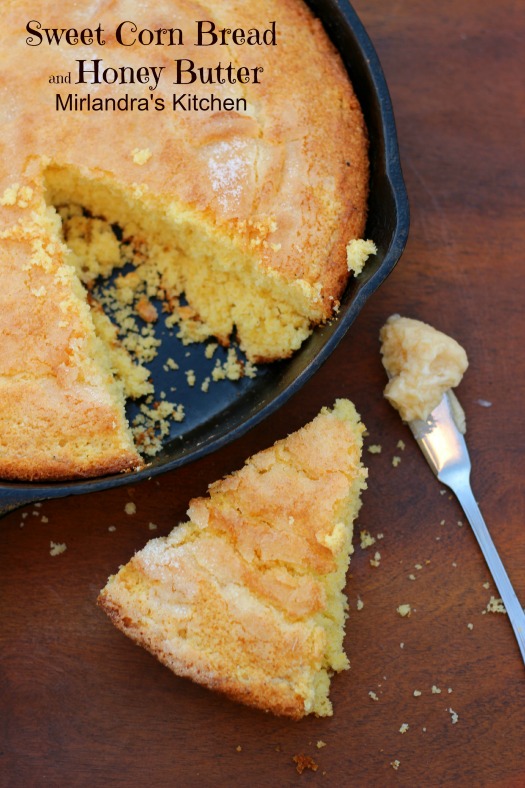 When I'm planning simple bean or rice recipes I always think of serving a nice wedge of corn bread with it. This is a sweet version with a sparking sugar crust. My kids love the honey butter that goes with it! (Ok, I confess – we love it too!!!)
Easy Rice Recipes
The world is full of easy rice recipes but many are bland. These are some of my favorites that have plenty of flavor but don't make life complicated. Rice is such a easy and great way to round out meals that I make it multiple times a week. If you are a rice fan make sure to get a good rice cooker to make your life simple!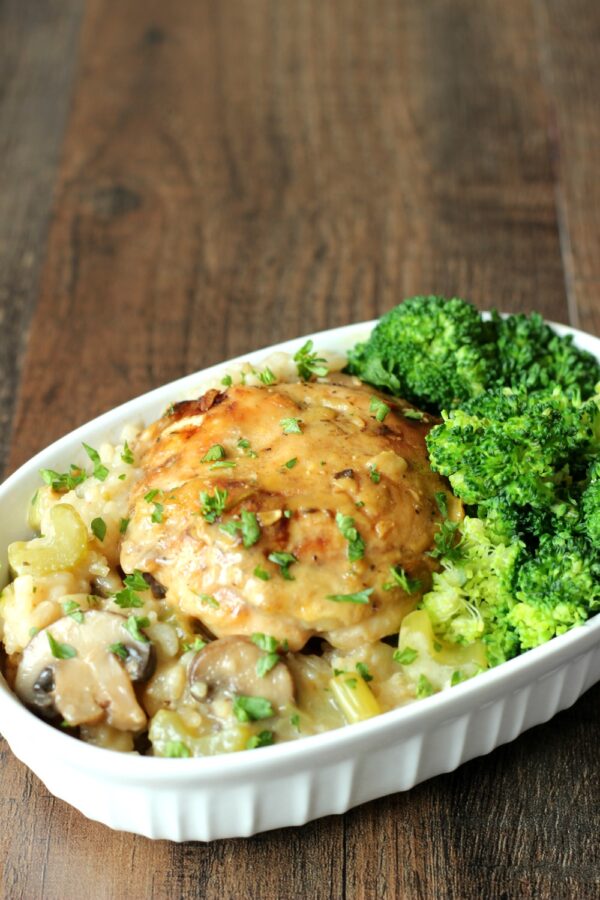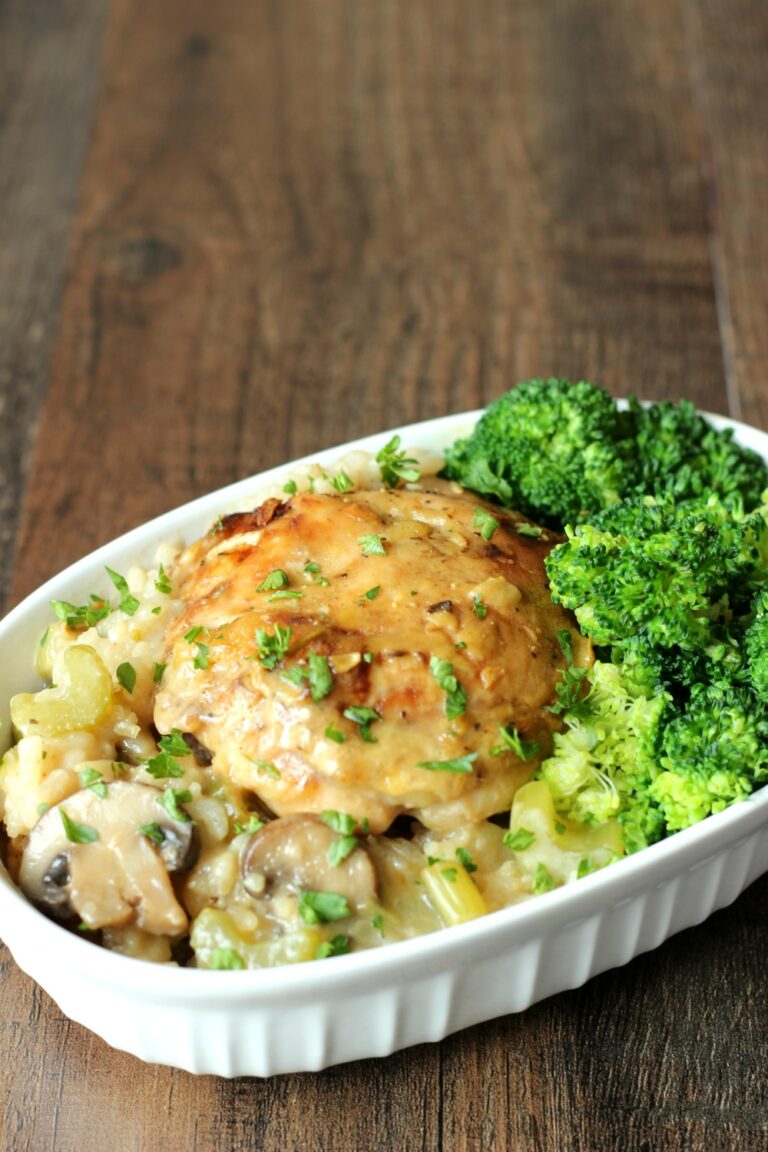 This is one of the BEST chicken and rice recipes out there! Creamy Chicken and Rice Casserole is a family favorite full of flavorful rice and creamy sauce with celery, mushrooms and chicken. It only takes 10 minutes to get it into the oven which makes it perfect for busy nights!  If you have leftovers they heat up well.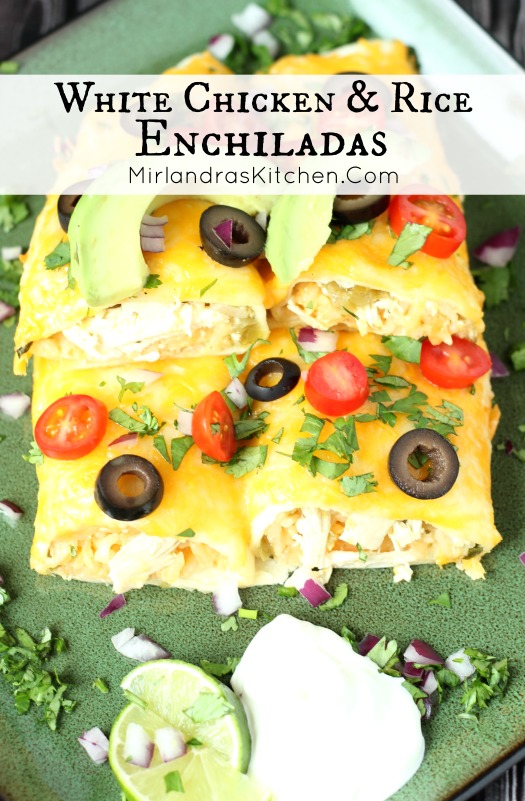 Lots of enchilada recipes out there but we love this CREAMY white enchilada recipe stuffed with chicken and rice. It is a simple dish to toss together from pantry staples.
Instant Pot Chicken and Rice With Mushrooms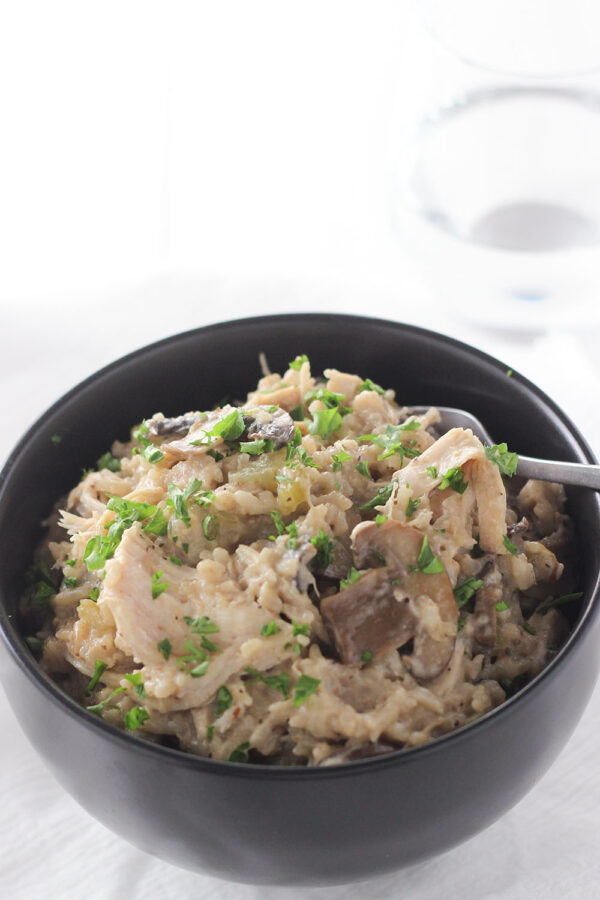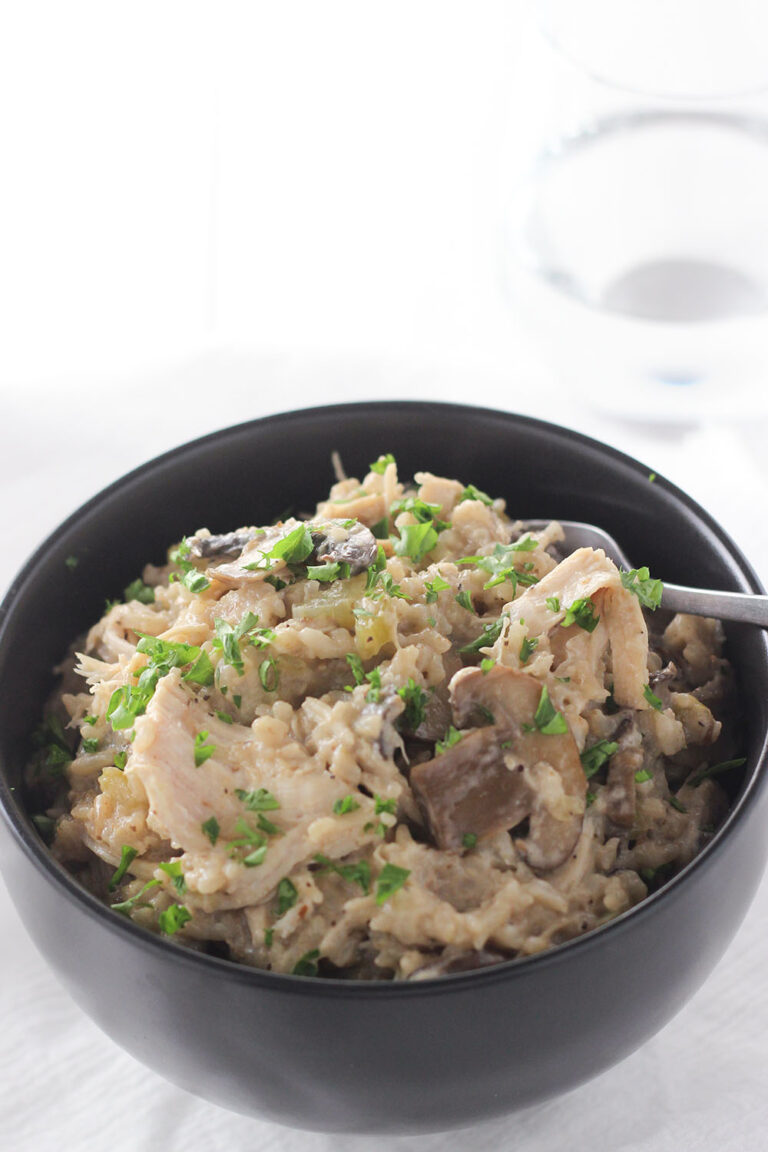 This Instant Pot Chicken and Rice is easy, creamy and comforting. Mushrooms, onions and celery give it a ton of flavor and the recipe is full of real ingredients – no canned soup here! If you don't like mushrooms you can use sliced carrots instead.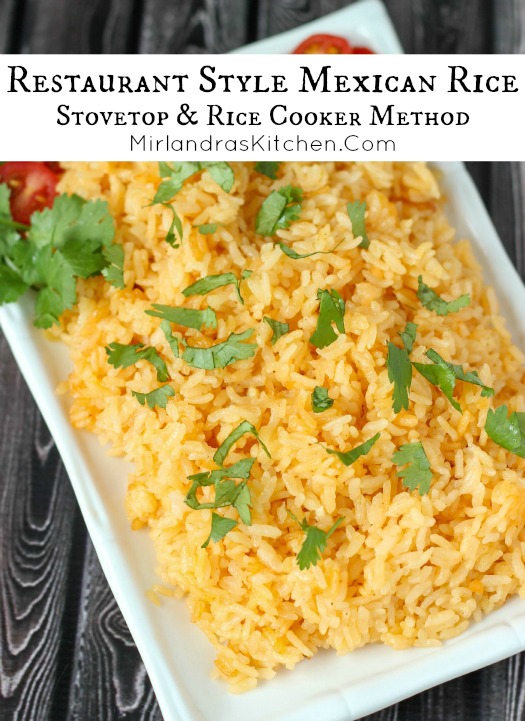 This Mexican Rice is AMAZING! It is buttery and savory just like the best restaurant version you ever ate! You can make it in your rice cooker or on the stovetop. Prepare to be surprised by my genius secret ingredient!
Recipes To Use Up Leftover Rice
We make a lot of rice and sometimes there is even leftover rice in our home. These recipes are GREAT uses for those extra few cups or rice you don't want to throw out. Of course you can always make them with fresh rice too!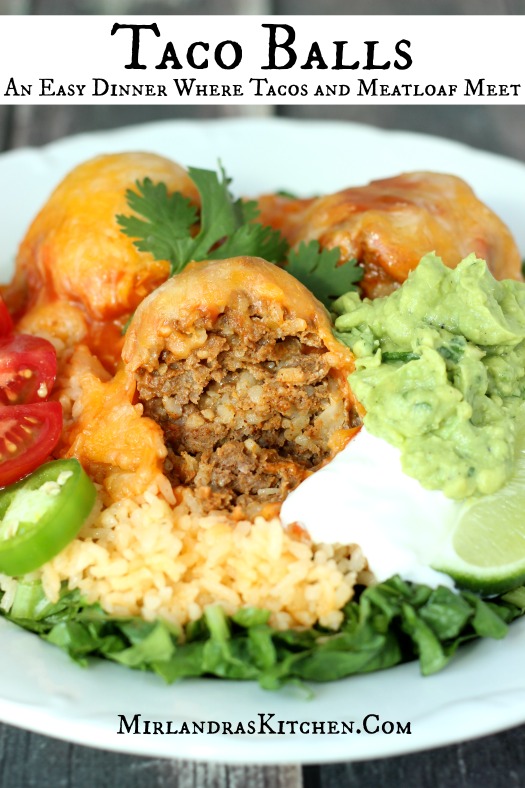 Taco Balls: Think delicious tacos but meatloaf or meatball style.  An easy and sensational dinner that is perfect if you have leftover rice to throw in!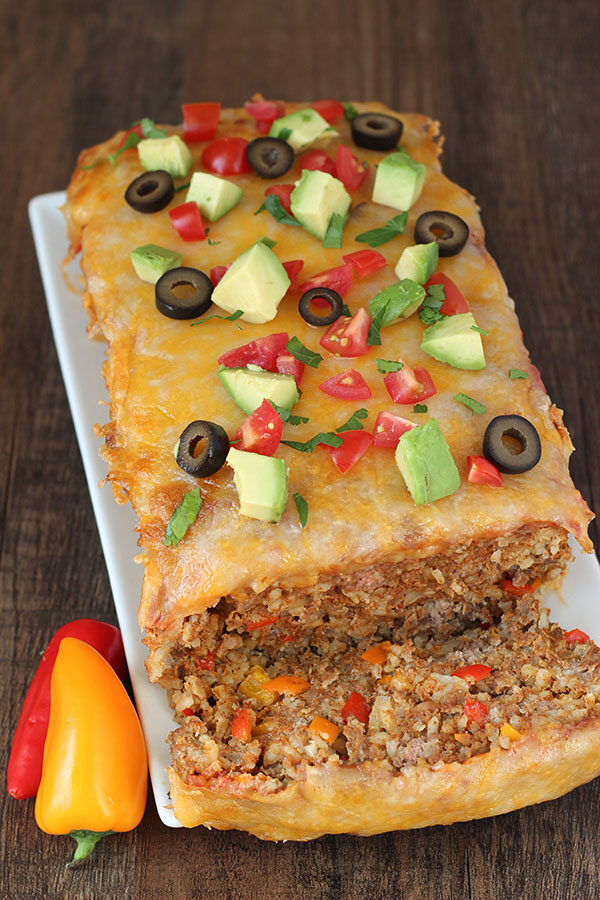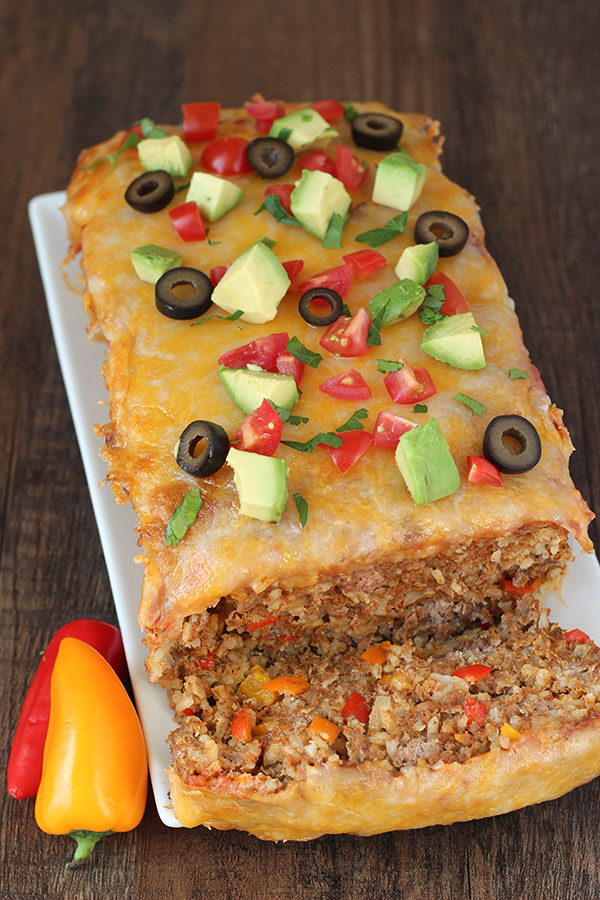 This easy dinner combines delicious Mexican flavors into a moist meatloaf with a cheesy top. It is kid and weeknight friendly, taking only 10 minutes to prep. Make it with ground turkey or ground beef for a gluten free, high protein dinner!  It can be made as a freezer meal and leftovers heat up well.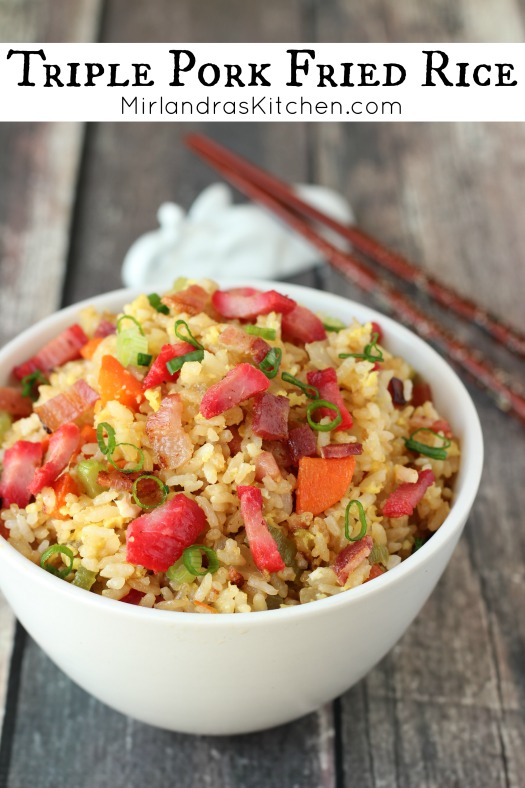 Fried rice is the perfect dinner just because you want fried rice! BUT it is also a great way to clean out your fridge. Go a few slices of bacon or some leftover cooked veggies or a container of steamed rice sitting around? Gather it all up and make a big pan of something nummy! This recipe is a great starting point to teach you the basics of fried rice.
Simple Lentil Recipes
When you are thinking about easy recipes that use beans don't forget lentils! They are high protein and cost effective like beans but a different flavor and texture. I suggest trying brown lentils first and then branching out into other types!
This healthy slow cooker curried lentil soup is the perfect winter warmer. Just 15 minutes of prep gets you a protein packed dinner full of veggies.  Yellow curry is a flavorful and unique twist on traditional lentil soup without getting too exotic.  You can choose to use vegetable stock instead of chicken stock to make it fully vegetarian. 
I learned to make this simple Lentil Soup when I was living in Spain. It is simple but tasty with plenty of flavor! It is also hearty and packed with protein. It's easy to throw together, cheep, and freezes well. You don't need to make it with meat but I like to throw in some sausage, or a ham bone or some smoked pork hocks.
Making Dinner With Few Ingredients
The Food Network has been telling us that dinner needs to be complicated and crazy. The truth is that simple dinners are actually better and bring you more peace and joy.
Don't be afraid to try some new rice and bean recipes and see all the great stuff you can make from the pantry staples you have on hand!
What Do You Do When All The Prepared Food is Gone???
I never thought I would see the day when you couldn't just walk into a grocery store and buy a frozen lasagna or some tater tots. But that day has come this spring.
Now, more than ever before, knowing how to cook from scratch is the most important skill to feed you and your family.
If this is something you need help with come check out The Confident Kitchen. I will get you on the road to easy family dinners in no time at all!