The best baked potato is crispy on the outside like a potato chip and perfectly soft and fluffy on the inside! Friend, you can't get those results with foil!!! I tested too many potatoes to count and figured out the BEST method to make baked potatoes.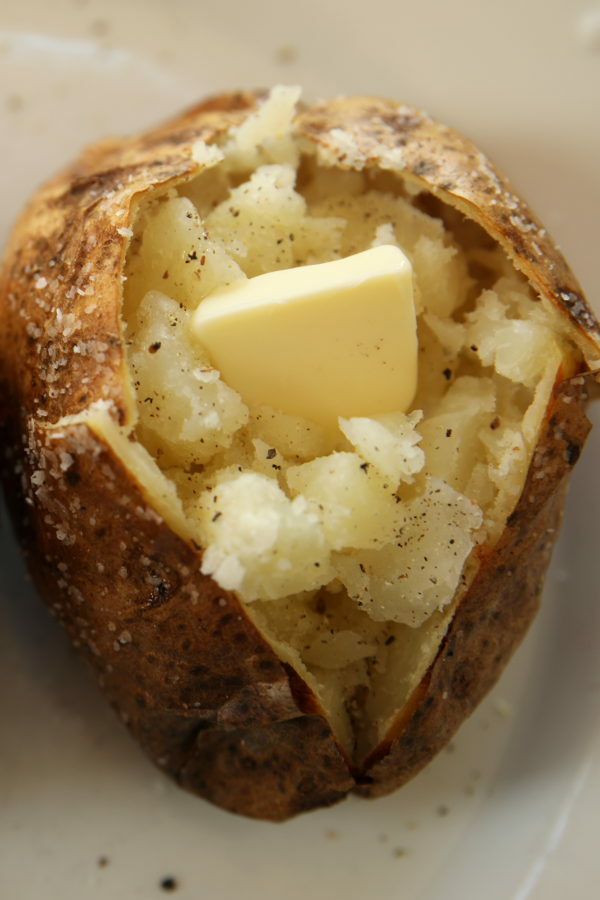 Last year I realized I've been making baked potatoes WRONG forever! My potatoes were dense, wet, and just plain BAD. I thought I knew how to bake a potato but turns out I had a few things to learn!
(Spoiler Alert: There is NO SUCH THING as a great potato in foil! Let's just kill that idea now!)
A perfect baked potato is wonderfully simple and delightful to eat! This is a great skill everybody should have. You won't regret having a perfect baked potato to go with your steak, loaded up as a main dish, or for a simple dinner full of butter or my magical Sour Cream Herb Sauce (included in the recipe).
My Secrets: How to Make Baked Potatoes
It turns out the best baked potato recipe is simple enough your kids can learn to cook a baked potato for dinner!
The very best way to bake potatoes is simply to wash them, bake to the correct temperature, coat with oil / salt and then make sure to cut them open right after so the seam can escape.
I've found that making sure to let the steam out at the end is a BIG deal. If the steam escapes the potato stays light and fluffy inside. If the steam stays in the potato it condenses as it cools making the potato wet, soggy, and can we just say sort of nasty!?!
The Magic Baked Potato Temperature
Over and over I have discovered that using a digital thermometer is the secret to getting food cooked perfectly! Most foods have a "perfect" temperature they should be cooked to and baked potatoes are no different.
I suggest baking potatoes to 205 degrees on a digital thermometer and then brushing on the oil and baking another 10 minutes to crisp up that skin! Owning a good quality digital thermometer that is accurate and quick to respond will make your cooking life significantly better.
How Long Does It Take to Bake a Potato?
The time it takes to bake a potato depends on the size of potato you are baking! I only suggest baking russet potatoes because they have the perfect texture for a good baked potato. Of course russet potatoes come in a bunch of different sizes…
I've weighed different potatoes to estimate how much time you will need to plan on for perfect baked potatoes!
5oz potatoes take about 40 minutes
8oz potatoes take about 45 minutes
10.5oz potatoes take about 60-65 minutes
If you want to know exactly what size your potatoes are a good quality kitchen scale won't set you back very much! (And it is helpful in all sorts of recipes!)
Should Make a Baked Potato In The Oven?
YES! This is the ONLY place you should be baking a potato!
Using an Instant Pot to make baked potatoes is going to get you a steamed, soggy potato
Microwaving baked potatoes also makes soggy potatoes. Microwaves cook unevenly so you have a real problem getting the potato cooked correctly. Sure, it will get cooked but the results are sad. Anything that cooks a potato rapidly (like a microwave) will cause the cells in the potato to actually burst! This releases starch molecules and you get a more gluey, sticky potato instead of a fluffy one!
Slow Cookers also make soggy baked potatoes.
Every method I've seen for using a BBQ to make baked potatoes involves foil! However, to be totally fair I've not tried cooking them on a BBQ! If you can get the heat nice and even and avoid foil this might work? (If you try it tell me!)
Baked Potato Toppings (Making a Loaded Baked Potato)
Having some creative baked potato toppings can make for a great dinner. Heck you can have an entire dinner party economically out of a baked potato bar! Here are my 30 top suggestions to loading up those 'taters 🙂
Butter (I hope this goes without saying but let's list it anyways!)
Salt and Fresh Ground Pepper (yes, classic but try smoked salt to dress it up!)
Bacon
Sausage – you can't go wrong with any meat topping
Roasted Vegetables
Steamed Broccoli
Sour Cream
Sour Cream Herb Sauce
Sauteed Mushrooms
CHEESE! Really any kind: Blue Cheese. Sharp cheddar, medium cheddar, Colby, pepper Jack
Chives or other fresh herbs
Sauteed bell peppers or spicy peppers like Serrano or jalapeno
Pesto
Plain Yogurt / Greek Yogurt
Fresh Salsa
Cottage Cheese
Green onions
Diced sweet onions, red onions, or white onions
Roasted Chickpeas
Spinach and Artichoke Dip
leftover BBQ meats like chicken, sausage, or beef brisket
Black Beans
Hatch Chili or other diced fire roasted chili
Goat Cheese
Queso!
Ranch dressing or other salad dressing
Ketchup (for the child in me who still loves ketchup, ranch and cheddar on a potato!)
Make Extra Baked Potatoes For These Great Meals
If you have a few extra potatoes make more baked potatoes than you need! You can take the extras and make a brand new meal the next day that will make you super happy!
How to Make Baked Potatoes
The key to perfect, fluffy baked potatoes is using the correct oven temperature and the right cooking method. I cooked SO many potatoes to discover this is really the best way to do it! Taking an extra minute to add the oil and salt makes a delicious baked potato skin similar to a potato chip. I also love serving the Sour Cream Herb Sauce with these potatoes (just toss it together while they bake). But if you need more ideas for loading up those taters I've included a list of my 30 favorites in the post!
Ingredients
For Baked Potatoes
4

Russet Potatoes

7oz-9oz is a good size

2

Tbsp.

vegetable oil

Kosher salt
For the Sour Cream Herb Sauce
1

cup

sour cream

1

Tbsp.

freeze dried chives or Salad Dressing Herb Blend

see note

½

tsp

salt

¼

tsp.

coarsely ground black pepper

½ tsp. for pepper lovers
Instructions
Put the oven rack in the middle of the oven. Preheat the oven to 450 F.

Scrub potatoes under running water to remove any dirt.

Use a fork to pierce the potato skin in several places.

Place potatoes in preheated oven and bake until the center of the biggest potato is 205F on a digital thermometer. (This will take 45-60 minutes depending on the size of your potato. See note at bottom of recipe for more details.)

While the potatoes are baking combine the ingredients for the sour cream herb sauce and refrigerate. (Taste before serving and add additional salt if desired.)

Working quickly, remove the potatoes from oven and brush the sides and tops with oil. (If you don't have a brush you can drizzle the oil on but it takes more oil this way.)

Sprinkle salt over the potatoes and return them to the oven for 10 more minutes.

Remove the potatoes from the oven and use a small paring knife to cut an "X" into each the top of each potato. Use a kitchen tongs to grab each potato by the end, cut the "X" and then squeeze the ends together to push the inside of the potato up and out.

Serve immediately with your favorite toppings. (See the post for my favorite 30 toppings.)
Notes
Potato Cooking Times:
The time it takes to cook a potato is dependent on size. I have found these times to be true in my oven.
5oz potato 40 min
8oz potato 45 min
10oz potato 55 min
10.5oz potato 60 min
Herb Mixes for the Sour Cream Herb Sauce
I've found Lighthouse brand Salad Dressing Herb Blend available in many grocery stores (produce section). This is a great blend of parsley, red onion, chives, shallots, garlic and dill. If I have this on hand, I use it in my sour cream herb sauce. If not I use chives or whatever else I do have. Any herbs will make a great sauce.
Nutrition
Calories:
343
kcal
|
Carbohydrates:
40
g
|
Protein:
6
g
|
Fat:
19
g
|
Saturated Fat:
13
g
|
Cholesterol:
30
mg
|
Sodium:
347
mg
|
Potassium:
969
mg
|
Fiber:
3
g
|
Sugar:
3
g
|
Vitamin A:
358
IU
|
Vitamin C:
13
mg
|
Calcium:
91
mg
|
Iron:
2
mg
Nutrition Disclaimer
MirlandrasKitchen.com is written to share great recipes. While we do our best to provide nutritional information as a general guideline, we are not registered dietitians and the values provided here should be considered estimates – not exact scientific data.