These sweet, crunchy cinnamon roasted chickpeas deliver in the snack department! You only need four ingredients for this healthy, high protein, gluten free and vegan treat!  This is an easy snack to make from your pantry staples and a fun introductory cooking project for kids.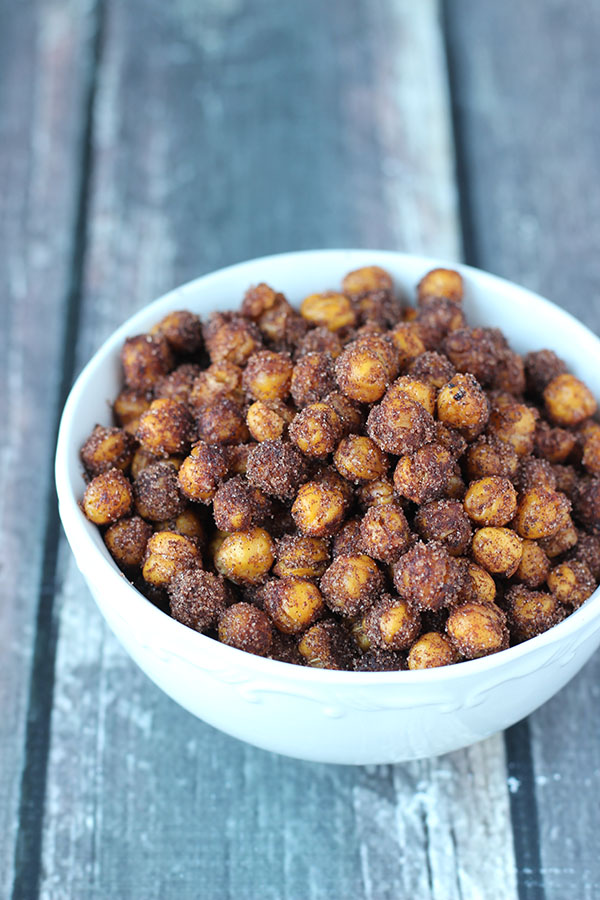 Roasted chickpeas are simple, healthy comfort food!  They have a satisfying crunch and a lovely sweet flavor that may even "trick" your kids into eating a pile of veggies.  For that matter they might "trick" YOU into eating a pile of veggies!  
My life revolves around a chaotic mixture of toddler adventures and long work hours. I like my food to be delicious, fast, full of protein and something my kids will also be happy to gobble up.
Chickpeas have become trendy in recent years but they have been a food staple forever!  In the 80s my mom and her plant breeding friend were growing chickpeas on our farm.  I remember discussing genetic traits and helping plant row after row of chickpea seeds as they experimented.  It sounds pretty geeky but I had a great outdoorsey childhood in Oregon.  
What's So Great About Cinnamon Roasted Chickpeas? 
Are chickpeas healthy?  YEP!  In a world full of questionable snacks chickpeas are a simple win.  Chickpeas are a healthy snack that still tastes good. 
Chickpeas are packed to the gills with both protein and fiber
Chickpeas are cheap! 
Chickpeas are an easy pantry staple to keep on hand!
Chickpeas are friendly for people with food allergies.
Chickpeas are vegan and gluten free
Pack this great snack for travel, park trips, work lunches.  Make it for parties or just at home with your kiddos.  
How Do You Make Crispy Chickpeas?  
The most important part of a good roasted chickpea recipe is making sure to get them crispy!  Try these three tips to get the crispiest chickpeas!  
Rinse them well and then FULLY drain them and then DRY them super well. The less moisture from the beginning the better.
 Try removing the skins before baking. This lets them crisp up better.
Some people recommend storing chick peas without a sealed lid. They say this maintains crispiness longer.  This depends partly on the place you live. If you live in a very dry climate it should work well here. When I lived in the valley of Oregon it was fairly humid and there we had to be careful things didn't become too moist when left uncovered.  You can experiment and see what works best in your climate.  
Easier Clean Up For Roasting Chickpeas
Using a silicone baking liner makes for much easier clean up after this project.  I find them handy in the kitchen in general.
Garbanzo Beans VS Chickpeas
Garbanzo Beans and Chickpeas are different names for the same bean.  We use the names interchangeably in the US.  The word "garbanzo" is derived from Spanish while the name chickpea comes from Latin.  Both names refer back to the plant with the scientific name "Cicer arietinum."  
ARE YOU CONFIDENT IN YOUR KITCHEN? I teach busy moms How to Cook the Perfect Family Dinner EVERY Night in 30 Minutes or Less Without Being Stuck in "Kitchen Jail." Want to learn more? Come check out my class, The Confident Kitchen!
Cinnamon Roasted Chickpeas
Delicious and crunchy, Cinnamon Roasted Chickpeas are an easy snack to make from your pantry staples and a fun introductory cooking project for kids.  Bonus you can enjoy crunching up your veggies!
Ingredients
2

cans of garbanzo beans

15oz each (another name for chickpeas)

2

Tbsp.

olive oil

4

Tbsp.

brown or dark brown sugar

2

Tbsp

cinnamon

¼

tsp.

salt

optional
Instructions
Preheat the oven to 400 F. Line a standard cookie sheet with parchment paper or a silicone baking mat.

Drain and rinse the chickpeas well. (REALLY WELL). Remove the skins. (This extra step results in dryer, crispier chickpeas)

Pat the chickpeas dry with paper towels. Make sure to pat firmly and remove as much moisture as possible.

Put the chickpeas on the prepared baking sheet and bake at 400F for 15 minutes. Meanwhile mix the sugar, cinnamon and salt together.

Remove from the oven and drizzle the oil of the chickpeas, stir or shake the pan to coat evenly and then sprinkle on the cinnamon mixture. Again roll or stir to coat and place back in the oven for 15 more minutes.

For the crunchiest chickpeas turn the oven off after the second round of baking and leave the chickpeas inside. Use the handle of a wooden spoon to crack the oven door open a bit.

After the chickpeas have cooled place in an airtight container and store at room temperature. Keep in mind that the longer they are stored the less crunchy they will be.

Multiple Batches: Do not overly crowd the chickpeas on the baking sheet. If you want to double this recipe use another sheet.
Nutrition
Nutrition Facts
Cinnamon Roasted Chickpeas
Amount Per Serving
Calories 378
Calories from Fat 63
% Daily Value*
Fat 7g11%
Sodium 119mg5%
Potassium 16mg0%
Carbohydrates 64g21%
Protein 10g20%
Calcium 39mg4%
Iron 0.3mg2%
* Percent Daily Values are based on a 2000 calorie diet.
Other Easy Snacks to Love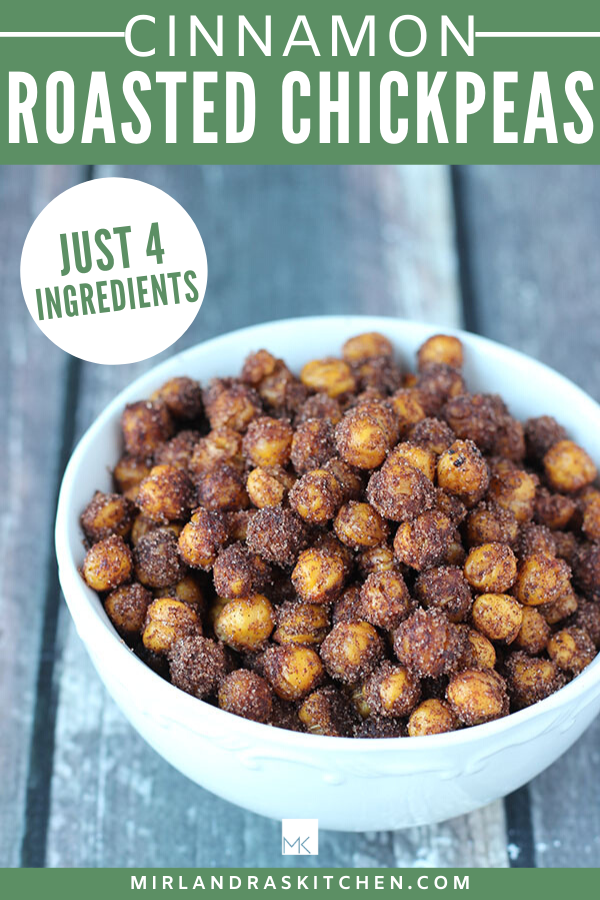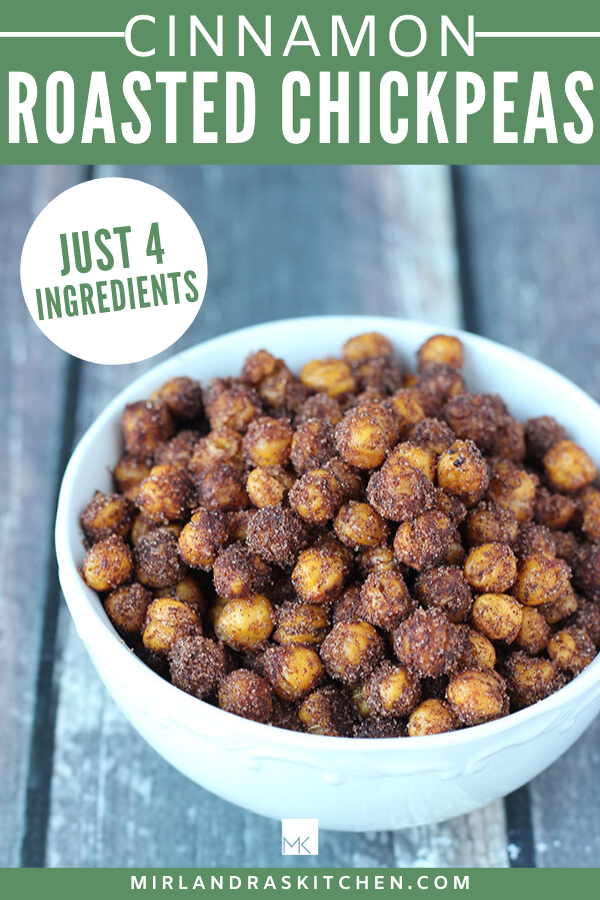 This recipe was originally published in January of 2017.  It has been updated in March of 2020  to include more information and tips.