I grew up on this easy poor potato hamburger casserole. It is full of high quality but cheap protein and very tasty. Sometimes I make it just to eat it leftover.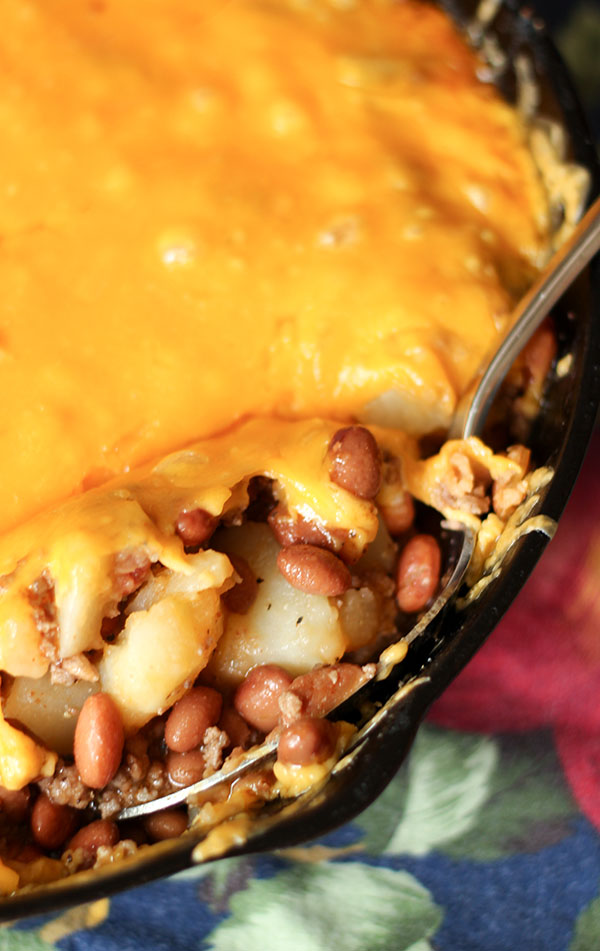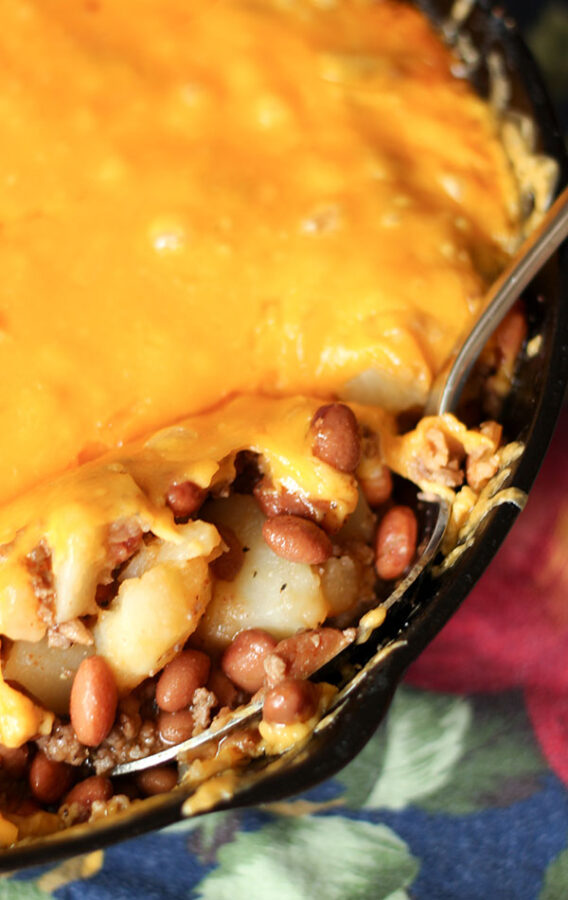 Do you have a favorite casserole from childhood that you make again and again? Poor potato hamburger casserole is mine.
The name is terrible! I tried to give it a new name for this post but it felt like sacrilege to rename such a staple of my youth.
Everybody Makes Poor Potato Hamburger Casserole Their Own Way
My parents made it differently. Mom would fry up onions with the hamburger – lots of onions and she was flexible about using whatever she had at hand. "Poor Potatoes" sometimes had rice and no potatoes! Dad used whatever was in the fridge, but he made sure there was plenty of ketchup. The cohesive theme was starch, beans, cheese and hamburger.
Hamburger Casserole Is a Cost Effective Staple
Of all the things I ate growing up, this one stuck with me. In college I used to make a big batch of it, and put the entire thing in the fridge. I would eat it for a week. There was not a lot of variety but it was tasty, quick, filling, cheap and comforting.
These days I make a slightly more grown up version, but really it is just a riff of the basic dish my parents.
I use chili beans add a set of background flavors that give it a little bit more depth than plain beans while keeping preparations simple.
What is The BEST Cheese for Hamburger Casserole?
My parents always put yellow cheddar cheese on top and I usually stick with it.  I will say that Tillamook,  my favorite cheese company, has a new medium white cheddar that is a great alternative.
Feel free to shake up the cheeses for fun.  Mexican blend cheese is always good here!
Hamburger Casserole Pairs Well With Ketchup 😉 
The only other requirement is that you must serve it with ketchup. Honestly, that is the only way you can eat it! 
Cast Iron Skillets Are Perfect for Hamburger Casserole 
One of the kitchen tools I can't live without is a Cast Iron Skillet.  It is great for casseroles, baking bread, and everyday cooking!
I'm still using pans inherited from my grandmother but if you need to buy a new one Lodge offers good quality at a good price!
If you like this, I suggest my 30 Minute Beef Minestrone Soup, also with hamburger!  It is one of my go to meals all winter long!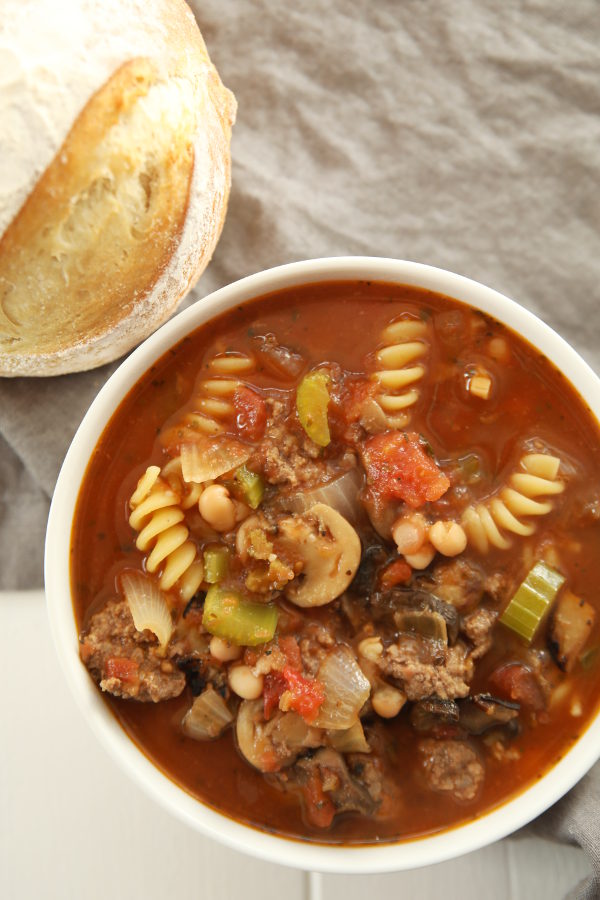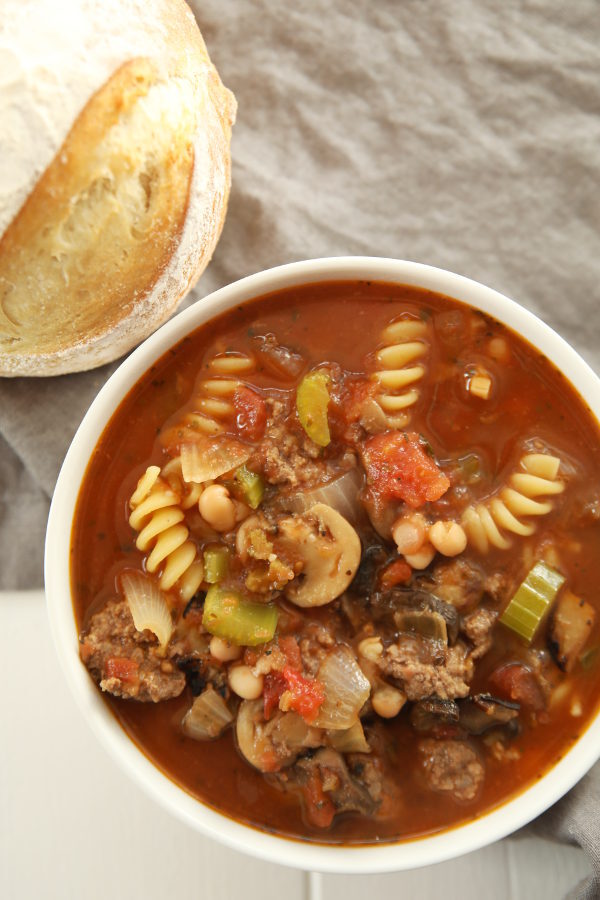 Poor Potatoes Casserole
Ingredients
1 1/2

pounds

ground beef

20% fat or less

1 1/2

pounds

of potatoes

1

can of chili beans

any brand (15.5oz)

1

can of your favorite beans

drained (15.5oz) - my favorites are pinto or kidney beans

1

teaspoon

of black pepper

15

oz

of grated cheese

cheddar, white cheddar, pepper jack, etc.
Instructions
Put a medium sauce pan of water on high. Peel potatoes and cut into chunks about the size of grapes. When the water boils, add potatoes and simmer over medium-high until cooked through. This will take 20-25 minutes.

While potatoes cook, heat a large cast iron skillet on medium high. Add the hamburger, turn down to medium and stir occasionally until beef is browned.

Preheat the oven to 350 F.

Add the can of chili beans (include all sauce in can) to the beef. Drain the other can of beans and rinse with water. Add to the beef.

When the potatoes are fork tender drain them well. Add potatoes and pepper to the beef mixture. Stir gently to combine. Spread to make an even layer in the skillet.

Top with cheese and bake in preheated oven until casserole is hot through and cheese is melted and bubbly, about 15 minutes.

Check to make sure the center is hot. If you are using a thermometer, it should read 160F.
Notes
You can substitute leftover mashed potatoes if you wish. Warm them up and layer them on top of the beans/beef. Top with cheese and continue as directed.
This can be baked in an ovenproof cast iron skillet or any similar sized casserole dish. If you do bake it in the skillet, remove any leftovers to a different container. It is not good for the cast iron to have a casserole sit in it for days.