This Beef and Bean Chili is hearty and satisfying even for the most dedicated carnivore. Fresh corn adds a special flavor. Ready in 30 minutes.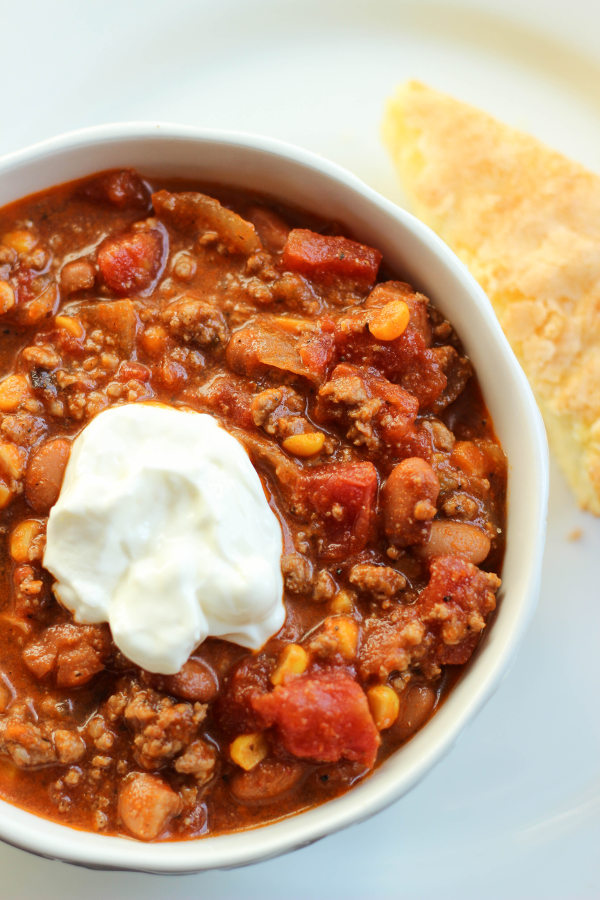 This Beef and Bean Chili is my crowd-wowing recipe. Everybody loves it and you can make it in 30 minutes. It also freezes like a charm so I keep some on hand to deal with life's curveballs. There has been more than one dinner saved with this meal when an activity ran over and I did not have the time I expected to prepare dinner.
Last night we had a few good friends over for dinner. I served this chili and they raved about it, which they told me was a surprise. It turns out they have been victims of bad chili more than once and had come to the conclusion that in general they did not like chili.
How to Make Great Beef and Bean Chili
Here is the thing about chili. People try to add a ton of spice or cook it all day to build lots of flavor. You don't have to do either. In fact, those are both a risk. Even spicy chili should be flavorful – not just spicy. When you cook something all day you risk cooking the flavor out of the meat and other more delicate ingredients.
My mom is a great chili cook. Her secret ingredient is sugar.  The sugar is for the tomatoes. A chili's base flavor is tomato.  The quality and flavor of the tomatoes used effects the entire batch. Commercially canned tomatoes have generally not finished ripening.  This gives them a sharper flavor.  The solution is to adjust with sugar. You will be amazed at the difference a little sugar makes in the batch. If you feel hesitant about the sugar, add 1 Tablespoon and taste it. Then, consider adding the rest of the sugar. I think you will be very impressed!
What to Serve With Beef and Bean Chili
Of course, if you are going to make chili you probably need a batch of corn bread. I have a incredible recipe for that too so today will be a double post day! Have some friends over for a chili night and knock their socks off!
Beef and Bean Chili
Ingredients
2

cans of Italian stewed tomatoes

14.5oz each

2

cans of diced tomatoes

28oz each

4

Tablespoons

chili powder

2

Tablespoons

cumin

1

Tablespoon

coarsely ground black pepper

2

Tablespoons

granulated garlic

2

Tablespoons

Knorr chicken bouillon

1

Tablespoon

sugar

OPTIONAL, use as needed

2

cans chili beans

15.5oz each - I use all the sauce

1

large onion

1

oil for sautéing onion

2

lbs

hamburger 15%

2

ears of raw corn on the cob

can use 1 cup of frozen - notes
Instructions
Open the cans of stewed tomatoes and use a kitchen scissors to snip them tomatoes into smaller chunks while they are still in the cans.

In a large soup pot put stewed tomatoes, diced tomatoes, chili powder, cumin, black pepper, garlic powder, chicken bouillon, sugar and beans. Bring to a boil over medium-high heat. When it boils, turn it down to a simmer.

Meanwhile, chop the onion into 1/2" pieces. Add oil to cast iron frying pan and heat over medium-high heat. Add onion and sauté until onion is golden brown and slightly softened. Add onion to the tomato mixture.

Brown hamburger in cast iron skillet over medium-high heat. When it starts to sizzle vigorously, turn heat down to medium and stir occasionally until no longer pink.

While the hamburger cooks, use a sharp knife to slice the corn off of the cob. Add the corn and hamburger with all of the juices.

Simmer chili for 10 minutes.

The chili can be served right away, but it is also great to let it sit a few hours or until the next day. It will be more flavorful. This makes a great freezer meal.

Note: If there is no corn on the cob in the store, you can substitute 1 cup of frozen corn. Look for a brand with young, tender kernels that have a bit of crunch to them.
Nutrition
Nutrition Facts
Beef and Bean Chili
Amount Per Serving
Calories 376
Calories from Fat 9
% Daily Value*
Fat 1g2%
Sodium 92mg4%
Potassium 172mg5%
Carbohydrates 7g2%
Protein 2g4%
Vitamin A 1607IU32%
Vitamin C 1mg1%
Calcium 38mg4%
Iron 2mg11%
* Percent Daily Values are based on a 2000 calorie diet.