This recipe for moist and sweet skillet cornbread is always a winner. A sprinkling of sugar on top makes a sparkly crust. Recipe for honey butter included.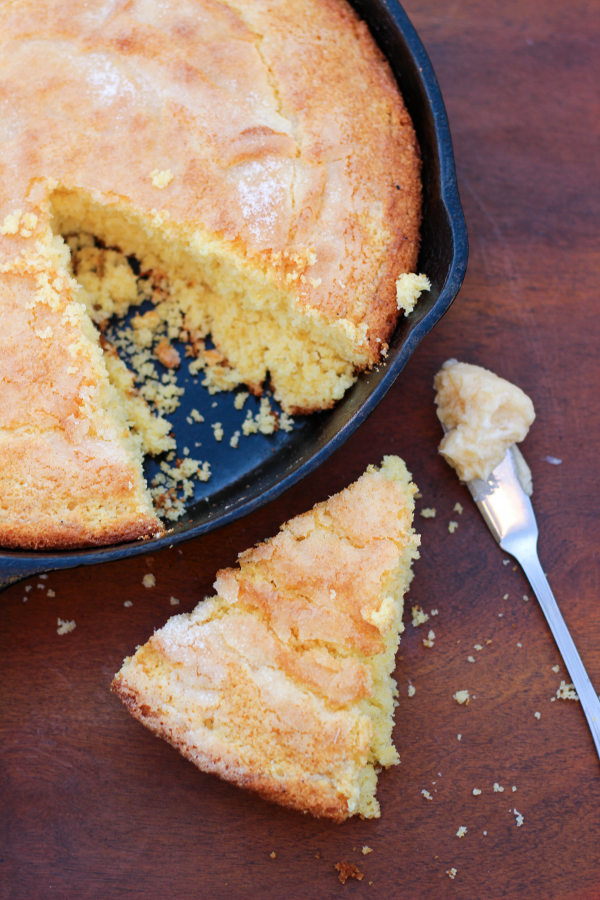 A few years ago my brother had us over for dinner. He served chili and cornbread. This is a family favorite so I was not the least surprised. Well, until I ate the cornbread that is. This sweet skillet cornbread was unlike any I had ever had.
We grew up with standard northern cornbread if my mom was cooking or Jiffy corn muffin mix if Dad was. This was different – sweet and flavorful and amazing! I was in love and Merlin graciously gave me the recipe, something he had acquired from a friend at school.
I make sweet skillet cornbread with a richer base and a light, crunchy sugar crust that is sparkly and beautiful when you serve it. The crust is the first hint that this is something different and special. It tickels me no end to bring this out whenever I serve cornbread with something.  It is easy to make so I serve it to company a lot – then I wait for them to take the first bite.  It never fails, somebody is always SO surprises.  This is one of the great cornbread recipes – no question.
Of course, cornbread demands honey butter so I have included instructions for that as well. Enjoy making this with a great batch of Beef and Bean Chili!
Sweet Corn Bread and Honey Butter
Ingredients
Butter to grease the pan

1

cup

flour

1

cup

yellow corn meal

¾

cup

sugar + 1 Tablespoon sugar for top crust

1

teaspoon

salt

3

teaspoon

baking powder

1

egg

beaten

1/2

cup

milk

1/2

cup

cream

½

cup

butter

melted
For Honey Butter
1/2

cup

butter at room temperature

1/4

cup

honey
Instructions
Preheat oven to 400 F.

Generously butter a medium-sized cast iron skillet. (At least 10" across.)

Combine flour, corn meal, 3/4 cup sugar, salt, and baking powder in a mixing bowl.

Add wet ingredients on top, stir just until combined.

Add batter to buttered cast iron skillet. Scatter 1 Tablespoon of sugar on the top of the batter to form sparkly crust. Bake at 400 degrees for 25-30 minutes.

Remove from oven when the corn bread is just baked. It should have some moist crumbs on a toothpick or cake tester but not actually be wet. Edges will start to brown and pull away slightly from the sides of the pan. Overcooking will make it dry.

To make the honey butter, stir butter and honey together until mixed.