These fresh Strawberry Basil Margaritas are full of sweet strawberries, tart lime, citrus tequila and just a hint of spicy basil. Homemade margaritas are easy to whip up for Cinco De Mayo or a BBQ with friends. You don't need a blender or any special equipment to make these luscious on the rocks cocktails!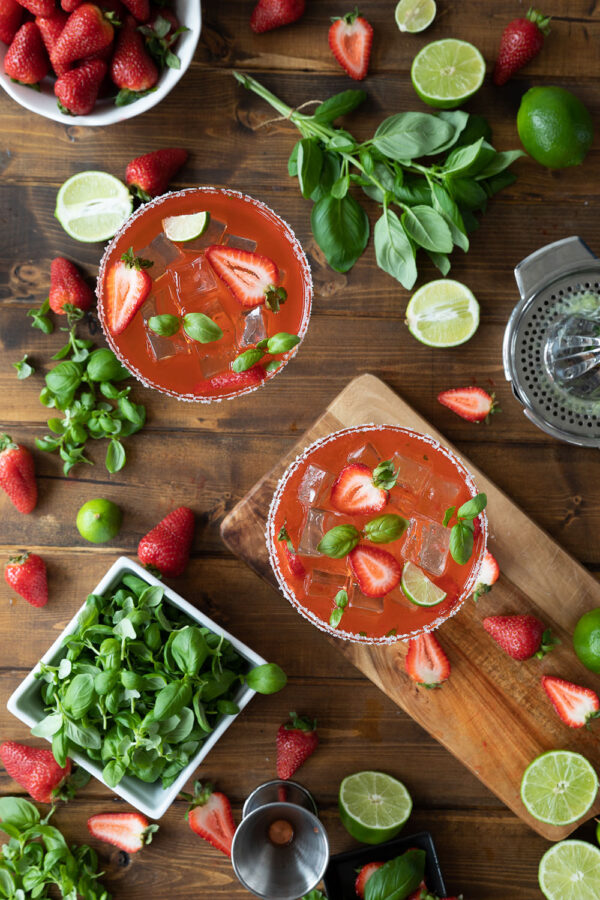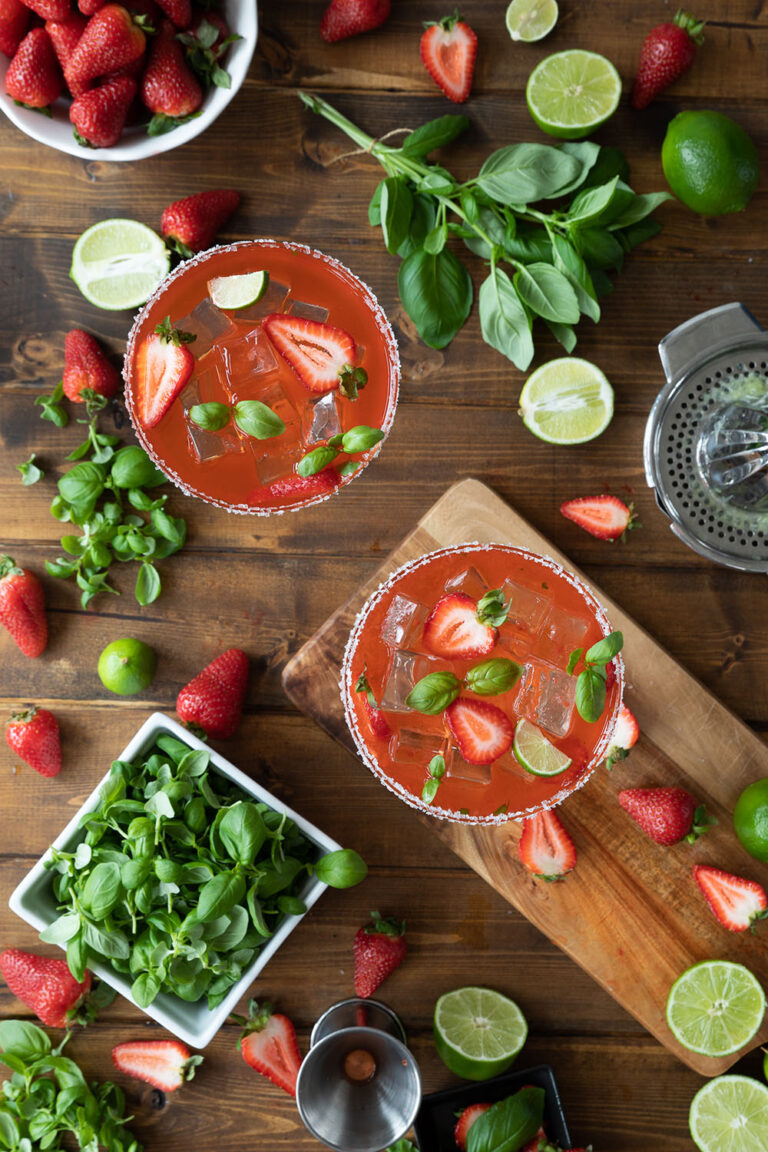 How to Make a Perfect Margarita
A margarita is a tequila based cocktail made with triple sec and lime juice. It is often flavored with fresh fruits and sometimes even fresh herbs! Margaritas can be shaken in a cocktail shaker and served on the rocks or they can be blended with ice. Both are a wonderfully refreshing and stylish cocktail option perfect for parties, girl's nights, BBQs and Cinco de Mayo.
The perfect margarita starts with top shelf ingredients. To figure out the formula for the best strawberry margarita I tested many combinations of ingredients to get that perfect tart/sweet/spicy margarita flavor.
My girl friends were happy to help and we spent an evening tasting about 10 different iterations while I tended bar at my kitchen island. We compared frozen limeaid concentrate to fresh squeezed and bottled lime juice. I muddled basil with berries in different ways. We sampled different brands of strawberries and used different ways of sweetening the cocktail. One friend even suggested we try making a keto margarita without any added sugar (don't try that with mediocre strawberries)! I brought out multiple kinds of tequila and we played around to see what tequila went best with strawberries and basil.
In the end taste testers agreed strongly on several things. Frozen limeade concentrate was a bad idea. Citrus flavored tequila was a win. And the strawberries HAD to be sweet. As in fresh, ripe, quality berries like you would grow in your own garden.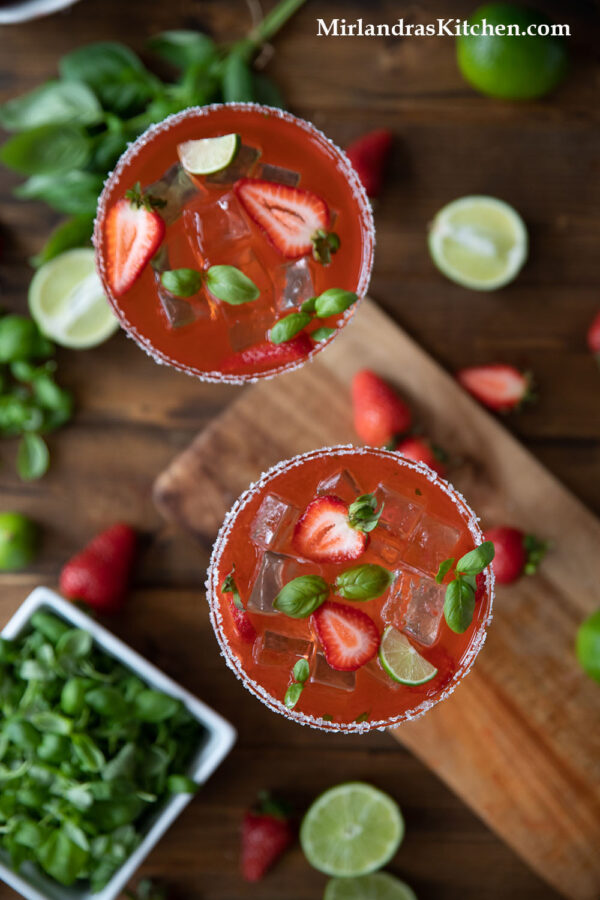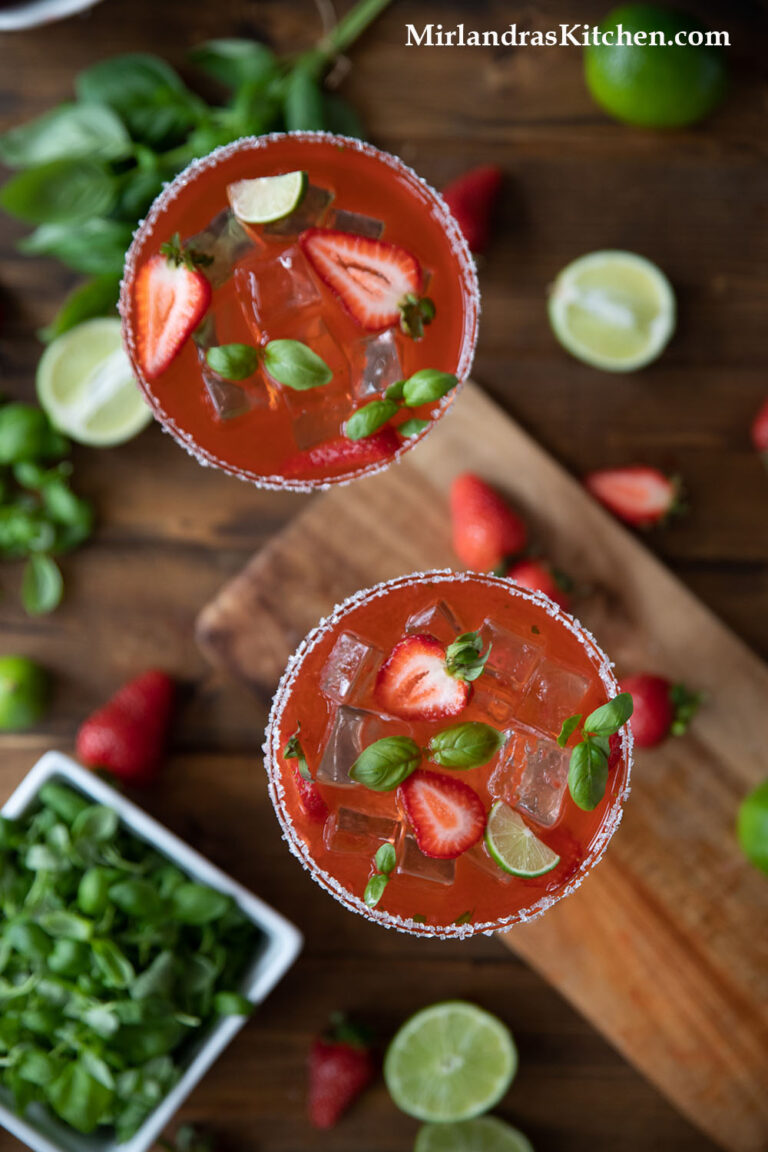 Ingredients In a Good Margarita
When you make a homemade margarita you get to add REAL strawberries and fresh squeezed lime juice and delicious basil. The finished product tastes like the ingredients it was made with.
During recipe testing I tried several varieties of store bought strawberries… in January… Can I just say that buying strawberries in January in Idaho is a sad experience. I found some that were decent and a lot that looked pallid and tasted worse. To compensate I had to add a lot of sugar to the drink and it tasted sweet – not like fresh, juicy berries.  Finding great, sweet strawberries is key in this recipe! 
Restaurant vs Homemade Margarita
One of the few cocktails I will regularly order in a restaurant is a frozen strawberry margarita. They are sugary and sweet and I love them as an occasional indulgence. But really it is no relation to a true fresh fruit margarita.
If you want a delicious strawberry cocktail try making one at home. It is also a healthier option. Frozen restaurant margaritas run almost 500 calories. This homemade version is under 250 calories and actually tastes like it has fresh ripe strawberries in it! (Because it does of course.)
How To Make a Virgin Margarita
Now I'm ALL about some good tequila! But I also have little kiddos who love a good fresh strawberry drink! You can absolutely make younger family members or your designated driver a virgin margarita with this recipe! Just leave out the tequila and triple sec. Since the alcohol adds a touch of sweetness to this drink taste your virgin margarita and make sure it is sweet enough. If not, an additional teaspoon or two of simple syrup should take care of it. You can also add an ounce or two of water if the drink feels too strong without the alcohol.
The Best Tequila for Margaritas
Buying the right alcohol and sticking to your budget are primary concerns anytime you are making a cocktail. The goal is to buy the right kind of liquor for the flavor you want without breaking the bank. While the top shelf bottles usually look tempting the truth is that there is a good liquor option for every budget.
Liquor stores usually arrange their product by cost with the cheapest bottles closest to the floor and the most expensive bottles on the top shelf. (Thus the expression top shelf liquor.)
I usually suggest you avoid most of the bottom shelf – it simply won't make a good cocktail! I do own a bottle of bottom shelf vodka but I use it for disinfecting and cleaning – not drinking!
You don't need top-shelf tequila to make a great Margarita as great margaritas get most of their flavor from fresh ingredients. I suggest looking in the $17-$20 a bottle price range. For a fruit or herb margarita like this one, a silver (clear) or citrus tequila is ideal. It will compliment but not overpower the flavor profile you want. Tarantula Azul is a good tequila for margaritas. A bottle will run you around $18 so it won't break the bank but it is nice enough to compliment your drink.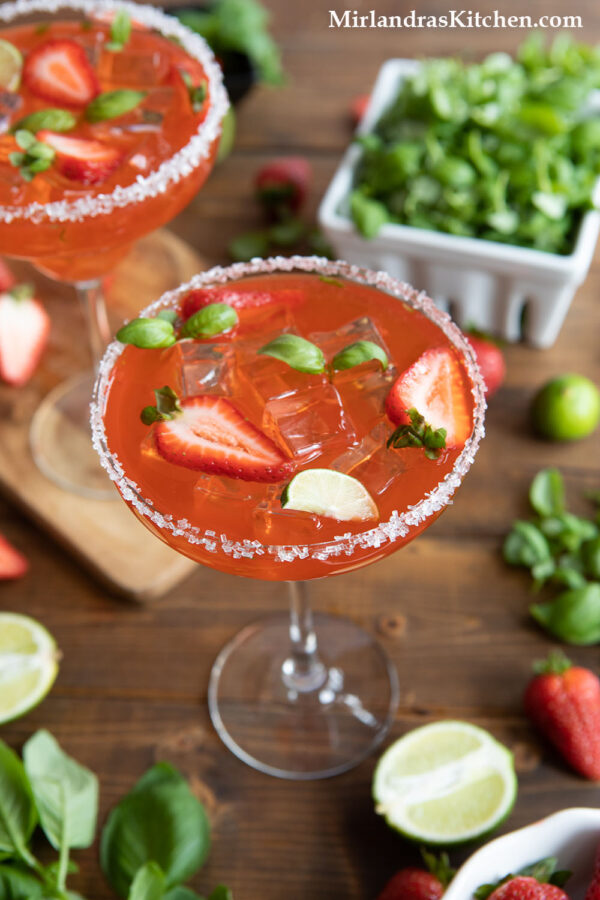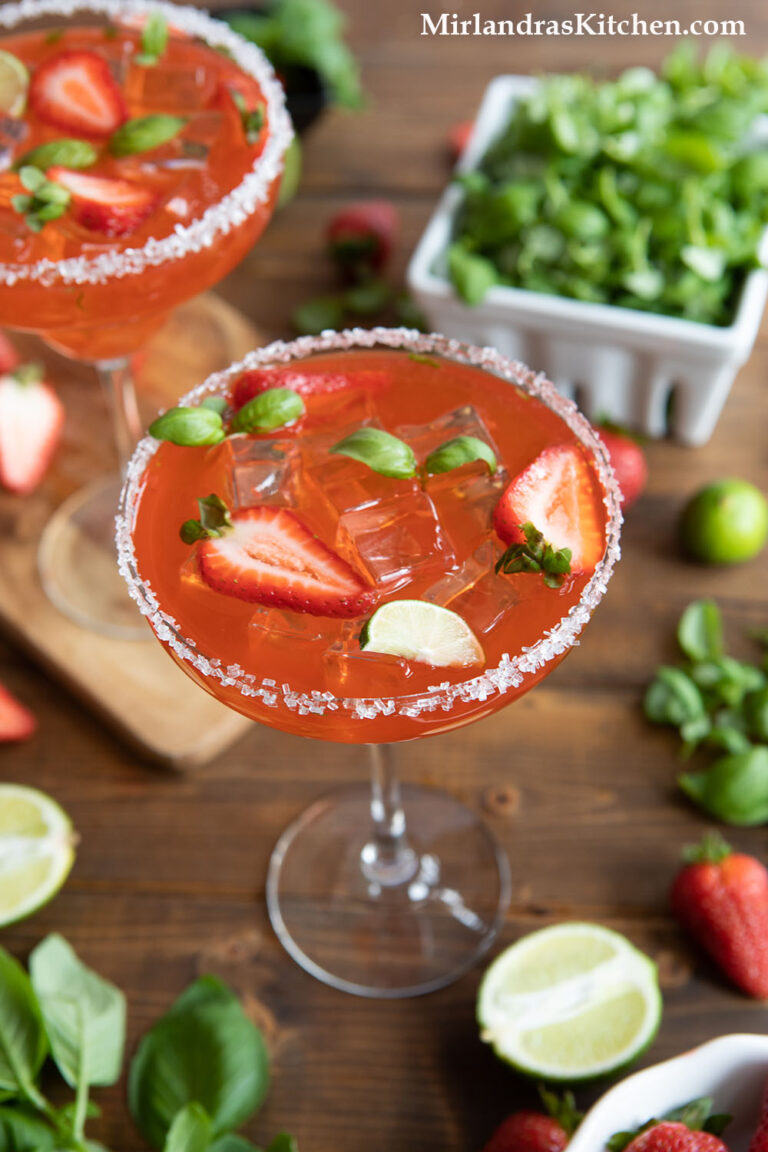 What is Triple Sec?
Most margarita recipes call for a small amount of either triple sec or Cointreau. When I was new to cocktail making I wasn't quite sure what to think about either of these ingredients.
Triple sec is a clear orange liqueur with a strong sweet flavor. Cointreau is a specific, high end version of triple sec. It is delicious but can easily cost $40 a bottle. I enjoy having a bottle and it does last forever but you don't need to spend that much if you don't want to.
If your recipe calls for Cointreau, feel free to swap it out for a less costly triple sec. I like the Monarch brand of Triple Sec partly because it is made in Hood River, OR but mostly because it has lovely flavor at a reasonable price. Monarch Triple Sec has a 15% alcohol content.
What to Use Instead of Triple Sec
If you are making a virgin margarita or want to get the orange flavor without using triple sec you can use a few tablespoons of good quality orange juice but it is not an exact substitution. You can also try using a small amount of orange oil, extract or zest. Just be careful! These can be potent ingredients.
How to Properly Muddle Herbs
In cooking, muddling is simply a technique to release flavor from fresh herbs and fruits. It is a common step in cocktail making.
If you don't have a muddler, use the handle end of a wooden spoon or other wooden kitchen tool.
Making Your Own Simple Syrup
Simple syrup can be bought in the cocktail section of most grocery stores but it is easy and cheaper to make your own! 
What Are Microgreens?
I am a child of the 80s and grew up sprouting seeds in the hot water heater closet and then eating the sprouted seeds on sandwiches. I'm sure not everybody in the 80s was doing that, but my mother was!
Microgreens are essentially the same concept. Various types of seeds are sprouted and grown into shoots and then harvested. Generally they are higher in nutrition and pack a wonderful punch of flavor. Chefs in high end restaurants use them to garnish dishes with a pop of bold color. This is an emerging food trend to keep an eye on!
Microgreens have become very trendy recently and I've been seeing them pop up all over. The greens have a strong, spicy basil flavor when you bite into them and your mouth explodes with the herb. They add a excellent punch of flavor to this cocktail recipe and are also wonderful in pasta dishes, pesto, and salads.
Food That Goes Great With Margaritas
Other Fresh Margaritas and Cocktails You Can Make At Home
Strawberry Basil Margarita On The Rocks
These tasty strawberry margaritas have plenty of juicy strawberry flavor balanced by tart lime juice, bold citrus tequila and a hint of spicy basil. Watch the recipe video above or check out the tips in the post to learn how to perfectly muddle a cocktail.
Ingredients
6

strawberries

diced

1/3

cup

basil microgreens or leaves

see note

½

oz

simple syrup

see note

1

oz

lime juice

fresh squeezed

2

oz

citrus tequila

such as Tarantula Azul

½

oz

triple sec

1

cup

ice cubes

additional to serve

decorating sugar or margarita salt to rim glass

optional

lime wedges, basil leaves, and strawberries

optional garnish
Instructions
Rub a cut lime around the rim of your margarita glass. Dip the wet rim of the glass in decorating sugar or margarita salt. Set aside.

To a cocktail shaker add diced strawberries, basil microgreens or leaves and simple syrup. Pro Tip: Try crushing the basil gently in your hand before you toss it into the shaker.

Muddle by pressing down lightly and giving a few gentle twists. The drink is successfully muddled when you smell the fresh basil.

Add lime juice, tequila, triple sec and ice.

Shake, strain and pour over ice in a rimmed glass. Garnish with slices or wedges of limes, fresh basil leaves, and sliced strawberries if desired.
Notes
Basil:  If you can't get basil microgreens in your area you can use a handful of fresh basil leaves instead.  Don't use freeze dried basil, frozen basil or dry basil from your spice cupboard. 
How to make simple syrup:  Simple syrup can be bought in the cocktail section of most grocery stores but it is easy and cheaper to make your own! 
In a small sauce pan bring ½ cup of water and ½ cup of granulated white sugar to a boil over medium heat.  Continue to simmer, whisking once or twice until the sugar crystals have dissolved and the syrup is clear with a faint yellow tinge to it. 
Allow to cool and use as directed for cocktails, fresh lemonade, fresh limeade or in your tea!  This stores in the refrigerator indefinitely.  I store mine in a mason jar with a plastic screw cap to keep it handy for cocktail emergencies. 
Nutrition
Calories:
238
kcal
|
Carbohydrates:
17
g
|
Sodium:
11
mg
|
Sugar:
15
g
|
Vitamin C:
8.5
mg
|
Iron:
0.5
mg
Nutrition Disclaimer
MirlandrasKitchen.com is written to share great recipes. While we do our best to provide nutritional information as a general guideline, we are not registered dietitians and the values provided here should be considered estimates – not exact scientific data.