Great guacamole is easy – six ingredients and five minutes.  But do you know the best way to keep the guacamole from turning brown and the best way to mash avocados for that perfect chunky / creamy texture?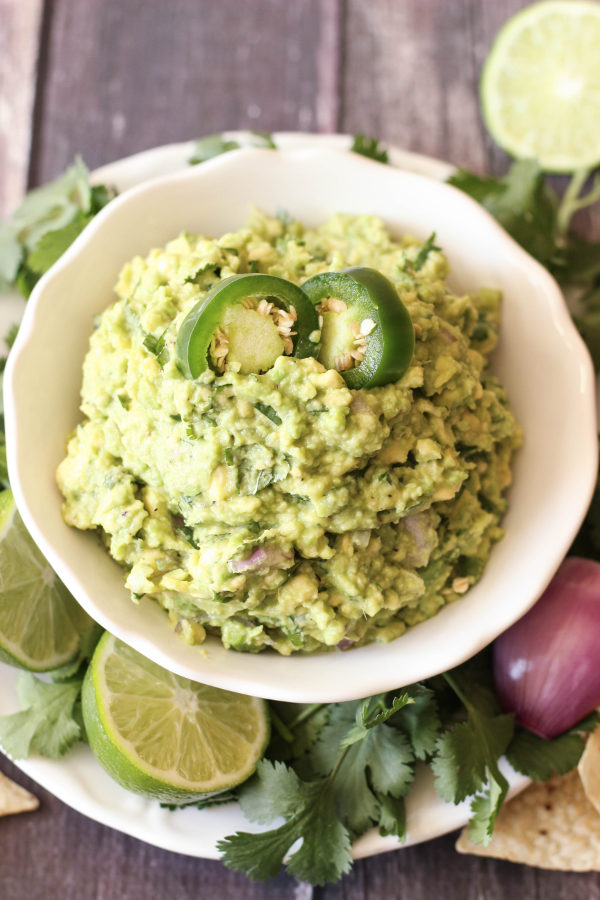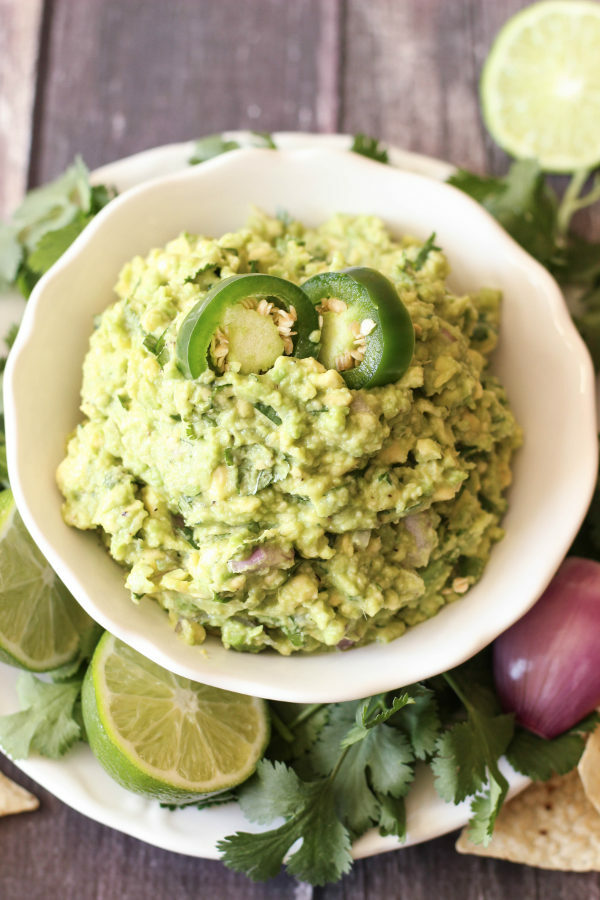 As a kid I refused to try guacamole or avocados. I got it into my head that they didn't look good and refused to even try a taste. I was 22 before I actually tried avocados on a trip to Mexico City.
My friend Katie and I had spent the morning exploring Teotihuacan before having lunch at a nearby restaurant. I don't even remember what I ordered but it came with this amazing fresh mashed avocado sauce and in the spirit of adventure I tried it. It was love at first bite and I've been chasing the best guacamole recipe ever since!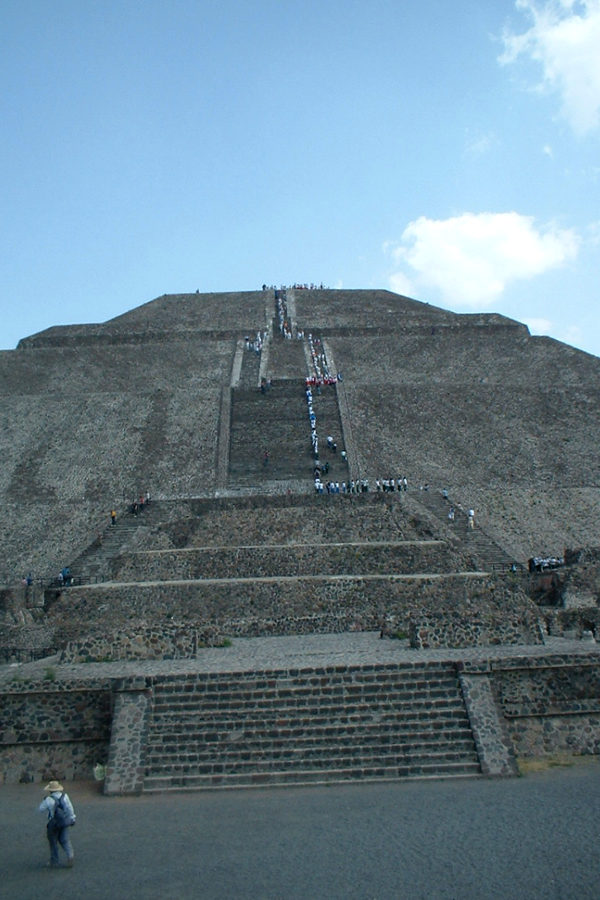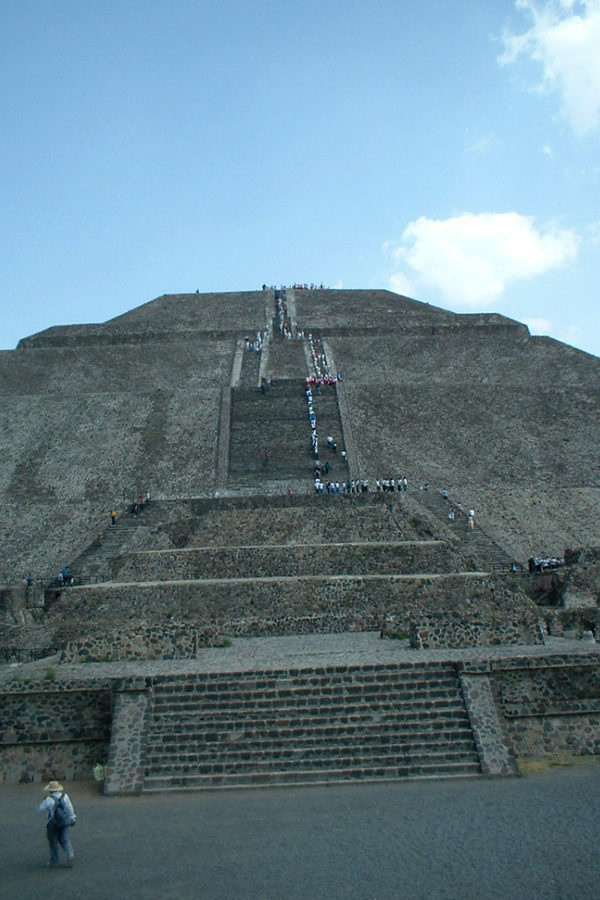 the best guacamole recipe
Great guacamole is simple.  It revolves around ripe, flavorful avocados and plenty of seasoning.  My recipe is simple but it is a classic and routinely touted as the best guacamole people have ever had.
How to mash avocados for the perfect guacamole texture
Avocados can easily be mashed with a fork if you like a creamy smooth texture.
For a more chunky texture smash the halved avocados through anything in your kitchen that has holes less than about 1/4″ diameter.
I use a wire skimmer spoon (sometimes called a frying spider or spider skimmer) but you can use a bakers rack or any other wire mesh item if you like.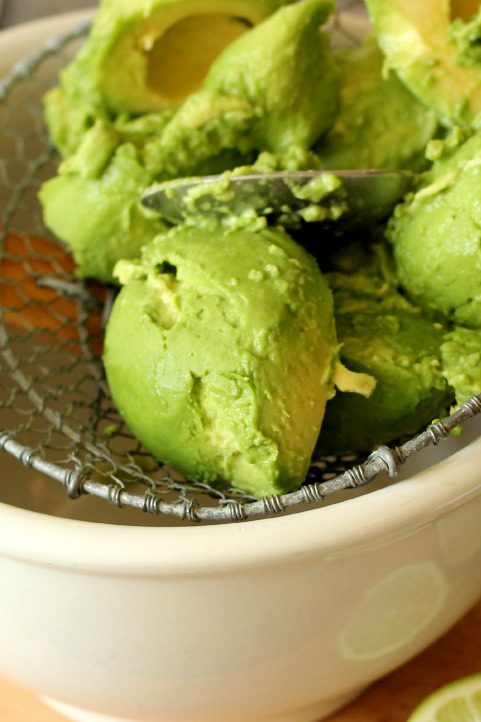 How To Keep Guacamole From Turning Brown
I have the best trick ever to keep guacamole from browning when you make it in advance or save leftovers. Spread the guacamole evenly in a dish and gently pour a glass of water on top!
The flooded guacamole will not go brown.  Store in the refrigerator.  When you are ready to eat it, just pour the water off, stir and enjoy. It is that easy.
Plenty of people swear by putting the avocado pit into the guacamole.  I've tested that and it doesn't work. Flooding with water is a tried and true restaurant trick.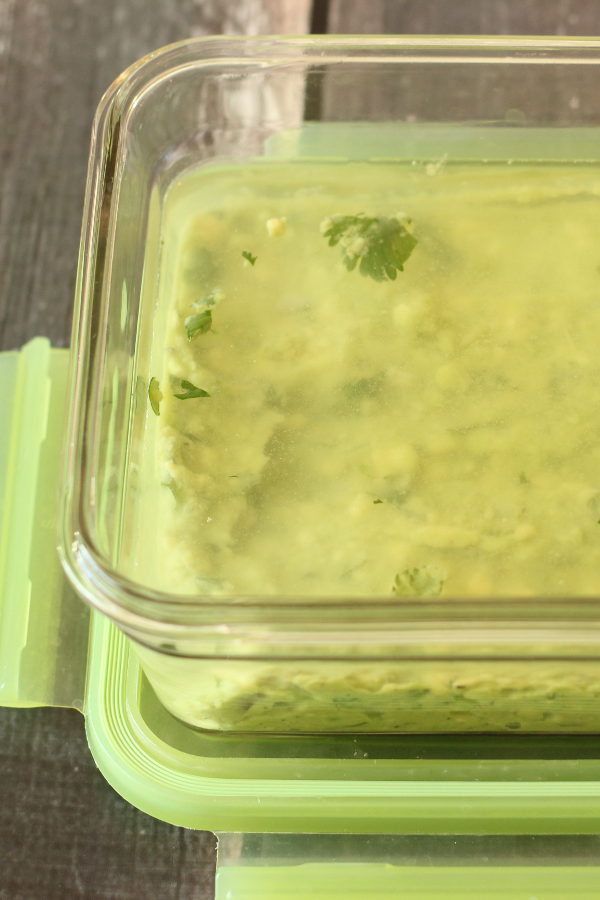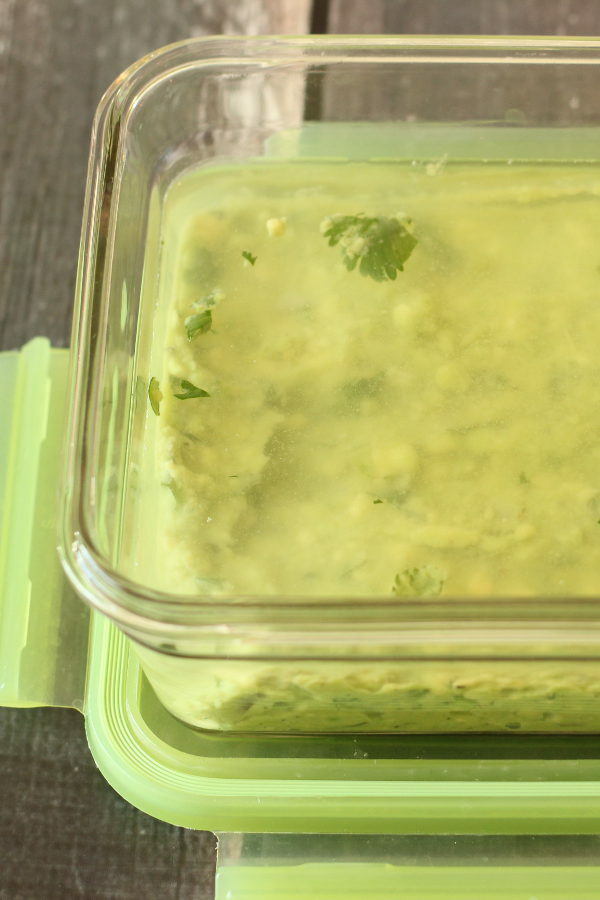 The Best Guacamole Recipe
The best Guacamole Recipe you have ever tasted! Also my trick for keeping guacamole from browning without using the pit and my trick for mashing avocados. This recipe makes about 2 cups of guacamole.
Ingredients
4

ripe avocados

about medium size (mine weighed a total of 1 pound 12 oz before peeling)

2

Tablespoon

lime juice

fresh squeezed if you can

1/3

cup

sweet onion

minced (can sub shallots)

3

Tablespoon

cilantro

minced

3/4

teaspoon

coarsely ground black pepper

1/2

teaspoon

salt

1

jalapeno pepper

diced, optional for those that like SPICY
Instructions
Halve the avocados and remove the pit. Scoop the flesh out and mash through wire mesh or mash with a fork.

Add the lime juice, onion, cilantro, black pepper and 1/2 tsp. of the salt. Stir gently until combined. Taste for salt and lime juice. If desired, add another 1/2 tsp. of salt.

If you like a spicy guacamole you can mince up a fresh jalapeno and add some or all of that. Include the seeds for the most spicy option. Remember, as your guacamole sits this will get hotter and hotter so use wisdom.

Refrigerate flooded with water until ready to serve.
Nutrition
Nutrition Facts
The Best Guacamole Recipe
Amount Per Serving
Calories 164
Calories from Fat 9
% Daily Value*
Fat 1g2%
Sodium 146mg6%
Carbohydrates 1g0%
Protein 1g2%
Vitamin A 29IU1%
Vitamin C 3mg4%
* Percent Daily Values are based on a 2000 calorie diet.
I read each and every comment and I try to respond to questions asap, so ask away! If you've made a recipe, I would love to hear about it! Please come back and share your experience and give the recipe a 5-star rating so other people will know how much you loved it!