These easy oatmeal chocolate chip cookies are moist and chewy with a delicious nutty flavor from the brown butter.  They make a fun, unique Easter cookie if you use the spring colored chocolate chips (optional).  Brown butter is easy to make with my simple instructions!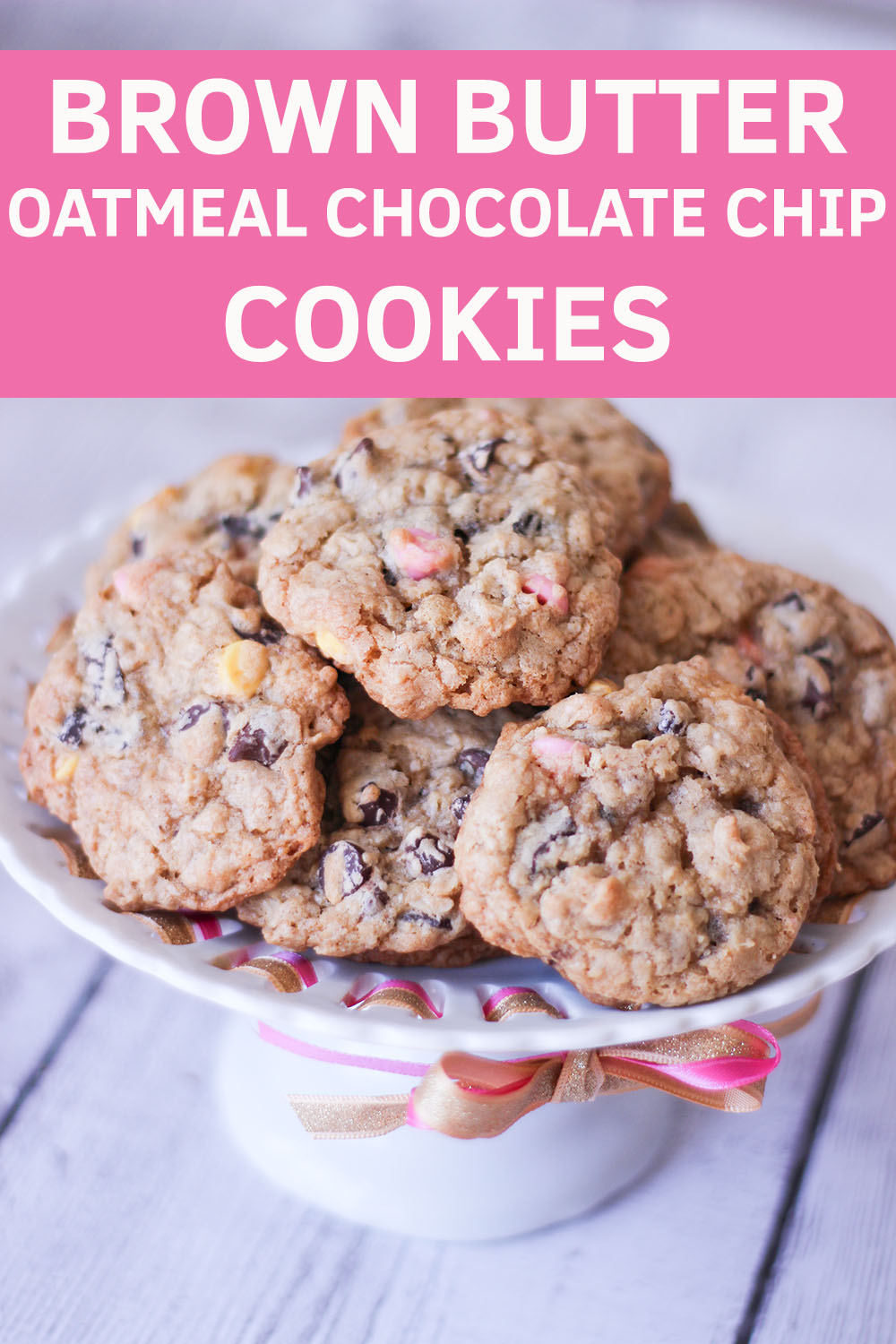 What can I say?  Springtime is almost upon us and I'm feeling pink, and floral, and girly.  Not that I don't feel girly in the winter but somehow spring just brings out my playful – silly – why do I need shoes anyway side.  I have been holding unto this recipe for Brown Butter Oatmeal Chocolate Chip Cookies to share around Easter but I just can't wait any longer.  I know, I know – all grown up but no self control.
So about the brown butter thing…  Have you noticed that every recipe on Pinterest has brown butter in it?  It has gotten to be so frequent I pretty much figured the doctor might proscribe it to fix my last cold.  Well, maybe not quite that bad but it sure is popular right now.
I'm never fast to jump on the popular band wagon but at this point I figured I had better try it before the wagon actually left town.  The process of making the butter brown really is a simple one of cooking it down a bit and essentially caramelizing it just a touch.  This gives the butter a delicious flavor that is sort of caramel flavored and nutty all at once.  It is not a strong flavor, but rather mild to delicate.  I'm not about to suggest you put it in anything that will hold still long enough but I have to admit it makes a mighty fine cookie!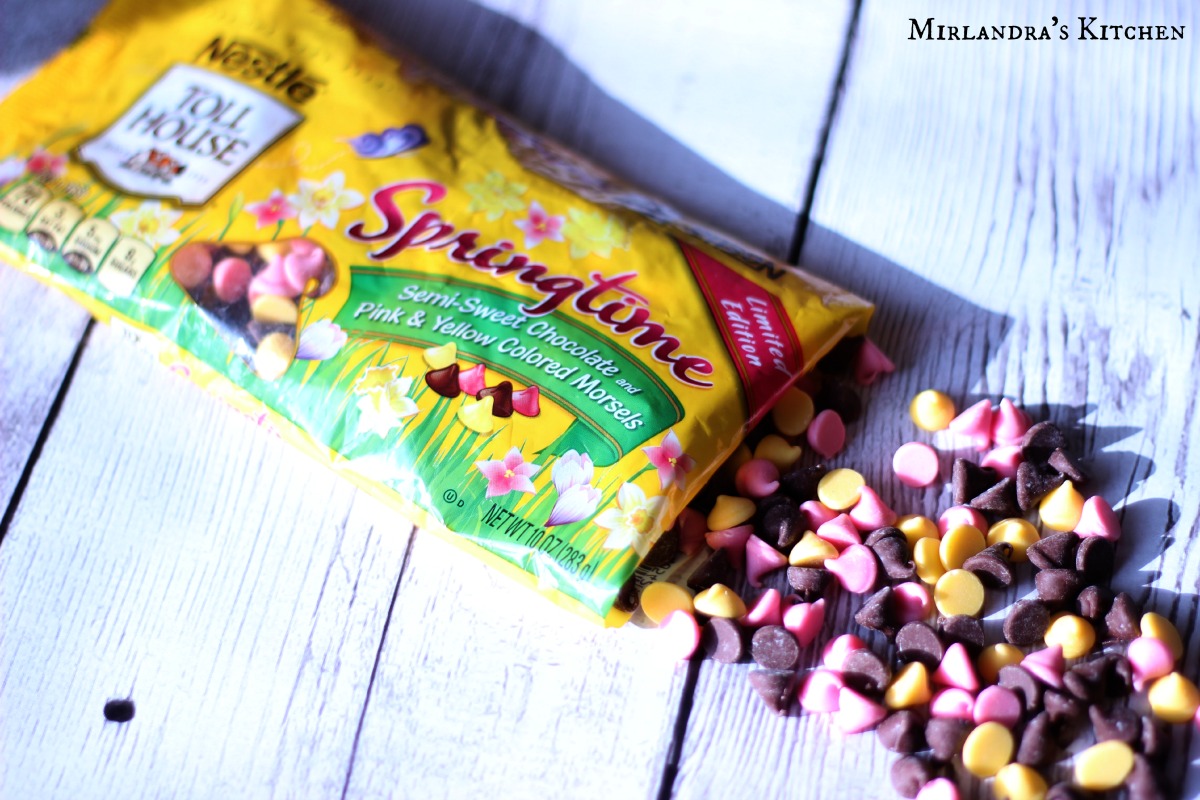 Because it is almost springtime and I have been feeling my oats a bit, I could not resist picking up a bag of these to try in the cookies. They are pretty and festive but I'm a chocolate purist so It was not my favorite flavor.  Assuming you have been around the block a time or three you will know the pink and yellow "morsels" are not truly chocolate but rather a fake white chocolate type chip.  It is a personal choice here.  If you want to keep things festive but stick with chocolate you could always use a bag of Easter M&Ms instead.  I leave that choice fully in your capable hands!
One more thing – this is a riff off of my totally amazing recipe for Oatmeal Cookies.  The basic cookie is moist, chewy, and totally delectable.  You won't be disappointed!  Make sure to leave me a comment and let me know how you like them, or even Tweet me a picture of your yummy cookies.  I always love to see how you make my recipes!
Brown Butter Oatmeal Chocolate Chip Cookies with Springtime Chips
Ingredients
1

cup

salted butter

2 sticks

1/2

cup

granulated white sugar

1

cup

firmly packed light brown sugar

2

eggs

1

Tbsp.

vanilla extract

1 1/2

cups

all-purpose flour

2

cups

old-fashioned rolled oats

1

tsp.

baking soda

½

tsp.

salt

1

bag 10oz-11oz favorite baking chips or M&Ms

1/2

cup

semi-sweet chocolate chunks or chips
Instructions
Put the butter in a medium sauce pan over medium heat. As the butter starts to melt swirl it occasionally to combine. When it is melted start to watch constantly - it can burn in moments. The butter will begin to boil and foam before it turns golden brown. As it cooks little brown bits will form. When the butter is golden brown and smells a little nutty / like caramel it is ready.

Transfer the butter to a small bowl right away so the cooking will stop. Let it cool for at least 5 minutes before starting the cookie dough.

Preheat the oven to 350 F. Line two cookie sheets with parchment paper.

Add the white and brown sugar to a stand mixer. When the butter has cooled for 5 minutes, add it also and beat with a paddle until well combined.

Beat in eggs and vanilla.

Add flour, rolled oats, baking soda, and salt. Beat until creamy. Add both kinds of chocolate and beat on low until incorporated.

Use a 1oz cookie scoop to make balls. Place on baking sheets and bake until the edges are starting to turn golden and the tops are set. 9-11 minutes.

Cool cookies and racks.
My favorite cooking tools for this recipe: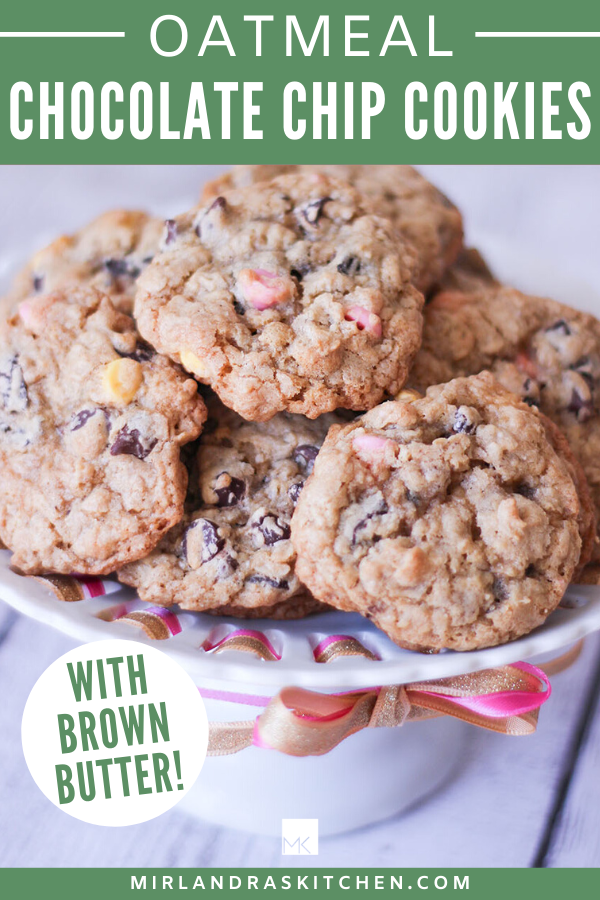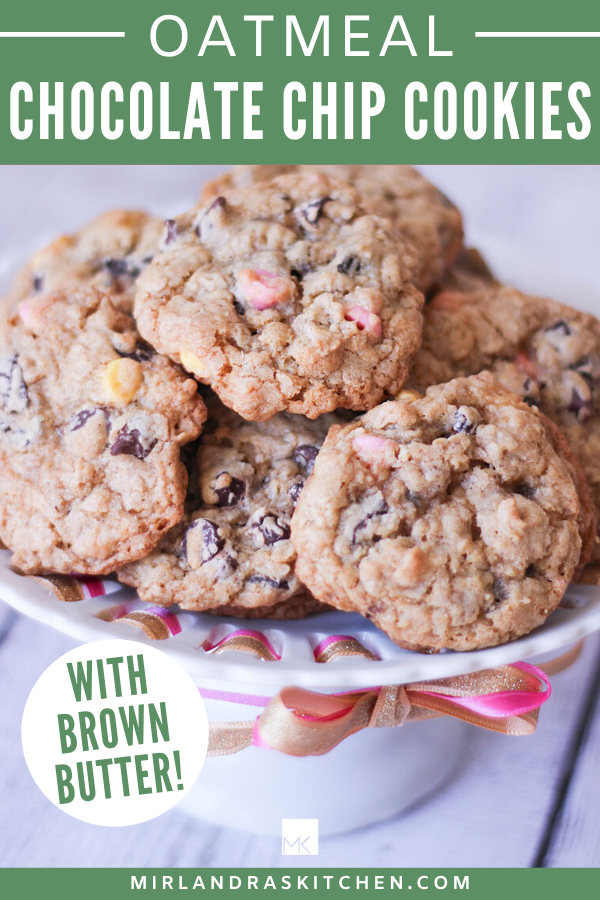 Reader Interactions