Refreshing and delicious, this Frozen Watermelon Margarita is my favorite summer drink. It is the perfect blend of tequila, sweet watermelon and tangy lime.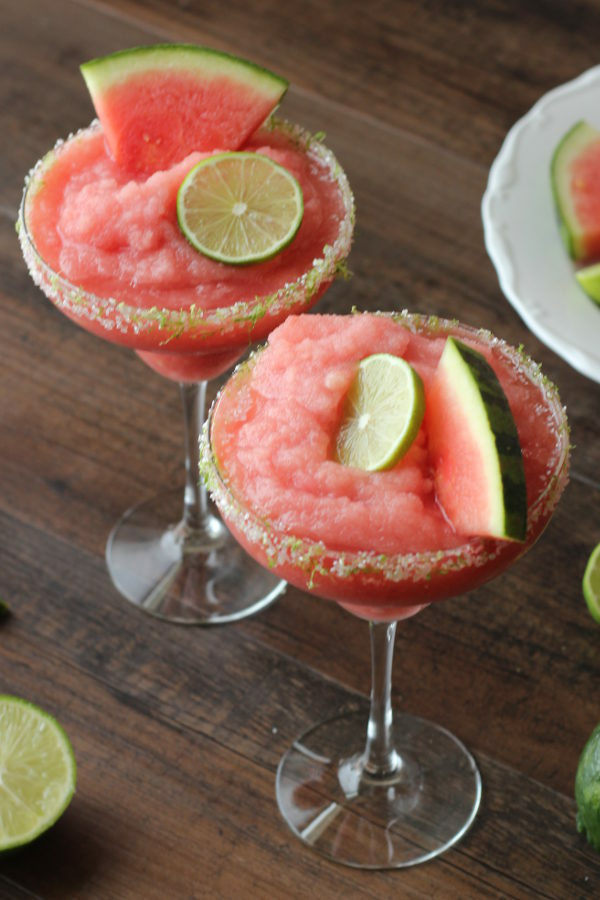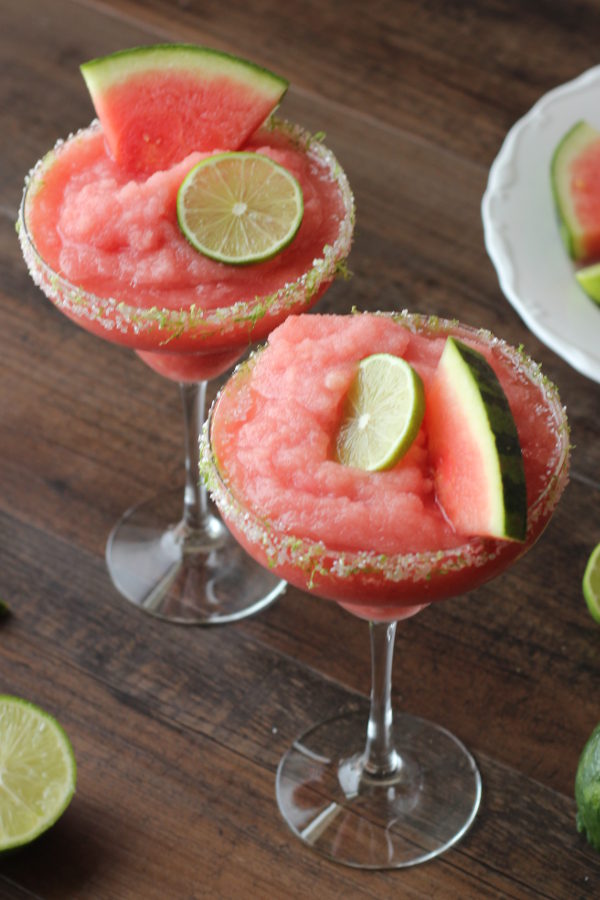 I have fallen in love with the Frozen Watermelon Margarita.  It is just so DARN good!  The recipe is simple, it whips up fast and they disappear right away at girl's night, BBQs, or just because. Be warned though…  These margaritas are strong stuff and rather addicting.  I'm now keeping frozen watermelon on hand in my freezer for "emergencies" that require the application of a good margarita.  There have been quite a few "emergencies" recently…
How to Make a Killer Watermelon Margarita
Initially I was hesitant about the combo of watermelon and tequila and lime.  However, it turns out to be some sort of heavenly magic!  Part of the secret is using a citrus type tequila that pairs well with the watermelon.  I'm using Tarantula Azul.  It is reasonably priced and our all around favorite tequila!
how to make frozen margaritas
Frozen margaritas are easy to make at home! And my goodness they taste amazing compared to the sugary / artificial / bad tequila options often available at Mexican restaurants.
Put ice or frozen fruit into the blender.
Add booze – a mid shelf tequila and sometimes some triple sec.
Toss in some good quality lime juice – I fresh squeeze mine for best flavor.
Add in sugar if your fruit is not perfectly sweet and ripe.
Blend and serve!
It is so easy your kindergartner could do it! But I'm not sure a five year old should be bartending….
Frozen Margarita Machine or a Blender?
You don't need a frozen margarita machine to make a good fruit margarita. There is no point in buying something you use to make exactly one kind of cocktail! That's just marketing. Instead I suggest keeping a good quality blender in your kitchen. It will do many different cooking jobs to simplify your life. And it will make darn food frozen cocktails!
I've tried most of the powerful blenders on the market. I like Blendtec better than Vitamix because it   is lower cost, easier to use and easier to wash.  I also like the newer Kitchen Aid blender. It is a modest step down in price from Blendtec but still a solid workhorse.
How to Sugar or Salt a Rim for Margaritas
Rub a wedge of lime around the rim of the glass.
Dip the wet edge of the glass into a shallow dish of  margarita salt or sparkly sugar.
For extra fancy you can zest limes and mix the zest with the salt or sugar before rimming the glass.
More Summer cocktails To Love
Frozen Watermelon Margarita
Refreshing and delicious, this Frozen Watermelon Margarita is my favorite summer drink. It is the perfect blend of tequila, sweet watermelon and tangy lime.
Ingredients
5

cups

frozen seedless watermelon chunks

1/3

cup

lime juice

fresh squeezed

¾

cups

white tequila

I love the Tarantula Azul Citrus Tequila

¼

cup

triple sec

¼

cup

granulated sugar

optional depending on watermelon sweetness

Garnish with lime zest and decorators sugar if desired
Instructions
Cut up a watermelon into cubes and freeze in Ziploc bags. Generally I freeze 5 cups in each bag so I have enough for one batch in each bag. A large seedless watermelon makes about 6 bags of frozen watermelon chunks, 5 cups each.

If you want to make lime sugar for the rim of the glasses, zest one large lime or two medium ones. Combine with about ½ bottle of sparkly decorating sugar. Gently smash together with your finger tips. Rub a wedge of lime around the rim of each glass and dip in the lime sugar. Set aside while you prepare the margaritas.

When melon is frozen, add all ingredients to a powerful blender in order. Puree until smooth.

Taste and add sugar if desired. Summer watermelon is usually sweet enough but winter melons often need a bit of sugar.

Serve right away. Leftovers can be frozen for a few days. They are still very good.
Notes
Camping Suggestion: You can make a batch or two and freeze them in Ziploc bags. Toss the frozen bags in a good cooler and serve on the 1st night of your trip partially thawed.
Nutrition
Calories:
236
kcal
|
Carbohydrates:
19
g
|
Protein:
1
g
|
Fat:
1
g
|
Saturated Fat:
1
g
|
Sodium:
2
mg
|
Potassium:
24
mg
|
Fiber:
1
g
|
Sugar:
18
g
|
Vitamin C:
6
mg
|
Calcium:
3
mg
Nutrition Disclaimer
MirlandrasKitchen.com is written to share great recipes. While we do our best to provide nutritional information as a general guideline, we are not registered dietitians and the values provided here should be considered estimates – not exact scientific data.
I read each and every comment and I try to respond to questions asap, so ask away! If you've made a recipe, I would love to hear about it! Please come back and share your experience and give the recipe a 5-star rating so other people will know how much you loved it!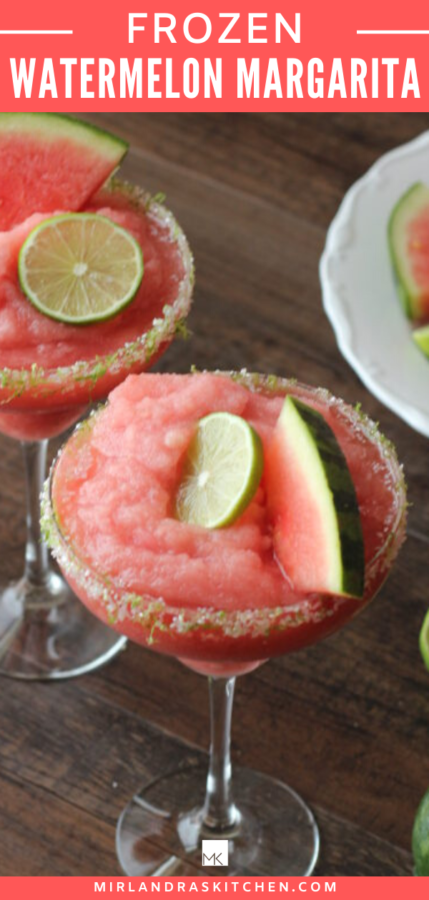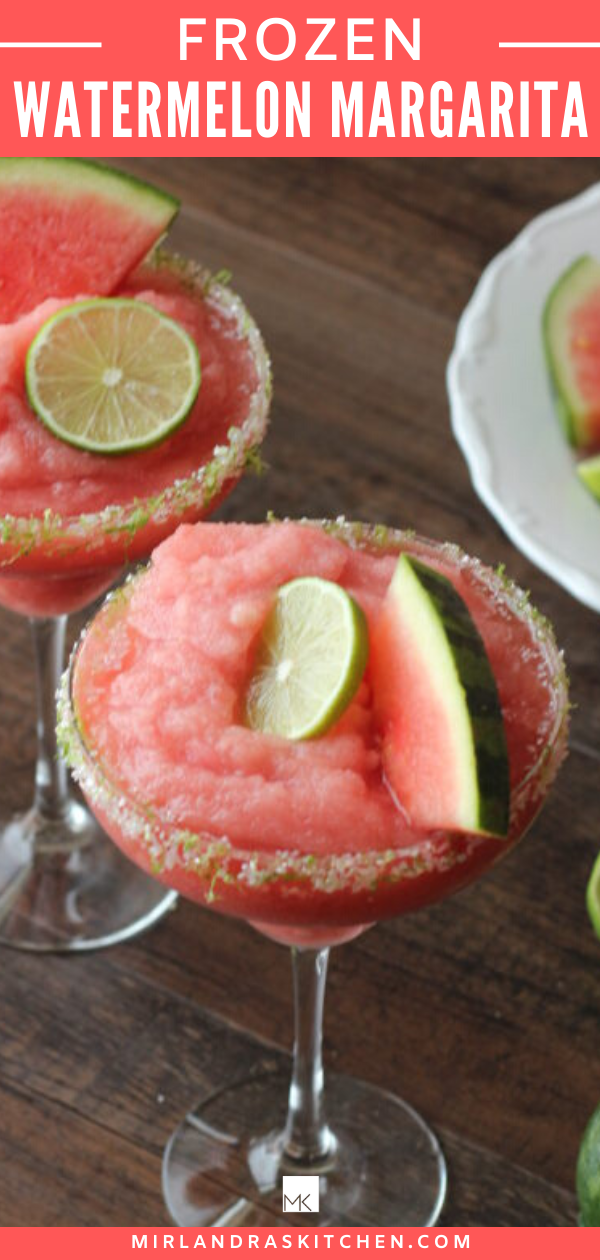 This post was originally posted in 2017 and has been updated for content in 2020.