Sweet, buttery graham cracker crust is filled with thick creamy lime filling. This authentic key lime pie recipe is SO easy with just three ingredients in the filling! By the time you get to the decadent sweet whipped cream on top I'm positive you will never buy another frozen Edwards Key Lime Pie!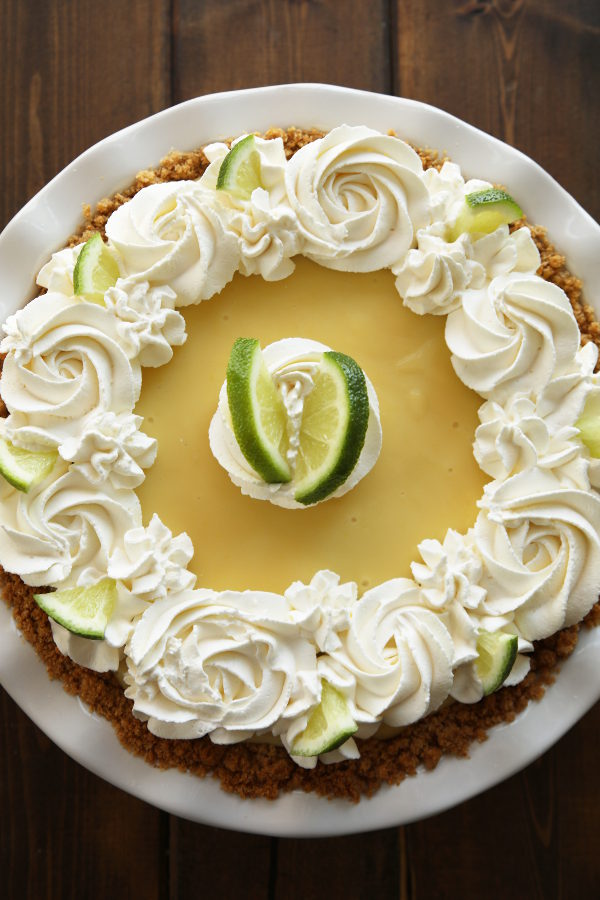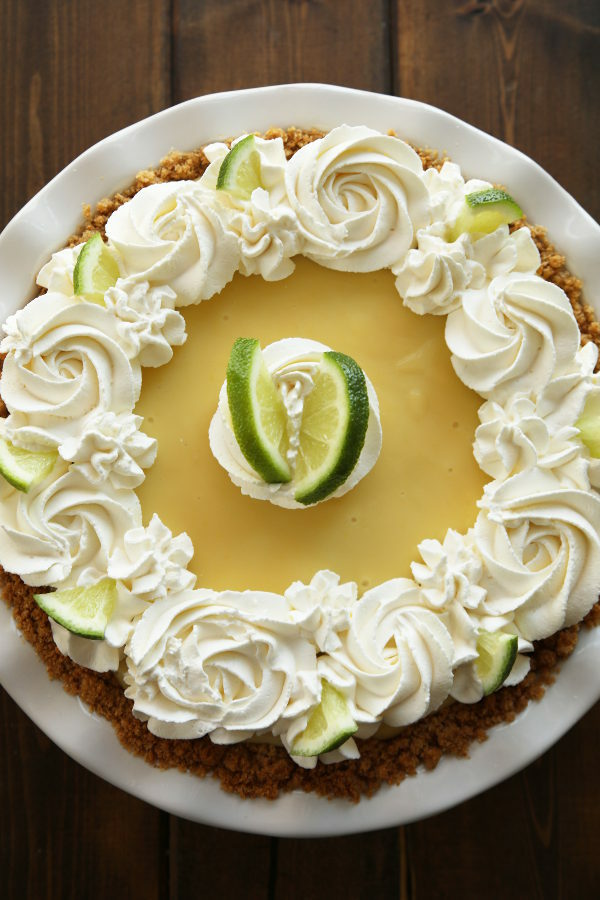 Recently I wanted to surprise a friend with her favorite dessert. Her husband told me it was Key Lime Pie and I was surprised – not a favorite you hear often. But I whipped up a pie and quickly was reminded why authentic key lime pie is so darn delicious!
When I realized it takes mere minutes to put this easy recipe together it landed itself on my frequent baking rotation. If you can crush graham crackers and stir things you can make this pie! (Hint that makes this a great easy baking project for kids or new bakers!)
How to Make Key Lime Pie
OK, friends, – after you read this you will never have an excuse to buy a key lime pie again (and seriously those barely taste like they had a lime waved over them!)
Make a simple crust: I put my graham crackers in the food processor and it crushes them perfectly for me! Mix in the melted butter and sugar then press everything into a pie plate. You can use the bottom of a measuring cup or the back of a fork to press the crust to the sides and bottom of the pie plate.
Pre-Bake the crust: Pop that delicious buttery crust into the oven for 7 minutes to toast it up.
Make 3 Ingredient Filling: While that crust is toasting up whisk together your egg yokes, sweetened condensed milk, and lime juice. It gets poured into a warm crust.
Bake the pie: This only takes 10-15 minutes. Once the pie is cool cover and refrigerate for at least an hour. Key lime pie is best served totally cold.
Garnish and Eat!!! Some homemade whipped cream can be pipped on to make it look fancy or you can drop big dollops of whipped cream on. Stick on a few wedges of lime if you feel fancy!
How to tell if Key Lime Pie is Done
A good key lime filling is soft but set. Bake your pie for a few minutes until it has a just little jiggle to the center.
I find this pie sets up very well and if your oven is accurate you can simply set your timer for 10 minutes and then pull the pie. Shaking the pie back and forth gently should produce a slight jiggle without the pie being sloppy.
The History of Authentic Key Lime Pie
Did you know that the original key lime pie was not baked? Authentic key lime pie originated in Key West, Florida in the 1880s. Fresh milk was not something everybody had on hand and of course refrigeration was not available so canned milk was used instead.
The pie was thickened by a chemical reaction caused by mixing the egg yokes, milk and lime juice.
The set was softer and more sloppy. Only recently as people have become more cautious of eating raw egg yokes has this become a pie you bake in the oven.
The Best Key Lime Juice for Key Lime Pie
Key limes are tiny and beautiful but I don't care to squeeze a bazillion of them to make a cup of lime juice for a pie!
Instead I buy the classic yellow Nellie and Joe's bottle of squeezed key lime juice. This stuff has been around so long my mom remembers my grandmother using it to bake key lime pie.
I'm a BIG believer in fresh citrus but this is a place you won't be able to tell the difference. One bottle of Nellie and Joe's is two cups so you can make two pies! (Eat one and give on to a friend!!!)
Look for this lime juice in the juice section of your grocery store.
If you do decide to squeeze the limes be aware they are not always available in the store year round. The peak season is June through August. They are available from other countries year round but purists believe they are only key limes if they come from the Florida Keys.
You are likely to find key limes green in the store. They are ripe when they turn yellow.
Key Lime vs. Lime
A Florida Key Lime is a small lime with a distinctive sweet-tart lime flavor. The skin is thin and turns yellow when ripe.
The larger limes generally available at most grocery stores are Persian limes which are known for being more tart.
People who eat a LOT of limes might be able to tell the difference between key lime juice and Persian lime juice but I confess I'm not good at it. Frankly I once substituted regular lime juice in a key lime pie and nobody noticed!
More Easy & Refreshing Summer Desserts
Easy Key Lime Pie (Authentic Recipe)
This simple sweet-tart creamy key lime pie has become a fast favorite at our place! The graham cracker crust is crunchy and sweet. The pie filling is only a three ingredients! The time investment here is basically just waiting for the pie to chill!
Ingredients
To Make the Graham Cracker Crust:
1 1/2

cups

graham cracker crumbs

about 1 ½ packs of crackers

1/3

cup

granulated sugar

6

Tablespoons

salted butter

melted
To Make Key Lime Filling
2

cans sweetened condensed milk

14oz each

1

cup

key lime juice

I use Nellie & Joe's

4

large egg yokes
To Make Whipped Cream Topping – Optional
1

cup

heavy whipping cream

40% fat preferred

1/4

cup

powdered sugar

1/2

teaspoon

vanilla extract

1

pinch

salt

about 1/16 of a teaspoon

Slices

of fresh lime to garnish

optional
Instructions
To Make the Crust:
Preheat oven to 350F.

Break the crackers into your food processor and pulse until finely ground. (Or put them in a clean Ziploc bag and beat them with a rolling pin until smashed.)

In a medium mixing bowl combine graham cracker crumbs, sugar, and melted butter in a small bowl. Use a fork to mix well.

Press the crumb mixture into an 8″ – 9.5″ pie pan. Bake for 7 minutes.
To Make Key Lime Filling
While the crust is baking:

Whisk together sweetened condensed milk, lime juice and egg yolks. Pour into prepared graham cracker crust and bake for 10 – 15 minutes until the center of the pie is just a bit jiggly.

Let pie cool on counter until cool enough for the refrigerator. Cool in refrigerator for at least one hour but three hours is preferred.
To Make Whipped Cream
When Pie is cool beat the heavy cream, powdered sugar, vanilla and salt together on high in a stand mixer or with a hand mixer until stiff peaks form.

Pipe unto pie or drop dollops as preferred.

Garnish the pie with small slices of lime if desired.
Notes
Make Ahead Crust Tips: You can assemble and pre-bake the crust up to three days before you make the pie. After it is cool cover it tightly with plastic wrap and store at room temperature.
Make Ahead Filling Tips: The filling can be made up to three days before you use it. Assemble, cover and store in the refrigerator. When you are ready to bake the pie pour in the filling and bake as instructed. Please add 3 minutes to baking time because the filling is pre-chilled.
Freezing Key Lime Pie: If you want to freeze the pie, bake and cool it completely. Wrap it tightly in plastic wrap. Wrap again in tin foil. Label it and freeze for up to three months. The pie can be thawed overnight in the refrigerator.
How to Decorate with Whipped Cream: You can read more about decorating with whipped cream here. If you are able to find 40% fat whipped cream you don't need to stabilize the whipped cream. (If you can't the whipped cream will stay firm longer by following these directions to stabilize it.)
You can use a 1M Wilton decorating tip to swirl on the whipped cream. Turning in a counter clockwise circle will make roses. A single squeeze makes stars. Practice a few on a dinner plate and then swirl away!  (This tip is available at most craft stores or online from Amazon.  Usually cheaper in craft stores.)
Nutrition
Nutrition Facts
Easy Key Lime Pie (Authentic Recipe)
Amount Per Serving
Calories 762
Calories from Fat 189
% Daily Value*
Fat 21g32%
Cholesterol 63mg21%
Sodium 195mg8%
Potassium 50mg1%
Carbohydrates 25g8%
Protein 2g4%
Vitamin A 700IU14%
Vitamin C 1mg1%
Calcium 34mg3%
Iron 1mg6%
* Percent Daily Values are based on a 2000 calorie diet.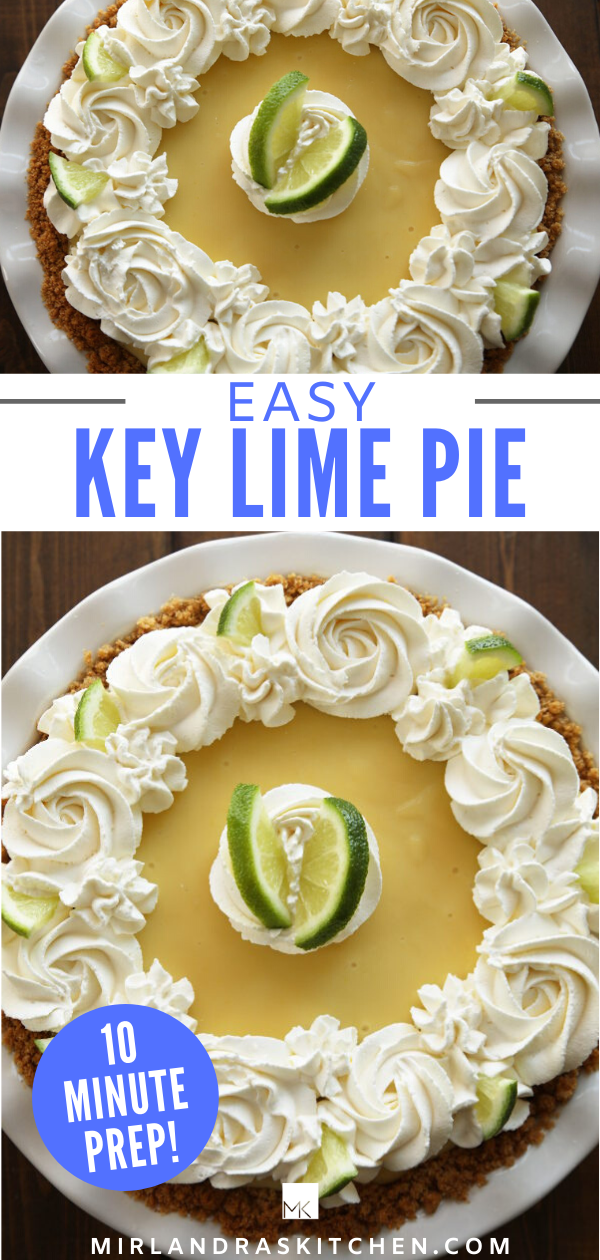 This recipe is dedicated with love to my friend Cameron, who loves Key Lime Pie and inspires me to be a strong, feisty woman who loves well and laughs a lot!