Raspberry shortcake is the new strawberry shortcake.  Raspberries pack more flavor, particularly out of season, and they sure make a pretty dessert!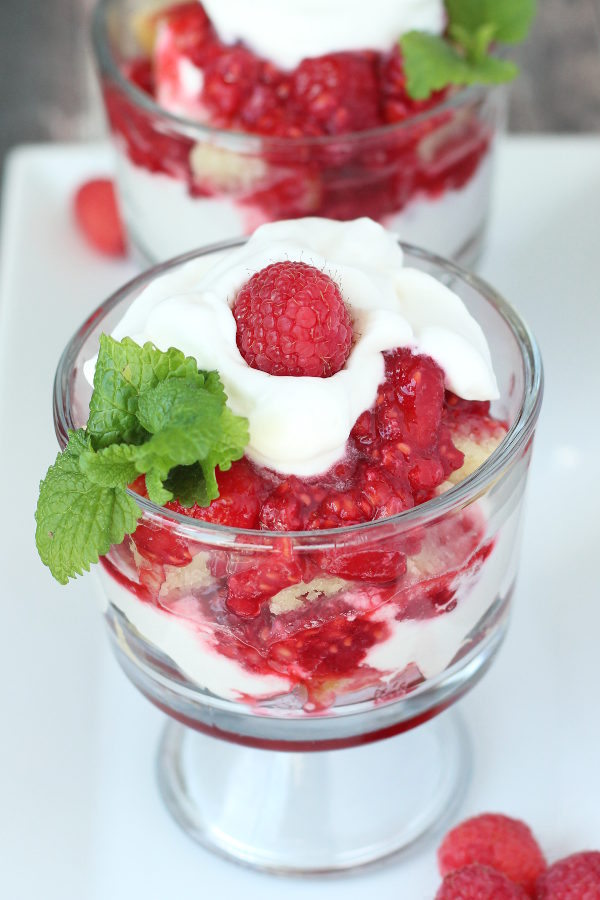 />
A few years ago commercial growers managed to bread a strawberry that smelled great but had little flavor.  Ever since I have been distrustful of strawberries in the store.  Sometimes they are amazing and sometimes, well, let's just say it is OK to cry over bad strawberries.
My Dad is the King of strawberry shortcake and I look forward every year to sharing it with him.  This year when I went to visit I found him eating Raspberry Shortcake of all things!  He had gotten frustrated with strawberries that didn't taste very good and his wife suggested he try raspberries.  He loved them and has been eating Raspberry Shortcake for a few months now.  I had some at his house, fell in love, and came home to make my own!
Shortcake is wonderful with all sorts of berries but I think raspberries are my favorite.  June 14th is National Strawberry Shortcake Day.  You might just want to whip this up and celebrate the day with some raspberry style!
Tools In This Post:  I love these cute Mini Trifle Footed Bowls from Amazon.  They are perfect for plating individual desserts.  The sale price is about $21 for a set.
I use this Epic Pound Cake to make my shortcake.  It is so rich and wonderful, even my Daddy was impressed!
I also use this simple Homemade Whipped Cream. It really brings things all together!
Raspberry Shortcake
Ingredients
12

oz

raspberries

4

Tbsp.

granulated white sugar

8

slices

of your favorite pound cake

whipped cream to garnish
Instructions
Use a fork to gently mash the raspberries with the sugar. Taste for sweetness and add more if desired.

Dice the pound cake and layer into four dessert dishes with berry sauce and whipped cream.

Serve immediately.