I'm pretty sure this Easy Huckleberry Cheesecake is what heaven tastes like. The crust alone is sensational – rich, buttery, chunks of toasted crumbs and nuts. Then you fill it up with this amazing fluffy cheesecake filling that takes just minutes to make! Top the entire creation off with a good layer of sweet, fresh huckleberry topping and you have something amazing!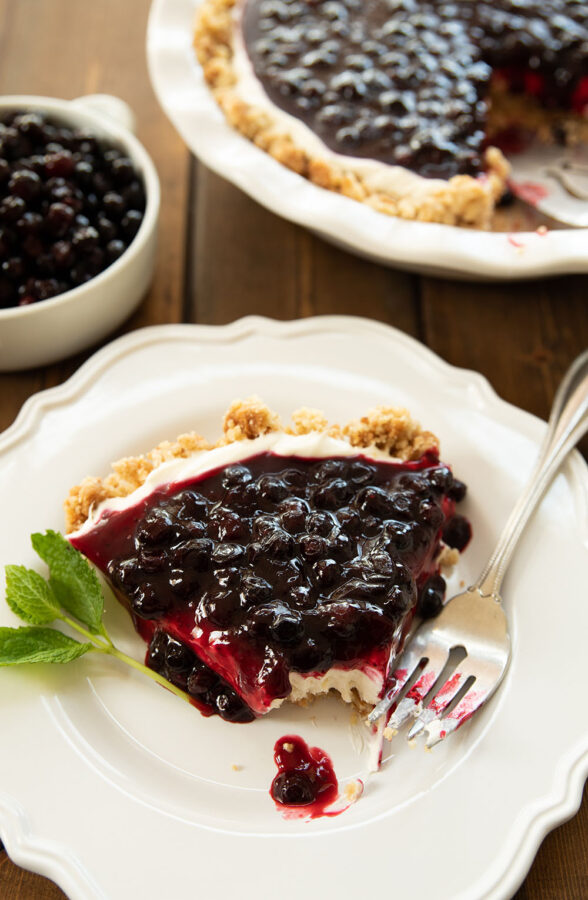 Multiple readers tested the recipe and told me that their family members don't even like cheesecake but they LOVED this Easy Huckleberry Cheesecake.
This recipe centers on a fresh, creamy filling you don't have to bake. This makes for a fast and easy dessert prep! It also gives the entire dessert a wonderfully fresh flavor. In my family we think of this kind of no bake cheesecake as a creamy fresh fruit tart. I often make something similar to this with extra lemon juice and smothered in fresh raspberries. It was one of my Dad's favorite desserts. By any name (fruit tart, easy cheesecake or no-bake cheesecake) it is decadent and wonderful!
Heads up that the crumb crust does get baked. In this case "no-bake" refers to the filling. If you really wanted to avoid baking at all you could grab a pre-made crumb crust at the store but it would be sad to miss the nutty, buttery goodness of this homemade crust and it is fast and easy to put together!
It's Huckleberry Season in Idaho!
Here in Idaho everybody gets excited when Huckleberry season hits! People graze the berries on hikes or pick them in favorite spots. Or, if you live in Boise you can head on over to the Market St. Albertsons or Albertsons on Broadway and load up on all the berries you need during their Head Over Heels for Huckleberries promotion.
I can't resist a good berry so I hit the store on Wednesday morning before they had even finished putting out the signage! By 9am my cart was loaded down with fresh huckleberries, a huckleberry fritter as big as a dinner plate, huckleberry jam, and a few other choice items for cheesecake making.
I also sampled all sorts of wonderful treats. Huckleberry goat cheese? Yep! Huckleberry Ale? Tried it! Huckleberry Coffee Cake? Check! The store has pretty much been taken over by a Huckleberry invasion. I did buy some milk that didn't have any Huckleberries in it but I think that could have been delicious!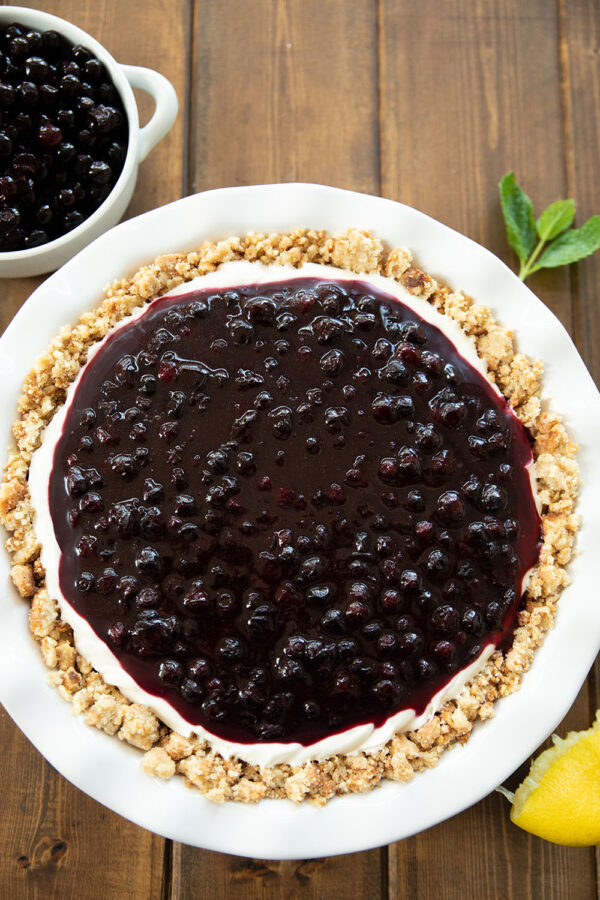 What is a Huckleberry?
Have you tried this lovely berry? Huckleberries only grow in a few regions of the US so it is a bit of a delicacy. The fruit is usually similar to a blueberry but smaller, more delicate and a bit less sweet. Huckleberries come in several varieties. I grew up with tiny red berries that grow wild in Oregon near the coast. Closer to Mt. Hood a blue variety is common. Here in Idaho and in Montana most huckleberries are black or dark blue.
When a recipe calls for huckleberries you can generally substitute blueberries. The flavor will be a bit sweeter but quite similar. Wild blueberries are usually smaller and thus make a better substitution option for huckleberries. Right now you can buy the berries by the pound here in Boise but most of the year they are hard to get your hands on!
Is Cheesecake a Pie or a Cake?
The internet wants to know! We call it cheesecake but is it a cake? In reality it is not. The filling is made of a custard and the dessert is a filling that goes in a crust. Technically cheesecake is in fact a pie! But if you call it cheesepie I'm pretty sure nobody will have a clue what you are talking about!
Tools in This Recipe: Baking Sheet
Other Recipes with Berries
These wonderful Blueberry Pancakes would be perfect made with huckleberries.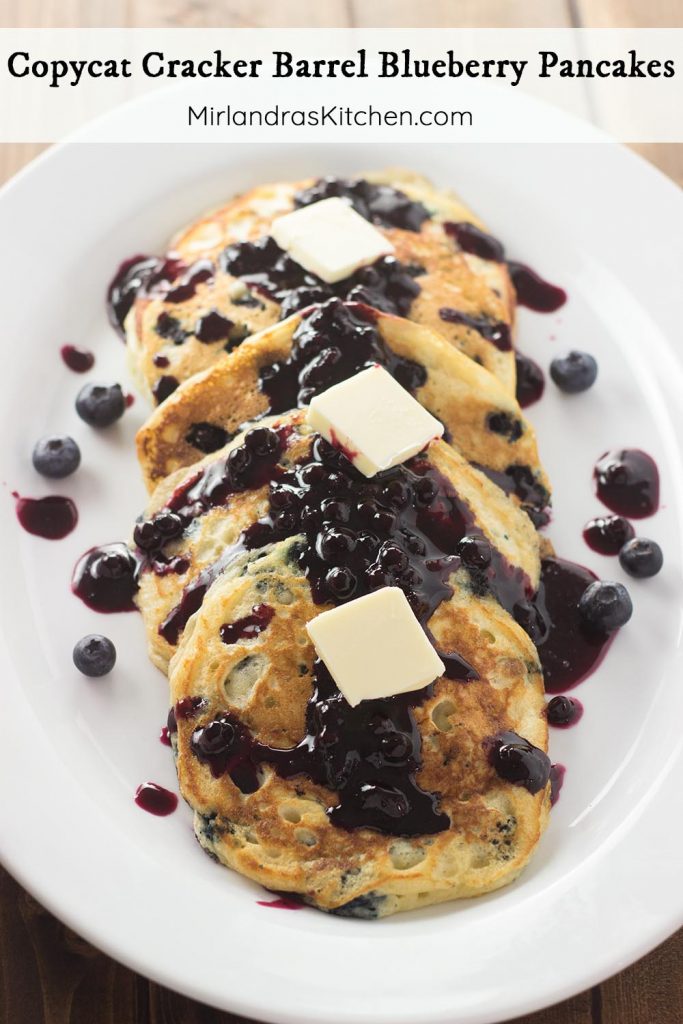 No Bake Huckleberry Cheesecake
This Easy Huckleberry Cheesecake is a heart winner! The crust alone is sensational – rich, buttery, chunks of toasted crumbs and nuts. Then you fill it up with this amazing fluffy cheesecake filling that takes just minutes to make! Top the entire creation off with a good layer of sweet, fresh huckleberry topping and you have something amazing!
Ingredients
Huckleberry Topping
1/2

cup

granulated sugar

1

Tbsp.

cornstarch

1/8

tsp.

salt

1/2

cup

cold water

2

cups

huckleberries

fresh or frozen (can substitute blueberries)

1

Tbsp.

salted butter
Butter Crunch Crust
1

cup

all-purpose flour

1/4

cup

packed brown sugar

1/2

cup

walnuts or pecans

finely chopped

1/2

cup

salted butter

softened
Cheesecake Filling
8

oz

cream cheese

softened

3/4

cup

powdered sugar

1

tsp.

vanilla extract

1-2

tsp.

fresh squeezed lemon juice

depends on personal taste

1

cup

heavy whipping cream
Instructions
To prepare the topping:
Whisk together the sugar, cornstarch and salt in a medium saucepan. Whisk in cold water until smooth; add berries and butter. Bring to a boil over medium heat. Turn the berries down to a simmer and cook, stirring for 2 minutes while the mixture thickens slightly. (It will thicken more after it has cooled.) Put the mixture in the refrigerator to cool fully before topping the pie.
To prepare the crust:
Preheat oven to 400 F.

In a medium bowl, combine the flour, brown sugar and nuts. Use a fork or your fingers to mash in very soft butter until the mixture is combined.

Spread the crumb mixture out about ½" thick on the middle of a baking sheet. Bake for 5 minutes, stir with a spatula, and bake an additional 5 minutes. Crumbs will be soft and becoming toasted a golden brown.

Remove from oven. While mixture is still hot, use a fork to press into a 9-in. pie plate forming a pie shell. Start by pressing the crumb mixture to the sides. When the sides are done press the remaining mixture to the bottom of the pie plate. Cool in the refrigerator.
To prepare the cheesecake filling:
In a large mixing bowl, use a hand mixer to beat very soft cream cheese, sugar, vanilla and 1 tsp. of lemon juice until smooth. With the mixer on low speed, pour in the heavy cream. Once the cream is incorporated beat on medium speed for 1-2 minutes until the mixture is somewhat fluffy. Taste and add the additional tsp. of lemon juice if desired.

Spoon the filling into the cooled crust and refrigerate until the topping is cool enough to use. Spoon the topping over the pie.

Garnish with whipped cream and sprigs of mint if desired.
Nutrition
Nutrition Facts
No Bake Huckleberry Cheesecake
Amount Per Serving
Calories 682
Calories from Fat 405
% Daily Value*
Fat 45g69%
Cholesterol 142mg47%
Sodium 338mg14%
Potassium 104mg3%
Carbohydrates 59g20%
Protein 6g12%
Vitamin A 1687IU34%
Vitamin C 2mg2%
Calcium 82mg8%
Iron 1mg6%
* Percent Daily Values are based on a 2000 calorie diet.
Decorating With Whipped Cream
This Easy Huckleberry Cheesecake is already a really beautiful dessert but if you want to make it fancy you could absolutely grab these instructions below and swirl on some whipped cream. You can't go wrong with whipped cream and it is an easy and elegant way to jazz up your dessert plate!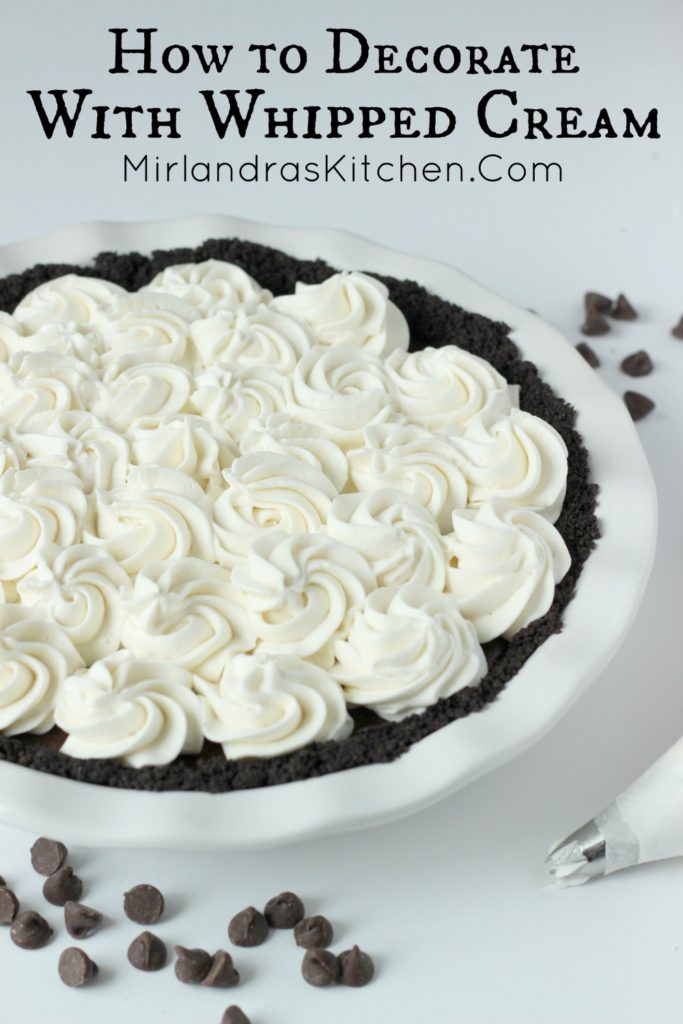 Full Disclosure: This post was sponsored by Albertsons on Broadway and Market St. Albertsons. I've been an Albertsons shopper since I was a little girl and I love getting to share about a great brand out of Boise, ID! All opinions in this article are my own as always.