Boursin Cheese Mashed Potatoes are a perfect flavor pairing ready in 30 minutes. Try my trick for getting potatoes cut crazy fast. Adding some savory cheese makes these potatoes extra special for holiday dinners without a lot of extra hassle.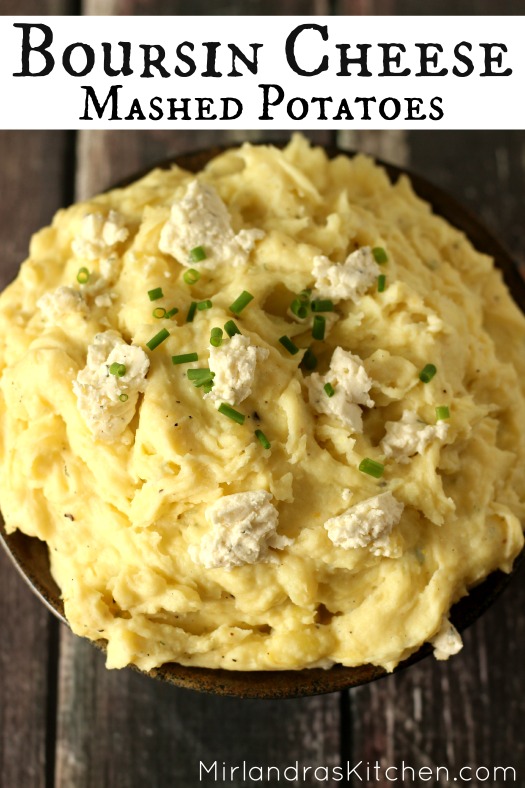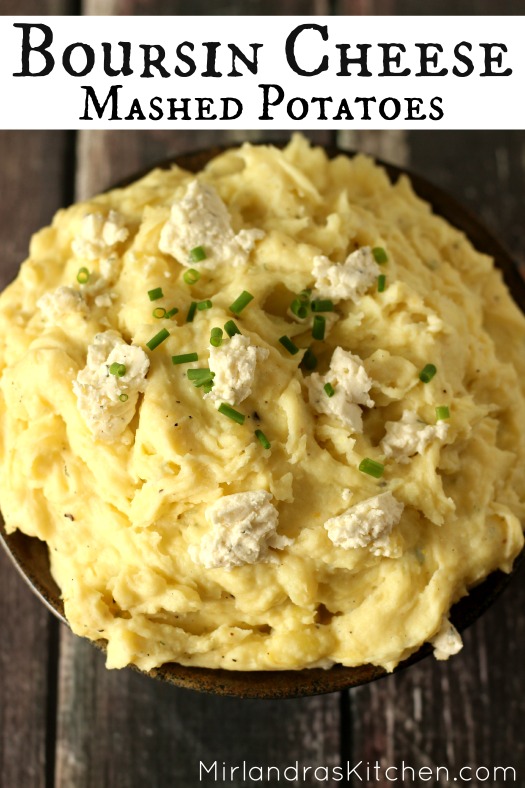 Do you know how many of our stories start out, "We were at Costco…"? We go there most weeks now if that gives you a clue. A few weeks ago when we were at Costco (see, I warned you), they had a sample of prepared mashed potatoes mixed with Boursin cheese. It was heaven even though the prepared mashed potatoes were mediocre.
Boursin cheese is always a favorite treat in our home but it had never crossed my mind to try it on potatoes. The combination is absolutely perfect. The cheese is creamy and mild with plenty of herbs and seasonings which gives the potatoes a hint of magic almost like the memory of twice baked potatoes.
I fell for it hard and informed Jonathan that the world must know of this combination! I went to find a three pack of cheese and he headed back to produce for a giant bag of yellow potatoes! I justified this action perfectly by insisting I would serve some of the cheese when my brother and his wife visited in a few days.
I made potato magic in the kitchen with the yellow potatoes, stirred in the cheese and then promptly used my finger to scoop it out of the mixing bowl because it was either too yummy or I was too greedy to go find a spoon. This might be a recipe that should come with a warning label!
I consider this is a great every day dish but if you want something special for Easter this weekend these potatoes would be perfect! It sure is easier than scalloped.
These also reheat nicely in the microwave. For breakfast I warmed up a scoop of the leftover potatoes and topped it with three scrambled eggs. I grated a little Tillamook white cheddar over the top of that, and dressed the entire dish with some low fat Tillamook Sour Cream, and some salsa.
Somewhere during the cooking process it dawned on me that I was making some sort of naked breakfast burrito. It was so good for breakfast (and Jon is gone) I had it again for dinner. It has just been one of those days.
I do make a lot of potatoes here and the part I hate is cutting them. Jonathan suggested I try an apple corer and actually it works very well! It takes me less than 1/4 of the time to use the corer and the potatoes cooked up great! I will say I bought a heavy duty all metal one for this purpose. This is the one I purchased.
Please leave me a comment and let me know how this trick works for you!
Boursin Cheese Mashed Potatoes
Boursin Cheese Mashed Potatoes are a perfect flavor pairing ready in 30 minutes. Try my trick for getting potatoes cut crazy fast.
Ingredients
3

pounds

gold potatoes

such as yukon gold

1/2

tsp.

salt

1/3

cup

heavy cream

5

Tbsp.

butter

1

tsp.

Better than Bouillon Chicken Bouillon

1

tsp.

black pepper

coursely ground

1

Boursin cheese (5.2oz box)

your favorite flavor (Garlic & Herb and Shallot & Chive are favorites)

additional Boursin cheese to garnish

optional

fresh chives to garnish

optional
Instructions
Cover a large pot of water and put it on the stove to boil.

Peel potatoes. For fastest cutting use and apple corer to slice each potato. For medium sized potatoes lay the potato on its side and press down. For large potatoes, slice the potato in half and place the halves on a cutting board flat side down. Then cut with corer. If any pieces are twice as big as others cut them in half.

Place potato chunks in boiling water with the salt. Bring to a boil again and then turn down to a simmer and cook for about 20 minutes until the potatoes are just fork tender.

Meanwhile, microwave cream and butter for 45 seconds until warm and at least partly melted. Stir in bouillon and black pepper. Set aside.

When potatoes are ready, drain in a calendar. Put potatoes in a stand mixer fitted with a whip. Add cream mixture. Beat on low speed until about half the lumps are gone. Scrape down the sides.

Cut Boursin cheese into at least 12 pieces and add to the mixture. Beat on low again until mixture is smooth, less than 45 seconds. Do not overbeat or potatoes will develop a glue like texture.

Garnish with additional Boursin cheese and fresh chives if desired. Serve hot.
Nutrition
Nutrition Facts
Boursin Cheese Mashed Potatoes
Amount Per Serving
Calories 364
Calories from Fat 135
% Daily Value*
Fat 15g23%
Cholesterol 44mg15%
Sodium 274mg11%
Potassium 957mg27%
Carbohydrates 29g10%
Protein 6g12%
Vitamin A 500IU10%
Vitamin C 25.8mg31%
Calcium 83mg8%
Iron 7.4mg41%
* Percent Daily Values are based on a 2000 calorie diet.
If you liked this recipe, you might also enjoy my Loaded Baked Potato Soup! Click here for the recipe.