Cabbage is the surprise vegetable you didn't know you LOVE! This is a quick and easy fried cabbage recipe with butter and mushrooms. Full of flavor, it makes the perfect side dish for pork, chicken and even turkey!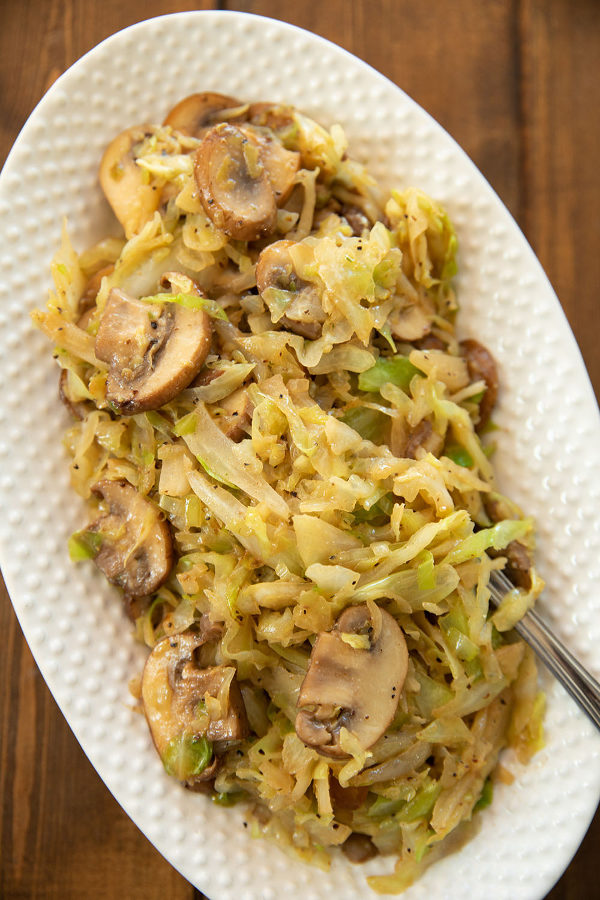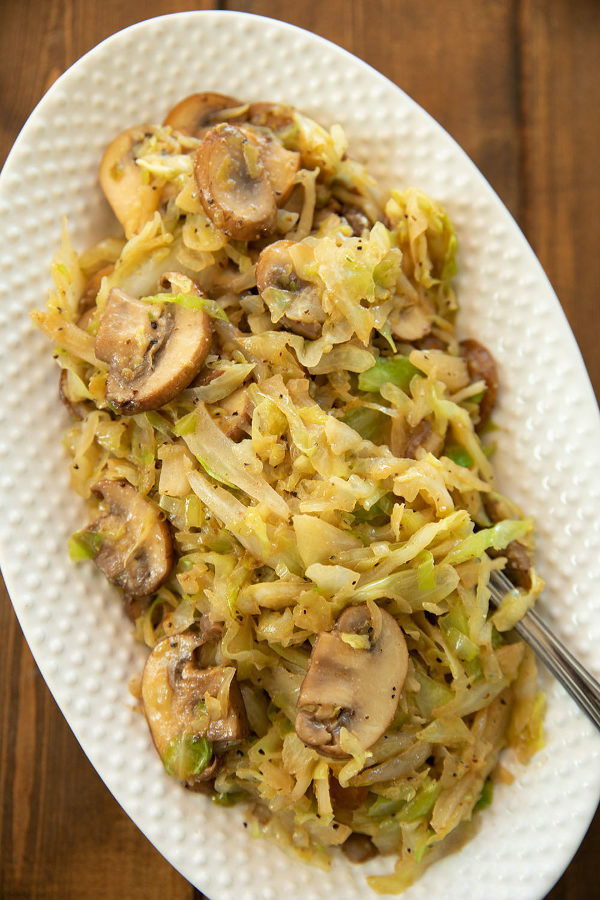 How To Make Fried Cabbage
Never made stir fried cabbage before? It is simple! You just need cabbage, a flavor booster (I'm using mushrooms) butter, seasonings and a few minutes in a frying pan!
Fry the cabbage up in a bit of fat and season it up! If you have problems with the cabbage starting to stick you can add a little water to keep things cooking.
The Secret to a Great Fried Cabbage Recipe is FLAVOR
A great fried cabbage recipe needs great flavor. Even with the white pepper my one year old daughter will literally throw a tantrum if we don't give her a big serving of this fried cabbage! It is one of her favorite dishes.
Cabbage can seem strongly flavored raw but cooked with a bit of butter it becomes rich and savory. Mushrooms bring a bit of umami to the dish but you could sub out some onions if you like!
You NEED a good cabbage recipe
Green cabbage is a sneaky vegetable. You don't know you could love it until somebody makes it right! A little butter and a few minutes to caramelize and you have a powerhouse side dish!
Cabbage is usually very cost effective vegetable and you can store it in your fridge for 2-4 weeks! Heck – sometimes I get away with 5 weeks (though that is not a great plan). I love that I can buy a few cabbages when I go to the store and they are ready and waiting for me on busy nights!
Of course you can buy already shredded cabbage if you like.
How to Shred Cabbage
Shredding cabbage is easy peasy! Cut the vegetable into quarters and slice the core out.
Use a food processor with a slicing blade to have everything sliced in under a minute. I slice a head at a time and put part of it in a Ziploc bag for the next meal. It will easily last a week or more this way.
If you don't have a fancy slicing option just take your chef's knife and slice it thinly. This is one of those places where practicing great knife skills will save you time and effort! 
Easy Fried Cabbage and Mushrooms
Caramelized cabbage and mushrooms. Easy side dish for grilled chicken, steak, pork chops or pork roast. Lots of flavor and comes together fast. Keto friendly.
Ingredients
8

oz

sliced cremini mushrooms

2

T-4T salted butter

6

cups

shredded cabbage

cut 1-2mm thick

½

tsp.

seasoning salt

½

tsp.

coarsely ground black pepper

¼

tsp.

onion powder

¼

tsp.

granulated garlic

¼

tsp.

white pepper

finely ground – optional
Instructions
In a large skillet over medium-high heat fry the mushrooms in 2 Tbsp. of butter until golden brown, about 10 minutes. Stir occasionally.

Add the cabbage and seasonings. Continue to fry over medium-high heat. Stir frequently. If the food starts to stick turn down the stove a bit or add a few Tablespoons of water or the rest of the butter.

Once the cabbage loses its crispness and starts to turn golden brown taste it. Add more salt if desired (try adding ¼ tsp. at a time until you get the flavor you want). Add the rest of the butter if desired.

Serve hot as a vegetarian main dish or as a side dish for pork chops, roasted chicken, pork roast, steak or turkey.
Notes
Substitution Notes: Bacon grease makes a great sub here for part or all of the butter depending on taste.
Nutrition
Nutrition Facts
Easy Fried Cabbage and Mushrooms
Amount Per Serving
Calories 90
Calories from Fat 9
% Daily Value*
Fat 1g2%
Sodium 1mg0%
Carbohydrates 1g0%
Protein 1g2%
* Percent Daily Values are based on a 2000 calorie diet.