Chocolate Peppermint Pie Not from Cool Whip. Classic Oreo crust, rich truffle sauce under and over creamy peppermint filling that melts in your mouth.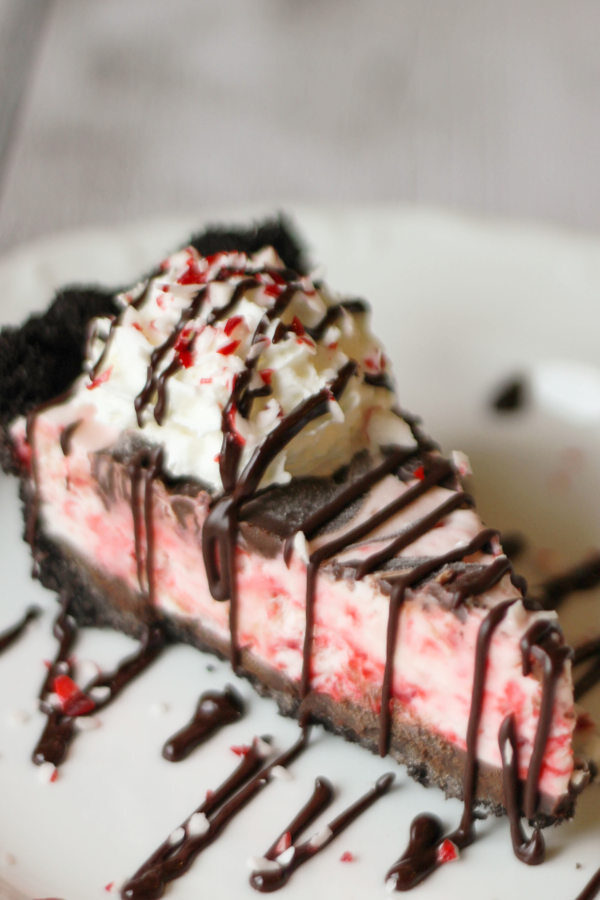 Chocolate Peppermint Pie. To begin, I make a classic thick Oreo crust. Homemade truffle sauce is lovingly whisked together and ladled into the shell. This makes a serious layer of chocolate to satisfy my true love of decadence. Then I make a creamy peppermint filling truly from scratch – no Cool Whip in site and that fills the crust beautifully. Finally the pie is drizzled with some more truffle sauce on top just because I can. Are you starting to understand why this pie is so darn delicious?
The first time I made this pie Jonathan and I both enjoyed some and then I gave it away to friends before I could eat the rest of the pie. Jonathan usually is good for one small serving of a dessert max. He has a lot of self discipline. I (not having enough self discipline) give extra servings away before I can consume them.
Never once has Jonathan been sad that I gave the dessert away – in fact I don't think he ever noticed. But then I gave away Chocolate Peppermint Pie. He came home from work the day after I had made it and asked for some (before dinner). He looked a little heart broken when I explained it had been sold down the river already.
Jonathan was so disappointed that he asked for another one right away. I made that one in Oregon for friends and family. Guess who got a phone call for the recipe before she could even get it up on the blog? Yeah…it's that good.
This pie is good all the time but I think it's extra perfect for Valentine's Day and Christmas. Or maybe I should develop a cherry amaretto one for Valentines! Jonathan would be in heaven. Of course then I would have to give away the extra again and he would be disappointed again.
Chocolate Peppermint Pie
Ingredients
For the Crust
2/3

package

chocolate Oreo cookies

24-26 cookies

4

Tbsp.

melted butter
For the Truffle Sauce
12

oz

semi-sweet chocolate chips

1

cup

heavy whipping cream
For the Peppermint Filling
1 1/4

cups

heavy whipping cream

1/4

tsp.

real vanilla

2/3

cup

sweetened, condensed milk

3/4

cup

crushed peppermint candy

see note
Instructions
For the Crust
Preheat the oven to 350 F.

Pulse the Oreos in a food processor for about 30 seconds until they are finely ground and no chunks remain.

Stir in the melted butter and dump crust mixture into a 9 1/2" pie pan. Press the mixture into the sides of the pan first and then the bottom.

Bake the crust for 4 minutes in a 350 F oven until the crust is just set. Remove to rack to cool.
For the Truffle Sauce
Place the cream in a medium sauce pan over medium heat. You do not need to stir.

When the cream begins to simmer add the chocolate and turn off the stove. Stir with a fork until no lumps remain. It may be easiest to switch to a whisk at the end.

Spoon about 1/3 of the sauce into the bottom of the pie pan. It does not need to look perfect but it should be fairly evenly distributed. Set the rest of the sauce aside on the counter for later.

Place the pie pan in the refrigerator for about 30 minutes to cool down before adding the cream mixture.
For the Peppermint Filling
When the pie shell has cooled, add cream, vanilla sweetened, condensed milk and vanilla to a stand mixer. Whip on high for about 2 minutes. The mixture will be thick and hold the lines formed by the beaters.

Gently fold in peppermint until it is incorporated.

Scrape filling into the cooled pie shell. Smooth gently on top so the filling sits flat.

Spoon several Tablespoons of the chocolate sauce in a circular pattern over the top of the pie. Use a butter knife to draw a few "Z"s through the filling and sauce to swirl them together a little.

Lay plastic wrap over the surface of the pie and freeze for at least 8 hours. Serve directly out of the freezer. Garnish with remaining chocolate sauce, whipped cream and peppermint pieces if desired.

After serving, cover leftovers tightly with plastic wrap and store in the freezer.
Notes
The best way to crush peppermint candy is to freeze it and then smash it.  I use whatever is on hand for smashing (such as a rolling pin or wine bottle).
Reader Interactions