Candy Cane Pie is a easy 15 minute Christmas dessert you can make ahead.  A delicious peppermint ice cream filling, chocolate truffle sauce ribbons and crunchy Oreo crust make this one a dessert to remember!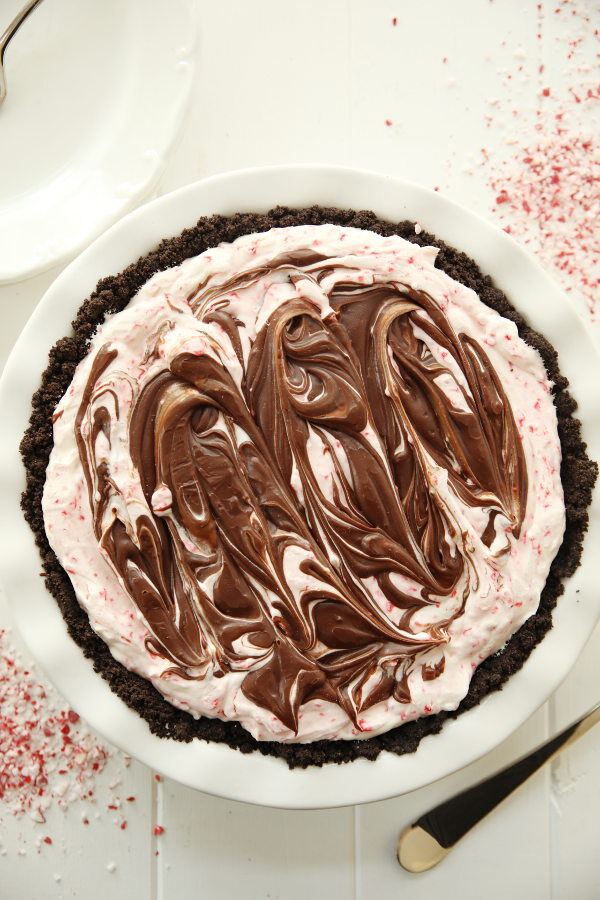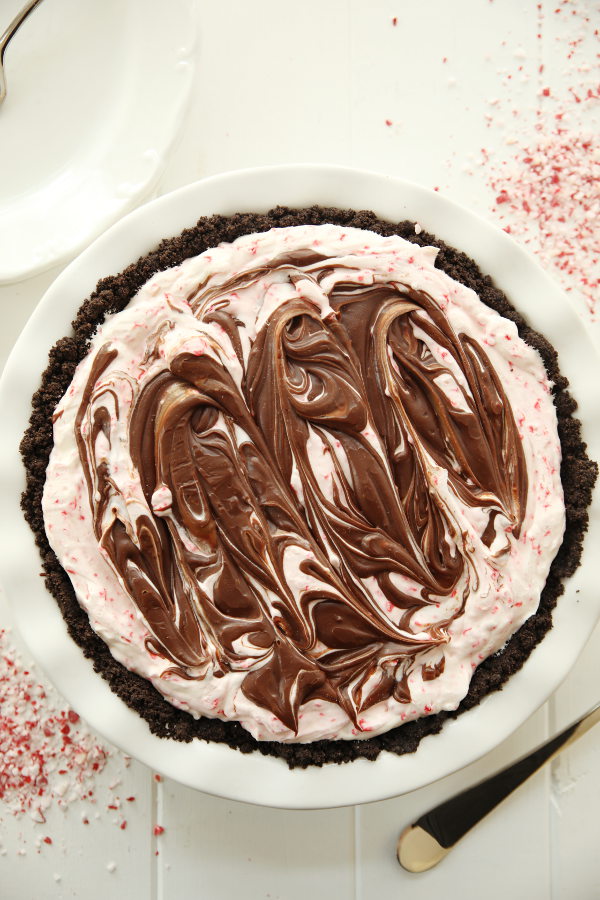 One of my favorite Christmas desserts is this luscious Candy Cane Pie. This sweet, creamy treat is a mash up of chocolate peppermint bark, ice cream, and a classic icebox pie. I use my homemade truffle sauce (basically an easy chocolate ganache) to add a little something extra!  And since I'm a true chocolate nut I put a nice layer under the peppermint filling and a layer swirled into the top. Of course you can drizzle on even a bit more when you serve it!  MERCY but the slices disappear fast.
Homemade Candy Cane Pie
Most Candy Cane Pie recipes call for a big old tub of cool whip or a box of jell-o instant pudding – sometimes both.  Many use red food coloring to make the pie pink…  I'm no stranger to using a nice tub of cool whip on occasion but this pie is NOT that recipe!
Part of what makes this pie filling SO amazing is that it is all whole food ingredients like heavy whipping cream and real chocolate.  The lovely pink color comes from the peppermint itself – no added food coloring!
When I was developing this recipe I actually made the filling from a no-churn ice cream recipe.  The pie is served frozen and every bite feels like perfect, artisanal ice cream melting into your mouth. Of course it only takes about 15 minutes to make up one of these pies… So pretty much I'm a food genius and you might not even know what you did before this wonderful icebox pie!
This pie can be made several days before you plan to serve it which makes it a very easy Christmas dessert!  All the fun of a decadent homemade dessert but no fuss on Christmas Day!
How to Crush Peppermint
It is easy enough to crush peppermint at home.  A store near me always sells crushed peppermint in bulk for Christmas and I buy mine already crushed.  If you don't have that option (or if you need to use up a pile of candy canes and pass it off as a Valentine's Day Treat) here are my peppermint crushing secrets – no matter what tools are in the kitchen:
 Freeze your peppermint candy or candy canes.  Frozen peppermint smashes easier than room temperature.  Gotta love chemistry!
Remove any candy wrappers.
If you have a food processor toss it into the machine and pulse a few times until it is crushed.
If you DON'T have a food processor, put the peppermint in a big Ziploc bag.
Use a rolling pin, wine bottle, hammer, meat mallet  – any heavy blunt object and gently smash the peppermint.  Try not to take ALL your emotions out on the candy – we are just going for small chunks, not powder!
Oreo Pie Crust
Candy Cane Pie is made with a simple chocolate Oreo crust.  To make an Oreo crust you take Oreos and mash them up into crumbs – filling and all!  Then you add some butter and toast the curst for a few minutes before filling it.  The flavor and texture are wonderful!
Plenty of recipes call for "chocolate wafer cookies" which cost $6 for a small package and don't make as nice of a crust.  If you need to make a chocolate crumb crust just reach for the Oreos and enjoy.  And – special tip???  Golden Oreos make a excellent crust for ice cream or ice box pies too!  See my list of easy pie recipes below for a few of my favorite ways to use Oreo pie crust.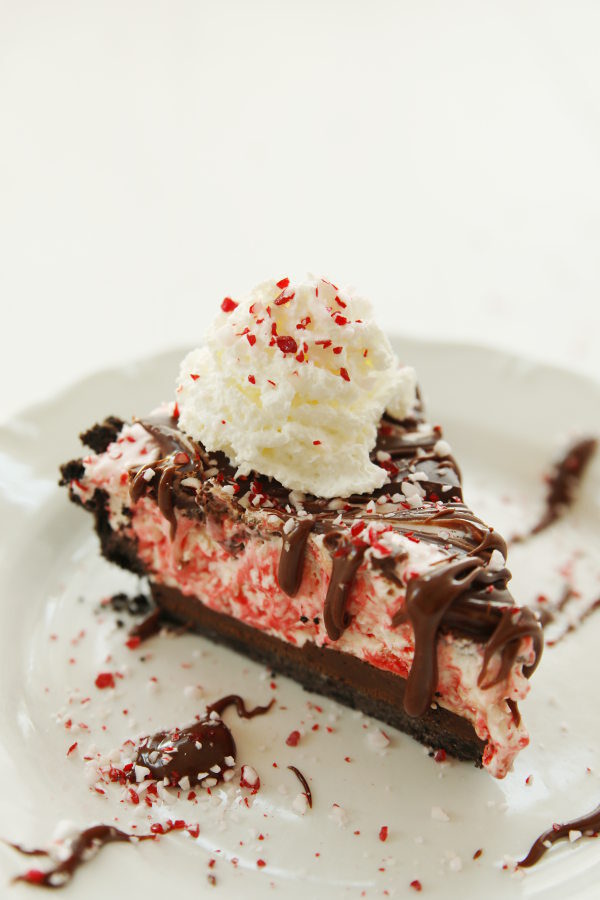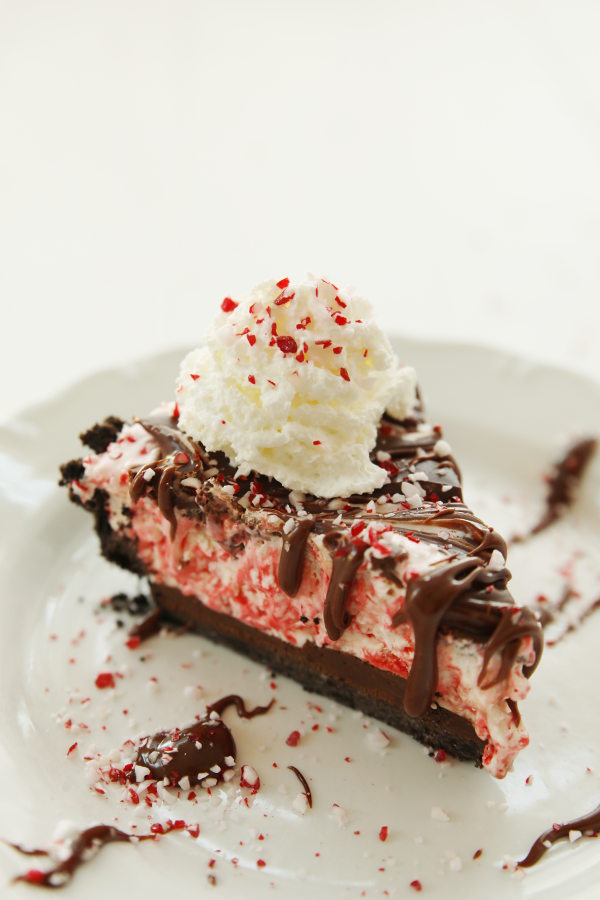 More Easy Pie Recipes
Candy Cane Pie with Chocolate Truffle Sauce
Candy Cane Pie is a easy 15 minute Christmas dessert you can make ahead.  A delicious peppermint ice cream filling, chocolate truffle sauce ribbons and crunchy Oreo crust make this one a dessert to remember!
Ingredients
For the Crust
24

chocolate Oreo cookies

(about 2/3 of a package)

4

Tablespoons

salted butter

(melted)
For the Truffle Sauce
12

oz

semi-sweet chocolate chips

1

cup

heavy whipping cream

(40% fat content preferred)
For the Peppermint Filling
1 1/4

cups

heavy whipping cream

(40% fat content preferred)

1/4

teaspoon

vanilla extract

2/3

cup

sweetened condensed milk

3/4

cup

crushed peppermint candy

(see note )
Instructions
For the Crust
Preheat the oven to 350 F.

Pulse the Oreos in a food processor for about 30 seconds until they are finely ground and no chunks remain. (Alternately put them in a Ziploc bag and smash with a rolling pin or wine bottle.)

Stir in the melted butter and dump crust mixture into a 9" or 9 1/2" pie pan. Press the mixture into the sides of the pan first and then the bottom.

Bake the crust for 4 minutes in a 350 F oven until the crust is just set. Remove to rack to cool.
For the Truffle Sauce
Place the cream in a medium sauce pan over medium heat. You do not need to stir.

When the cream begins to simmer add the chocolate and turn off the stove. Whisk until no lumps remain.

Spoon about 1/3 of the sauce into the bottom of the pie pan. It does not need to look perfect but it should be fairly evenly spread out. Set the rest of the sauce aside on the counter for later.

Place the pie pan in the refrigerator to cool down before adding the cream mixture. (30 minutes or less.)
For the Peppermint Filling
When the pie shell has cooled, add cream, sweetened, condensed milk, and vanilla to a stand mixer. Whip on high for about 2 minutes. The mixture will be thick and hold the lines formed by the beaters.

Gently fold in peppermint until it is incorporated.

Scrape filling into the cooled pie shell. Smooth gently on top so the filling sits flat.

Spoon several Tablespoons of the chocolate sauce in a circular pattern over the top of the pie. Use a butter knife to draw a few "Z"s through the filling and sauce to swirl them together a little.

Lay plastic wrap over the surface of the pie and freeze for at least 8 hours. Serve directly out of the freezer. Garnish slices with remaining chocolate sauce, whipped cream and peppermint pieces or mini candy canes if desired.

After serving, cover leftovers tightly with plastic wrap and store in the freezer for up to a week.
Notes
The best way to crush peppermint candy is to freeze it and then smash it.  I use whatever is on hand for smashing (such as a rolling pin or wine bottle).
Nutrition
Calories:
829
kcal
|
Carbohydrates:
38
g
|
Protein:
6
g
|
Fat:
49
g
|
Saturated Fat:
30
g
|
Cholesterol:
118
mg
|
Sodium:
112
mg
|
Potassium:
386
mg
|
Fiber:
3
g
|
Sugar:
30
g
|
Vitamin A:
1248
IU
|
Vitamin C:
1
mg
|
Calcium:
144
mg
|
Iron:
3
mg
Nutrition Disclaimer
MirlandrasKitchen.com is written to share great recipes. While we do our best to provide nutritional information as a general guideline, we are not registered dietitians and the values provided here should be considered estimates – not exact scientific data.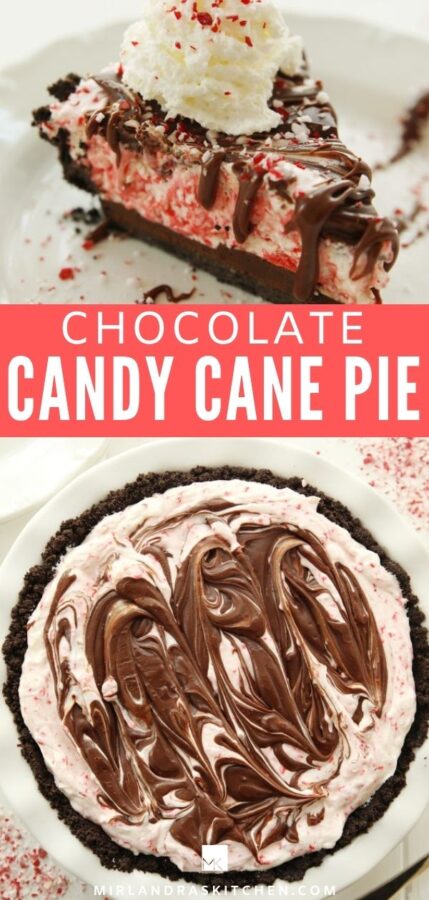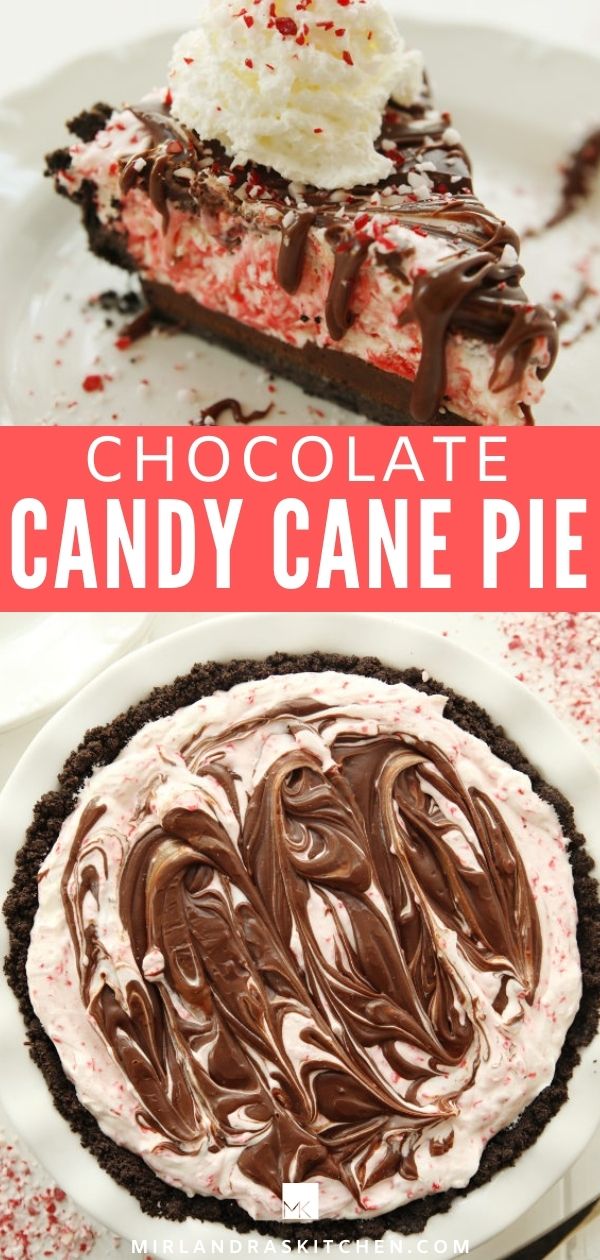 This recipe was originally shared in January of 2015.  It was updated with new photos in 2021.