REAL Homemade Chicken Pot Pie has nothing to do with a can of soup! This scratch made Irish classic will is going to be a family hit! It is creamy and decadent with plenty of delicious chicken.  Of course, no Chicken Pot Pie would be as good without flaky puff pastry crust!  My version of this classic is baked in single serve mason jars to make dinnertime easy.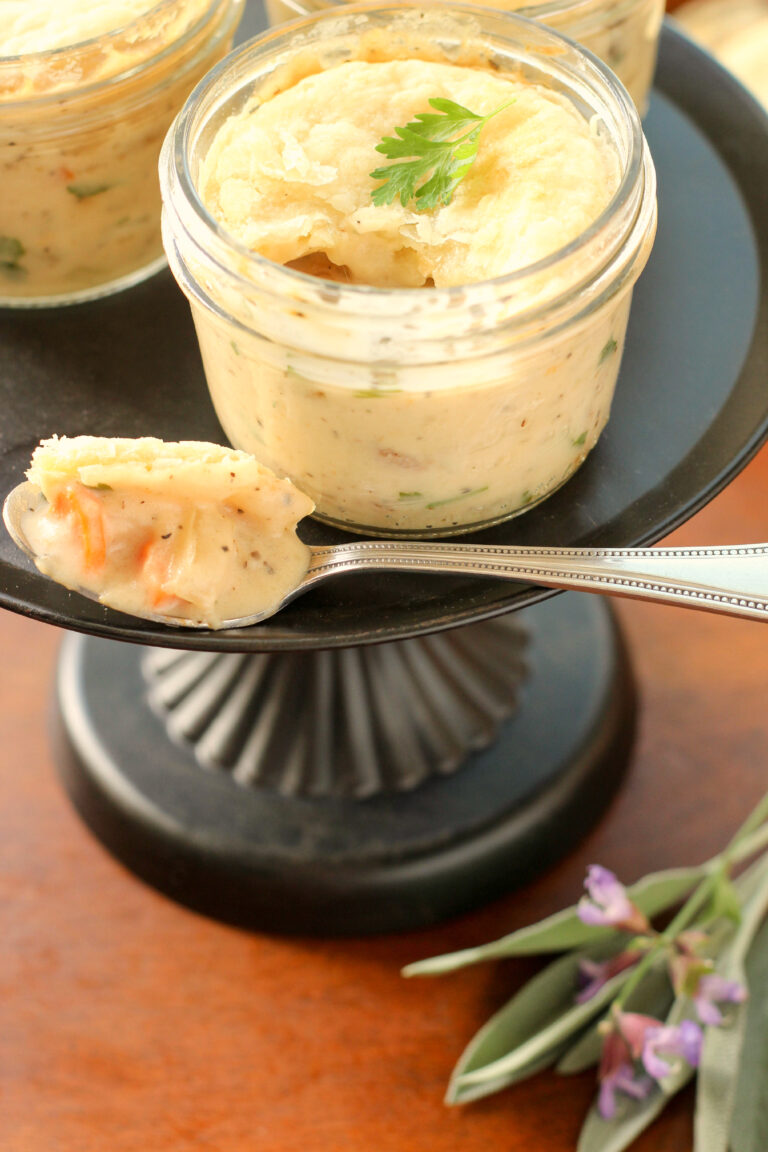 Homemade Chicken Pot Pie is a Labor of Love
There are plenty of recipes where I do whatever it takes to get dinner on the table as quickly as possible.
Let's face it, we all have busy lives and nights that require simple, filling dinners. This homemade Chicken Pot Pie recipe is not that kind of recipe and I'm absolutely OK with that!
The flavor profile in this dish is built with chicken thighs, chicken broth and chicken bouillon. The combination makes a meaty filling accented by veggies.
Everyone inhales this savory dinner. Our friend's toddler had some and refused to share it with the family dog, a dog she normally shares every single meal with. It is that good!
Homemade Chicken Pot Pie Crust
When it comes to a good homemade chicken pot pie recipe I'm all for a scratch made filling!  
But when it comes to the crust?  There I draw the line.  You can absolutely make one from scratch but that takes a fair amount of extra work! 
I grab a package of puff pastry and save myself some cooking time.  The crust is still tender, flaky and dare I say, divine?  But the time saved is an hour or more!
Individual Chicken Pot Pies
These cute little chicken pot pies are baked in mason jars to make individual servings!  
If we learned anything in the last decade it is that everything is cuter in a mason jar!  (Well, maybe not quite EVERYTHING – my mom brain just jumped to all the horrid things my small humans could put in jars…  But let's just agree that FOOD is cuter and more fun in a nice mason jar!)  
Our family loves having their own little pies to enjoy.  They are also wonderfully portable if you grab these great plastic lids.  
Irish Chicken Pot Pie
Chicken Pot Pie is not something that should be made with a can of soup. It deserves to be prepared truly from scratch. This Irish version is creamy and decadent. The chicken flavor comes from three sources and makes a robust pie. Of course, no Chicken Pot Pie would be as good without flaky puff pastry crust! My version of this classic is baked in single serve mason jars to make serving simple.
Ingredients
1

large carrot

1

average sized russet potato

peeled and diced

3

stalks of celery

minced

5

oz

crimini mushrooms

cut into quarters or eights

1

onion

minced

1/3

cup

Italian Flat Leaf parsley

minced

1

lb

boneless skinless chicken thighs

1

Tbsp.

vegetable oil

3

Tbsp.

butter

1

pinch

salt

1/2

cup

flour

3

cups

chicken broth

2

tsp.

chicken bouillon

1

tsp.

black pepper

coursely ground

1/4

tsp.

white pepper

1

cup

cream

2

sheets of puff pastry

1 box

3-4

Tbsp.

melted butter for brushing pastry

11

mason jars

1/2 pint size wide mouth
Instructions
Tip: I suggest reading through all the instructions before beginning.

Set the sheets of frozen puff pastry out to thaw on a floured board.

Cut carrot, potato and celery into small bite sized pieces. Place in a tall microwave safe bowl and add enough hot water to cover by about 2". Microwave on high for about 15-18 minutes or until the veggies are fork tender. Drain when cooked and set aside.

Meanwhile prepare the rest of the ingredients: Cut the mushrooms into eights. Set aside.

Peel the onion and dice it. Set aside.

Mince the parsley and set aside.

Wash the chicken. Trim any large chunks of fat off and discard. Cut into bite sized pieces. A kitchen scissors works well for this.

In a 10 cup capacity skillet (preferably cast iron) cook the chicken with some oil on medium-high, stirring frequently until the pieces are cooked through. Set aside in a bowl.

Preheat the oven to 400 F.

Add the butter, onions and pinch of salt to the skillet and cook on medium-high for about 3 minutes until golden, stirring frequently and adding oil as needed. Turn the heat down to medium. Add the mushrooms and cook an additional 3 minutes, stirring often.

Add the drained veggie mixture and the flour. Cook for 1 minute stirring continuously.

Stir in chicken broth, parsley, chicken, black pepper, white pepper and chicken bouillon. Bring to a boil stirring continuously and continue to cook until mixture has thickened slightly.

When the mixture has thickened, turn off the heat and stir in the cream. Taste and adjust salt and pepper as desired.

Use a mason jar to cut out rounds of puff pastry: Place the jar upside down on the pastry and press down firmly. Move the jar back and forth rapidly until a circle of pastry is cut out. Repeat until you have 11 circles.

Use a sharp knife to make an air slit in the pastry circles.

Use a measuring cup to scoop 2/3 cup of filling into each jar. Wipe any drips off the rims of the jars with a wet cloth. Top each filled jar with a circle of pastry. Brush the pastry with melted butter

Place jars in a large casserole dish (my big rectangular Pyrex is perfect) and fill the dish with water about 1" deep. This is the correct way to bake in mason jars.

Bake in a preheated oven for 25-30 minutes until the pastry is slightly brown and the filling is bubbly.
Notes
Serving Size: Children generally like to eat 1 jar. Teens and adults will eat up to 2 jars. I consider 11 jars to be enough to feed six people.
Baking Dish Choice: This can be made in pie plates. I suggest using two and baking for about 20-25 minutes. In my experience it is helpful to use a large cookie sheet pan to catch any drips.
Nutrition
Nutrition Facts
Irish Chicken Pot Pie
Amount Per Serving
Calories 410
Calories from Fat 234
% Daily Value*
Fat 26g40%
Cholesterol 142mg47%
Sodium 580mg24%
Potassium 463mg13%
Carbohydrates 12g4%
Protein 17g34%
Vitamin A 785IU16%
Vitamin C 9.8mg12%
Calcium 54mg5%
Iron 1.5mg8%
* Percent Daily Values are based on a 2000 calorie diet.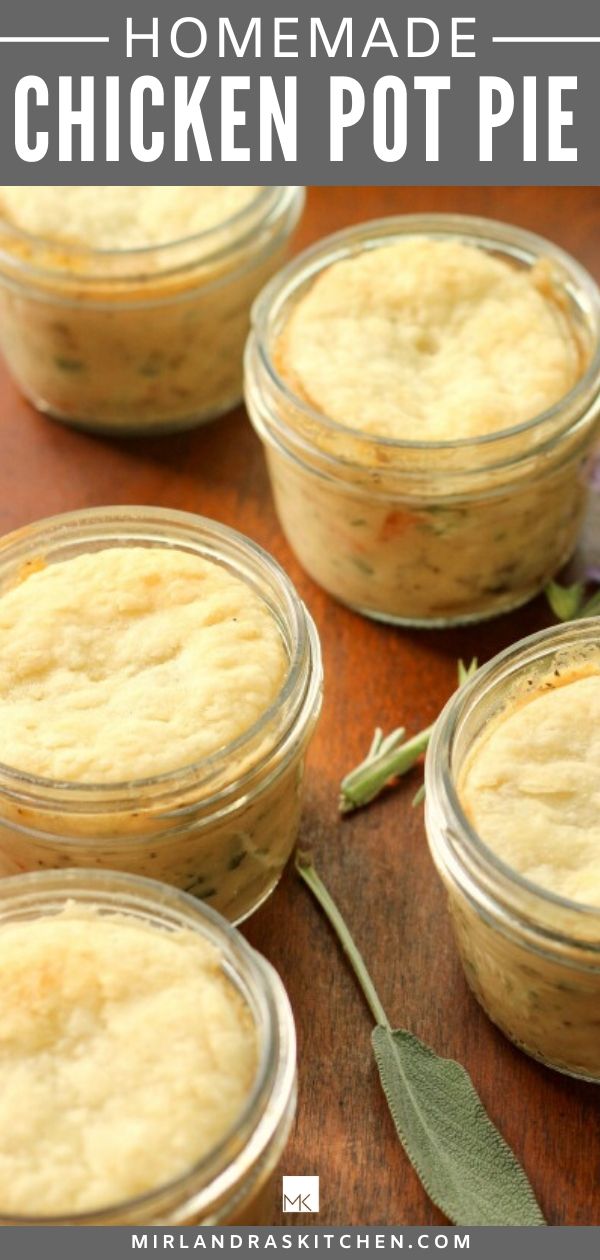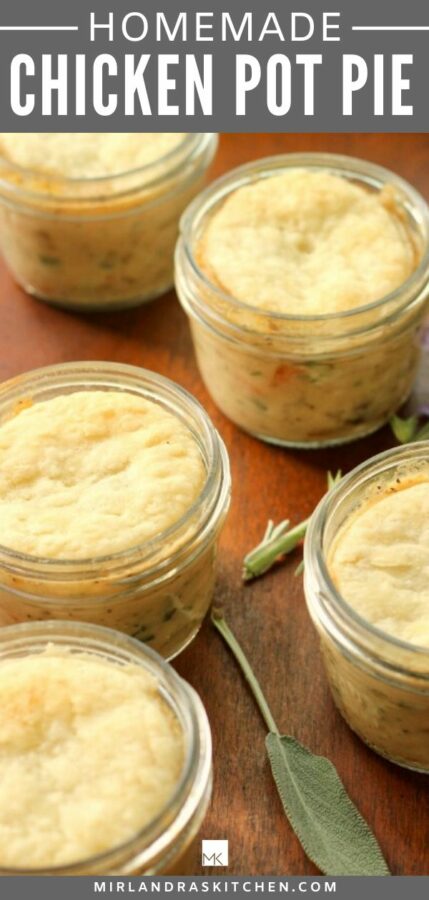 This recipe was originally published in 2015. It has been updated with some new information in March of 2020. Enjoy!