Yummy roasted yams and sweet potatoes with cinnamon  is a healthy side dish your family will be excited to see on the table!  The dusting of cinnamon gives it a wonderful flavor.  I've even made this in advance and served it cold to my toddlers.  This is a great way to make vegetables for kids!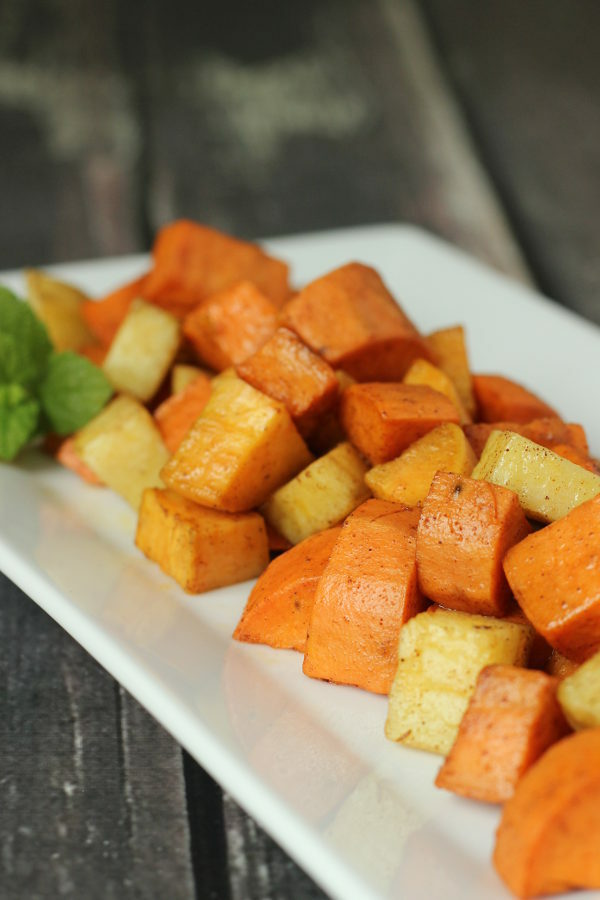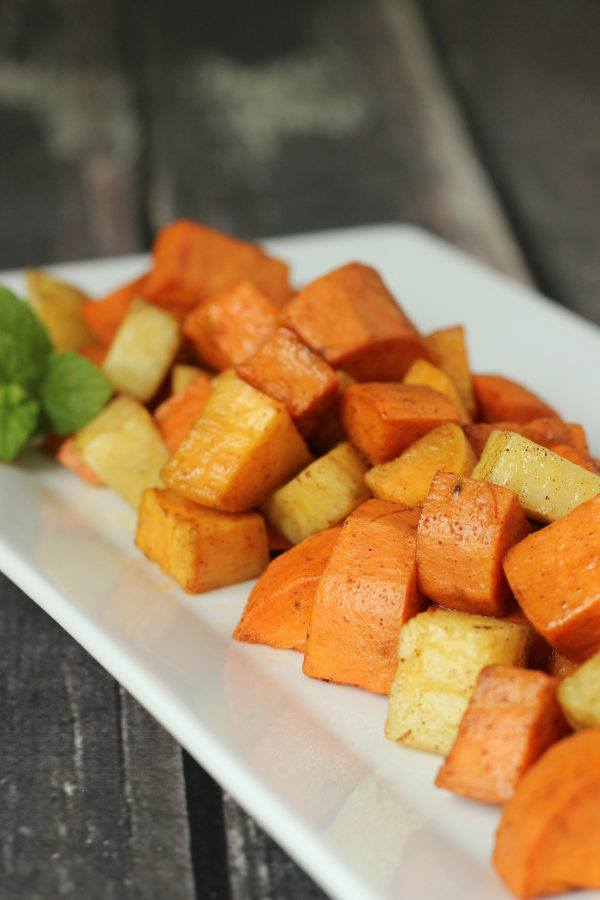 Feeding a small child feels like living in a food war zone.  Cook the food.  Feed the food.  Clean up the food.  Rinse and repeat all day long…  I believe in serving lots of whole, fresh food but there are days when I fantasize about fleeing the house for a fast food restaurant just so I don't have to face the endless food dance.
When Jack was first starting to eat food "chunks" I started making these roasted yams and sweet potatoes because it was just so darn easy!  I could make a big pan for dinner and then Jack would eat the leftovers cold as a snack.  I loved having a healthy side dish that turned into a vegetable snack later.
Healthy Side Dishes
I believe healthy side dishes can taste amazing!  One of my common tricks is to roast up vegetables with the right seasonings to make them taste really flavorful.  A healthy vegetable side dish is full of fiber which helps me stay full and energetic between meals.
These roasted yams and sweet potatoes go really well with both chicken and pork.  I like to pair them with BBQ meats too.  The cinnamon gives just a hint of contrast to the root vegetable and brings out the flavors nicely without being overwhelming!
Roasted Yams and Sweet Potatoes
Yams and sweet potatoes are both nutrient-dense vegetables.  They come in multiple colors and varieties.  Roasting brings out their rich flavor without taking a lot of work on your part.  Just peel, toss and go!
Both vegetables are what I think of as nutritional power houses.  They are a great source of fiber, potassium, and manganese. They are also very easy on the budget and store well in the pantry so you don't have to pop down to the store as often!
Healthy Vegetable Side Dishes
These are some more of our favorite healthy vegetable side dishes!
Roasted Yams and Sweet Potatoes With Cinnamon - A Healthy Side Dish
Healthy side dishes should always be delicious! These roasted yams and sweet potatoes with cinnamon are flavorful and easy to prepare. Kids and adults alike will love this slightly cinnamon flavored dish. Serve it with BBQ meat or some nice chicken or pork.
Ingredients
3 ½

pounds

sweet potatoes and yams

I choose the most uniform ones slightly larger than bananas

½

tsp.

ground cinnamon

¼

tsp.

salt

Vegetable or coconut oil for roasting
Instructions
Preheat oven to 450F.

Peal the sweet potatoes and yams. Cut into uniform cubes about the size of two dice.

In a large rectangular baking dish (10.5" x 14") toss cubes with cinnamon and salt to coat evenly. Drizzle again and use a spatula to toss.

Roast at 450 F for 30-45 minutes, stirring / flipping with a spatula about every 10 minutes. The bites are done when they are tender through and can be cooked until there is a tinge of gold to the outside.
Nutrition
Nutrition Disclaimer
MirlandrasKitchen.com is written to share great recipes. While we do our best to provide nutritional information as a general guideline, we are not registered dietitians and the values provided here should be considered estimates – not exact scientific data.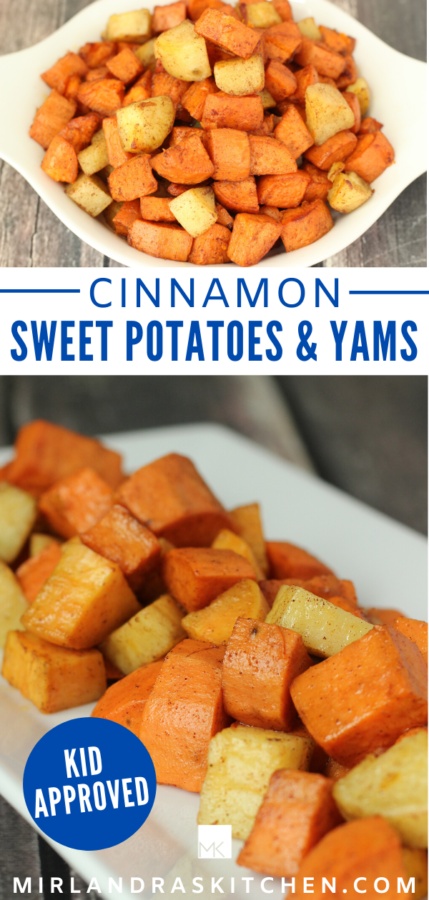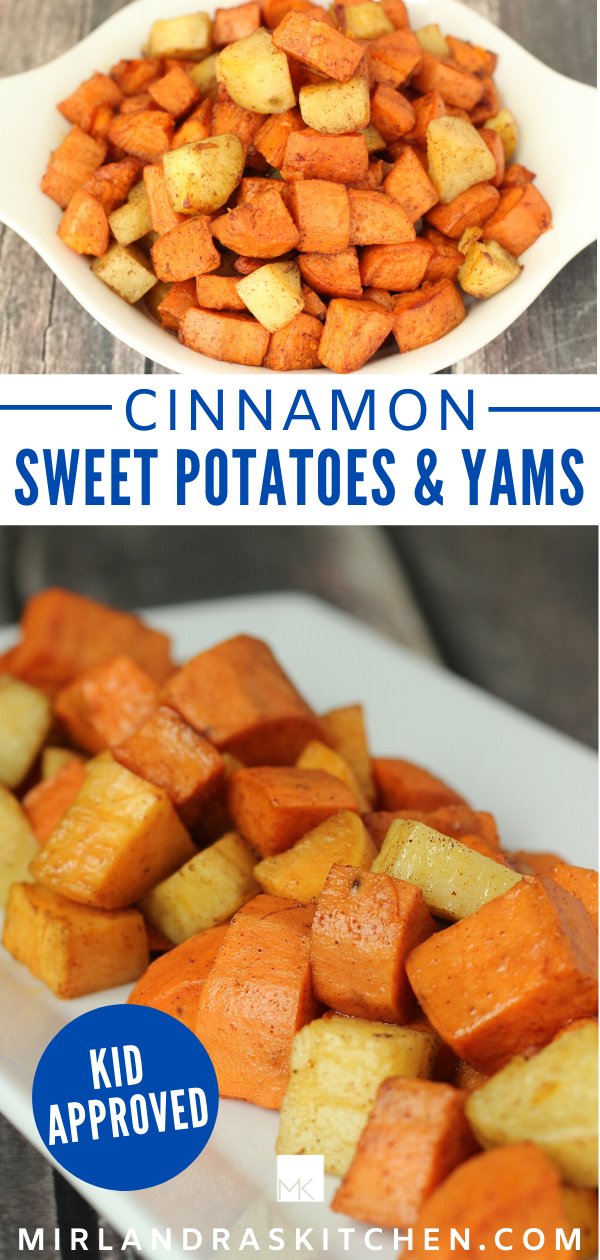 This post was originally published in 2016.  It was updated in April of 2020 with additional information.