These crunchy Bacon Snow Peas are always loved around the dinner table. Who knew eating your vegetables could be so darn delicious?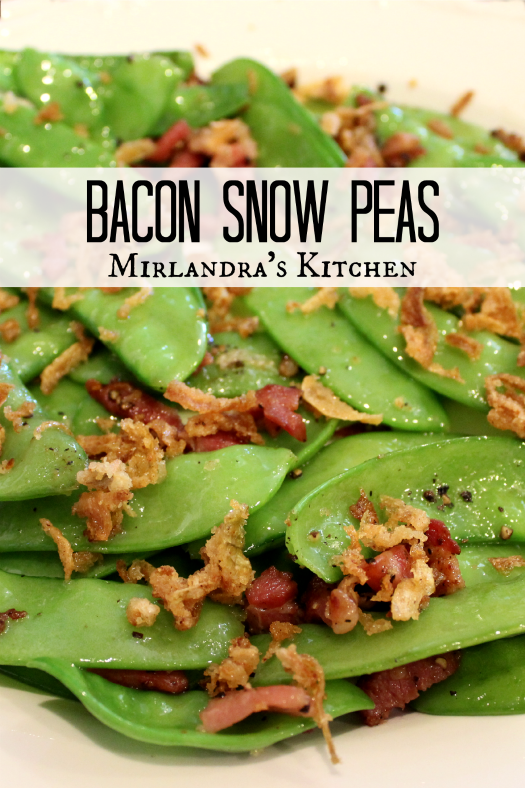 Springtime is delicious.  Bacon is delicious.  My mom was a great math teacher so I know that delicious+delicious = Very Delicious.  In general, if somebody offers me peas I'm rather hesitant.  Do they mean something frozen and disgusting, or a fresh delectable treat?  If you think peas are yucky, but have never had snow peas, I invite you to try something new.  Snow peas are eaten pod and all.  They are yummy raw or cooked gently.
This recipe cooks up in a jiffy and highlights the best of my spring garden:  The Mighty Snow Pea.  My husband abhors does not care for frozen peas but when I put a plate of this down in front of him it gets inhaled.  I made this once for a healthy date night carpet picnic, and to be honest he was quite piggy about the peas. I only got a few.  Bacon is a great flavor enhancer and you will find it sprucing up many things I cook because it's a simple way to impart a ton of flavor!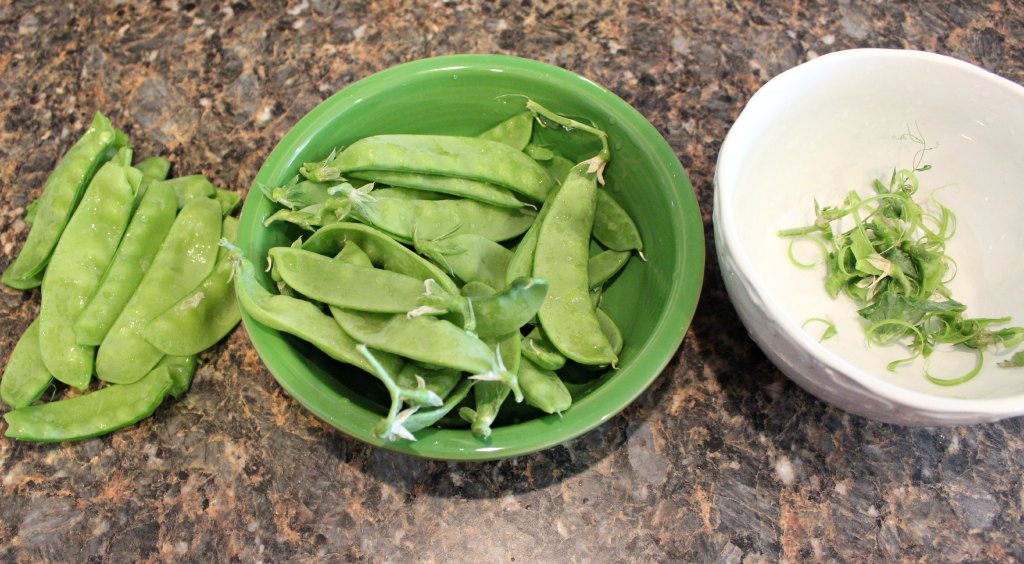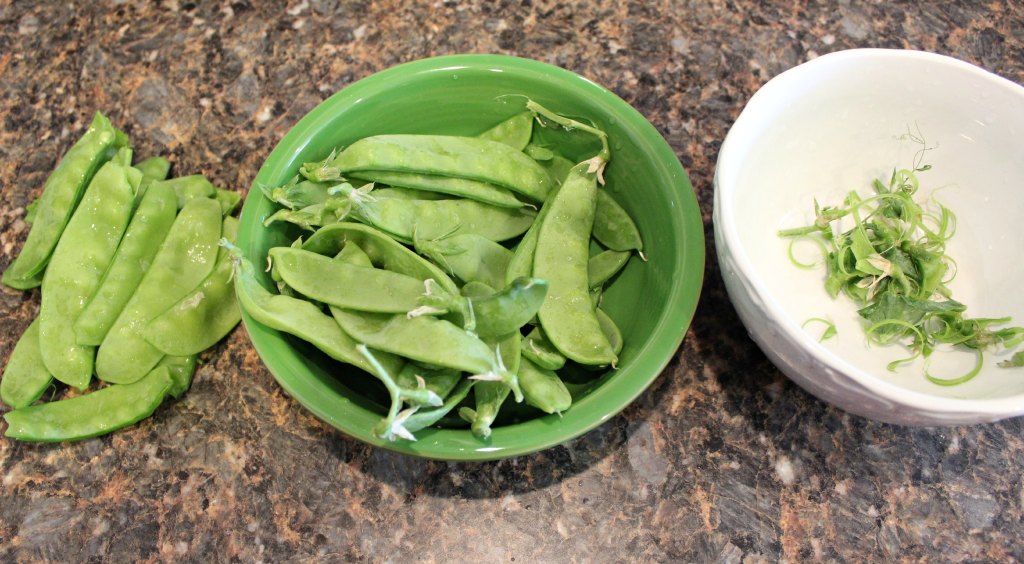 First things first.  No matter how you get your peas (garden, farmer's market, grocery store), they will have what is called the string along one edge.  Grasp the top firmly, snap to the right or left and then pull the string down the pea firmly.  The string has a consistency similar to weak dental floss and I do not care to eat it.  This method removes most of the strings.  You can also snap the bottom tip off if you want, though it's fine to eat. As you can see in the photo, my method is pretty slapdash.  I just pull the string off until it breaks and leave the rest.  I spend a lot of time in the kitchen and practical trumps "perfect" most of the time.
Happy eating!
Snow Peas With Bacon
These crunchy Bacon Snow Peas are always loved around the dinner table. Who knew eating your vegetables could be so darn delicious?
Ingredients
2-4

slices

bacon

1/2

pound

snow peas

strings removed

salt and pepper to taste

fried onion pieces

such as Trader Joe's to garnish if desired
Instructions
Heat frying pan on medium high until hot. Add bacon and cook a few minutes until it's starting to crisp up.

Add peas, some salt and pepper. Cook until peas are tender to the tooth but still have a slight crunch. If the pan gets dry add a few Tablespoons of water to keep food from burning. This creates nice steam for cooking.
Nutrition
Nutrition Facts
Snow Peas With Bacon
Amount Per Serving
Calories 80
Calories from Fat 36
% Daily Value*
Fat 4g6%
Cholesterol 7mg2%
Sodium 75mg3%
Potassium 135mg4%
Carbohydrates 4g1%
Protein 2g4%
Vitamin A 615IU12%
Vitamin C 34mg41%
Calcium 24mg2%
Iron 1.2mg7%
* Percent Daily Values are based on a 2000 calorie diet.
Free Simple Weeknight Meal Plan!
Sign up here for your free plan and start rocking dinner!