Snow peas are best cooked lightly and flavored with a bit of fat like butter or bacon.  This snow pea recipe gets tons of flavor from some bacon and a crunchy french fried onion topping.  Expect this spring side dish to disappear fast!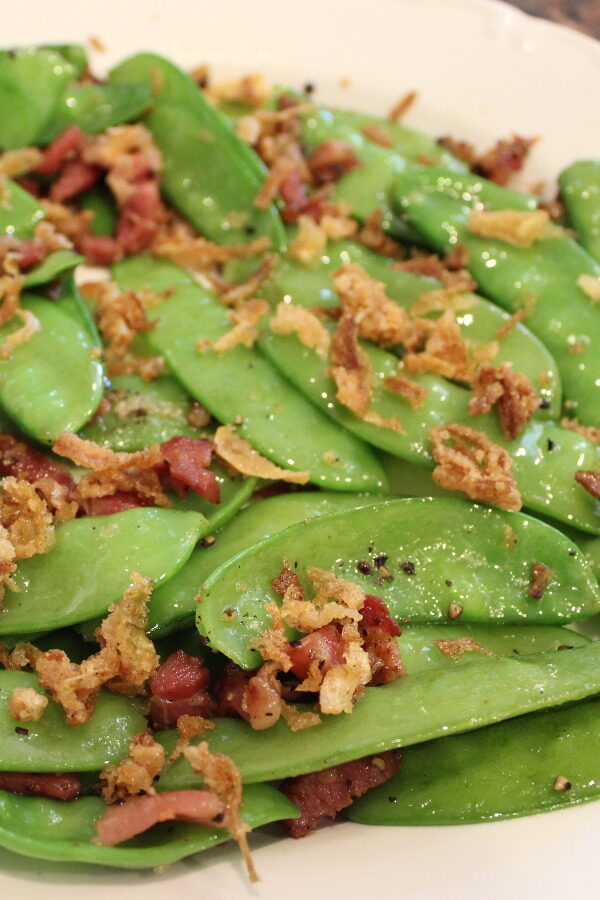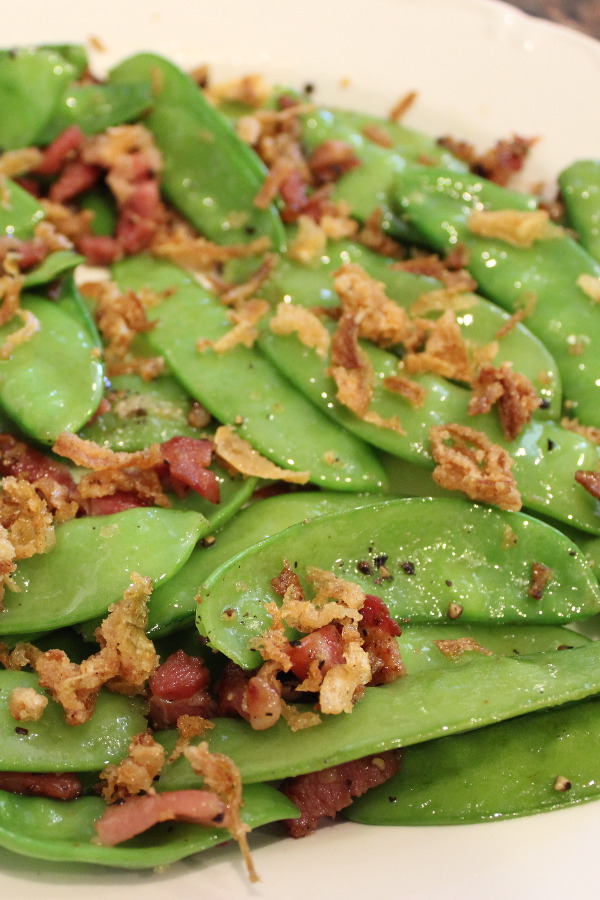 Think you don't like peas?  Think again!  There is a BIG difference between sweet spring snow peas cooked up fresh and a bag of green frozen mush.  This snow pea recipe is a great option to try snow peas for the first time.  Most people love bacon so I consider the bacon a blatant bribe to try the peas!  Go ahead, why not?  Most people fall in love with peas when they have them cooked right.
Finding a Great Snow Pea Recipe
A great snow pea recipe should cook the peas JUST until they are tender crisp.  Mushy peas = yucky.  Thankfully tender crisp takes less time than mushy so this is a quick side dish!
This recipe cooks up in a jiffy and highlights the best of my spring garden:  The Mighty Snow Pea.  My husband abhors does not care for frozen peas but when I put a plate of this down in front of him it gets inhaled.  I made this once for a healthy date night carpet picnic, and to be honest he was quite piggy about the peas. I only got a few.
Bacon is a great flavor enhancer and you will find it sprucing up many things I cook because it's a simple way to impart a ton of flavor!  Snow peas are also wonderful with butter.
How to String Snow Peas
You don't have to string peas but I find it more pleasant to eat them stringed.
First things first.  No matter how you get your peas (garden, farmer's market, grocery store), they will have what is called the string along one edge.
Grasp the top firmly, snap to the right or left and then pull the string down the pea firmly.  The string has a consistency similar to weak dental floss and I do not care to eat it.  This method removes most of the strings.
You can also snap the bottom tip off if you want, though it's fine to eat. As you can see in the photo, my method is pretty slapdash.  I just pull the string off until it breaks and leave the rest.  I spend a lot of time in the kitchen and practical trumps "perfect" most of the time.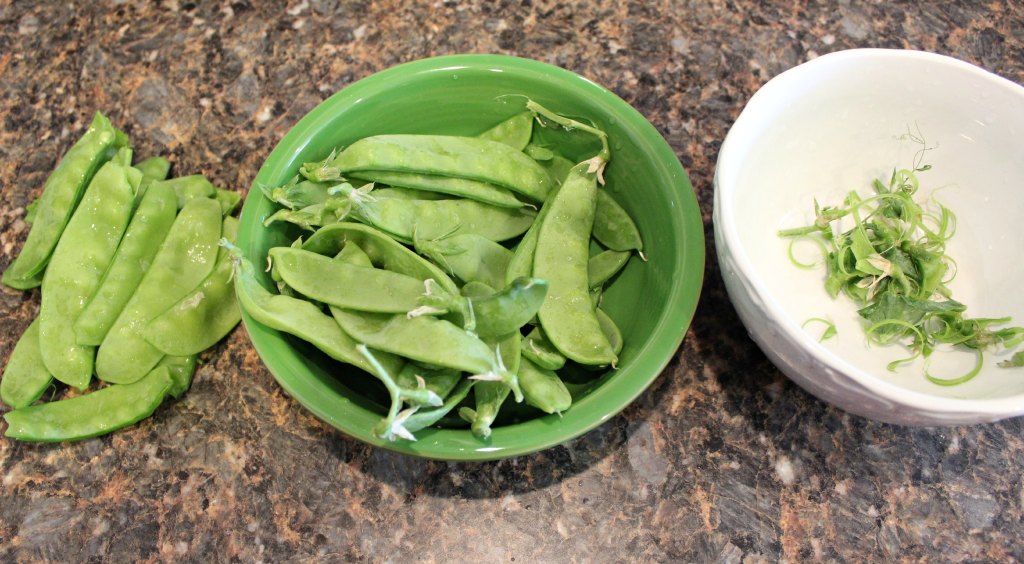 Snow Peas Vs. Snap Peas
There are three main kinds of peas that we eat.  I've grown and loved them all but snow peas remain my favorite!  (I usually grow Oregon Sugar Pod II.)
Snow Peas are the flat pea pods I'm using in this recipe.  Sometimes they are also referred to as "Chinese pea pods" because they show up in stir-fries.  The entire pea pod is edible – it is in fact quite sweet and tasty raw!  There are tiny tender green peas inside that are so delicious.  I love the burst of flavor you get munching just the tender peas inside.  Generally the tough strings at the edge are removed or "stringed" before eating.
Garden Peas or Shelling peas have firm, round pods.  The peas are removed or "shelled" from the pods and the pods are discarded.  This is what you would find in a bag of frozen peas at the grocery store.  (Not my favorite thing for sure…)  Sometimes these peas are called sweet peas or English peas.
Snap peas are a cross of snow peas and snap peas.  Really it is an interesting mixture of the two!  You can eat the pod of this pea too, like with a snow pea.  Sometimes these peas are also called sugar snap peas.
Snow Peas Nutrition
I always think of the most vibrantly colored vegitables as the most nutritious.  Snow peas are no exception!
A 3.5 ounce serving of snow peas has 100% of your vitamin C, 31% of your Vitamin K, 22% of your Vitamin A, and 10% of your Folate.  They are also a good source of dietary fiber and magnesium so eat up!
More Vegetable Side Dishes to Love
Snow Peas With Bacon
Spring snow peas are the perfect side dish to freshen up your dinner table. This recipe uses peas and crunchy french fried onions to jazz up the humble snow pea.
Ingredients
2-4

slices

bacon

1

pound

snow peas

strings removed

salt and pepper to taste

3

Tablespoons

French fried onion pieces
Instructions
Heat frying pan on medium high until hot. Add bacon and cook a few minutes until it's starting to crisp up.

Add peas. Season with a pinch salt and a pinch of fresh ground pepper.

Cook until peas are tender to the tooth but still have a slight crunch. If the pan gets dry add a few Tablespoons of water to keep food from burning. This creates nice steam for cooking.

Taste and add additional salt and pepper if desired. Serve hot.
Nutrition
Calories:
80
kcal
|
Carbohydrates:
4
g
|
Protein:
2
g
|
Fat:
4
g
|
Saturated Fat:
1
g
|
Cholesterol:
7
mg
|
Sodium:
75
mg
|
Potassium:
135
mg
|
Fiber:
1
g
|
Sugar:
2
g
|
Vitamin A:
615
IU
|
Vitamin C:
34
mg
|
Calcium:
24
mg
|
Iron:
1.2
mg
Nutrition Disclaimer
MirlandrasKitchen.com is written to share great recipes. While we do our best to provide nutritional information as a general guideline, we are not registered dietitians and the values provided here should be considered estimates – not exact scientific data.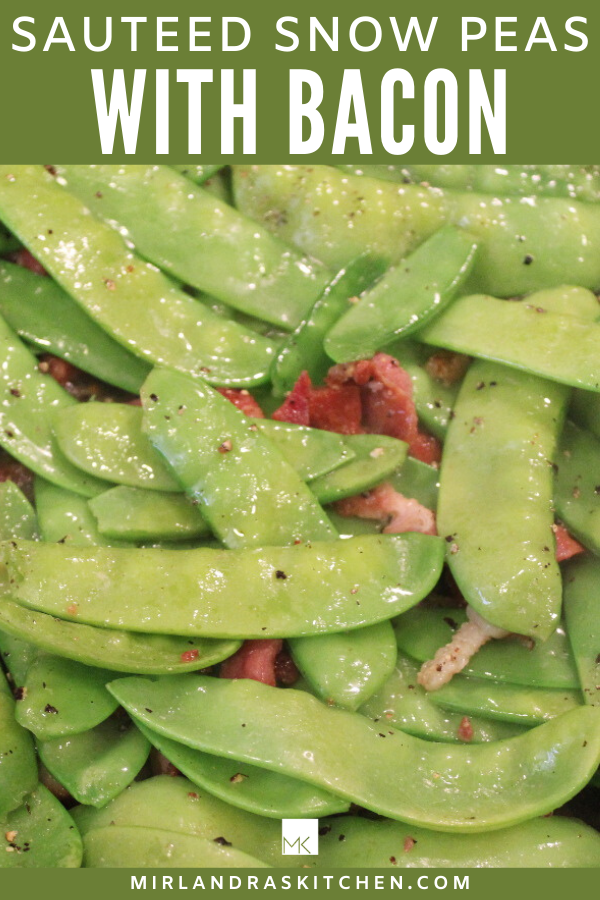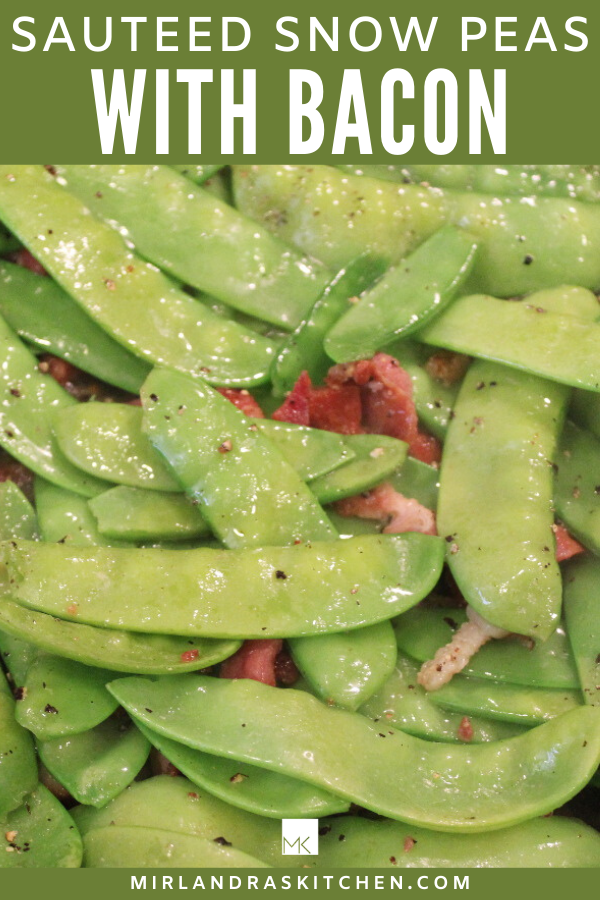 This post was originally published in June of 2014.  It has been updated for content.