Jazz up dinner with these zesty roasted carrots.  The spice level adjusts for different palates and coconut oil is a healthy roasting option!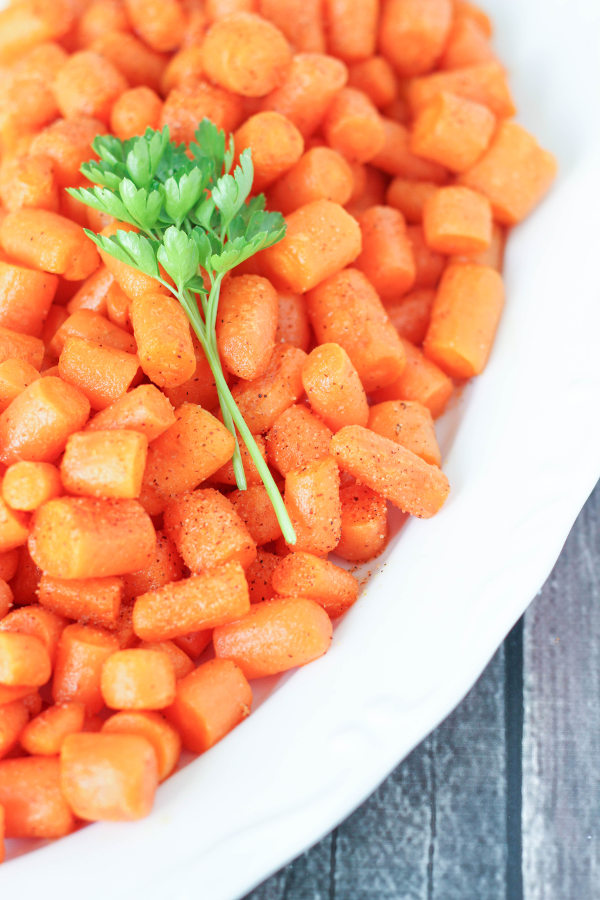 My sister in law loves carrots.  My husband strongly dislikes them.  The last time we got together for dinner my brother and his wife made their favorite Creole Roasted Carrots.  I expected Jonathan to eat a small serving and then move on to ham he was truly excited about.
I was shocked when my husband helped himself to 2nds and then 3rds of the carrots before I had a chance to even taste them.  That does not happen with Jon and carrots.  Ever!
It turned out they really were amazing.  The carrots are roasted in coconut oil and seasoned to taste afterwords with a lovely Creole seasoning.  It was a wonderful healthy veggie and so savory!  We both loved it.  Thankfully Merlin and Rachel were gracious enough to share their recipe with me and we have been chowing down on carrots here ever since.
If you have any leftover make sure you try them cold, sliced up in salad.  They are absolutely excellent!
Tools In This Post:  We love this brand of Creole seasoning.  It shows up on veggies, potatoes, breakfast burritos and all manner of things in our house.  You can order it online but we usually find it in the grocery store for less than $3 / can.
Easy Creole Roasted Carrots
Ingredients
2

pounds

of carrots

baby or regular

2-3

Tbsp.

unrefined coconut oil

or your favorite cooking oil (see note)

1/4 - 3/4

tsp.

Creole Seasoning

we like Tony Chachere's
Instructions
Preheat the oven to 450 F.

Chop baby carrots into about three pieces each or peel and chop regular carrots into desired size. Keep the size as uniform as possible to ensure even roasting.

Put carrots into a large rectangular glass Pyrex pan. Place 2-3 dollops of coconut oil on top. Place in preheated oven and stir in 5 minutes. If you are using a different oil stir before putting in the oven.

Stir every 10 minutes until the carrots are fork tender, 25-35 minutes depending on the size of your carrots.

Remove from oven and sprinkle on 1/4 - 3/4 tsp. of Creole Seasoning. 1/4 tsp. is generally mild enough for children and 3/4 tsp. starts to be a bit spicy. Using a different brand of seasoning may result in a different spicy / salt level.

Toss to spread seasoning out and serve hot or cold.

Leftovers are wonderful in soup or salad.
Notes
Any cooking oil works great. We enjoy coconut oil for the health benefits. Unrefined coconut oil has a slight coconut flavor that gives a subtle tropical background flavor to this recipe. If you don't like the taste of coconut it might not be a good choice for you!
I read each and every comment and I try to respond to questions asap, so ask away! If you've made a recipe, I would love to hear about it! Please come back and share your experience and give the recipe a 5-star rating so other people will know how much you loved it!
PIN FOR LATER