This easy 15 minute honey garlic chicken is flavorful, tender and family friendly.  The sauce is savory and rich from the garlic / honey combo with a hint of butter.  Dredging the chicken in flour makes a stunning golden crust that holds unto the sauce perfectly! Giving the chicken a few hours to marinate in oil makes it SUPER tender and moist. Ideally, I like to do that for several hours but even if you have 15 minutes it is worth taking the time to do. (Gluten free option in recipe.)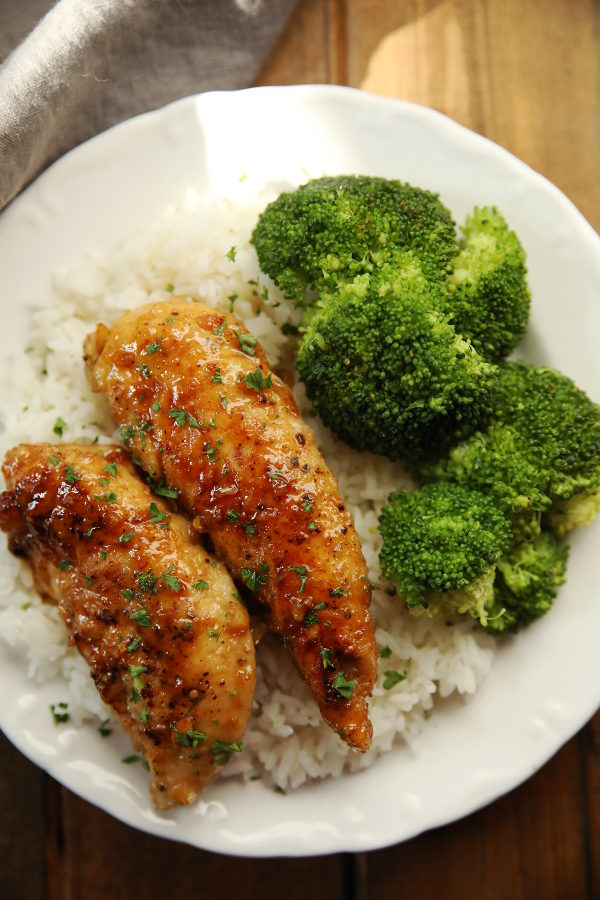 As our family has grown I've turned more and more to the world's simplest recipes that produce fast, amazing, reliable recipes!  This honey garlic chicken fits the bill every time!  It is a low cost meal with tons of flavor and it is ready in 15 minutes!  The sauce is sweet and savory and buttery and quite frankly AMAZING.  You need a easy last minute dinner recipe like this in your back pocket.
Making a Delicious Honey Garlic Chicken Sauce
I can never figure out what the best part of this recipe is.  The tender chicken is perfect and of course the fact that it takes 15 minutes is a BIG win.  But if I had to choose I would say the sauce…  A good honey garlic sauce uses some soy sauce for that rich, Asian umami flavor but leans heavily on the sweet-savory combo of honey and garlic.
But the true magic of a great honey garlic chicken sauce is the butter!  Adding a little bit of butter gives the sauce a rich, full mouth feel that makes you want to lick the plate.  (That may have happened at my house but I'm not telling!)  Don't be surprised if you find yourself using some steamed vegetables to try to wipe every last drop of sauce out of the pan!
Honey Garlic Chicken Breast or Thigh?
When it comes to any chicken recipe the eternal debate is breast or thigh meat!  Breast meat is lower in fat and can be more cost effective.  Thigh meat usually has a richer flavor.  We are a dark meat (thigh) family in general but eat some breast meat too.
Honey garlic chicken can be made with boneless skinless breast tenderloins, boneless skinless breasts, or boneless skinless thighs.  If you do use full size breasts just slice them in half across the width of the breast.  I suggest using one hand to hold the meat flat to the cutting board and then slicing through the middle (parallel with your meat holding hand) with a very sharp knife.
Making Honey Garlic Chicken Gluten Free
This recipe can be made with flour or without – either way turns out great!
To make this honey garlic chicken gluten free just use cornstarch instead of wheat flour.  It works great and only changes the browning process a little bit so it is a easy substitute.
Save Time With Pantry Staple Dinners
Dinner time is to nourish your body and soul – NOT to drive you crazy!  Dinners like this honey garlic chicken are sanity savers because they use ingredients generally kept on hand in your pantry.  There is always chicken in my freezer.  And I always have a high quality frozen broccoli in my freezer and rice ready to toss in the rice maker for easy side dishes.
If you really get in a pinch take frozen chicken, put it in a Ziploc bag and let it thaw in a sink of hot water.  It isn't the best way but it is the fastest!  And with a quick hack like that you can go from frozen chicken to dinner in an hour or less.  Everybody needs a few tricks up their sleeves!  I recommend finding multiple pantry staple dinner recipes and keeping a file of them for emergency dinners.
Vegetables That Go Well With Honey Garlic Chicken
Broccoli
Cauliflower
Bell pepper
Carrots
Snow peas
Mushrooms
Onions
What to Serve With Honey Garlic Chicken
Rice
Pasta
Cauliflower rice
More Chicken Recipes
Honey Garlic Chicken
This easy 15 minute chicken dinner is full of flavor and family friendly. Dredging the chicken in flour makes a stunning golden crust that holds unto the sauce perfectly! Giving the chicken a few hours to marinate in oil makes it SUPER tender and moist. Ideally, I like to do that for several hours but even if you have 15 minutes it is worth taking the time to do. Serve this chicken over rice with some steamed vegetables.
Ingredients
1

pound

chicken breast or thighs

see note

¼

cup

olive oil

can sub any favorite oil

¼

cup

flour

see note for GF option

1

teaspoon

salt

1

teaspoon

coarsely ground black pepper

3 ½

Tablespoons

butter

divided

2

teaspoons

garlic

minced

4

teaspoons

apple cider vinegar

can sub white or rice vinegar

1

Tablespoon

soy sauce

¼

cup

honey
Instructions
Combine chicken and oil in large Ziploc bag for 15 minutes to 24 hours.

In a shallow bowl combine flour, salt and pepper.

Whisk together vinegar, soy sauce and honey – set aside.

After marinating, remove chicken from oil and dredge both sides in the flour mixture. Set each piece on a plate as you finish. Discard any remaining flour mixture.

In a large skillet melt 3 Tablespoons of butter over high heat. (Tip – drizzle a bit of olive oil in here to help keep butter from burning.)

When butter is mostly melted add the coated chicken. Cook for 2 minutes over high heat and then flip and cook the 2nd side for 1 minute.

Turn the heat down to medium-low. Add garlic and remaining butter, stirring to prevent garlic from burning.

Add honey mixture to the pan, swirling to combine. Bring the sauce to a simmer and simmer for up to a minute to thicken.

Turn chicken one last time to coat. Serve chicken immediately with rice and the sauces drizzled over.
Notes
Chicken – I get chicken tenders for this which are breasts already sliced up. You can use boneless skinless thighs or you can use a full chicken breast by slicing it in half through the width of the breast. Gluten Free – To make this GF substitute cornstarch for the flour. It will brown a bit differently but create a similar crust.
Nutrition
Nutrition Facts
Honey Garlic Chicken
Amount Per Serving
Calories 493
Calories from Fat 216
% Daily Value*
Fat 24g37%
Cholesterol 26mg9%
Sodium 922mg38%
Potassium 21mg1%
Carbohydrates 24g8%
Protein 2g4%
Vitamin A 306IU6%
Vitamin C 1mg1%
Calcium 6mg1%
Iron 1mg6%
* Percent Daily Values are based on a 2000 calorie diet.
I read each and every comment and I try to respond to questions asap, so ask away! If you've made a recipe, I would love to hear about it! Please come back and share your experience and give the recipe a 5-star rating so other people will know how much you loved it!